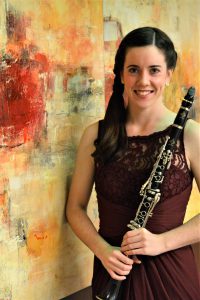 The ICA Youth Committee recently held an online survey to gather more information on ways to better serve the youth in our organization. The survey participants were entered into a drawing to win a prize generously donated by Vandoren. This prize included a Vandoren mouthpiece, Vandoren ligature, Vandoren swab, Vandoren reed case and four boxes of Vandoren reeds. The survey received a total of 445 responses and from those responses, Sarah DeVries, a current master's student at Indiana University, was randomly selected as the winner!
DeVries had this to say about being selected: "My sincere thanks goes to ICA and Vandoren for their generous prize gift! I was not expecting to be randomly selected to win the giveaway, but I'm very grateful to receive products from a brand I already use and trust. The products will be put to good use as I continue pursuing a master's in clarinet performance at Indiana University."
For more information on the activities of the youth committee, please contact Mitchell Estrin at [email protected].