Originally published in The Clarinet 47/1 (December 2019). Printed copies of The Clarinet are available for ICA members.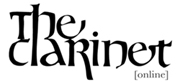 ---
A Tribute to Eddy Vanoosthuyse
by Jessica Harrie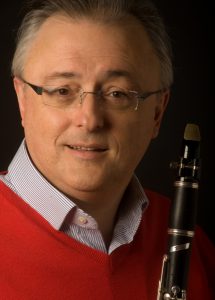 The ICA's list of Honorary Members is certainly a who's who of clarinet players. The ICA was proud to welcome Eddy Vanoosthuyse to this distinguished list at ClarinetFest® 2019. Eddy's contributions to the clarinet are well-known by many, but for those who may not be aware, we have included his biography below, which highlights some of his most notable accomplishments.
Eddy Vanoosthuyse began his musical studies with his father Gerard, who was an amateur musician. At the age of 7, he began studying the clarinet with professor Hendrik Six at the Conservatory of Kortrijk. He later continued his studies at the Art Lyceum in Ghent with Freddy Coppé and at the Royal Conservatory Ghent with Freddy Arteel. In 1981, he began his artistic career as the solo clarinet/E-flat clarinetist of the orchestra of the Opera voor Vlaanderen in Ghent/Antwerp, led by artistic directors Silveer Van den Broeck and Frits Celis. With the reorganization of the opera, Vanoosthuyse was appointed principal clarinet at the new Vlaamse Opera (Flemish Opera). In 1988, he succeeded Walter Boeykens as the principal clarinet of the BRT Philharmonic Orchestra (now Brussels Philharmonic).
Eddy Vanoosthuyse was selected for the World Philharmonic (Georges Prêtre) and was invited for the Symphonicum Europae. He has performed throughout the world with prestigious orchestras such as I Pommerigi Musicali (Milan), Shanghai Symphony, BRT Philharmonic, Simon Bolivar Orchestra (Caracas), Brussels Philharmonic, Lithuanian Chamber Orchestra, Orchestra Metropolitana de Lisboa, Chamber Orchestra of Philadelphia, Sofia Soloists, Chamber Orchestra of the Stanislavski Theatre (Moscow), Vancouver Chamber Orchestra, Flanders Symphony, Slovak Sinfonietta, Kansas Chamber Orchestra, ChengDu Symphony (China), Lviv Philharmonic (Ukraine), Central Aichi Symphony Orchestra (Japan), Free State Symphony (South Africa), Beethoven Academy (Krakow), Flanders Chamber Philharmonic and Collegium Instrumentale Brugense among others.
He has collaborated with conductors such as Michel Tabashnik, Yoel Levi, Peter Oundjian, Saulius Sondeckis, Jan Laethem Koenig and Paul Meyer among others and with some of the most important composers of his time such as John Corigliano, Olivier Messiaen, Alfred Reed, Dirk Brossé, Hans Zimmer, Arturo Marquez and Nicola Piovani. He has given the world premieres of a staggering 31 concertos.
Vanoosthuyse has made recordings for radio and television (BRTN, RTBF, VRT, VARA, Radio Suisse Romande, Magyar Radio, Czech Radio, Danish Radio, Lietuvos Radio, Chili Radio and Exqui) and on CDs (Sony, EMI, DECCA, Aeon, Naxos, Phaedra, Gobelin, Aliud, Talent and Brilliant Classics).
Vanoosthuyse is currently the principal clarinet of the Brussels Philharmonic and the clarinet professor at the Royal Conservatory of Ghent (University College Ghent, School of Arts) and the Fontys Conservatory Tilburg (Holland). He is the co-founder of the European Clarinet Association, which was founded in the townhall of his native city Kortrijk (2010).
And among all of these accomplishments and accolades, Eddy has remained one of the kindest and most humble musicians in the international clarinet community. The ICA is immensely grateful to Eddy for hosting the incredible and memorable ClarinetFest® 2018 in Ostende, and doing so in honor of his dear friend, the late Guido Six.
What follows are brief words of support and congratulations from Eddy's colleagues, friends and former students. We have included a few of those statements here and will post the full messages on The Clarinet [Online].
---
From Gunther Broucke, General Manager Brussels Philharmonic:
For some 20 years, I had the opportunity to work together with Eddy Vanoosthuyse in his capacity as leader of the clarinet section of the Brussels Philharmonic. In all those years, Eddy has proven to not only be an excellent musician, but a truly great sailor on the vessel that a symphony orchestra sometimes is. One could build upon his skills as a musician, a skilled spokesman, a smart negotiator, a great organizer, in short: the kind of colleague we so dearly need being in charge of a such organization.
From Dirk Brossé, Composer/conductor, artistic director Chamber Orchestra of Philadelphia:
I had the pleasure to collaborate with the Belgian clarinet virtuoso Eddy Vanoosthuyse on several occasions. I was always deeply impressed by the musical talent and the strong personality of Eddy. His remarkable performances with the Brussels Philharmonic as well as his many concerts as a soloist were brilliant, outstanding and overwhelming.
Forty years ago I would have written: "I really consider Eddy as one of the most talented soloists of his generation and predict a brilliant musical career to him. He deserves any position in the professional music world." Today, Eddy has become a living legend as a musician, a world-class soloist and a renowned teacher. He continues to inspire many generations of young musicians all over the world. He should be given any award to celebrate his longtime career!
From Jerome Perrod, General Director Buffet Crampon:
Eddy is a man of many accomplishments. In addition to his great solo career with the Brussels Philharmonic, he is passionate about enriching the clarinet repertoire by commissioning works for himself from today's great composers. We can also thank Eddy for the creation of one of the world's greatest clarinet competitions in Belgium.
From John Corigliano, Pulitzer and Oscar-winning composer:
I first heard Eddy Vanoosthuyse perform my clarinet concerto on a recording. I was astonished by his complete command of the piece. His lyrical artistry made my second movement (an elegy in memory of my father) incredibly moving. The suspended soft poetic lines were so beautiful…And in the first and last movements, Eddy was a man on fire. This work takes the soloist right to the limits of his virtuosity, and Eddy played them so accurately and so brilliantly that I was truly shaken. Eddy Vanoosthuyse is a complete artist. I was honored to have him perform my work.
From Jan Van der Roost, conductor and composer:
I have known Eddy Vanoosthuyse for many years, and I've always admired and appreciated his multiple musical talents and skills. On top of his indisputable artistry, he is a modest and hard-working person who has a vision. I was fortunate enough to experience his sincere interest for my clarinet works, which resulted in some fantastic recordings…I sometimes wonder where he finds the energy to be such an active and busy man…It must be because of his unconditional love for music in general and for his instrument, the clarinet, in particular!
From Severine Sierens, former student:
Eddy has always been an inspiration for me as a clarinetist since the day I decided to study the clarinet. He is not only a great musician but also a fantastic professor and a mentor who guides me into the world of the clarinet and supports me in the development of my professional career. For a few years now, I have the chance to work with Eddy in International Music Promotion, and he is also a great artistic director.
From Vitaly Samoshko, Ghent Royal Conservatory of Music:
For many years, Eddy and I have been colleagues at the Royal Conservatory/School of Arts in Ghent, Belgium. It is always a big pleasure to play concerts and to make recordings together with Eddy. Eddy is a top professional musician and a very nice person! My sincere congratulations, Eddy!
From Nicola Piovani, conductor and Oscar winning composer:
Ho conosciuto il maestro Eddy Vanoosthuyse in occasione dell' International Clarinet Festival 2018 in Ostende. Sono stato positivamente colpito dalla maestria e dal controllo del suono che il maestro Vanoosthuyse ha nel suo modo di suonare il clarinetto. Quando il Clarinetfestival2018 vzw mi ha commissionato un concerto breve per clarinetto e orchestra sinfonica da dedicare al maestro, sono stato molto sollecitato nella scrittura dal suo virtuosismo e dalla maestria con la quale riesce a fare risultare espressivi anche passaggi tecnicamente molto arditi. Ne è nata Ciberknife un concerto al quale sono molto affezionato e che spero di dirigere di nuovo presto eseguito dal maestro Vanoosthuyse, per il piacere di sentire ancora una volta il suono cantabile del suo clarinetto.
(Translation) I met Maestro Eddy Vanoosthuyse at ClarinetFest® 2018 in Ostende. I was positively impressed by the mastery and control of sound that Vanoosthuyse has in his way of playing the clarinet. When I was commissioned by the festival for a short concerto for clarinet and symphony orchestra to be dedicated to Eddy, I was very much interested in writing to capture the virtuosity and mastery with which he manages to be expressive in even the most technically daring passages. Cyberknife is a concerto of which I am very fond, and I hope to direct it again soon, performed by the master Vanoosthuyse, for the pleasure of once again hearing the cantabile sound of his clarinet.
From Robert Spring, Professor of Clarinet, Arizona State University:
I've known Eddy Vanoosthuyse since 1995, when I invited him to perform at ClarinetFest® 1995 at Arizona State University. It was his first performance in the USA! We became close friends, have taught together for many years, and our families are friends.  He has made a huge impact on the clarinet world, especially with his hosting of two international competitions, as well as ClarinetFest® 2018.  His students have won auditions and held positions world-wide.  He so deserves the honor of receiving an honorary membership in the ICA!