TCO Audio Reviews: November 2022
---
Dr. Diego. Diego Vásquez, clarinet; Melissa Grey, electronics; David Morneau, electronics. Flower Cat: Fluorescence, Inflorescence. Flower Cat Digital Release. Total Time: 11:54.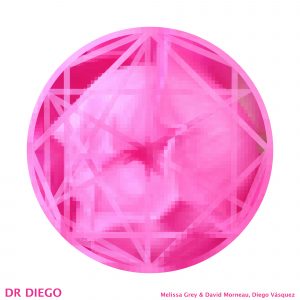 Dr. Diego is the most recent album by electronic performer-composers Melissa Grey and David Morneau (collectively Flower Cat), in collaboration with bass clarinetist and interdisciplinary artist Diego Vásquez. The album consists of two tracks—Fluorescence and Inflorescence—which meld together into an unusual two-movement, through-composed chamber piece for bass clarinet and electronics. Blending the bassline structure of Bach's Passacaglia in C Minor with deliciously glitchy old-school electronic sounds, the brief album provides a delightful romp through a completely unique sonic world. In addition to composition and production, Grey is credited with performing on the Merlin Music Machine and Morneau on the Nintendo Game Boy.
In the first track, Fluorescence, the electronics set up a background for a bass clarinet solo which riffs off of Bach's original motives with echoes of synthetically manipulated clarinets in the background. The bass clarinet takes on Bach's bassline itself in the second track, Inflorescence, blending so seamlessly with the low electronic sounds that the two seem to form an electroacoustic hyper-instrument. Clocking in at just 12 minutes, this short album is danceable, catchy, and wholly original.
– Erin Cameron
---
Firasso – Tales. Robert Beck, clarinet/bass clarinet; Marko Kassl, accordion; Nils Imhorst, bass. M. Kassl: El Amor en Los Tiempos del Corona; Ennio. N. Imhorst: Käues; 6:55 Uhr; Herbst Walter; Walfahrt Nach Köln; Mus@; An Tante Rampicante; Lominga. R. Beck: Valle; Ska Problem; Intermezzo; Zuchpe. GLM Music, FM 322-2. Total Time: 49:00.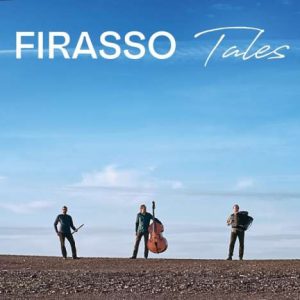 Firasso is an eclectic trio consisting of Robert Beck (clarinet/bass clarinet), Marko Kassl (accordion), and Nils Imhorst (double bass). This debut album features all original compositions by the trio, and according to their website they utilize "the musical vocabulary of the tango and klezmer tradition, Balkan music and the French musette." I would add that these compositions are wildly creative and showcase the wonderful musicianship of each of the musicians, featuring interweaving counterpoint and imaginative solos.
The album begins with an asymmetrical groove that is fun and immediately draws you in. Although I am not sure if the solos are improvised, they are skillfully paced and sound very natural. Beck especially utilizes a variety of colors and tasteful growls, which makes you want to hear more of this "tale." Equally as impressive as his soprano clarinet playing is his bass clarinet playing, which is featured on several of the tracks. One of the tracks featuring the bass clarinet, also features sound effects created by each of the instrumentalists to sound like the sea. This track, Walfahrt nach Köln, begins with a creaking sound and wind, before the clarinet begins foghorn effects, while the bass creates sounds of both whales and seagulls. Once the scene is set, the trio comes in with yet another catchy tune. Bravo to Firasso on their well-mixed, well-planned, and well-played debut album.
– Jeremy Wohletz
---
Pop Channel. Evan Ziporyn, clarinet. E. Ziporyn: Uncle Albert/Admiral; Ride Captain Ride; Woodstock; Along Comes Mary; Woodstock Improvisation/Villanova Junction; Shining Star; That's the Way of the World; Portrait of Tracy; I Live Above the Hobby Shop; Deadbeat Club; Strawberry Letter 23; Your Gold Teeth II. Digital Release. Total Time: 52:53.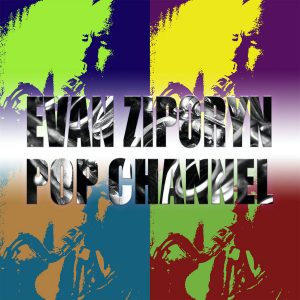 Evan Ziporyn engages in creative and virtuosic styles with pop culture and musical icons of the past century with the high energy and infectious rhythms of Pop Channel. It is hard to say whether the performances or the arrangements are more masterful as Evan Ziporyn individually records all the clarinet parts to create a mixed tape prepared with love, nostalgia, and wit revealing masterful knowledge of pop culture hits. This album is a blast to the past with a new age vibe that can be appreciated on all levels of music nerd-dom.
Uncle Albert/Admiral Halsey is a neat glimpse into Paul McCartney's development into a solo act and sparkles on the clarinet. Ride Captain Ride shimmers with happy vibes similar to Steve Reich's New York Counterpoint and is suitable for jamming or chilling. Woodstock provides a jazzy interlude with soothing harmonies and beautiful blend incorporating slap tongue as a textural device. This is a love letter to Joni Mitchell's process, talent, and her place in American music history.
Along Comes Mary arrives with pleasing pops to the articulation and delightful energy before an intense electric guitar style bass clarinet shred for Woodstock Improvisation. This piece makes full use of bass clarinet multiphonics with a guitar amp and distortion pedals. Evan Ziporyn puts his talent on full display with flexible sound and virtuosic ease across the registers. Shining Star is another bass clarinet heavy jam that uses syncopated slap tongue effects as a percussive element and slides easily into That's the Way of the World which functions as a grooving ballad. It is hard to say whether the charm of this album comes more from the expertly informed takes on such classic favorites or the equal care taken in deciding the album order.
Portrait of Tracy takes everything down a notch to a reflective place with impressive blend and intonation before returning to a lighter mood with I Live Above the Hobby Shop whose simplicity is deceiving and engaging. Deadbeat Club features impressive control and intonation in the altissimo registers and an easy groove. Strawberry Letter 23 features an infectious bass clarinet line and sets up the quirkiest but rewarding last take, a "pocket symphony" as described by Evan, Your Gold Teeth II.
– Andrea Vos-Rochefort
---
La belle aventure I. Jean-Guy Boisvert, clarinet. S. Bertrand: 6 Études pour clarinette seule; R. Lemay: Train miniature; B. Mather: 6 moments musicaux; H. Lee: The snakes; É. Champagne: Suite; M. Andronikou: The Dreams of Nature; J. Lesage: Chant du souvenir et de l'oubli. Digital Release. Total Time: 1:00:01.
Canadian clarinetist Jean-Guy Boisvert introduces 29 new miniatures for solo clarinet in his album La belle aventure I. The first of two albums, feature pieces which Boisvert commissioned by composers Simon Bertrand, Michalis Andronikou, Éric Champagne, Hope Lee, Robert Lemay, Jean Lesage, and Bruce Mather. The full collection includes over 150 works representing a wide array of styles at the beginning level that are specifically geared toward the young clarinetist.
The album starts with 6 études pour clarinette seule by Simon Bertrand, an ideal piece for a clarinetist who is just starting to build their technical foundation. The work begins with a simple grace note-infused melody that slowly builds in intensity. As the movements progress, repetitive gestures alternate with small spurts of fast technique. Boisvert performs the movements with ease, control, and excitement, bringing the audience through a multitude of dynamics and nuances. Michalis Andronikou's The Dreams of Nature starts in a similar way to 6 études pour clarinette seule, with a melody consisting of short quick figures, and it continues into a groove-like song which resembles that of a walk-through nature. Boisvert carries out smooth crescendos and decrescendos as he brings the audience on this nature-inspired journey. The layout of multiple short movements (miniatures) that many of these pieces incorporate is ideal for teaching students how to bring forth different characters in their playing.
The snakes by Hope Lee begins with a slow reptile-themed melody that grows into quicker ascending and descending lines, reminiscent of a snake making its way from walking to dancing. Boisvert maintains a clear, warm tone while he seamlessly transitions from long-tone figures to runs. Lemay's Train miniature similarly moves from simple to complex – a helpful tool for a beginner student to ease into a new piece. Additionally, the incorporation of subjects such as snakes and trains is a clever and fun way to relate classical music to other interests of beginner students.
La belle aventure I originated in the necessity – and the dream – of filling an obvious gap in the Canadian repertoire for young clarinetists." – Jean-Guy Boisvert
– Lara Mitosfsky Neuss
---
Stories out of Cherry Stems. Katie Procell, soprano; Andrea Morris, oboe; Garrett Hale, oboe and English horn; Brian Tracey, clarinet; Jennifer Hughson, clarinet and bass clarinet; Lavena Johanson, violoncello; Amanda Dame, flute; Eric D'Alessandro, viola; Erin Baker, harp; Kyle Blake Jones, alto saxophone. P. Dayton: Entwine Our Tongues: Sapphic Fragments; Si Solamente; Lost Daughter: Songs on the Myth of Persephone; Desiderata: Ten Pieces of Wisdom. Navona Records, 6424. Total time: 79:17.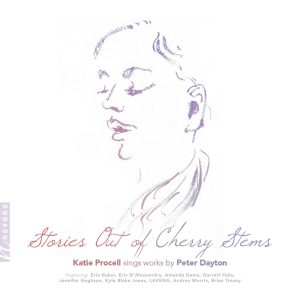 Stories out of Cherry Stems features four multi-movement vocal works by pianist and composer Peter Dayton that draw from the writings of poets Pablo Neruda, Oscar Wilde, Jordi Alonso, and Max Ehrmann. Soprano Katie Procell performs every work on the album, accompanied by a variety of instrumental ensembles. Despite the contrasting sonorities, lyrical content and character of the four works presented, the album feels cohesive, with each work leading the listener smoothly to the next via, as Dayton describes it, "threads of sonic continuity." Lost Daughter, for instance, concluding with a C-sharp in the harp leads the listener seamlessly into Desiderata, which begins with a D-flat in the vocal line. The major second interval is also prominently featured in every piece, binding the album together.
Procell and the instrumentalists demonstrate technical prowess and musical sensitivity throughout the album, culminating in an expressive and masterful performance. Of particular interest is the album's first piece, Entwine Our Tongues. Based on the poetry of Jordi Alonso, this is the only piece to include clarinets. For this five-movement piece, Procell is accompanied by Andrea Morris (oboe), Garrett Hale (oboe and English horn), Brian Tracey (clarinet) and Jennifer Hughson (clarinet and bass clarinet). The varied timbres of the four reeds play off one another in bright flourishes, then blend beautifully to accompany the voice. Especially in the second movement, the imitation and dialogue between the oboe and English horn, clarinets and voice are masterfully performed. The album overall presents a diverse yet cohesive demonstration of Dayton's skilled and thoughtful writing and brings the listener on a captivating and engaging sonic adventure.
– Sarah Korneisel Jaegers
---
Mind & Machine 4: Organic and Electronic Works. Andrew Vos-Rochefort, clarinet; Mara Helmuth, electronics; Daniel Yiau, bass clarinet; Michellina Chan, saxophone; Don Kow, trombone; Vincent Tan, euphonium; Avik Chari, electronics; Ng Pei-Sian, cello; Gina Biver, electric guitar; Danielle Krause, vocals; Katrinah Lewis, vocals; Leo Williams, vocals; Hannah Leah Guanlao, narration; Jayson Palolan, Philippine indigenous instruments. M. Helmuth and A. Vos-Rochefort: Water Birds. A. Chari: green line 2065; Senescence. G. Biver: the inner landscape of a cabin in the woods; Gasp. J. Feliz: Hanggang sa Takipsilim. Ravello, 8070. Total Time: 42:10.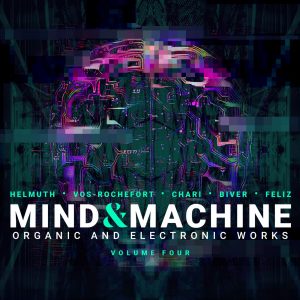 Water Birds, composed by Mara Helmuth and Andrea Vos-Rochefort, also features the clarinet artistry of Vos-Rochefort on both clarinet and bass clarinet. The piece is ethereal and transparent allowing the clarinet playing to fit perfectly within the broader context of the piece. This allows Vos-Rochefort to clearly demonstrate the depth of her musicianship. Her tone is beautifully clear and shimmering without lacking any flexibility or warmth. There is a combination of key clicks, traditional clarinet playing, and air sounds that combine with the electronic sounds of the work to make a composite that is haunting and memorable.
green line 2065 by Avik Chari, features the Singaporean ensemble K口U, which is a play on the character 口 meaning "mouth" in Mandarin Chinese. The piece, which features the bass clarinet work of Daniel Yiau, is a blend of electronic sounds, an electro acoustic bed of sound and recorded live performers. It is an interesting piece that is convincingly presented by this intriguing ensemble.
Senescence also composed by Avik Chari and does not have any clarinet playing. The stunning cello playing of Ng Pei-Sian is memorable in this work that evokes a sense of connecting music and nature.
The next two tracks, The Inner Landscape of a Cabin in the Woods and Grasp, both composed by Gina Biver, are interesting works that feature prerecorded sounds that are used to create the basis of sound for the performers. The combination of identifiable recorded sounds and voices is haunting and memorable when combined with the non-descript sounds of the instruments.
The final track, Hanggang Sa Takipsilim, by Juro Kim Feliz combines computer electronic music with indigenous instruments of the Philippines. The result is a work that is an interesting blend of new sounds and old sounds to create a new approach to contemporary art music.
This album is an interesting collection of pieces, and while not every track includes clarinet, Water Birds truly features the clarinet. The artistry and creativity of Andrea Vos-Rochefort is not to be missed.
– Spencer Prewitt
---
Return to the Future. Lajos Dudas, clarinet; Eckard Koltermann, bass clarinet; Dieter Kühr, clarinet; Theo Jörgensmann, clarinet; Tommy Vig, vibraphone; Harvey Wainapel, alto saxophone; Vitold Rek, bass; Wladimir Tarasov, drums; Hans Sparla, trombone; Ali Haurand, bass; Kurt Billker, drums; Tom van der Geld, vibraphone; Sebastian Buccholz, alto saxophone; Yildiz Ibrahimova, vocals; Balász Berkes, bass; Hubert Bergmann, piano; Elmar Guantes, bass; Leonard Jones, bass; Philipp van Endert, guitar; Jochen Büttner, percussion; Teodossi Stoykov, bass; Márta Szarmay. L. Dudas: Miniaturen; Echo; Change of Time; Nightfall; Real Bebop; Walk in the City; Ordinary Memory; Convergence; All the Things You Are; Eleven and a Half Bar Blues. Jazz Sick Records, 5116. Total Time: 43:41.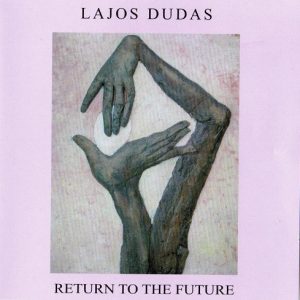 Return to the Future begins with a light-hearted Miniaturen that was originally a live recording produced in Cologne back in 1988. The work features a slow introduction that later develops into a complex set of intertwining conversations between the clarinet and the other instruments. The second track Echo (Cologne, 1988) is a duet between clarinet and xylophone in which the timbres produced are very colorful. It emphasizes the clarinet melody that dances over the counterpoint of the xylophone. The third track, Change of Time (Baden-Baden, 1989), transitions to a livelier melody and includes instruments typically heard in a jazz set.
It's refreshing to hear the clarinet in the forefront leading and interacting with the other instruments while perfectly in-sync. There is no question that Lajos Dudas is well-versed in making the improvised melodies sound natural and flowing. It is as if you're in a live show! The following track Nightfall (Cologne, 1979) is a contrast to Change of Time in the dark and mysterious character it provides for the listener. Especially towards the end it seems ominous with the haunting bass and minor blues-like melody performed by the clarinet and contrabass. I enjoyed Real Bebop (Bonn, 1990) because it embodies all the rhythms and characteristics of the genre, along with the clarinet's seamless interactions with the other instruments making it sound like a gathering of friends talking together. There was impressive scatting from the singer Yildiz Ibrahimova who was able to integrate additional timbres in a colorful way. Walk in the City (Budapest, 1995) also combines a great mixture of timbres and melodies by using multiphonics to help create the ambiance of the city. Ordinary Memory ( Überlingen, 2013) was like a welcoming discussion amongst friends. The use of echoes produced from the clarinet contrasted with the abrupt changes between characters reflected in both the clarinet and piano are sonic representations of a memory. Convergence (Überlingen, 2013) starts off with the double bass and clarinet that shifts between slow and fast moments between all the instruments involved. All the Things You Are (Cologne, 1998) is a change from the other tracks in that it is very light-hearted. If you listen carefully, it is very reminiscent of Ella Fitzgerald's arrangement. The recording ends with Eleven and a Half Bar Blues (Neuss, 1991) which provides a satisfying conclusion to the album.
The performers were all excellent, and I particularly enjoyed how Dudas recorded these live tracks slowly over the course of his career showcasing his versatile talents. It is a fun album and would be great to listen to during celebrations with friends. It was very enjoyable. I really appreciated the variety and the modern take to these American music genres that will resonate for years to come!
– Kristine Dizon
---