Originally published in The Clarinet 46/1 (December 2018). Printed copies of The Clarinet are available for ICA members.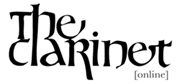 ---
Remembering Harry J. "Bud" Rubin
The ICA community was saddened to learn of the passing of one of our Honorary Members, Harry J. (Bud) Rubin on March 18, 2018, at the age of 89. Rubin was a lawyer and a clarinetist and served as the voluntary legal council for the ICA since 1976.
What follows are tributes from those who knew Bud and worked with him.
My family mourns the loss of my uncle, Harry J. (Bud) Rubin, a great man, an incredibly bright legal mind to the end of his nearly 90 years, and a wonderful amateur clarinetist for many years. Bud was one of my early inspirations on the clarinet. Every summer, he would invite me over to play duets at his house on Long Beach Island on the Jersey shore, which conveniently was right across the street from my grandparents' house. Bud studied clarinet with the great Iggy Genusa, with whom I eventually had some lessons, so I was fortunate to hear beautiful tone from an early age. When I decided to pursue a career in music, Bud of course followed my path with great interest, always trying to attend concerts that I would play in New York, and after moving to Milwaukee, listening to the Milwaukee Symphony recordings and live concerts on NPR. Bud loved the clarinet, and law, but I think he vicariously lived his dreams of a life in music through me, and I was always happy to call him up and share certain milestones along the way. A recent highlight for him was when Ricardo Morales asked me to play guest principal for him for six weeks with the Philadelphia Orchestra when Ricardo's daughter Victoria was born. Bud was thrilled beyond belief to hear me playing with the orchestra that he grew up listening to and admiring, and a long way from where I started, playing those duets with him as a young kid.
RIP Bud, we all will miss you.
– Todd Levy, Rubin's nephew and
Principal Clarinet – Milwaukee
Symphony Orchestra
One could say that Bud Rubin was "old school." To me, old-school signifies someone who has many interests, one who crosses boundaries–one who has a keen mind, a big heart, a great sense of humor and a true appreciation of the arts. Bud was all these things and was a prominent attorney. Yet through all his prominence in the legal world, he radiated the heart and spirit of an artist and musician. He generously gifted his legal expertise to the ICA, and largely and, in a sense, singlehandedly guided many ICA boards in their decision-making over the course of several decades. Bud served the ICA from 1976-2005. His benevolence set a rock-solid foundation upon which the current organization now looks towards a bright and stable future. To me, Bud was a person of integrity, honesty and altruism, but most of all, he was a person any member of the ICA could sit and talk with about the clarinet, play duets with or just chat about reeds with. What an immeasurable treasure and gift the ICA has been so fortunate to have benefited from for so many years – Bud's contributions touch back to the original founders of this organization and reach far into the future of young clarinetists throughout the world. It is through Bud's contributions that the ICA is what it is today.
– John Cipolla, Professor of Music –
Western Kentucky University
Drafting our legal incorporation documents was attorney Harry "Bud" Rubin from York, Pennsylvania. Bud Rubin [was] the most important volunteer we have ever had. His generosity has been equaled only by his expertise. Consistently refusing to even allow the ICA to pay his conference registration, he [was] to our organization what a good reed is to a clarinetist, a rare and cherished find.
– Julie DeRoche, Professor of Clarinet and Chair of the Department of Music Performance – DePaul University