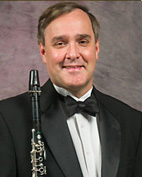 The ICA is deeply saddened to learn of the passing of Dr. K. Tod Kerstetter. In addition to being the ICA Treasurer, he was also clarinet professor at Kansas State University.
Tod was loved by everyone who knew him. Please feel free to share any memories you have of him in the comments.
Our thoughts and condolences go out to his family, friends, and students.
The ICA would like to dedicate the remaining three weeks of ClarinetFest® 2021 Virtual to Tod Kerstetter. May his beautiful spirit and love of the clarinet live on.
Dr. Kerstetter's performance for ClarinetFest® 2021 Virtual will be premiered on July 23, 2021 at 4:30 pm here.
Listen to Dr. Kerstetter perform New York Counterpoint (June 2021) here.