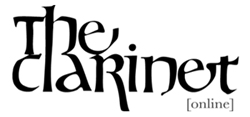 Originally published in The Clarinet 44/2 (March 2017). Printed copies of The Clarinet are available for ICA members.
---
by Bruce Creditor
For this column – and as an adjunct to "Clarinet Cache" – I turn to looking at the websites of several wind quintets. These are only a few of the many out there, and I invite you to investigate these and the sites of so many others.
The Soni Ventorum Wind Quintet
(Bill McColl, clarinet)
The Soni Ventorum Wind Quintet was one of those pioneering wind quintets of the 1950s that paved the way for the explosion of ensembles in the 1970s and beyond. It was formed around 1958, with four of the players meeting each other in the 7th Army Symphony! The flutist, Felix Skowronek, coined the name of the ensemble – from the Latin for "sounds of the winds" – while he was still in high school, long before the formation of the ensemble.
This website has a veritable wealth of information, not only about the now-retired Soni Ventorum, but also about the abundance of wind quintet repertoire, with MP3 recordings and program notes.
The home page itself presents a rich portal to the site, with imaginative art videos to music by Schoenberg and Babbitt, as well as larger ensemble pieces by Milhaud, d'Indy and others. This is just an appetizer for the wonderful main course to come.
The site's headings of "History", "Artists", "Archive Download Music", "Discography/Press" and "What's New" are perhaps similar to those of other ensembles, but here each one has a treasure trove of material hiding behind. The artist biography pages also present MP3 solo and ensemble performances by each of the players, giving a more in-depth look at their artistry beyond the quintet.
Especially tantalizing is "Archive Download Music," where practically the entire Soni Ventorum repertoire – 206 selections – is available in MP3 form with program notes from the original Soni Ventorum programs. The works range alphabetically from Hans Apostel to Luigi Zaminelli. I dare the reader to name a piece by either of these composers! This is a Fort Knox of repertoire open to all, heard here in vivid performances – some from recordings and some from live performances. Ensembles of all levels are encouraged to check this page out for inspiration from the rich experience of the Soni Ventorum Wind Quintet.
Since Soni Ventorum disbanded in 2001, the heading of "What's New" deals not with current performances but rather with what archival activity has occurred recently and what new links to additional resources are available, even including a Wikipedia article!
I thank Bill McColl who was the Soni Ventorum clarinetist for the decades of their existence for writing and encouraging me to take a look at their site.
Quinteto Latino
(Leslie Togorda, clarinet)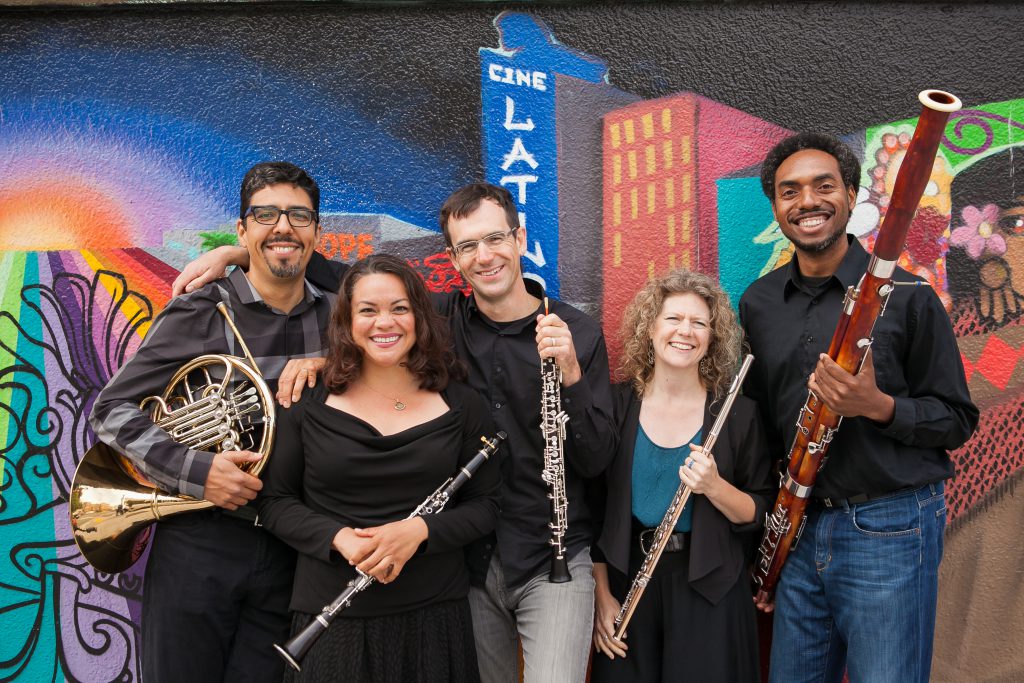 "Bienvenidos! Welcome!" A vibrant colorful home page greets the reader with changing pictures of this handsome and diverse ensemble. Their mission states that they are "expanding the cultural boundaries of classical and contemporary music, making that music available, relevant and inspiring to entirely new audiences."
The "About" page explains how they go about fulfilling their mission:
Celebrating Latin American Composition
Supporting Emerging Latino Classical Musicians
Building Bridges in the Community
Each of these bullet headings is backed up with particular activities, and under the "Educate" tab, their Raices Programming Guide and Raices Educational Curriculum Worksheet present materials that could be replicated – either with similar Latin repertoire or music of other ethnicities
as well.
The other tabs of the site are also very inviting, such as the "Bookings" page, offering the categories of Formal, Educational or Special Projects types of programs. The "Events" tab has links to the venues, giving access to information and purchase of tickets all from one page.
The Quinteto Latino presents the opportunity to preview and order their wonderful CD 100 Years of Mexican Music for Wind Quintet, which includes the superb Soli No. 2 by Carlos Chavez.
I was impressed by the mention of the quintet's major supporters – including Chamber Music America, Western Arts Alliance and the San Mateo Arts commission – while on the same page making clear requests to potential donors to support the fulfillment of their mission.
Please put this site on your itinerary to get to know a multi-faceted and successful ensemble.
City of Tomorrow
(Rane Moore, clarinet)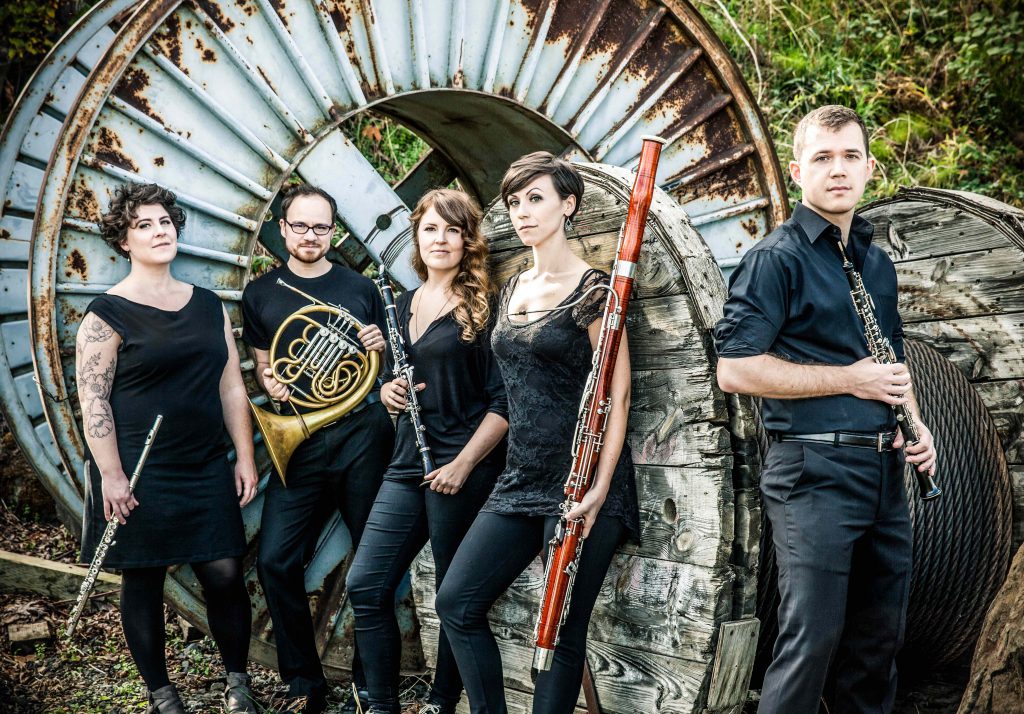 This is a very stylized website befitting the group's particular mission statement that I quote here to share its uniqueness, its all-encompassing nature and its bold comparison to the Kronos Quartet:
Approaching the delta where contemporary classical music, experimental music, environmentalism, and humanism converge, the City of Tomorrow is a woodwind quintet with unusual ambition. Seeking to give voice to emotions of people living in the world today, the quintet makes music to provide an outlet for our reactions to environmental destruction, endless war, the pixelization of our memories, the overwhelming mass of information collected on humanity every day, and other contemporary issues.
Forging a new identity for the wind quintet in the same way that Kronos Quartet did for strings, the City of Tomorrow commissions new works, seeks relevancy for older compositions from the 20th century, and continues to shatter expectations for a concert of wind chamber music. This frequently means unexpected sounds: conch shell horns, improvisation on the clarinet, and a flute that can whisper, spit, talk and sigh.
The "Media" page presents excellent video performances of Jennifer Higdon's Summer Shimmers (7') – beautifully filmed, capturing the poetry of the music and performance – Nat Evans's Music for Breathing (a long 22') and Berio's Ricorrenze (14'), which should be programmed more often, even if not in the widespread seating formation across the stage that these musicians demonstrate.
Founded in 2012, the quintet also promotes its triple-album recording project The Apocalyptic Sublime, which will include a new work by Hannah Lash funded by the Classical Commissioning Program, along with The Andrew W. Mellon Foundation and the Chamber Music America Endowment Fund. This demonstrates the mainstream support they are receiving for their adventurous programming.
I look forward to following the future achievements of this ensemble and seeing how it energizes the next generation of wind quintets. Meanwhile, you can enjoy their tote bag and shot glass, available on their website.
Quintet Attacca
(Barbara Drapcho, clarinet)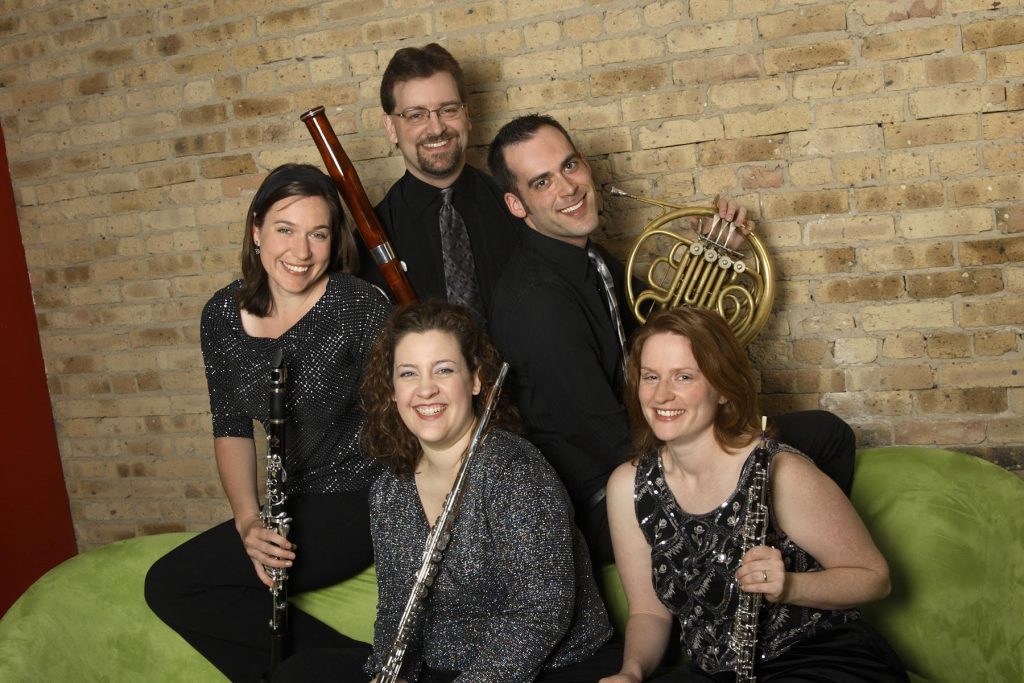 Based in the Chicago area and founded in 1999, Quintet Attacca is Ensemble-in-Residence at the Music Institute of Chicago and has had an active performance history with a variety of repertoire. The quintet was the Grand Prize Winner and Wind Division Gold Medal Winner of the 2002 Fischoff National Chamber Music Competition.
Quintet Attacca's educational outreach programs are wonderfully inventive and imaginative, and the group delights in bringing music education to all ages and abilities. The offerings include titles such as:
Set the Score!
Where in the World is Quintet Attacca?
Quintet Idol!
The Case of the Missing Musical Clock
Peter and the Wolf (can't get away from it!)
Master Classes for Band Students
It is with the involvement and leadership of quintets such as Quintet Attacca and others that the next generation of music lovers will be developed.
Five works have been written for the quintet: David Smooke's Trompe L'oeil, Collin Anderson's Tangram, Rami Levin's Danças Brasileiras and Portrait, and Dana McCormick's Two Episodes for Wind Quintet. I look forward to hearing performance of these works with intriguing titles.
Unfortunately, the performance schedule goes only through the 2015-16 season, but they have listed performance history back to 2012, illustrating the varied types of venues they have visited in presenting the sundry works they perform. While the site is in need of an update, it is still a worthwhile resource.
Asculta! Woodwind Quintet
(Daniel Cathey, clarinet)

As they tell us, Asculta! means "listen!" or "take heed!" This ensemble is based in the Willamette Valley and presents concerts to local and underserved audiences in Oregon and the Pacific Northwest.
The Asculta! Woodwind Quintet's season consists of four concerts, but an important part of their commitment is the Women Composer Commissioning Project, in which the group will commission six women composers (Loren Loiacono, Beata Moon, Andrea Reinkemeyer, Diana Rosenblum, Gabriella Smith and Jamie Thierman) to each write an 8-9 minute composition for wind quintet. The works will be performed locally and recorded. Ultimately their goal is to take this music to national and international stages by performing at the Women Composers Festival in Hartford, Connecticut, and the Donne in Musica festival in Fiuggi, Italy.
The outstanding feature on the group's website is the "Media" page, where you can listen to selections of some familiar works and some less so. I am partial to the works of Alec Wilder, so it is wonderful to hear them here.
Nikola Resanovic: Drones and Nanorhythms
Alec Wilder: Quintet No. 2, Mvts. 1, 2, 4
Ferenc Farkas: Ancient Hungarian Dances
Robert Muczynski: Quintet for Winds, Mvt. 1
Alec Wilder: Quintet No. 1, Mvt. 1
Francis Poulenc: Sextet for Piano and Wind Quintet, Mvt. 1
David Maslanka: Quintet No. 2: Mvt. I
Eric Ewazen: Roaring Fork, III – At the Summit (Buckskin Pass)
György Ligeti: Six Bagatelles, No. 3
These audio files can serve as jumping-off points for other quintets. The amount of audio files available on websites such as Asculta!, Soni Ventorum and many other such groups provides an amazing resource to today's ensembles. I wish the Emmanuel Wind Quintet had access to such resources when we were choosing repertoire, not that we did too badly (including Schoenberg, Harbison, Ravel, Picker, Klughart, Babbitt, Lerdahl, Mozart, Berio, Schuller, Fine, Janacek, Poulenc, etc.). Not too bad a list! v
* * * * *
This column has obviously been dedicated to wind quintets in the U.S. I hope to cross the borders north and south, across the pond and beyond. If you have a wind quintet website I should consider, please let me know at [email protected].
---
About the Writer
Bruce Creditor has enjoyed a diverse career in music including performance (the Naumburg Award-winning Emmanuel Wind Quintet, etc.), music publishing, record producer, music librarian and orchestra management as assistant personnel manager of the Boston Symphony and Boston Pops Orchestras. He has enjoyed editing Quintessence since 1986.