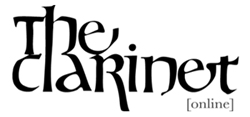 Originally published in The Clarinet 46/4 (September 2018). Printed copies of The Clarinet are available for ICA members.
---
Music Reviews – September 2018
BASS CLARINET
Juan de Dios López-Maya. The Stick and the Mask for unaccompanied bass clarinet. Cayambis, 2017. Duration 5'30" $18.90
Juan de Dios López-Maya (b. 1962) is a Venezuelan composer and musicologist. His medium-difficulty four-movement work The Stick and the Mask can be played on a bass clarinet without extended low range. The upper range is modest too, only reaching to clarion A. The four short movements portray in music the grisly plot of a novel by José Manuel Briceño Guerrero. Full of mixed meter and short repeated motifs, the music is often dance-like and includes a few measures with slap tongue, key clicks and flutter tongue.
– Gregory Barrett
CLARINET AND PIANO
Brian Balmages. Dream Sonatina for clarinet and piano. Potenza Music, 2015. Duration 10'30" $24.95
American composer Brian Balmages (b. 1975) has written numerous works for wind and brass instruments. Dream Sonatina was composed for clarinetist Marguerite Levin and premiered by her in Weill Recital Hall, New York City. Balmages fulfilled the specifics of the commission by composing a work reflecting life in his 30s. For Balmages this centered on the birth of his two children and three types of dreams they experienced: daydreams, sweet dreams and bad dreams. The dreams are each portrayed in a separate movement.
The music is well-written, convincing and of medium-hard difficulty, and it uses a fluidly mixed language of classical and pop music. There is good musical and emotional contrast between movements and enough difficulty to be engaging for the performers.
– Gregory Barrett
Ivan Boumans. Sea Episodes for B-flat clarinet and piano. Gérard Billaudot Éditeur, 2011. Duration: 5' €7.54
Born in Madrid in 1983, Ivan Boumans spent his childhood in Valverde del Jucar, Spain. He began his early music study in 1993 at the Conservatory of Cuenca. A year later he entered the Conservatory of Luxembourg where he studied piano, clarinet, composition, conducting and a myriad of other music subjects. He later enrolled in the Paris Conservatory where he received a Master Diploma in music composition in 2011. His catalog of works contains more than 100 pieces of various genres including chamber music works, film music and symphonic pieces. He currently teaches at the Conservatory of Luxembourg where he combines composition and conducting with other projects.
Sea Episodes is a short, descriptive piece which has four subtitles indicated by the composer. It begins with "The Sailor's Farewell," a lilting tune in 6/8 time in the key of C minor (concert pitch). The next section is "Mermaid's Song" and it begins with a brief section marked Liberamente. The composer states that articulations and tempo are to be chosen by the performer. The piano part consists mostly of tremolos. A new theme marked Andante continues with the piano echoing the phrases of the clarinet. This is followed by a much faster section, "Storm." Dotted rhythms provide intensity and loud, accented quarter notes appear in both parts. The clarinet emulates a strong wind with chromatic lines ascending and descending while the piano supplies much of the energy underneath. None of this lasts very long – less than a minute – and the storm calms with the onset of softer dynamics and flowing triplets in the piano. The piece concludes with "Return Home," a rather brief ending of five measures. Most of the piece is
tonal, but there are dissonant chords in
the piano part.
This piece is listed in the "Collection Éric Perrier." The composer indicates that this is Opus 66. It is not difficult, and perhaps could be performed by an intermediate student.
– Robert Chesebro
Frank Bridge. Serenade. Arranged for clarinet and piano by Russell Denwood. Emerson Edition, 2011. Duration: 2'40" £6.00
Frank Bridge (1879-1941) – English composer, conductor, violist and teacher of composition prodigy Benjamin Britten –
composed this lovely, clear-lined work for violin or cello and piano. The music is technically very easy, the sentiment sincere and the harmony enchanting. The last seven measures are an abrupt presto that brings our reverie back to reality.
– Gregory Barrett
Frédéric Chopin. Nocturne No. 2, Op. 9. Transcription for clarinet and piano by Guy Dangain. Gérard Billaudot Éditeur, 2013. Duration: 4' €6.75
This most famous and delicate nocturne by Chopin is presented by Guy Dangain in the original key of E-flat major – a friendly key for the clarinet. The melody is unaltered but for several instances of octave transposition and a slight shortening of the repeated trill-like measure at the end. In this medium-difficulty work, Dangain has specified rhythmic groupings for several of the melismatic measures in Chopin's original.
– Gregory Barrett
Claude Debussy. Valse Romantique. Transcription for clarinet and piano by Zoltán Kocsis. Editio Musica Budapest, 2016. Distributed in North America by Hal Leonard. $14.95
Hungarian pianist and conductor Zoltán Kocsis (1952-2016) recorded Debussy's Valse Romantique (1890) and shared his advocacy of this work for clarinetists with this transcription. The idiomatic medium-easy clarinet part is scored for B-flat clarinet, playing in the sounding keys of F minor and F major.
– Gregory Barrett
Edward Elgar. Salut d'amour, Op. 12. Transcription for A clarinet and piano by Graham Bastable. International Music Company, 2017. $9.50
This evergreen dedication of love from Elgar to his future spouse Caroline Alice Roberts has been transcribed for A clarinet and piano maintaining the original key of E major. Medium-easy difficulty except for the four measure pianissimo altissimo G in the clarinet in the concluding phrase. This could be altered for ease of performance.
– Gregory Barrett
Gabriel Fauré. Après un rêve, Op. 7, No. 1. International Music Company, 2017. Transcription for clarinet and piano by Graham Bastable. $8.95
_____. Sicilienne, Op. 78. International Music Company, 2017. Transcription for clarinet and piano by Graham Bastable. $12.25
Dreaming of Fauré? This arrangement of Après un rêve will fulfill your desire. The beloved song is set entirely in the B-flat clarinet's chalumeau register.
Fauré's Sicilienne is familiar from his orchestral suite Pelléas et Mélisande and from its many arrangements. This version, set in A minor for the clarinet, favors the chalumeau register and rises above the treble staff only once. Correct the first note in measure 15 to B flat.
– Gregory Barrett
Jesús de Monasterio. Adiós a la Alhambra. Bassus Ediciones Musicales, 2015. $19.50
Are you suffering withdrawal symptoms from ClarinetFest® 2018 – Ostend, Belgium? If so, in a roundabout way, this work by the Spanish composer and violinist Jesús de Monasterio (1836-1903), may be the antidote. You see, de Monasterio studied at the conservatory in Brussels from 1852-1854 and was even offered a professorship there in 1870.
He wrote Adiós a la Alhambra (1855) for violin and piano but we know from a Madrid newspaper account that clarinet-phenom Antonio Romero performed the work on clarinet in 1873 at a concert where de Monasterio also performed. In fact, they played the Beethoven Septet together.
For Bassus Ediciones Musicales, clarinetist Pedro Rubio and pianist Ana Benavides have given us an immensely enjoyable version for clarinet (in either B-flat or A) and piano. This nostalgic, 6/8 Andantino/Allegretto ABA-form single-movement work with introduction and concluding cadenza is sweepingly tuneful. The melodies are embellished with grace notes and trills and the harmony poignantly alternates between minor and major. Highly recommended.
– Gregory Barrett
José Manuel Fernandez Perez. Evocazione Barocca for A-flat piccolo (or E-flat piccolo) clarinet and piano. Eufonia, 2018. €14.50
The A-flat piccolo clarinet is quite an unusual and demanding small clarinet to handle due to its harsh, sharp and piercing tone, just like the other very seldom-used piccolo clarinets in C, B-flat, F and G (for Schrammelmusik in the Viennese tradition). Usually it is used in big military bands. It is practically nonexistent in solo or chamber music repertoire. On the contrary, for the E-flat piccolo clarinet we have a number of interesting works: arrangements from famous Italian operas by Cappelli, Cavallini and Panizza; and for D piccolo: Molter concertos, Pessina's The Nightingales with piccolo flute and the Handel Trio with a second D clarinet and a horn. E-flat piccolo and B-flat clarinet are used together in works by Bassi, Pillevestre, Filippa, Ponchielli and others.
The Spanish clarinetist and composer José Manuel Fernandez Perez wanted to offer this nice piece to the brave Italian clarinet player Giovanni di Lorenzo, who is one of the very few real specialists on this hard-to-play instrument. Di Lorenzo conceived a "Piccolo A-flat Clarinet Experience" project, including a recording. Fernandez Perez composed for him this new piece conceived as a small baroque suite including an "Ouverture" or "Bourrée," a "Sarabanda" and a small "Fandango" in the style of Antonio Soler or Boccherini. It is a small but very pleasant and well-structured piece. It comes with an optional part for E-flat piccolo clarinet. Hoping that this can be a starting point to build up a new repertoire for this rare piccolo clarinet!
– Luigi Magistrelli
WORKS WITH THREE TO SIX PERFORMERS
Louis Moreau Gottschalk. Two Pieces, Volume One: La Jota Aragonesa and Souvenir de la Havane. Arranged by Michael Webster. International Music Company, 2016. Duration: 9'40" $26.50
_____. Two Pieces, Volume Two: Souvenir de Cuba and Grande Tarantelle. Arranged by Michael Webster. International Music Company, 2016. Duration: 9' $29.50
Michael Webster's contributions to the repertoire for flute, clarinet and piano are invaluable. Under his leadership with flutist Leone Buyse, the Flute/Clarinet Duos Consortium has commissioned original works from composers including Libby Larsen, Derek Bermel and Pierre Jalbert. Webster's arrangements of works by Debussy, Bizet, Dvořák, Brahms and others showcase his insight of the music in its original form and also his deft understanding of tone color and timbre of each instrument making for effective adaptations to the flute, clarinet and piano medium. His first volume of arrangements of works by Louis Moreau Gottschalk contains La Jota Aragonesa and Souvenir de la Havane. The former work is a sprightly dance juxtaposed with boisterous, colorful interjections and flourishes, while the latter contains a habanera followed by another perky dance. Both works showcase the coloristic and stylistic capabilities of the ensemble, exhibit a perfect balance of melodic material between the parts and are enjoyable for both performers and audience. Webster incorporates relevant biographical and programmatic information regarding Gottschalk and these pieces in the preface. An essential companion to these arrangements is the Webster Trio's CD World Wide Webster, which contains this arrangement and many others.
Michael Webster's second volume of arrangements from the works of Louis Moreau Gottschalk includes Souvenir de Cuba and Grande Tarantelle. Souvenir de Cuba divides melancholic melodies between the three instruments in a manner that is equally flirtatious and imitative. The arrangement of Grande Tarantelle is so effective that one might think Gottschalk had originally written it for this combination of instruments! Its charm and wit are readily apparent. The piece requires utmost dexterity and musicianship from each performer and would easily bring an audience to its feet when performed. As with Volume One, the pieces are cleanly laid out, may be performed together as a set or separately
as single concert pieces and are recorded on the Webster Trio's album World
Wide Webster.
– Kip Franklin
David Bennett. Prelude and Scherzo, quartet for clarinets in B-flat. Carl Fischer, 1939; Copyright Renewed. Duration: 5' 30" $16.99
No longer out of print, this early quartet (1937) – like Bennett's contemporary work Deepwood for bass clarinet and piano – reflects Bennett's (1892-1990) career in popular music during the big band days in Chicago. Medium-easy in difficulty, the work is charming and old-fashioned. It is written in a range of tempos from Lento to Presto, and, though for four clarinets, the fourth part could be played by an agile
bass clarinetist.
– Gregory Barrett
Johann Melchior Molter. 5 Märsche für 2 Oboen, Klarinette, 2 Hörner und Fagott. Musikverlag Bruno Uetz, 2016. €16.00
Prolific German composer Johann Melchior Molter (1696-1765) is known to clarinetists primarily for his enchanting concertos for piccolo D clarinet. Molter used the same instrument in these five brief marches all in the key of D major. The clarinet, though sometimes playing a high descant line or doubling oboe 1, is functionally grouped with the two horns in providing harmonic and rhythmic support for the two oboes. The two oboes have almost all the melodic lines, replete with trills and alternating duple and triple division of the beat. Because of the simple nature of the D clarinet part it would not be difficult to play it a half step lower on a piccolo E-flat clarinet except for several resulting awkward trills of D flat to E flat and A flat to B flat – all in the clarion register.
– Gregory Barrett