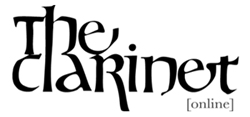 Originally published in The Clarinet 44/2 (March 2017), this online version contains embedded content. Printed copies of The Clarinet are available for ICA members.
---
by Michelle Lucia-Ingle
Digital technologies provide us with the opportunity to listen to music differently, study it more vividly and collaborate more effectively. The current options in music technology yield many benefits for musicians at all stages of interest and study. Mobile, desktop and web-based applications (apps) can serve as an aid for the applied clarinet studio and can be used by other types of music educators, such as ensemble directors and general music instructors. These digital technologies reinforce traditional musical concepts and keep students engaged. They also provide a way for the 21st-century musician to connect to a broader community.
Mobile apps, when utilized in the applied clarinet studio, have been particularly impactful in the student learning process. These mobile apps:
Provide clear and instant assessment of technical skills
Connect to a global community of performers and pedagogues
Increase creativity on a more modest budget
Reach students on a level with which they are familiar
Offer tools for increased focus and more thorough learning
Provide a platform to connect music materials to commonly-used technology
Provide accessibility to a professional community
Motivate students
The following is a review of selected mobile apps that can be used by students and teachers in a variety of effective and beneficial ways. These are certainly not the only apps available, and in many cases there are multiple apps that offer the same basic functions. However, these particular apps have been well-received by my applied clarinet students.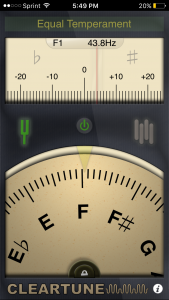 Cleartune successfully balances high-end features with its basic function of tuning. This makes it the top-selling, most critically-acclaimed instrument tuner available for mobile devices to date, with over half a million users. Its most appealing feature is in the layout of the user interface, where a "note wheel" is displayed to help find the desired pitch quickly. At the top of the interface, a fine-tuning meter display is included so the user can visually achieve a perfect tuning. By having both displays contained within the same interface, the user can see the note name being played while simultaneously observing the pitch.
Cleartune cancels out ambient noise, allowing the pitch to register while other sounds are present. It supports custom temperaments – a feature that is beneficial for both teachers and performers – as well as transposing instruments (clarinet, trumpet, horn, etc.) through the conversion of sounding and actual pitch. Solfege can be used in place of note names, and interval tuning is included for the violin family.
Tempo Advance (iOS $3.99)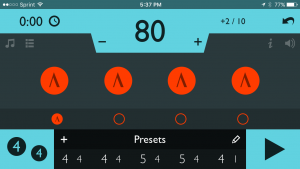 Tempo Advance is a metronome app that retains the functionality of traditional metronomes while adding features that solve most rhythmic nuances and complexities encountered in music. The user interface is designed in a way that is immediately accessible to the first-time user, but can be personalized to perform any number of complex tasks. There is a polyrhythm mode that can simultaneously play back two different beat patterns in each measure, and can be set to as many as 20 beats per bar. It can be programmed to perform an accelerando, ritardando, tempo change, meter change and fermata. Dozens of time signatures to accommodate mixed meters can be organized into a "setlist" and saved for subsequent practice. The playback "click" can be set to any one of 15 unique sounds, from hand clapping to voice count-off. These "clicks" can be assigned to each individual beat, and the volume of each beat can be controlled.
Tempo Advance's tracking and automation capabilities allow the user to document the repetition and duration of practice. For teachers, this information can in turn be used for assessment. Each unique customization can be shared via email and backed up through iTunes file sharing. Tempo Advance is compatible with AirTurn, allowing active performers to trigger its functions with up to six foot pedals. With its pleasing visuals, functionality and price, Tempo Advance is a resource that is hard to surpass.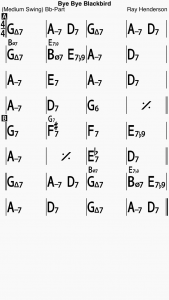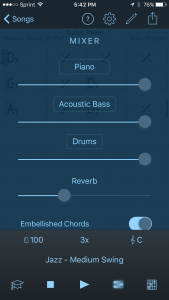 iReal Pro provides backing tracks for practicing in a similar manner to the popular software Band-in-a-Box. Students can write lead sheets and compositions, download thousands of songs to study, and create different musical styles and remixes. There are 35 different styles to choose from including jazz, Latin and pop. The app can be used for improvisational assignments as well as technical drills (e.g. ii-V-I patterns). There are 50 common chord progression exercises included. The chords and subsequent scales are easily customizable, enabling students to make personal and creative choices in sound playback. Scale recommendations for each chord can be displayed to help with improvisational ideas.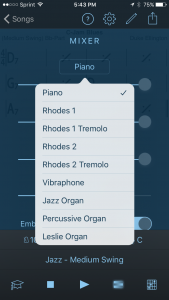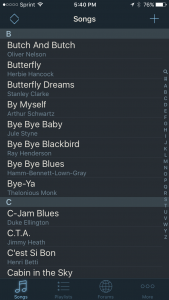 The backing tracks contain very realistic-sounding guitars, pianos, bass, drums and strings. This is important because it adds to the enjoyment of the student-assigned tasks and makes them want to use these newly acquired skills in a live situation. Since many clarinet students choose to learn saxophone for jazz ensemble, the transposition and tempo functions allow students to easily learn this important skill. iReal Pro offers helpful practice options, including looping, automatic tempo increase and automatic transposition. Songs can be saved and shared via email or in the iReal Pro forums, and can be exported as PDF, MusicXML, WAV, AAC and MIDI files. The app is also compatible with AudioBus and Bluetooth page turners such as AirTurn.
Amazing Slow Downer (iOS/Android $14.99)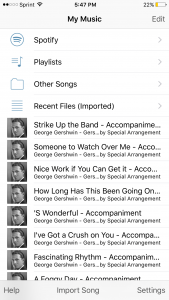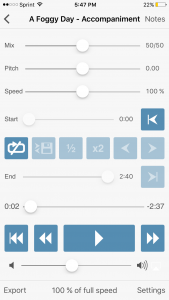 Aural recognition is one of the more beneficial skills clarinetists must acquire. Pitch accuracy, timbre discrimination, interval recognition and chord identification are all important in ultimately becoming an excellent clarinetist. Transcribing passages from prerecorded music is an art often neglected. This art, if properly practiced, can serve to increase one's technical and musical proficiency.
Using the Amazing Slow Downer app to learn the details of a musical passage makes this process easier and more vivid. In general, the app slows down recorded music without changing the pitch. To do this, it arranges the various features in a very user-friendly configuration. Simple "sliders" are provided to change parameters such as speed, pitch, start point and mix. Once these parameters are selected, a passage can be chosen to constantly loop for practicing.
This app is especially handy for detailed study of musical passages. Clarinet teachers and students alike can focus on important musical events within a song in ways not previously possible, all without sacrificing quality of sound. Transcribing music to share, study and publish is made immensely easier through this app. The on-board graphic equalizer has eight channels and is adjustable, making it easier to arrive at the exact frequency of the chosen passage so it can be clearly heard. The portability and convenience of this app can maximize students' time management skills and make the assigned task more fun.
PlayAlong Clarinet (iOS FREE)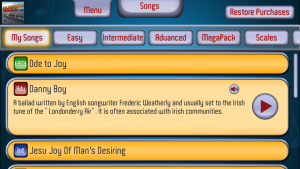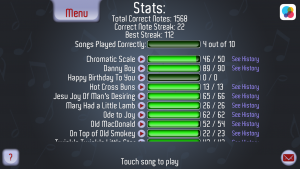 PlayAlong Clarinet is a part of a series of apps called AtPlayMusic, and is for beginners on orchestral instruments, band instruments and various others (such as recorder, guitar and bass guitar). This app is designed to help clarinetists with the technical aspects of performance through inventive ways of assessment. For instance, teachers can write exercises and send them directly to their students. Students can create games with their peers using "stats," a feature that automatically tabulates results and shares them with friends. Perhaps most stunning is its ability to listen and guide the player through selected songs. At the end of a given song there is a proficiency score and cumulative statistics concerning correct notes, consecutive correct notes, and the number of songs played correctly. The beginner student can have a fingering chart displayed under each note as they play, and can touch the fingering chart to hear the corresponding note. There is a "Game Center" mode where stats are listed on a leaderboard and songs are shown as accomplishments.
Clarinet Prompter (iOS/Android $4.99)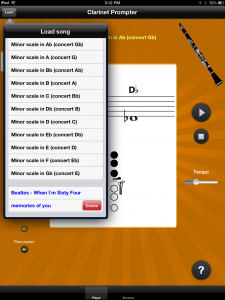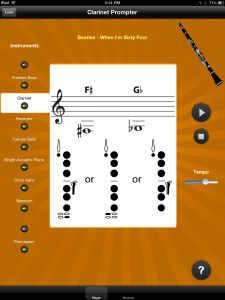 Clarinet Prompter provides the note fingerings in real time while a song or musical passage plays. One can play the note fingerings shown on the screen along with the 36 prepackaged songs and scale files (chromatic major, minor and blues) or import a MIDI file from the internet. The user can slow down the recorded playback for performance, and tracks are separated, making it possible to isolate any instrumental part. A song file written for another instrument can be automatically transposed and viewed by the user, accounting for the range of the clarinet. Song files can be shared through AirDrop. Clarinet Prompter also supports the two-pedal AirTurn wireless page turner. Since the app is developed by a company that specialized in products for all band instruments, it is highly useful for the band director as well as classroom teacher.
Loopy (iOS $2.99)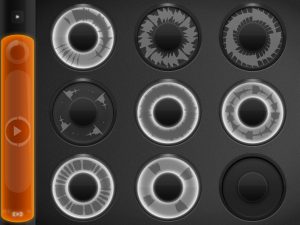 The implications of this app for the applied clarinet studio are far-reaching. It allows students to be creative while gaining necessary performance skills. Compositions can be created by layering "loops" from several sources, including external sound such as a voice or instrument, or prerecorded sounds from other devices and sources. Compared to previous technologies that perform the same tasks, this app is extremely user-friendly while retaining the same power and functionality. It is also affordable and portable.
Recording and layering is as simple as touching one of the 12 circular controls. An option to "chain" or program the loops is provided for real-time performances for musicians who need to have hands-free control to play their instrument. MIDI information can be sent directly to Loopy via a foot pedal. The importing and arranging functionality of the app is perhaps the most impressive feature. Loopy can not only import loops from a computer, with endless options and file formats, but it can also automatically render each audio file to fit the desired beat. Performing and sharing a project is possible with the provided recording options. Performances can be uploaded and easily posted on social networks or personal sites. It is compatible with the Audiobus app, which is a stand-alone app that connects multiple music apps to one another.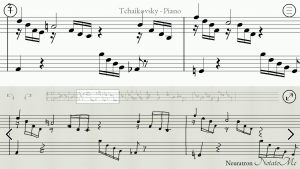 This notation app differs from others in that music can be entered quickly and accurately with one's finger or a stylus. It is similar to writing with a pen and paper. This option may be easier for some students in comparison to entering music with a mouse or keyboard. NotateMe offers instant playback, editing and a printable score. It includes support for transposing instruments. Scores can be emailed as PDF, MusicXML and MIDI files. They can be opened in Sibelius, Finale or other desktop programs, and then printed. MusicXML files can be imported and edited.
The handwritten music recognizition adjusts to one's writing style. It recognizes a wide range of music symbols, including notes (with solid, open and slanted noteheads), flags, beams, ledger lines, multiple voices per staff, chords, rests, accidentals, articulations, ties, slurs, tuplets, hairpins, clef changes and key signatures. Barlines, clefs and time signatures are added automatically. Comments or ideas can be written in "red pen." An in-app purchase called "PhotoScore Add-In" allows one to take photos of sheet music then playback and edit them within NotateMe. Another in-app purchase called "AudioScore" allows one to sing or play music that can be automatically converted to musical notation.
Conclusions
Today's students have never experienced a world without computers, smartphones, the internet and instant access to media of all kinds. This presents an opportunity for clarinet instructors to use these technologies to facilitate learning in the applied studio. Because technology is constantly evolving, more and better mobile apps will become available, which will make many of the apps presented in this article dated if not entirely obsolete. It is my hope that the information provided here will inspire the applied clarinet instructor to add mobile technology to their music teaching, thereby reaping the benefits of better student learning, creativity and motivation.
---
About the Writer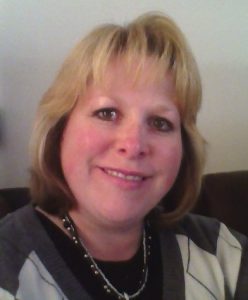 Michelle Lucia-Ingle has earned degrees from the University of Southern California (BM in clarinet performance) and the University of Florida (MM in music education). Her primary teachers include Mitchell Lurie, Yehuda Gilad, Michele Zukovsky and Gabriel Tosé. She has been a private applied clarinet instructor for over 25 years, currently teaches at Northland College (Minnesota) and is an artist teacher at the International Music Camp (Manitoba). Lucia-Ingle has been a member of the Joyeux Chamber Ensemble and Baltimore Symphonic Band, and principal clarinetist of the High Desert Symphony and Greater Grand Forks Symphony Orchestra.