Originally published in The Clarinet 46/3 (June 2019). Printed copies of The Clarinet are available for ICA members.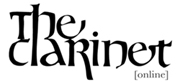 ---
Master Class: Carnyx for solo clarinet by Șerban Nichifor
by Michele Gingras
Șerban  Nichifor's Carnyx for solo clarinet is a very short, yet amazingly powerful piece (2'30"). Written in 1984 for Romanian clarinetist Ion Nedelciu, Carnyx won awards in Rome and Hong Kong (where it was performed by Andrew Simon). Packed with contemporary techniques, this work can definitely be an audience dazzler. Best of all, the composer is open to the concept of performers making it their own by customizing or enhancing passages to fit various playing levels or sprinkling it with extra virtuosity. Years ago, after I performed and posted Carnyx on YouTube, Romanian composer Șerban Nichifor (b. 1954) viewed it and contacted me to let me know he enjoyed my interpretation. We have been online friends ever since. Nichifor has made the score to Carnyx available for free at www.IMSLP.org or www.free-scores.com.
Screaming Dragon
A carnyx is an ancient Iron-Age war signal brass instrument with a dragon-shaped bell equipped with a moving tongue(!). You can hear this instrument in the videos below.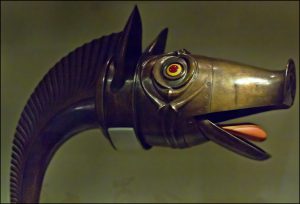 "Replica of the Deskford Carnyx," National Museum of Scotland; photo by Dun Deagh (https://flic.kr/p/fso4H6)
Tackling the Beast
The following suggestions are the result of my performing it dozens of times. Many different interpretations are possible and some knowledge of traditional Romanian music is helpful (to hear a sample, click play on the video below, or search "Death Announcement – Bucium (tulnic)" on YouTube). The opening is grandiose, intense, and powerful. It is followed by a series of what I think of as "cells" that conclude in an accelerated and triumphant ending.
Performance Recommendations
Necessary skills*
Glissando
Rapid single or double tonguing
Slap tongue
Multiphonics
Triple dose of energy
Desirable skills*
Vibrato
Jazz/Bebop chops
Growling
Circular breathing
Flutter tongue
*   All techniques are discussed in my book, Clarinet Secrets, 2nd ed. (2017).
Cell 1: Opening
The opening two-octave glissando starts on a first-space F. For added virtuosity, I suggest adding a third octave by starting on low F instead, and holding it for a second or two with vibrato. If unfamiliar with glissando technique, this bar alone can take weeks to master. A shortcut could be to play the scale as written, or start with the scale and end with a Gershwin-like glissando. I discuss glissando at length in my book, Clarinet Secrets, 2nd edition, and many clarinet artists have posted how-to videos on YouTube.
The glissando should crescendo quickly and end with a fiery vibrato for maximum bravura.
Cell 2: Fast staccato
The repeated staccato notes in bars 4-7 should be played as fast as possible, single or double tongue. Most importantly, the accented notes should be loud and the non-accented notes as soft as possible for best contrast and effect. If you are gifted with fast-tongue genetics, more power to you! Or, one option is to substitute some notes with a low F in random groups of three to mirror bars 11-13 and 17-18. I find that both versions evoke the carnyx war signal very well. The railroad tracks at the end of bar 7 work best if the performer also freezes in time for about two seconds before moving on to bar 8. Similar patterns containing slurs are found in bars 18-20.
Cell 3: Accents with Bebop feel
The next passage is absolutely fascinating and fun to play. For more ease and speed, start the clarion F with the left F/C key pressed down and keep it for the duration of bars 9-10. Make sure each tenuto note is tongued and the following slurred note extremely soft, if not "ghosted," much like one would play in bebop style. This means that all clarion C's will be pianississimo. In contrast, accent each quarter note loudly. The result is a spectacular effect, matched only by many others in this masterpiece; this can be heard on my 2011 live performance on YouTube at 0:24. Note that the same passage is transposed one octave up in bars 85-86.
Cell 4: Fast staccato and accents
Bars 14-16 should be accented similarly to Cell 3, again keeping the F/C key down in both bars.
Cell 5: Leaps
Bars 20-21 contain repeated interval patterns interspersed with high C's.
Play all notes softly except high C's. For more impact, gliss to each high C and vibrate them powerfully. I like to also growl the C's and end them with a slight descending gliss.
Cell 6: Asian flavor
The melodic line in bars 24-26 reminds me of an Asian plucked stringed instrument, the pipa. Play all notes softly except the clarion grace note high C's, which should be played loudly. Make sure not to "bleed" the loudness of C's to any other note. The high A-flat in bar 27 should be very loud, followed by a very soft clarion E-flat and an accented clarion G-flat. "Freeze" at the railroad track sign for about two seconds before continuing on to bar 28.
Cell 7: Bass with melody
Next is yet another exciting passage. Play all low A-flats in bars 28-34 loudly with decaying accents, and play all throat A's very softly. The clarion notes (C, D, E-flat) should "pop" loudly creating a crescendo ascending scale.
Cell 8: Repeated accents
In bars 38-40 (Fig. 2), play all clarion G-flats loudly and all other notes softly. Play bar 41 with a sudden crescendo to land on an assertive repeated and accented high B-natural. To magnify the transition to that high B, you can choose to either gliss or growl the last four notes in bar 41.
Cell 9: Random accents
Cell 9 is an absolute gem. Again, play the accented notes very loudly and all the other notes "ghosted," resulting in a brilliant pattern of accents. I suggest slurring each three-note pattern in bar 46 instead of tonguing them (Fig. 3).
Cell 10: Glissando and growling
Cell 10 (beginning at m. 53) starts with a syncopated, repeated high D. To add color and excitement, gliss up and growl to the first high D. End with a whip-like high F.
Cell 11: Jazzy feel
An interesting note about Romanian Șerban Nichifor is that he spent a lot of his professional time in the U.S. and is a jazz fan. Several passages in Carnyx can be tongued in a "bebop" way, where unexpected notes are suddenly accented, especially upbeats (Fig. 4).
Cell 12: Rapid staccato or flutter tongue
The rapid staccato clarion F's in bars 63-70 should be played softly at rocket-speed, with fz notes sticking out clearly to create a fantastic pointillistic effect. If very rapid tonguing is not yet possible technically, you can create equally interesting results by either flutter tonguing the F's or experimenting with various ideas to maximize the passage's jackhammer effect.
Cell 13: Loud call
Cell 13 (starting on bar 71) sounds very much like a carnyx call. The low notes should be anchored and solid, followed by two-note figures that can vary slightly in tempo. Imagine the low notes digging in and gaining in speed, with the following notes naturally following the impetus of the energy created in each bar (Fig. 5). A similar and longer passage is found in bars 113-120.
Cell 14: Multiphonics
Immediately following the "loud call" passage (m. 79) is a multiphonic tone repeated in a syncopated rhythm. It is challenging to play the effect cleanly right after playing the previous intervals. A suggested fingering is a low F plus the throat A key, and I recommend experimenting with a slightly slower airstream and tongue position until two (or three) clean notes are produced. The harm. ad lib. marking indicates it is not necessary to play the exact notes in bars 79-84 and 87-90. Find a multiphonic fingering that works for you or replace it with either a growl or other preferred sound effect.
Cell 15: Trill
The trill in bars 95-96 is simple enough, with hairpin dynamics. One idea to spice it up is to start the high F-sharp trill on the first bar as written, and gliss down or play a descending scale landing on the clarion F-sharp trill on bar 96 (Fig. 6)
Cell 16: Low melody line
Again, in bars 97-104, accent all low notes and play the other notes ghosted. Make sure all low notes are long to make the melody (G, A-flat, G, A-flat, F-natural, F-sharp, G, G-sharp) as clear as possible.
Cells 17 and 18: Circular breathing and tremolos
Bars 105-108 contain trills and tremolos interspersed with accented notes. Most fingerings are straightforward, however in bar 106, third beat, keep the F-sharp down and trill or shake with the left little finger C-sharp/G-sharp key. Gradually slow down the tremolos as indicated by the change of rhythm in bar 109 with hairpin dynamics. To avoid breath interruption, circular breathe if possible.
Cell 19: Homestretch
Bars 121-152 have a lengthy accelerando combining low notes interspersed with trills and tremolos lasting 30 bars (circular breathing to the rescue?). Start very deliberately and crescendo and accelerate until landing on a repeated staccato high E-flat in bar 152. Most fingerings are straightforward, except in bars 136, 138, 144 and 146, lift the left ring finger only. In bar 142, keep the right little finger down. In bar 150, play high D-flat with the left index finger (overblown throat F-sharp).
Cell 20: Ending
The term frullato in bar 152 means "to shake" or flutter (Fig. 7). The repeated high E-flats can be either tongued rapidly in a decelerando to gradually match the following slower notes, or flutter tongued. An easier version is to slur and growl them by playing a note while simultaneously singing a dissonant note through the mouthpiece. If preferred, simply play a long tone with an aggressive vibrato. Slow down at the end of bar 152, and pause at the comma. Gain tempo momentum in bar 153 and accelerate until you reach the high E-flat and F in bar 157. To add spunk, I suggest adding a growl and vibrato toward the end of the high F, along with an intense crescendo.
Play the last note very softly or as a slap tongue. This will create a dazzling intensity, suddenly interrupted by a surprise short note, wrapping up this masterpiece!
Jewish music by Șerban Nichifor
Although Carnyx is avant-garde in style, Șerban Nichifor is also prolific as a Jewish composer. He composed exciting klezmer repertoire for various combinations, including clarinet duos, two clarinets and piano, clarinet/piano, violin/clarinet, and violin/clarinet/piano. Find these by searching "Nichifor klezmer" at www.free-scores.com.
---
About the Writer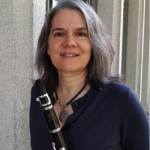 Michele Gingras is instructor of clarinet at Butler University in Indianapolis. Previously, she was distinguished professor at Miami University in Ohio. She is past secretary of the ICA, performed as a soloist in a dozen ClarinetFest® conferences, and has been a contributor for The Clarinet for 30 years. She authored Clarinet Secrets, 2nd edition (2017) in which most techniques listed above are addressed.