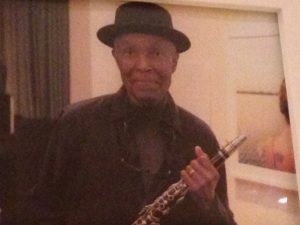 Jazz clarinetist McDonald "Don" Payne, Jr. passed away on October 4, 2018. Don was born July 24, 1932 in Morrisania Hospital in the Bronx to Panesa Ross Payne of Chester, SC, and McDonald Adolphus Payne of Christ Church Parish, Barbados. Raised in Harlem, the youngest of three sons – the Payne boys (Harry, Robert and McDonald), he was known to many as "Mac" or "Junior" and in later years, "Don."  At a young age, Don's love of affair with music, particularly jazz, took root after being introduced to this great American art form by his brother, Harry.  When Harry left for the Army in 1944, and gave Don his saxophone, the love affair deepened after their uncle Maurice Hubbar&&d gave Don a clarinet.  Don eventually took lessons from his first and favorite music teacher, the late, great Cecil Scott, the co-leader of the swing band — Cecil Scott and His Bright Boys.
Don played the clarinet, saxophone and flute, hung out at jazz halls and clubs and talked jive with his buddies.  Among his friends was the great Sonny Rollins, whom he called his homeboy from back in the day.  Graduating from Evander Childs High School at age 16, Don later graduated from the Manhattan School of Music with a B.A. in Theory and M.A. in Music.  He later went on to earn an M. A. in Administration & Supervision from Brooklyn College.  By then, known as Mr. Payne to many, he was the popular band teacher at Intermediate School (I.S.) 218 in Brooklyn, where he later became an assistant principal.Don played in numerous bands over the years, among them, the U. S. Army Band, the Brighter Moments Big Band, Jimmy Heath Big Band, Illinois Jacquet Big Band, Kenny McIntryre's Contemporary Afro-American Music Orchestra, Queens Symphonic Band, Brownstone Clarinets, Phil Costa and the Something Special Big Band, Carol Sudhalter Astoria Big Band, Harbor Conservatory Latin Big Band, Ray Abrams Big Band, and Dance Clarinets w/ JD Parran & Gershwin Gala throughout Europe.  He played as part of the pit band for Broadway's 
Black & Blue
, Jazz Vespers at St. Peter's Church, Treemonisha by Scott Joplin at York College, and the World Bass Clarinet Convention in Holland.   He also toured Germany and Switzerland with the great swing saxophonist and clarinetist Benny Waters.  Upon retirement in 1987, Don and his lovely wife, Rona, served as adjunct jazz instructors at the New School.
Don and Rona travelled the world, visiting such countries as Norway, Japan, France, Switzerland, and Italy for various jazz and classical festivals.   Every other year, they travelled near and far to clarinet conferences to enjoy classical music, yet another passion. He and Rona made many pilgrimages to the Saratoga Jazz Festival and often attended New Orleans jazz festivals.  Don also found time to serve as a consultant for the annual Queens Jazz Festival for the Parks Department and as a volunteer at the Flushing Council and Culture on the Arts.
Don loved his family and friends with a fervor deeper than his passion for music.  He leaves to cherish his wonderful memory, his loving wife, Rona Neufeld Payne; his children, Brenda Payne Whiteman and McDonald Payne III; son-in-law, Lee Whiteman; daughter-in-law, Heather Payne; grandchildren, Belinda, Bethany, Gabrielle, Danielle, Morgan and Miles; brother, Harry Payne Sr.; nephews, Harry Payne Jr. and Mark Payne; niece-in-law, Nyima Payne; grandnieces, Mamanding and Fatou; grandnephews, Harry Momodou and Omar; great nephew, Yusha Lee; and countless friends.