Originally published in The Clarinet 47/4 (September 2020). Printed copies of The Clarinet are available for ICA members.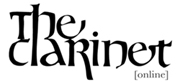 ---
Interview with Derek Bermel
by Rachel Yoder
Derek Bermel is a New-York-based composer and clarinetist known for his eclectic compositional style and dynamic performances. He has been commissioned by ensembles including the Pittsburgh Symphony, National Symphony, Los Angeles Philharmonic, Alarm Will Sound, eighth blackbird, JACK Quartet, Chamber Music Society of Lincoln Center, and many others. Bermel currently serves as artistic director for the American Composers Orchestra and is active in a variety of other roles at workshops and festivals throughout the world. His awards include a Guggenheim Fellowship, the Rome Prize, the Alpert Award in the Arts, and two Grammy nominations: best soloist with orchestra for his clarinet concerto Voices with the Boston Modern Orchestra Project and best instrumental composition for Migration Series. After studies at Yale and the University of Michigan, Bermel's musical explorations took him to Amsterdam and Paris to study with Louis Andriessen and Henri Dutilleux, and beyond, with travels to Ghana, Brazil and Bulgaria influencing his compositional language. His most recent recording is Migrations, featuring the Juilliard Jazz Orchestra, Luciana Souza, Ted Nash, and the Albany Symphony under Maestro David Alan Miller. Bermel has been composer-in-residence with the Los Angeles Chamber Orchestra and most recently with the Seattle Symphony, where we met in the summer of 2019 to talk about his life and work.
RY: So did you originally start out as a clarinet major, or composition, or…?
DB: I started playing clarinet when I was about 7 and I began composing after my grandmother gave me a beat-up piano when I was 11. My clarinet teacher in high school was Ben Armato who played in the Met Opera Orchestra. He was a very rigorous teacher – my main influence on the clarinet. Then I went to Yale just before Keith Wilson retired, so I studied for two years with him. But at that point I was already transitioning to composition, I was singing in an a cappella group and starting to write more. I still didn't really have a handle on what I was doing compositionally; I was trying a million things. Playing in rock bands and stuff like that.
RY: And were you doing jazz too at that point?
DB: Oh yeah. I had taught myself to play piano by imitating Bill Evans and Thelonious Monk – who was a huge influence on me compositionally, harmonically probably my biggest influence. I played with jazz combos and big bands in high school, and in college I played in a synthesizer band. Even in my 30s, years later when I had come back to New York, I played in a band for years.
RY: What band?
DB: I played as a keyboardist in several bands but mostly I played with my own group called Peace by Piece, which made two albums and then split up. We played all the clubs downtown, some of which are still there – the Bowery Ballroom, the Mercury Lounge – and a lot of clubs which aren't around any more. That band broke up around the time that I got the Rome Prize; I think it had run its course.
RY: So that was before you went to Michigan then?
DB: No, that was after. I went to Michigan in the '90s. And at Michigan I did some jazz. I actually got to know wonderful jazz musicians like Gerald Cleaver and Craig Taborn, and those are long friendships that have lasted. I did a lot of improvising. Ed Sarath was running the jazz program, which was fledgling, but some excellent people came through. And Detroit, of course, had a great jazz scene – James and Regina Carter were there – And many came through the University of Michigan… Rodney Whitaker, Marion Hayden, Reggie Workman…
RY: So you weren't obsessed with the earlier clarinet stars of jazz.
DB: Oh sure, when I was a kid I listened to Benny Goodman, great player; Johnny Dodds, I love his sound; but I didn't really listen to the clarinet for jazz per se, because I was more interested in the saxophonists for jazz. There were just so many superb saxophonists – of course Charlie Parker and John Coltrane – but Dolphy was particularly an influence for me. He truly had a compositional brain, like Monk, as did Charles Mingus and Ornette Coleman. I was drawn to players who were composers at heart. Also Latin music. I loved Horace Silver and Jobim, and Paquito D'Rivera – he's become a friend and we've played together so that's exciting. I got to know Wynton Marsalis in the early 2000s. He commissioned a piece from me which I wrote for his band plus orchestra; it's called Migration Series, based on the iconic paintings by the Harlem Renaissance artist Jacob Lawrence, and the recording was released this past year on Naxos. I've always been interested in the hybrid tradition in America that's existed since the start, this compositional lineage that starts early in classical music with Joplin, Gershwin, Copland and Still, and in jazz with Mary Lou Williams, James P. Johnson, Duke Ellington – especially Ellington – and continues today. These two traditions have always been intertwined in American music and I think it's one of the things that makes our musical signature distinctive.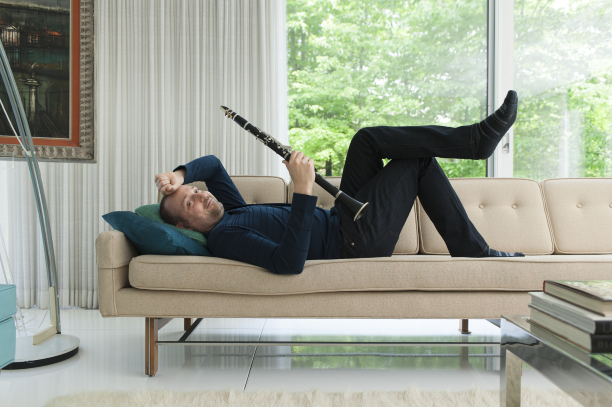 RY: That's the piece that was nominated for a Grammy this year, right?
DB: Yes, that was a nice surprise! I was lucky to work with a great orchestra – the Albany Symphony and Maestro David Alan Miller – who have a long history of championing American music. Plus an all-star cast: reed player Ted Nash, singer Luciana Souza, the Juilliard Jazz Orchestra led by James Burton III, and the brilliant producer Silas Brown.
RY: And you performed yourself on the CD as well?
DB: I improvised one of the interludes. The piece has five movements and three improvisations which act as connectors, each featuring a different soloist or group of musicians. Every member of the jazz ensemble gets a moment to shine.
RY: Tell me about your studies in Amsterdam.
DB: I was studying with Louis Andriessen there in '95-'96. I studied with Louis and then once a month I would travel to Paris on the Thalys train and take a lesson with Henri Dutilleux. It was an interesting year, because they were two very different teachers. They were almost opposite kinds of personalities.
RY: What do you think you took away
from each of them for your own compositional standpoint?
DB: Well, Louis was a notes-and-rhythms kind of guy. He would get into the notes and say, "I think you should take this part out…" He was hands-on. Dutilleux was a much more conceptual and abstract kind of teacher. He would find poetic and literary references and he was very big-picture, so it was stimulating to experience both approaches. Now, it wasn't that Louis couldn't be big picture or that Dutilleux (I could never call him Henri!) couldn't get into the notes, but he preferred not to.
RY: Do you have clarinet repertoire, like standard rep or composers that really inspire you as a composer or performer?
DB: Well certainly Messiaen was a huge influence on me, and not because of the Quartet for the End of Time – I came to know that later – but I loved the orchestral work first, and also these
large ensemble pieces and large piano pieces. Actually the work that made me want to be a composer was the Vingt regards sur l'enfant-Jésus; its sound just struck me like a lightning bolt. I heard
it when I was 12 or 13 and couldn't get it out of my head. I remember thinking to myself, "I don't know exactly what that guy does, but that's what I want to do" – which was composing, to be a composer. Messiaen's music speaks to a lot of young composers, as does Stravinsky's, because it's direct and powerful. Bartók was also very important to me, and of course all those composers also wrote great clarinet music. But what pulled me toward the music wasn't really the clarinet.
RY: It strikes me that the composers you mention are known for developing their own compositional language. It seems like you've done that too, with the variety of influences in your writing, especially for clarinet, like the different types of extended techniques you use and things like that.
DB: Well, I've always felt that it's important to allow yourself to gravitate toward the music that you love and to move deeper into that music. Or maybe it's literature, or linguistics or science – wherever you need to dig, to dig there. If I loved a particular style of music, I always tried to create a situation that allowed me to research it, learn it firsthand, whether it meant traveling to West Africa or Bulgaria or Brazil – it was a desire to get closer to the music and to explore the context in which that music was being made.
Of course my composing has been influenced by my clarinet playing – that's probably what caused me to concern myself primarily with melody and line. A composer is usually either a harmonist or a contrapuntalist foremost, either vertical or horizontal. I'm a contrapuntal composer at heart.
RY: So you're not thinking so much about coming from a chord progression or something like that, but more from a gesture standpoint?
DB: I think primarily of gesture and the counterpoint of gestures – of line – with harmony being a natural outgrowth.
RY: I wanted to ask about your clarinet concerto Voices, which got the Grammy nomination in 2009 and which has been performed quite a bit. What was the genesis of that work?
DB: That piece came out of listening to Charles Mingus and Eric Dolphy improvising together. Take a composition like What Love, in which the clarinet and double bass play an extended duo break; you hear a conversation, an argument. When I listened to the recording I nearly fell off my chair; I thought, "I want to do this, but with an orchestra." I was fascinated by the musical drama; so much meaning was communicated without words: intent, focus, mood. My father was a playwright and a translator, and my mom was an editor, so I grew up in a theater household, a literary household. I saw every Shakespeare play before I had finished high school. Even though I wasn't involved in theater as an actor or anything, that knowledge seeped into my compositional palette and I absorbed it into my musical language. In Voices the first theme you hear is not a series of notes but a musical gesture in the clarinet, which is then taken up by the orchestra who replies – it's a call and response. I even wrote out words when I sketched it.
RY: So Voices, the title, is in reference to this conversation going back and forth.
DB: Yeah, and in reference to the different ways that the clarinet – and the orchestra – can sing or speak or shout. And also the adaptation of what was essentially an improvised framework into a classical format, a sort of translation. With Voices I tried to create a conversation between two human beings. When composing it's important to take a giant leap, maybe even an impossible one! If the proposition is interesting enough, the spot where I land might be interesting, even if it's different than the place I had initially set out to explore. In that way, we composers are a bit like scientists.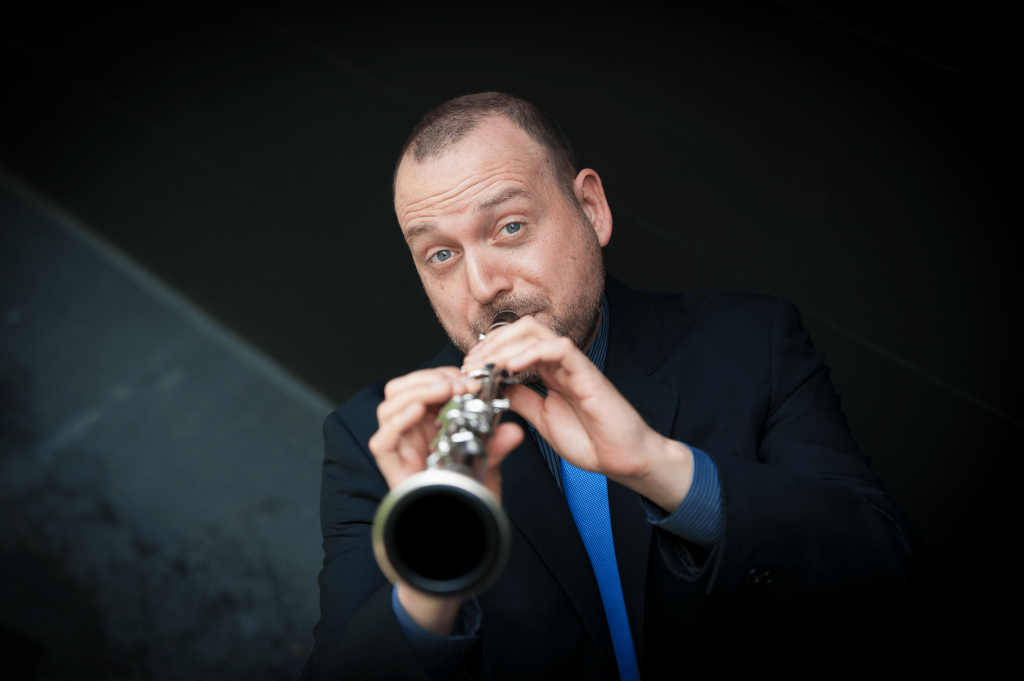 RY: So with Voices and a lot of your music, I notice you have a lot of glissandi in the clarinet, even in the low register. How do you technically accomplish all these smooth glissandi that you do?
DB: It's probably a natural outgrowth of playing jazz and improvising, feeling the freedom to make any sound. When I was a kid I used to take detours, playing anything and everything; my mom would yell at me from the other room, "What are you doing?" I used to improvise when I practiced, as a way of being expressive – or maybe just blowing off steam! I've always been very interested in the sounds the human voice can make – that goes for all types of sounds, whether it's speaking or singing or grunting or yelling or crying. I've always wanted to break outside of the 12 pitches. Much of the music I enjoy is not based on the so-called "classical" tradition and therefore uses all the in-between pitches and in-between inflections that aren't part of our theoretical and practical training.
RY: So do you use a softer reed so you can bend the pitches a lot, do you use your fingers to accomplish half-holing and stuff like that?
DB: It's a combo of lip, and fingers and breath also, control of breath. Ben Armato once told me that at one point he changed all his students' embouchures to be loose like mine. I said, "That sounds like a terrible idea!" [Laughs] But I think Ben felt I had been able to access a certain kind of freedom, one that allowed me to tune more easily than if my lip had been locked into position.
RY: So what do you play on?
DB: The mouthpiece is Bob Scott. I have tried Fobes and I like some of them too.
RY: What strength reeds do you play on?
DB: I almost always use 3.5.
RY: What kind of clarinet do you play on?
DB: I have two R-13s that are almost identical serial numbers. They're both from the '80s. I've tried some other clarinets. If I was doing any orchestral or large ensemble playing, I might venture toward another model, but I just don't have much need or time to try all the new ones. I try the new reeds – I use Vandoren reeds. I have a Bonade ligature. And I have a Selmer bass clarinet with a nice juicy low C. To be honest, 90 percent of my time is wrapped up in composition in one way or another, so unfortunately the clarinet often gets squeezed. But I do love to play.
RY: So what's a typical week for you? Do you have teaching commitments and other regular responsibilities or is it just kind of different all the time?
DB: It is always quite different! I'm artistic director of the American Composers Orchestra, so I spend a good deal of time on programming. My schedule shifts, depending on what's going on. Now I'm starting to write an opera with Sandra Cisneros, so that's going to be very different.
RY: Is that a first for you?
DB: Yeah. Well, I wrote a music theater piece with Wendy S. Walters that veers toward opera, but this'll be my first bona fide opera. At ACO I do a lot of mentoring, reviewing scores, and programming; sometimes it involves public speaking. I enjoy it because it's a way of giving back, helping steer an institution that's serving composers, especially emerging composers. Since I don't have an academic job, teaching the composers at the Bowdoin International Music Festival, during the summers, is a great way to connect with the next generation. Sometimes I perform there as well, and occasionally work with the clarinetists. And I play regularly with Music from Copland House; I was a founding member of the ensemble. Every year I play a number of concerts with them, sometimes more standard American repertoire, but quite often including new works as well. And at the Copland House I run a program called CULTIVATE; we invite six emerging composers every year to have new pieces workshopped with the ensemble. That's a lot of fun.
RY: So you work a lot with the younger generation of composers and clarinetists; what kind of advice do you give them on being successful in the 21st century?
DB: It's a gig economy. Sadly it's becoming more that way. The teaching jobs are rarer and less secure and less well paid, so finding institutions to support oneself is tougher in this generation than it was in the last one. The institutions that have supported me the most have been the American Composers Orchestra and the Institute for Advanced Study in Princeton. But those were either part-time or temporary gigs. So I'm in the gig economy too.
You have to continually create opportunities in order to keep doing what you love. Make time to seek your muse and recognize that what you love to do most may not be the most profitable aspect of your career. But eventually it will be valued because your life's work will be seen as an aggregate. And most importantly, something that Ben Armato told me: find a way to make a contribution that feels meaningful and satisfying to you. In the end, our artistry is part of a larger humanity.
It's a tough life because artists tend to internalize and take professional hits personally. Not that other people don't do this as well – but when you show your work, you feel as though you're revealing an intimate part of yourself. When it's dismissed or criticized, it can feel like you're being rejected as a person. It's hard to separate those two things. This is one of the hardest things about being an artist; it's intensely competitive, yet the competition feels very personal.
RY: People will want to know about your solo clarinet pieces, Thracian Sketches, Theme and Absurdities… Do you have any advice for performers about how to perform your clarinet works?
DB: I look for freedom in performances. Freedom of sound, freedom to play up the theatrical impulses in the piece. In new music there's a common assumption that one has to be a slave to the written page, an overly inflated attachment to the importance of notation. Notation is just a guide. When I listen to performers playing my music, my main concern is that they have a bigger idea about what they want to do with the piece. If they're simply reading notes and rhythms, they're not yet communicating with the audience. The music needs to jump off the page, the circle must be made complete – composer, performer, audience.
Certainly it's always helpful to study styles. If I or any composer indicates a style, the performer should educate themselves about that style, get their own sense of it. That extra work should make playing it feel more personal for them too. Whether it's jazz, Latin or Bulgarian music, if I reference a style, I hope that the performer will do some research! But most importantly I want their unique personality to manifest, to come alive. Sometimes a performer will apologetically ask, "Oh… do you mind if I do this?" and it seems like such a tiny thing – almost comical. I'll say, "Of course you can do that!" I don't write music for machines. I want to hear the soul of the performer.
RY: You performed Gnarly Buttons with John Adams conducting, tell me about that.
DB: Oh it was fun! Well, in a way it was payback, because John had conducted my concerto Voices with the LA Phil a few years before, so he asked me to play Gnarly Buttons, and I was happy to do so. Spending time with someone like John is inspirational and an experience from which one comes away transformed.
RY: Do you remember any comments from John about the piece or how to play it or anything like that?
DB: Well, of course it's beautiful, the last movement is so gorgeous and needs to be expressive, but John doesn't want a whole lot of changes to his music, stretching time and rubato and all that; he wants what he writes, and the notation is pretty clear. You know, John has worked with some of the world's great soloists so… I don't think he needed me to do it as a clarinetist, I think he just had the idea that it would be interesting for the audience to experience two composers up there performing together – him conducting, me playing. I've also played Bill Bolcom's Clarinet Concerto quite a bit. Bill was my teacher, he's very dear to me, and he's a good friend. I played a lot of his music and I adore that piece; he and I have performed the second movement several times together, clarinet and piano.
RY: His stuff's very theatrical as well.
DB: Oh yeah, and jazz-based. That second movement is very much based in gospel music, it's beautiful. I just recorded a CD of William Albright's music with Music from Copland House and on that CD is his Clarinet Quintet. It's a brilliant piece; I hope more people will play it when the recording comes out. I've also recorded John Musto's and Aaron Copland's clarinet quintets with the Copland House. One can be a composer one's whole life – and many people are – without being a performer, but making music with colleagues is like nothing else; it's transcendent.
I just finished recording a disc of my music with the JACK Quartet. What great musicians; nothing can top that feeling!
RY: Is that what keeps you coming back? You've said you keep getting away from the clarinet and then you just keep coming back.
DB: Yeah, because it's a way of connecting. It's such a special sensation to make music together, very different than being present as the composer while they play your music.
RY: One of my questions for composers when approaching a new piece, especially if it's pretty difficult, is how important are the difficult things.
DB: You can't know until you ask. This is one of the central conundrums and challenges of composing: how to convey one's ideas on paper in a way that communicates what's most important, that connotes where there's freedom and where there's not. Sometimes it takes years of struggle to arrive at the best notation. Which is why I'm always so grateful for more performances. Because each opportunity to attend, or listen to a recording, is a new chance to make revisions, even tiny ones. And once the composer has written the piece, it is the player's responsibility to turn it into music, to bring it to life, even larger than life.
---
About the Writer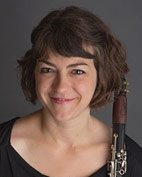 Seattle-based clarinetist Rachel Yoder performs in a variety of solo, chamber and large ensemble roles, including with the Seattle Modern Orchestra and Odd Partials clarinet/electronics duo. She is adjunct professor of music theory and clarinet at the DigiPen Institute of Technology and editor of The Clarinet journal.