An Interview with Chloe Feoranzo
by Spencer Prewitt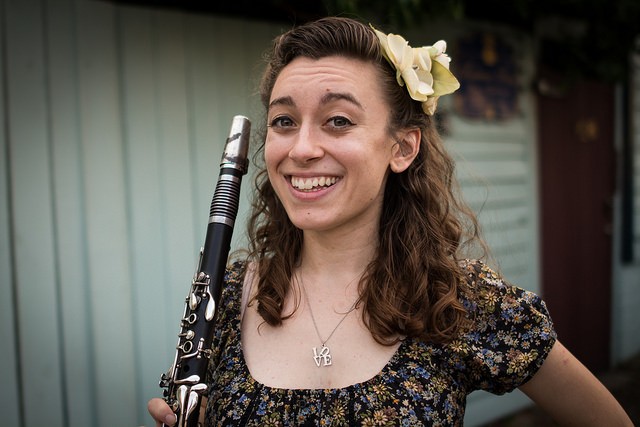 Chloe Feoranzo is a New Orleans-based clarinetist who has built a varied career in jazz, big band and commercial genres. She has performed with Scott Bradlee's sensational group Postmodern Jukebox, which reimagines current pop music hits in vintage styles. Feoranzo has also toured the world with her clarinet and has performed on the Late Show with David Letterman and at the Grand Ole Opry. Her path to success is as interesting as her stories from the road and proves to be an interview that's not to be missed. 
Spencer Prewitt: Thank you so much for taking time from your busy schedule to sit down with me and discuss your life as a musician! I'd like to start by learning a bit about your background – how did you get to where you are now? 
 Chloe Feoranzo: I began studying music in elementary school band and added private lessons shortly after that. In middle school, I went to the San Diego School of Creative and Performing Arts. For high school, I went to home/charter school and continued taking private lessons, but I was already performing frequently. I worked with big bands, jazz combos, singer-songwriters and jazz-influenced groups such as Dustbowl Revival and California Feetwarmers. After high school, I went to Webster University in St. Louis for a couple years before I was offered to go on tour with a band called Pokey Lafarge. I did that for three years until 2016 when I moved to New Orleans. These days I divide my time between touring part-time with Postmodern Jukebox and freelancing in New Orleans.  
 SP: What does your daily life look like as a touring performer? 
 CF: It depends on the kind of tour, actually! For van touring, we usually stay in hotels, which means we wake up early to drive through the day to get to the venue on time for load-in/sound check. For bus touring, we travel at night so we can basically sleep as long we want (if you can sleep while riding a bus!) or at least until sound check time. Sound checks usually last about an hour and are followed by time to grab dinner, which is sometimes catered or sometimes a buy-out, where the venue gives us a modest extra payment so we can buy ourselves dinner. The venue will usually fulfill the band rider which includes snacks and refreshments as well. Then it's time for the show, which generally lasts an hour and a half to two hours. After the show, there is sometimes a meet-and-greet to go talk to the audience and sometimes we just have to get out of the venue quickly depending on their curfew time. Then, either we go back to the hotel or have a bus call time before settling in for the night. For fly-dates, it is usually the same formula except we are exhausted, especially if we perform the same day we that we fly. I remember an especially brutal trip when I flew to Argentina and couldn't sleep on the plane and I had to do two radio interviews, a recording and a show immediately after we landed! Usually, we get a day to settle when performing overseas, but it all depends on the schedule. Some days for overseas tours we will have an extra day or two to go see more of the country we are visiting, such as the marketplaces of India or the glowworm caves of New Zealand.  
SP: Wow! That's awesome that you get to see the world while doing what you love. It's amazing that you're able to withstand such a grueling schedule and still sound so great! What started your interest  in making a career outside of the classical box? I know so many young people don't really know about the options that are out there or how to make it work. I'm really interested in learning about how you have put your fabulous career together. 
 CF: I actually double on saxophone, so while I was studying classical clarinet, I was also exploring jazz saxophone. One of my mentors, Ron Hockett, really encouraged me to try and pursue jazz clarinet since I am a big fan of traditional jazz. I was against the idea at first, because making the transition is difficult; but once I did, I was hooked. From there, I relished the challenge of trying to play different styles on the instrument. The more I tried, the better I became at learning how to think outside of the box. By studying jazz on clarinet, I really got to know my horn. Since I moved my primary style toward jazz, I've also dabbled in bluegrass, traditional Irish music, punk, folk, country, musical theater, Brazilian choro, funk, ska, rock, jug and blues.  
SP: I think what you say about studying different styles of music helping you really learn your horn is so powerful. The more well-rounded we can all be, the better we'll be at everything. Is there any advice you could give to a budding clarinetist?  
 CF: Never stop trying new things even if it means making a lot of mistakes. For example, a good transition into improvising is taking something you know, such as an etude, and messing around with the notes and rhythms. This will help jumpstart your brain into thinking of phrases differently, which will help on the path to improvisation. If someone says that your instrument doesn't normally fit into the style, prove them wrong! There's a lot of networking involved so strive to be kind and keep a positive attitude.  
SP: I love your approach of being fearless and positive – that works no matter who you are! Postmodern Jukebox is something that has been getting viral attention online in the past few years, and it's totally awesome; how did you get started with them? 
 CF: I had been a fan of PMJ for a long time, and my friends kept telling me that I should try and contact Scott Bradlee, which I didn't think was possible, so I never bothered. Then last year I had a few people recommend me to Scott, most notably Argentinian producer and jazz enthusiast Cristian Kloster, who showed him my YouTube videos (Cristian ended up bringing me to Argentina this year but that's a different story). Upon Cristian's suggestion, I emailed Scott and was flattered by his  response asking if I wanted to do a video. Shortly after, nervous but extremely excited, I filmed the video and the next day PMJ offered me a six-week national tour. That first U.S. tour was a blast, and I will be continuing touring with them come September for their Australia/New Zealand run. 
SP: Whoa! Dreams really do come true! I know that we'll all be watching for more from you with PMJ. Speaking of dreams coming true, do you have some other memorable performances you can tell us about? 
 CF: I'll never forget my first time soloing at a Jack White concert with the Pokey Lafarge band. They used to be signed to his label and Jack White would sometimes bring the group out on tour with him to open the show. I hadn't officially joined the group yet and had never played in front of that big of a crowd before (I think about 5,000). They let me play a solo over one of the more blues influenced tunes and I will never forget the crowd's response to it. It was like they'd never heard anything like it and cheered like crazy. 
Playing on both the Late Show with David Letterman and the Grand Ole Opry, on live national TV, was surreal and I'm glad there was a live audience there. They keep the studios there very cold so people won't sweat on TV, and I was walking around with a blanket until right before we went on. Right before our take, Paul Shaffer saw me with the clarinet and asked to improvise a polka which was great fun. We were only allowed one take and I didn't realize until after filming the song my ligature was twisted sideways! My reed could have slipped any minute! But thankfully I had tightened it hard enough that it stayed on for the entire song. Whoops!  
 For anyone who loves country music, playing at the Grand Ole Opry is an honor. One of the sound men told me I was the first clarinetist they had had on the show in 30 years! We performed at Opryland, which is gigantic and the summer home for the Opry show. While I didn't play the whole time, the band did let me have a stop-time solo on the last song. It was terrifying and thrilling to play in front of a very large audience of hardcore country music lovers, but they ate it up!  
SP: I think I've had multiple nightmares that started with someone asking me to improvise a polka on television. It's really a testament to your versatility that you're able to operate in such a variety of venues and settings and excel at every one! Thank you so much for sharing your story with us and certainly, thank you for the beautiful music. I'm sure we'll be hearing a lot more from Chloe Feoranzo in the future! 
Enjoy this fantastic performance by the Postmodern Jukebox featuring Chloe Feoranzo. You can read more about Chloe on her website, www.chloefeoranzo.com.