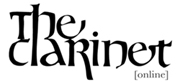 Originally published in The Clarinet 46/2 (March 2019). Printed copies of The Clarinet are available for ICA members.
---
Interview with Benjamin Lulich
by Rachel Yoder
Originally from the Pacific Northwest region of the United States, Ben Lulich returned to the area in 2014 as principal clarinetist of the Seattle Symphony. He is artist-in-residence at the University of Washington and also performs with the Seattle Opera, Sunriver Music Festival, and in a variety of appearances as a soloist and chamber musician. Lulich previously served as principal clarinetist of the Pacific Symphony in California where he also performed with groups including the Los Angeles Philharmonic and Hollywood studio orchestras. Lulich also spent a year as acting principal clarinet for the Cleveland Orchestra. He studied at the Interlochen Arts Academy, Cleveland Institute of Music, Yale School of Music, Pacific Music Festival and Music Academy of the West, and his teachers include Richard Hawkins, Franklin Cohen, David Shifrin, Fred Ormand and Laura DeLuca.

Rachel Yoder: How do you create a practice schedule that works with all of the playing you're doing?
Ben Lulich: It's nice because we get the full season a year ahead of time so we can keep track of some difficult pieces that we have coming up, like this season we had Miraculous Mandarin and Dances of Galanta. Then there's always the wild card of premieres and commissions. So at least a month ahead of time I like to take a look at it and see if it's something that I'm going to really need to get into woodshedding, or it's something that's not too bad. And then, I just try to always be ahead of the curve, because we go through new programs every week, and it's a lot of music to learn.
RY: So you have to stay pretty organized.
BL: [Laughs] Yes, I'd say that. I'm not a very organized person, but when it comes to keeping track of what I need to be practicing, I kind of need to be organized in that area!
RY: Does it compare to when you were taking auditions and your process for that?
BL: It's a little different. To me taking an audition is more of a gradual build to that one day or that one week when the audition takes place, and I've got systems of practicing certain excerpts that take a week or two to build up – to me it's actually more methodical, the audition practicing. And it's hard to do when you're working and you have to fit it into your schedule. Maybe because it's small pieces that you're trying to perfect, rather than a whole symphony where you're mainly looking at solos or the hard tutti passages, and not so worried about all the whole notes. It feels different to me.
RY: Better?
BL: Well, it took me a long time to feel comfortable preparing an audition list. And getting a system that worked for me.
RY: Would you be able to describe the system that you used?
BL: I just tried to have every excerpt be my best excerpt. I feel like there's so much unknown as to which excerpts they're going to ask on which rounds, you just have to be completely prepared on every single one of them. So for me it's spending more time with the excerpts where I feel less comfortable, and letting that guide my practice. Then the excerpts that come easier to me or feel easier, they don't take as much time. But I have to spend a lot more time on something like the last two pages of Daphnis, you know, just to get that to feel really comfortable every single time. As to how I do that, it's different for different excerpts.
RY: Is there one that was your least comfortable, and could you describe how you approached it? What's your least favorite excerpt?
BL: Besides Ginastera? [Laughs] That's a good question. The last two pages of Daphnis always feel kind of hard. On the other hand for a long time I felt like Pines of Rome was very difficult. Once I started playing in orchestra as a full-time job and saw some of these pieces come up a couple times, sometimes the excerpts felt easier, so that's maybe part of why Pines of Rome feels easier now.
RY: And playing it in context too, probably.
BL: Yes, and Pines of Rome to me is one of the few excerpts that feels almost the same playing it in the orchestra as it does playing it by yourself. It's so much just you. With Pines it was getting more used to it, just doing it over and over again, and really trying to gain confidence with it. That's a big thing – just getting confidence with the excerpts allows you to feel like every one is your best excerpt. Having that confidence transfers to people listening; they feel that confidence. With Daphnis, it's just practicing it at a lot of tempos, and that's one that to me always takes time. I always have to start slow, I always have to build up to tempo, and try not to play it too fast – nice and steady and controlled.
RY: I wanted to ask you about a potentially controversial topic. It's said that orchestral players are getting more and more technical because of this audition process and how competitive it is today – and possibly less musical in a way. Obviously I don't hear that in your playing at all, but do you have any opinion on how the process may have changed in the past decade or two, and what result that's having on orchestral playing?
BL: Yes, I think there is a danger to preparing an audition and also listening to auditions. On both sides of the screen, there's a danger to focus too much on technique. Of course we want to play all the right notes, and when we're listening to an audition we want to hear all the right notes, but I think really good audition committees can look past that sometimes. When I'm listening to an audition, I never want to disqualify somebody because they miss a note, or they flub a passage. If they're doing well on everything else and they're interesting to listen to, it's not such a big deal. Sometimes when we're hearing the same excerpts over and over again, we want someone to come in and just be musical, natural, and just play music. We hear so many people who feel too safe, and it's not interesting enough, especially when you're hearing it over and over again. So when we do hear somebody come in and play something really exciting, and play it really well, we really take notice. But part of the issue for auditions is that musicality is subjective. If you go over the top in too many ways, that can have an effect on the committee thinking that you're not going to fit in when you need to. So I think playing musically is great, but just keep it within reasonable boundaries. Don't go crazy.
RY: As long as they're not too polarizing.
BL: Yes, it's a fine line to play I think.
RY: So what's it like to come back to Seattle being from this area? Was it always a goal of yours to come back here?
BL: It wasn't always a goal of mine. I never really thought about it until Chris Sereque decided to retire and the spot came open. It had been years since I'd been back here, so when I went to the audition and saw some more of Seattle again after so many years I was like, "Yeah, this would be great!" I love the Northwest and I love coming back to visit Oregon and Washington, because I grew up mostly in Oregon and lived in the Seattle area for a few years before I went off to school. I love this region, the weather, the great seafood… it's a great area, it's really vibrant, and I'm really enjoying being back.
RY: So you're playing in the Seattle Symphony section now with Laura DeLuca who was your teacher – was that in high school?
BL: Yes, I studied with her for about two and a half years in middle school and high school.
RY: So what were her thoughts when you won the position?
BL: She was very pleased – it's always great to have a student of yours do well, and I feel like we play really well together, probably because I had her as my teacher for very formative years, so I think we have a similar concept of sound. She's a terrific player and it's a lot of fun to be able to play with my former teacher!
RY: You've studied with so many great teachers – Richard Hawkins, David Shifrin, Frank Cohen, Fred Ormand – I'm sure it's hard to get into too much detail, but would you be able to describe one thing that really stuck with you from each of your teachers?
BL: For me, it was the perfect succession of teachers. First with Laurie [DeLuca], when I was so young – she was a Marcellus student and got my foundation really building, learning all the standard scales and etudes and everything. Going to Hawkins from that, he just kept that building, adding more technique and sound. He was a great teacher who knew how to pinpoint what you were doing wrong and what to say to get you to fix it. Going to Frank Cohen from there, we certainly talked about technique, and he badgered me on articulation for about a year [laughs]. From him it was just getting consistency and then getting the orchestral perspective as well as one of the big things he's known for, musicality and phrasing. Working with Shifrin after that was just refining finishing touches, studying the standard recital repertoire – Mozart Concerto, Debussy Rhapsodie, Brahms Sonatas – he knows that stuff so well and really gave me a lot of insight into that kind of music. I studied with Fred Ormand in the summers at Music Academy of the West, and he was good – kind of cut and dry teaching compared to what I was getting with Frank Cohen, but it was good to get back to that more traditional approach. That was a good dichotomy, going back and forth between those two throughout the year. I had really wonderful teachers, each at the right time for what I needed in my development.
RY: Was there anything that you felt like you didn't really learn until you got your first orchestral position and started actually doing it?
BL: Yes. Of course you prepare, but it's different when you actually start doing it. My first full-time orchestra job was in Kansas City. You know, in school you're always rotating spots in the orchestra, so getting to play with the same people in the same spots week after week was a good learning experience. Also, you always hear that rhythm and pitch are so important in auditions, and playing with people all the time, you realize that those are the two things that if one person isn't right, everyone kind of sounds bad. And also, I was just getting consistency with things like entrances – something I didn't realize the importance of until I got my first full-time job. You're playing with all these different instruments, and when the conductor gives the beat, you all have to play together at the same time, in tune, with the same kind of attack, even though you're coming from a whole lot of different perspectives of playing. Also, in college we would play only one concert, so I had to get that consistency to play well two or three concerts in a row and not lose variety in terms of musicality.
RY: What's your setup?
BL: Backun MoBa cocobolo clarinet with gold-plated keys, Richard Hawkins mouthpiece, the "R" model, with a Rovner Versa ligature. It used to be the old Eddie Daniels II, but they renamed it.
RY: With the plates that you can change out?
BL: Yeah, I actually use a little cork insert that I've used for 15 or 20 years! And then Vandoren V12 reeds, size 4 or 4.5.
RY: Now, you did some studio work in Hollywood, right? Do you have any favorite film score experiences?
BL: Yeah, one score that was a lot of fun to work on was Monsters University, with Randy Newman. He has a great ear, and he's a super funny guy. I just remember whenever somebody would find a mistake or he wanted to change something and we were just waiting there for a new part to get printed, he'd start looking at his watch and say, "400 dollars … 900 dollars … 1200 dollars…" because it adds up really quickly! [Laughs] He was a hoot, really funny but really great music. One of the other personal favorites for me was a movie called The Tourist with James Newton Howard that had a lot of really nice clarinet stuff. The director of that movie, Florian Henckel von Donnersmarck, used to play clarinet, and he was really happy with all the clarinet parts.
RY: Can you name some more films that you worked on? You always hear clarinet in movies and wonder who the player was, but you don't see it in the credits.
BL: Yeah, Green Lantern, Green Hornet, Snow White and the Huntsman… you know with a lot of them, it's not even the same people all the time, because some people aren't available, so sometimes I'd fill in on other movies – it's not like you always hear just one person. For Monsters University I think I played three different parts throughout, and we probably spent two and half weeks recording that. Sometimes I was playing first, sometimes I was second, sometimes I was third, doubling on E-flat or bass or contra-alto. Water for Elephants was another one. I did various sessions on The Life of Pi, Rio, The Hangover Part 3, A Million Ways to Die in the West, and I did the very first session on Star Wars: Episode VII – The Force Awakens, which was the first time anyone had heard Rey's theme. I don't know if that version made it into the movie or not – that's something else we never know. That being the first day of sessions on that movie, I remember we recorded one of the opening scenes and there was a unison trio for clarinet, bass flute and synthesizer, and when I went to see the movie it was English horn! Stuff gets changed around, and you never know if what you're playing makes it into the final cut or not.
RY: So that was with John Williams?
BL: Yes, so that was kind of a dream: play a Star Wars movie score with John Williams!
RY: Any upcoming performances with the Seattle Symphony you're excited about?
BL: We premiere a new clarinet concerto in February 2019 with Kinan Azmeh. He's writing it and performing it, so I'm looking forward to hearing that. I think we have a whole Nielsen cycle set up to be recorded with our new music director Thomas Dausgaard – he's Danish.
RY: So you'll be recording the concerto?
BL: I hope so, I don't know! We're supposed to record all the symphonies, including the fifth which has a great clarinet part. I'm always excited about the variety of repertoire that we do at the symphony here.
About the Writer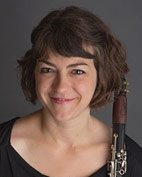 Rachel Yoder currently serves as editor of The Clarinet and adjunct professor of music theory and clarinet at the DigiPen Institute of Technology (Redmond, Washington). Based in the Seattle area, she performs in a variety of solo, chamber and large ensemble roles, including with the Seattle Modern Orchestra, Odd Partials clarinet/electronics duo, the Universal Language Project, Seattle Metropolitan Chamber Orchestra and Yakima Symphony Orchestra.