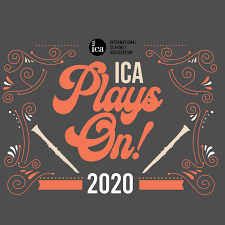 The ICA will be hosting an online event from June 26-28, 2020, called ICA Plays On! The event will feature workshops on a variety of topics pertaining to the clarinet, and we are encouraging everyone to submit their own content using the hashtag #ICAPlaysOn.
We know just how many of you were looking forward to showing off your new products at ClarinetFest® 2020 in Reno, and we want to give you an opportunity to do so for free from June 21-June 28!
We would like to invite our sponsors, advertisers, and ClarinetFest® vendors to submit a square advertisement promoting your products to be featured as a virtual exhibit hall on the ICA website from June 21-28, 2020.
Image must be square (.png or .jpg formats) and at least 300×300 pixels.
If you would like to participate, please click the register now button below to complete the registration form. If you have any questions, please reach out to Executive Director of Operations Jessica Harrie at [email protected].
Registration ends June 18!
Register here to participate in the virtual exhibit hall.
For more information about ICA Plays On! including schedule, panels, artists, and webinar links, visit this link.