Five Minute Interview: ICA Audio Reviews Editor Kip Franklin
The ICA is excited to announce the appointment of Kip Franklin as the new audio reviews editor! Kip spent a few minutes answering our Five Minute Interview.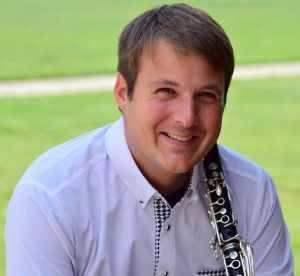 What is your current position?
I am currently in my fourth year as assistant professor of clarinet at the University of South Alabama in Mobile, Alabama, and am now the audio reviews editor for the ICA.
Who have been your biggest influences in clarinet?
Like many others, my greatest influences are my teachers. They took special efforts and spent countless hours molding me into the best musician I could be. Many thanks to Dave Gott, Kennen White, Caroline Hartig, Ted Oien and Guy Yehuda.
How long have you been a member of the ICA?
I first joined in 2014, although I wish I had joined much earlier!
How long have you played the clarinet?
Since 1997. Fun fact: I started band a year behind everyone else and took private lessons to catch up to and join the rest of the class! I was very lucky to have a private teacher since day one!
What do you love the most about the clarinet?
Beyond just being a vehicle of musical expression, I think what I love most about playing the clarinet is all the places it has taken me and the people I've gotten to meet. I've played concerts all around the US and Europe and have collaborated with people from many diverse walks of life doing so!
What is your current setup?
Clarinets: Buffet Festival B-flat Clarinet, Buffet R13 A Clarinet, Buffet R13 E-flat Clarinet, Buffet Prestige Bass Clarinet
Ligature: Bob Scott 20 gauge
Reeds: Vandoren V21 3.5+ and D'Addario 3.5+
Mouthpiece: Richard Hawkins
Why do you think every clarinetist should be a member of the ICA?
Belonging to the ICA allows you access to a board range of resources from professional performers, educators, and amateur enthusiasts. The organization is open to clarinetists of all ages and abilities who share an interest in the clarinet! Plus, ClarinetFest is always a great event!
What is your favorite piece for clarinet?
I have far too many favorites to name, but the works of Brahms are always at the top of the list. I also really enjoy some of the lesser-performed works in our repertoire including the Fantasies by Rossini, Gade, and Gaubert as well as Gabaye's Sonatine.
What do you find the most challenging about the clarinet?
I'm always working to achieve seamlessness between the partials. I think this is one of the greatest challenges of the clarinet. I use exercises from Galper's Tone, Technique, and Staccato as well as Baermann scales in 6ths to work on this.
What are your tips for clarinetists?
Self-criticism is important and inherent to any musician, but don't overdo it. It can make you paranoid about your playing, leading to self-doubt and fear of performing. I will impart two words I often tell my students: Just play.
What is a clarinet recording that you recommend?
There are so many great recordings out there making it almost impossible to answer that question. However, I think that one standard recording that all clarinetists should have is Robert Marcellus playing the Mozart Concerto with the Cleveland Symphony Orchestra (George Szell).
I would also like to recommend my recently-released album Crossroads: Twenty-First Century Music for Clarinet to the readership. It contains world-premiere recordings of new works by David Biedenbender and David Maslanka, and I hope that many people listen to it and program the works themselves!