ClarinetFest® Day 4
Evening Concert with Reno Philharmonic Orchestra
by Vanessa Klassen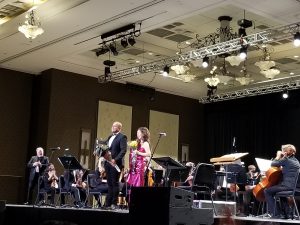 The final headlining concert of ClarinetFest 2022 was an evening of clarinet concertos featuring the Reno Philharmonic Orchestra, directed by Jason Altieri. The program consisted of a variety of pieces from classical standards to contemporary works, a few of which were written by female composers. The featured clarinetists were António Lopes, Peter Cigleris, Stephen Williamson, YaoGuang Zhai and Seunghee Lee, as well as bandoneonist, JP Jofre.
First up was the winner of the ICA Young Artist competition, António Lopes, who played the first movement of Bernhard Crusell's (1775-1838) Concerto, Op. 5 by memory. Lopes' performance was quite musical, very engaging and flawless.
Second on the program was Poem Cantilena for clarinet and orchestra, Op. 51 by British female composer, Susan Spain-Dunk (1880-1962). The piece was recently revived and performed by Peter Cigleris and the Folkestone Symphony Orchestra in 2019, the first performance of the work since 1931. The ClarinetFest performance of the work was the US premiere, also featuring Peter Cigleris as clarinet soloist. The piece itself is beautiful and captivating, and Cigleris' playing was so smooth, lyrical, and all-around breathtaking. The performance was sponsored in part by the grandchildren of Susan Spain-Dunk.
The beloved Concerto by Aaron Copland (1900-1990) was performed by Stephen Williamson, principal clarinetist of the Chicago Symphony Orchestra. With great dynamic depth, Williamson maintained excellent control of the highest registers of the clarinet throughout the lyricism of the first movement, the rhythmic cadenza and the highly technical second movement. His performance was both exquisite and energetic.
The fourth piece performed was Amanda Harberg's (b. 1973) Clarinet Concerto. Harburg herself introduced the work, explaining that it was adapted from her clarinet sonata which was written in 2014, and was inspired by the tragic death of a dear friend. This performance of the concerto was the world premiere, featuring YaoGuang Zhai as clarinet soloist. The piece contains three movements of emotionally-packed material, beginning nostalgically then taking a dark turn. Zhai performed the piece with excellent artistry, carefully shaping each phrase. The audience was captivated and there were moments when a pin drop could be heard.
The final piece performed on the concert was Double Concerto for Clarinet and Bandoneon by Argentinian composer and bandoneonist, JP Jofre (b. 1983). New York-based clarinetist Seunghee Lee joined the composer to perform the world premiere of Jofre's work which is in three movements: I. Vals Irreal, II. La Noche, and III. Aboriginal. The piece itself draws upon classical and popular traditions. The clarinet and the bandoneon often play dovetailing lines and virtuosic duos throughout. Lee and Jofre both demonstrated impeccable intonation, collaboration and virtuosity which contributed to a very compelling performance. It was well-received by the large audience in attendance.