ClarinetFest® Day 3
Michael Lowenstern
by Natalie Groom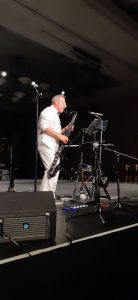 Bass clarinet legend Michael Lowenstern came to ClarinetFest® ready to move and groove. Following his lauded masterclass from the prior day, on Friday he brought a performance in his iconic style of creating rich, closely intertwining clarinet harmonies through looping technologies.
After orienting in the array of electronic tools on stage, the lights dimmed and the mood was set. Arms Out, the opening tune, was met with anticipatory applause and a peppy audience, despite it being in the 2:30pm "post-lunch blahs" (as Lowenstern put it himself). Setting his own beatboxing backing tracking from the beginning, the event opened with gusto and good vibes. He intermittently accompanied himself on the keyboard. Dressed in all-white, Lowenstern's all-black bass clarinet stood out in the atmosphere.
Transitioning to the second piece, Lowenstern shared anecdotes about growing up in Chicago near Hyde Park and discovering an eclectic collection of music—Bootsy Collins, the Ohio Players, Funkadelic, and others—at a local record store. At that moment, Lowenstern "got infected with the funk!" Little Bit was inspired by this funk influence from his childhood. Heavy with bass synth, this bop had toes tapping and heads bobbing even before Lowenstern busted out the harmonica.
The next set of tunes came from his "Ten Children" collection, a collaboration between Lowenstern and his young daughter years ago at her request that he write something "that I would like." During the pandemic, he revisited those tunes when his daughter was home from college; this inspired a second volume of "Ten Children." Performing number 16 on this program, it opened with bell toll-like sounds and had a sparkling character. Number 11 wove around meters and included surround sound effects of swooshing air.
From the album "Fade," Ariel's Hands came about because of Lowenstern's daughter's commentary that her dad's "clap tracks sucked." So then five-year-old Ariel threw down the clap track for this composition herself, and it was thusly named for her. To build the looping hand percussion track in this performance, Lowenstern wandered into the audience to audition clappers and snappers as the basis for his track.
Followed next by And On And On, this piece offered a moment of repose and reflection. Afterwards, Lowenstern shared that his first instrument was actually the harmonica, which was taught to him by his father. My Mouth was a tribute to those days of playing harmonica with his father; starting with a harmonica introduction, beats were layered in, and the music unfolded into a bass clarinet and harmonica duet.
Prior to the last piece, ever gracious Lowenstern thanked his sound crew for their expertise, the ICA ClarinetFest coordinators, and the audience before closing with Drift, bringing back his vocal percussion prowess and a grooving medium-paced jam. Aside from Lowenstern's exceptional virtuosity on the bass clarinet, soulful musicality, compositional creativity, and spontaneity, those who had not heard him before no doubt enjoyed his equally iconic sense of humor, approachability, and engaging qualities that readily dispelled the post-lunch yawns. The close of the concert was met with unending enthusiasm, and listeners left refreshed and energized after this incredibly fun experience.
Find Michael Lowenstern's work at www.earspasm.com.