ClarinetFest® Day 3
Jazz Concert
by Vanessa Klassen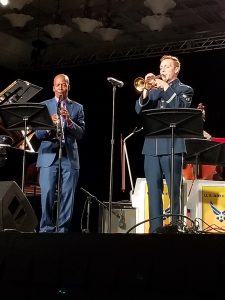 Day 3 of ClarinetFest® culminated with a remarkable jazz concert featuring 3 phenomenal headlining clarinetists: Felix Peikli, Gregory Tardy, and Doreen Ketchens.
The concert opened with the United States Air Force Band of the Golden West Jazz Band. Felix Peikli joined the band as clarinet soloist, performing Thad Jones' Three in One, Hoagy Carmichael's Stardust and Eddie Sauter's Clarinet a la King. A native of Norway, Peikli explained how his inspiration to become a jazz clarinetist stemmed from Benny Goodman recordings and an encounter with "The Queen" Doreen Ketchens on a trip to New Orleans when he was a teenager. Peikli thought that if Doreen was the clarinet queen, then maybe he should be the clarinet king. Peikli's performance was certainly fit for a king as the music seemed to emanate from his whole body, captivating the audience.
Gregory Tardy followed Peikli's performance accompanied by the rhythm section of the USAF jazz band. Tardy, though mainly a saxophonist, soulfully played the clarinet with such virtuosic technique and a clear, beautiful clarinet timbre. He performed 3 original compositions including Cure, Mr. Hurt, and was finally joined by trumpeter SrA Nathaniel McKay to play Absolute Truth. Tardy humbly thanked everyone for the opportunity to perform which clearly meant a lot to him.
"The Queen" Dr. Doreen Ketchens was the final clarinetist of the night. Doreen's jazz band featured her husband, Dr. Lawrence H. Ketchens II on sousaphone, her daughter, Dorian L. Ketchens-Dixon on drums, and David H. Hammer on guitar. Doreen held the audience in the palm of her hand with her absolutely incredible jazz clarinet playing, singing, and storytelling. The band played a number of spirituals, jazz standards and requests, such as Lord, Lord, Lord, You Sure Been Good to Me, Sweet Georgia Brown, House of the Rising Sun, and When the Saints Go Marching In. Doreen painted a picture of a traditional New Orleans funeral procession with her performance of Just a Closer Walk with Thee and engaged audience participation as the funeral march turned into a celebration. The audience was enthralled and erupted in a thunderous standing ovation, obliging the band to play just one more tune.