Originally published in The Clarinet 50/3 (June 2023).
Printed copies of The Clarinet are available for ICA members.
---
CLARINETFEST® 2023:
"OUR GLOBAL COMMUNITY: PAST, PRESENT, AND FUTURE"
---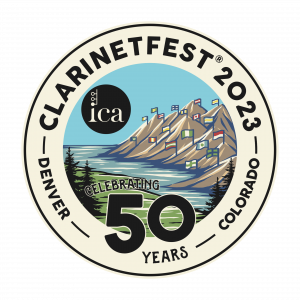 ClarinetFest® 2023, the long-awaited 50th Anniversary Celebration of the International Clarinet Association, is nearly upon us. The ClarinetFest® 2023 artistic leadership team, along with the ICA board and operations team, is delighted to invite you to Denver, Colorado, for five days of celebration centered on the theme "Our Global Community: Past, Present, and Future."
---
In all, 34 countries and 6 continents are represented by confirmed artists and session leaders. Attendees and exhibitors at this memorable conference will increase this world-wide representation, truly celebrating "our global community." ClarinetFest® 2023 will also celebrate our past, celebrate our present, and give a nod to the future ahead. Due to the overwhelming response and anticipation of this event, the conference will be held at two locations less than one mile apart. The Denver Marriott Westminster will join The Westin Westminster hotel and conference center. Shuttles will be provided between both locations. ClarinetFest® 2023 will be teeming with offerings for everyone whether beginner, student, professional, or enthusiastic adult amateur, including informative lectures, thought-provoking discussions, inspirational master classes, collective warmup classes, hands-on health and wellness sessions, competitions, panel discussions, and meaningful gatherings.
Wednesday, July 5
Registration begins on Wednesday morning at The Westin Westminster with events formally kicking off at 1 p.m. There will be several concerts to enjoy during this first hour, including a recital by world renowned clarinetist Ricardo Morales. The ICA Research Competition final round of presentations runs from 1:45 p.m. to 4:45 p.m. this first day. Plan to drop in to learn about the exciting current research relating to the clarinet. Wednesday is also the start of stand-alone daily sessions "ClarinetFest® at Noon" and "ClarinetFest® at 5." These new concerts will be held in the main hall and will feature headline artists in a variety of settings and thematic presentations. At 5:00 p.m., principal clarinetist of the Los Angeles Philharmonic Boris Allakhverdyan will perform a recital for all to enjoy.
The ICA will hold a 50th Anniversary Banquet Dinner on Wednesday, July 5th at 6 p.m. Tickets are available in limited quantities for $50 as an add-on to your ClarinetFest® 2023 registration.
The Wednesday evening concert at 8:00 p.m. will showcase four soloists performing clarinet quintets with the Dalí Quartet. Italian clarinetist Piero Vincenti will open the concert with a world-premiere composition by Michele Mangani written specifically to honor the International Clarinet Association's 50th anniversary. Next, Mexican clarinetist Raquel Contreras will perform a new clarinet quintet by James Lee III. Mariam Adam will grace the stage in the performance of a new clarinet quintet composed by Scott McAllister, and the concert will conclude with a deeply significant work, Mozart's Clarinet Quintet, performed by one of the ICA's newest honorary members, Franklin Cohen.
Thursday, July 6
Thursday kicks off a very busy day at ClarinetFest® 2023. At 8:00 a.m. each morning of the conference at the Denver Marriott Westminster, the ICA Health and Wellness committee presents daily warmup and stress-relief activity classes (such as yoga, Zumba, and constructive rest) followed by expert somatic master classes beginning at 8:45 a.m. Also at 8:00 a.m. is a daily warm-up session put on by the ICA Clarinet Enthusiast Committee. Bring your clarinets and have your reeds ready, because this session is open to anyone!
On Thursday, the exhibit hall opens at 9:00 a.m. and the ICA Amateur Choir, Festival Clarinet Choir, College Clarinet Choir, and Youth Choir begin rehearsing. Attendees can participate in more than one choir. The ICA Young Artist Competition semi-final round begins at 8:30 a.m. (final round on Saturday) and the ICA Orchestral Excerpts Competition begins at 2:00 p.m. All competition events are open to the public.
Our ClarinetFest® 2023 Master Class Series also begins on Thursday. South African clarinetist Maria Du Toit and Canadian jazz clarinetist Virginia MacDonald will both listen and offer feedback to students in public sessions.
Our first "ClarinetFest® at Noon" presents Bridge & Wolak. This future-looking duo fuses digital accordion and acoustic clarinet. Michael Bridge and Kornel Wolak's imaginative duo is fresh, exciting, and fun. Later in the day, the "ClarinetFest® at 5" concert will be a delight. Carlos Ferreira, the newly appointed principal clarinetist of the Orchestre National de France, makes his ClarinetFest® debut, opening the concert which will continue with Canadian clarinetist James Campbell and Turkish clarinetist Selin Gürol. The format of this concert will include performances by each artist followed by a "late-night TV" sit-down interview with ClarinetFest® 2023 artistic director, Wesley Ferreira.
The United States Air Force Academy Band will take the stage on Thursday night to present an evening of music including concertos performed by clarinetists from their own ensemble, MSgt (Sel) Rob Vitale and TSgt David Halperin, as well as international soloists Nadia Sofokleous, Ecesu Sertesen, and bass clarinetist extraordinaire Alcides Rodriguez. Following the concert, all attendees are invited to attend the President's Reception outdoors in the South Courtyard of The Westin Westminster.
Friday, July 7
The excitement continues Friday with another full day of presentations, concerts, recitals, clarinet choir rehearsals, and exhibits. The beautiful Lake House facility on the grounds of The Westin Westminster will be the home to all works performed on clarinet with electronics, so enjoy the eclectic programming of the talented artists performing here all week. Our Master Class Series continues on Friday and we are pleased to welcome the superlative artist and renowned clarinet pedagogue Yehuda Gilad, and principal clarinetist of the Berlin Philharmonic Wenzel Fuchs. "ClarinetFest® at Noon" will feature an entire concert performed by clarinet family members other than the B-flat or A soprano clarinet. In this concert you will hear performances from experts on the following instruments: E-flat clarinet, B-flat contrabass clarinet, bass clarinet, E-flat contra-alto clarinet, and the alto clarinet. Yes, you heard that right. The alto clarinet will make its presence felt at ClarinetFest® 2023 as a solo instrument! "ClarinetFest® at 5" will open with current Houston Symphony principal clarinetist and Colorado native Mark Nuccio, followed by Mary Alice Druhan of Texas A&M University – Commerce. Friday evening at 8:00 p.m. the always popular "Jazz Night" concert will get you tapping your toes. Leading Colorado jazz musicians hit the stage in big band and combo format to perform with headline artists Tad Calcara, bass clarinetist Todd Marcus, and Virginia MacDonald.
Saturday, July 8
Saturday presents many special offerings. We celebrate our past with a Q&A and storytelling session with the performers, presenters, and attendees of the original Denver clarinet conferences at 9:00 a.m. These early conferences in Denver and the individuals who were a part of them spurred the creation of the modern-day ICA. In the afternoon, all of the former presidents of the ICA will gather for an open session to share stories, answer audience questions, and speak about the advancements and challenges that each faced during their tenure at the helm of the ICA. In a celebration of the present and view towards the future, the Artistic Leadership Team of ClarinetFest® 2023 will host an in-person session where they highlight the many artistic, humorous, and creative individuals and accounts on social media. This session will recognize the impactful contributions of individuals who through their clarinet contribute in the online space.
The ICA Clarinet Choirs will also be performing on Saturday afternoon, and of course, make sure to visit the vendors as Saturday will be the last chance to peruse exhibits from 9:00 a.m. to 5:00 p.m. "ClarinetFest® at Noon" will feature an exciting performer relatively unknown outside of Brazil: Brazilian jazz clarinetist Lucas Andrade. You will not want to miss this!
Since the clarinet community first heard him perform in 2000 at the tender of age of 10, Julian Bliss has established himself as one of the world's most recognized clarinetists. We are happy to celebrate his return to our stage in this 50th anniversary conference. He will perform a full-length recital on Saturday at "ClarinetFest® at 5."
Following a day filled with exciting offerings, a special ICA Awards Ceremony will precede the final evening concert of ClarinetFest® 2023. Take time to attend both. This final concert of the evening will showcase Fort Collins Symphony Music Director Wes Kenney leading concertos with an impressive and diverse roster of soloists, who will perform well-known works, those yet-to-be discovered, and a world premiere! Maria du Toit will introduce many concertgoers to a work that she herself has recorded, Clarinet Concerto by fellow South African composer David Earl. Wenzel Fuchs will grace the stage to perform the beloved Mozart Clarinet Concerto. The evening's highlights continue with clarinetist Bharat Chandra in the performance of a beautiful and imaginative work, the recent Clarinet Concerto by Indian-American composer Reena Esmail. This work uses aural tradition of Hindustani music in both movements of the concerto. Jeremy Reynolds will be performing a world premiere: a brand new, hot-off-the-presses, concerto titled Fin de la Tierra (The End of the Earth) by Jenni Brandon. In the spirit of celebrating our future, the Young Artist Competition Winner from 2022, Taig Egan, will perform the forever popular Concertino by Weber.
Sunday, July 9
ClarinetFest® 2023 wraps up on Sunday at 3:00 p.m., but not before many more notable performances and presentations can be experienced. You will not want to miss multi-award winning Ukranian clarinetist Alexander Bedenko. His recital in the morning will start the day off right. The ICA Clarinet Enthusiasts Committee will host a master class with participants performing and receiving feedback. The US Army will be holding clarinet auditions all day, and the many lectures and potpourri performances and clarinet choirs will continue to fill the venue with sweet sounds. Mid-day, the first ever performance by a Mexican banda will expose you to something new for the clarinet and get you dancing in your seat.
Plan Your Visit!
ClarinetFest® 2023 would not be possible without the support of our generous sponsors. Sustaining Sponsors: Buffet Crampon, F. Arthur Uebel, Vandoren, Chedeville. Altissimo Sponsors: Rovner Products Inc., Silverstein Works, Yamaha Corporation of America. Clarion Sponsors: B. Corbin Clarinet Products, Backun Musical Services, Royal Global. Chalumeau Sponsors: ALRY Publications, Lisa's Clarinet Shop, Midwest Musical Imports, and Colorado State University School of Music, Theatre, and Dance. You can attend concerts and sessions by many of these sponsors and their artist representatives throughout the week. Refer to the program for information about these sessions.
The program information will be laid out a little differently this year. In addition to the chronological program, the Artistic Leadership Team will provide program information by category. For those who are interested in world music, all concerts and presentations will be listed on one sheet for attendees. The same for chamber music, low-clarinet, jazz, etc.
We are so excited to welcome you to Denver, Colorado, the location where the seed of the ICA was planted, and where the majestic views of the Rocky Mountains and stunning sunsets are sure to inspire. The ICA has reserved a "ClarinetFest® 2023" room block with room prices of $169 a night, with free wi-fi for all guests and exhibitors at both the Denver Marriott Westminster and The Westin Westminster. There are also a variety of other nearby hotels for lodging options. The hotels are located near the promenade entertainment district, surrounded by restaurants and entertainment options within a very short walking distance. The always vibrant downtown Denver is only 15 minutes away by car and Rocky Mountain National Park is a short hour drive. Decide to arrive early or stay late beyond the conference dates to take in many of Colorado's other wonderful sites including hot springs, Garden of the Gods, historic Colorado mountain towns, and the world-famous breweries.
The Artistic Leadership Team of ClarinetFest® 2023 welcomes clarinetists of all ages and abilities from around the world, young and old, including first-time attendees, those who haven't attended in a while, and those who wouldn't miss it.
---
Artistic Leadership Team:
Wesley Ferreira, Artistic Director; Copper Ferreira, Joshua Gardner, Emily Kerski, and Jana Starling.
Contact us at
[email protected].