ClarinetFest® 2023 in Review
---
ClarinetFest® 2023 Day 5
Health and Wellness Expert Somatic Masterclass 4
by Julia Lougheed
---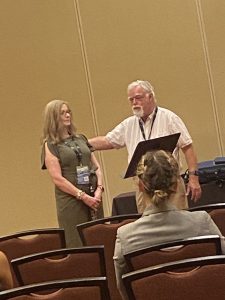 This masterclass was the third in a series of somatic-focused clinics. In these masterclasses, participants shared specific physical challenges they would like to address during the workshop. All three clinicians team-taught these masterclasses; jumping in to support one another's teaching and often re-enforcing concepts another teacher introduced by explaining the same ideas in different words. The energy in the room during this class was relaxed, supportive, and engaged – an ideal setting to address somatic awareness involved with playing the clarinet.
A clarinetist names Alessandra played first. She played a solo piece she had commissioned, and was looking for guidance on fighting the physical tension that comes with nerves. Alessandra played a bit and spoke about the physical tension she was experiencing. Bill Conable intervened, encouraging Alessandra to re-frame her tension as energy, and then let that energy flow out of her body while she was playing. "What if you took that energy and released it through your body and into the earth?" Bill asked, "The earth can take it."  Bill then led all masterclass participants through an exercise demonstrating the flexibility of awareness and attention. Afterwards, he had Alessandra play her piece again, this time with her awareness focused on the audience rather than herself. "Alessandra played again, delivering a relaxed, engaging performance. The audience clapped enthusiastically as Alessandra's performance concluded, and Bill asked her how this experience was different. Alessandra responded that, "Instead of it [this music] being a threat against which I have to perform, I noticed that it is composed for me – it is mine. You don't know it, and I want to share it with you!"
A clarinetist named Madeline played next, and Jackie McIlwain coached her. Madeline played a piece that sounded like a technical etude. At the end of the etude, Jackie asked her, "How do you feel about that?" Madeline responded that she felt a bit frantic. Jackie continued asking Madeline questions about what she was feeling in her body, and Madeline responded that she was experiencing tingling, shaking, and a little bit of numbness. Jackie's tone during her questions was relaxed and accepting; Jackie modeled an ideal approach to use when asking students about physical sensations. She then led Madeline through a series of physical exercises to become aware of Sitz bones, pelvic bones, and then length of her spine on different sides of her body, commenting at the end of these exercises that, "We can have this movement available to us while we are playing." Jackie encouraged Madeline to include these small, mindful movement patterns in their playing, and thanked Madeline for her willingness to work with us today.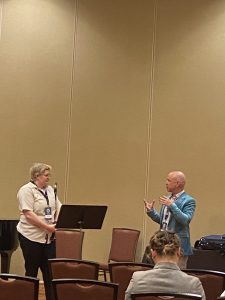 The final performer in this masterclass was a clarinetist named Lauren, who played for Shawn Copeland. Lauren's primary concerns were related to breathing and embouchure. Shawn first addressed Lauren's breathing. "It is an untruth that we need to take in a full tank of air every time we breathe," Shawn said, "In speech, your brain knows exactly how much air you need to make it to the next pause point – it can be the same in your playing." Shawn then coached the room in a breathing exercise where everyone exhaled, and breathed in when their body said, "breathe" – no earlier, and without force. Shawn encouraged everyone to plan their breathing out in their repertoire in a way that allows this to happen. Then, Shawn addressed embouchure, bringing Lauren's awareness to a link she had created between her jaw and her tongue while she was playing, commenting that, "most of us do this until someone tells us we don't have to." Shawn ended the class by telling Lauren to focus on her breathing and embouchure for only about 20% of her practicing, trusting that devoting this amount of attentive work to these aspects of her playing would yield results, and still allow her to learn the notes she needed to in the practice room – an important strategy for anyone hoping to change somatic habits, as this work takes a great deal of focus and patience.