ClarinetFest® 2023 in Review
---
ClarinetFest® 2023 Day 4
ICA Composition Competition Winning Compositions
by Nancy Williams
---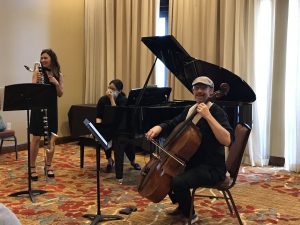 Tasha Warren welcomed the audience and introduced the piece "Snapshots" (Chamber Music Category Winner) by Pascal Le Boeuf and the ensemble, Warren on bass clarinet, David Eggar on cello, and Hsin-Hsuan Lin on piano. "Snapshots" was part of a larger commission project by Warren and Eggar that included 6 pieces by as many composers, none given any instructions regarding content or inspiration. Le Boeuf wrote "Snapshots" during a Copeland residency during which he was staying at Copeland's home. Eggar also had a connection to Copeland through taking piano lessons with him in that same house as a child. This connection of lineage, friendship, and mentorship was the inspiration for the piece. The collection of compositions was previously recorded in Tennessee and received two Grammy nominations. The recording is featured on the album Ourself Behind Ourself, Concealed.
"Snapshots" featured constant, underlying driving rhythms underneath modern melodies. Exciting and dynamic, this rhythmic subdivision was shared in turn by all performers, as were melodic and harmonic elements, potentially portraying the shared lineage and mentorship inspiring the piece. The work is an example of the highest caliber of composing and was performed by consummate professionals in a joyful celebration of the aspect of community within music. It was met with much approval by the audience.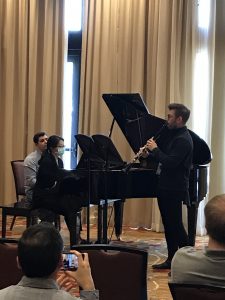 The Solo Music Category Winner, "The Last Question" for clarinet and piano by Roger Zare consisted of four movements based on cosmology. The movement titles were not listed in the program, so Zare introduced and explained them to the audience as a prequel to the performance. Movement I, The Big Bang, begins explosively, musically portraying the beginning of the universe. Movement II, The Big Crunch, is based on the theory of the same name in which all particles will come back together into a singularity (after the outward movement of material after the Big Bang). Movement III, The Big Freeze, refers to the universe expanding and accelerating until the world freezes or becomes inactive. Lastly, Movement IV, The Big Question, is based on the Isaac Asimov short story "The Last Question," in which a supercomputer can't answer the question, "How do you stop entropy?" Zare gave an outline of the plot, but withheld the ending, insisting that it would be revealed in the music.
Performed by Mark Cramer, clarinet and Hsin-Hsuan Lin, piano, the piece was indeed programmatic, representing outer space through such devices as open spacing of staccato gestures and the seemingly cold, arpeggiated high tessitura of the piano. The frenzy of the universe gave way to calm and fluid melodies indicative of the passing of time in the final movement. The music grew less content with the use of strident notes in high tessitura, then faded back into a calm that led into the clarinet cadenza. The piece ended with the clarinet quietly sustaining while the piano performed a questioning, arpeggiated flurry. It received a standing ovation.
---