ClarinetFest® 2023 in Review
---
ClarinetFest® 2023 Day 3
Masterclass – Yehuda Gilad
by Chastine Hofmeister
---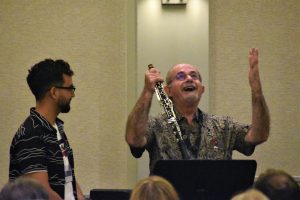 Yehuda Gilad gave a masterclass to a packed room in the Meadowbrook at Westin on Friday, July 7th. More ClarinetFest® attendees eagerly waited in the crowded lobby in case anyone decided to leave early so that they could grab a coveted seat. Four talented students were selected to perform at this class and receive feedback.
The first participant was Esteban Gurrola who chose to perform Time Pieces by Robert Muczynski. After performing, Yehuda reminded Esteban that everyone is rooting for him, and the audience burst into applause! He continued that it does not matter if we squeak or play a wrong note, but of course, we're aiming for perfection because we want it to be good. After this pep talk, he worked with him to emphasize the inner beat and had Esteban work on this without the clarinet. He then had him blow into the clarinet with no mouthpiece and emphasized to him that we never stop the air! We must first get the sound and then add articulation. He then had him play the passage again on the fully assembled clarinet to hear the results of this work. He concluded Esteban's time by reminding him and the audience that the clarinet must always be an extension of yourself.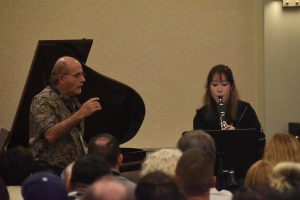 After more people tried to squeeze into the room, Minseo Chae performed an excerpt from Carl Maria von Weber's Concertino in E-flat major, Op. 26. After the audience finished applauding, Yehuda asked her to show him how happy she is to play. He then had her return to measure 38 and repeat the melody at different dynamics starting from forte and gradually working down to triple piano. He then had her repeat the melody and cued the audience to join her while singing as an exercise to emphasize finding the character of the piece. Next, he had her do some stretching exercises while prompting her to continue to breathe. After finishing these exercises, he asked her to return to the beginning of the section and to "say what you want" to noticeable improvement.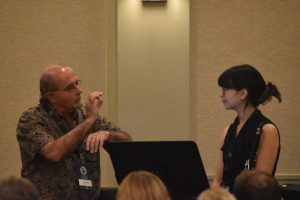 Victoria Maltagliati joined us next, performing Claude Debussy's Premiere Rhapsodie. He had her stop playing and gave her a high five and said not to mind the audience! He then took this time to tell her that she could choose to freak out or view a performance as an opportunity. Everyone gets nervous, if you are not nervous, something is wrong with you. You are nervous because you care. After taking the time to put Victoria at ease, he went on to talk about air. He continued that we do not want the air to get stuck, it must move forwards or backwards! To demonstrate this, he had Victoria begin playing again but he grabbed her music stand and started moving it towards her or away from her so that she had to physically move backwards or forwards to follow the stand. He then reemphasized that there must always be some movement and to enjoy it! It's all about expression.
Our final performer was Qingyang Wang and he played Victor Babin's Hillandale Waltzes. After performing, Yehuda then checked Quingyang's embouchure. This prompted him to remove the mouthpiece and barrel from the instrument and add a balloon at the end. As Victor inflated the balloon, Yehuda instructed him to keep his embouchure "up and down" and to inflate very slowly. He also had him sing and talked about how singing can help you find the character in your playing.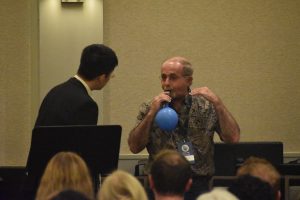 This was a beautiful masterclass with so much wisdom to be gleaned from it. One of the most important things that I noticed in this class was how much time Maestro Gilad took to make sure that each performer was put at ease and how he addressed how they were thinking about their music and performance situation. Sometimes the mental aspects of performance seem to be overlooked in classes, but this was a masterful balance of addressing the mental, technical, and expressive aspects of performing and learning.
---