ClarinetFest® 2022 Day 2
James Cohn Tribute
by Heather Gering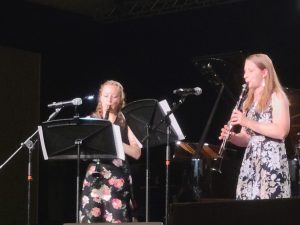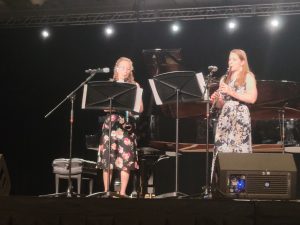 Day 2 of ClarinetFest® featured a Tribute to James Cohn with performances by clarinetists Sarah Korneisel-Jaegers and Vanessa Klassen. The program was full of solo and chamber works written by Cohn.
Sarah Korneisel-Jaegers opened the recital with Cohn's unaccompanied work Three Pieces for Clarinet Alone, Opus 78. This unaccompanied piece challenges the performer at all ranges of the instrument and was full of rich and warm interpretations by Sarah. This was followed by her world premiere performance of Klezmer Fantasy for Clarinet and Piano, which Cohn wrote in 2020. A shift in style from one piece to the next, but was flawlessly executed and demonstrated Korniesel-Jaegers mastery of her instrument.
Vanessa Klassen then joined the stage for the performance of Cohn's Duo for Two Clarinets, which both players blended together seamlessly for, creating an exciting and satisfying experience for the audience.
For the finale, Vanessa performed the Variations on a Boogie-Woogie for clarinet, cello, and piano. Vanessa's jazz style and technique were precise, engaging and created the perfect ending to this program that showcased the breadth and talent Cohn had as a composer.