ClarinetFest® 2022 Day 1
Theodore Johnson Tribute
by Heather Gering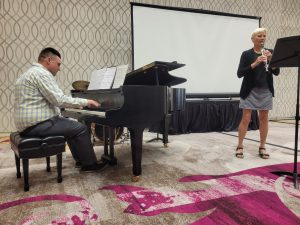 One of the first events of this years ClarinetFest®  was the Theodore Johnson Tribute recital which featured performances and a presentation by two of Johnson's former students.
Clarinetist Kirsten Ahnell and pianist Sean Raley opened the recital with an arrangement of Carnival of Venice Theme and Variations which was arranged by Kirsten's own father, Emil Ahnell, for Eb clarinet and piano. During her performance she showcased impressive control over her instrument with a remarkable ability to play in any dynamic and style at any range. Through the leaps and jumps throughout the piece, Ahnell was able give a truly show-stopping performance, making this classic feel new again.
Following this up was Bettyjeane Quimby's fun and energetic take of the Artie Shaw Concerto alongside pianist Bill Hecht and drummer Tony Savage. Quimby selected this piece due to having studied it originally with Theodore Johnson. The ensemble grooved and performed in perfect harmony through each section of the work. The jazz style was articulated with finesse and pizazz and left the whole room smiling.
Finally to close the program, Kirsten Ahnell once again took the floor to give an interactive presentation over reed making. She showed the audience the proper tools needed and methods to use to take a plain cane blank and turn it into a superb playable reed.