Thursday, July 27, 2017
Kinan Azmeh made his debut appearance at ClarinetFest® with his longtime duo partner, pianist Dinuk Wijeratne on July 27, 2017 at 4:30 pm. George and Lynn Reeder of Rovner Ligatures sponsored the performance.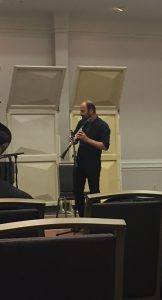 Azmeh and Wijeratne performed mostly original compositions that were influenced by classical music and middle-eastern music.  These unique compositions were enhanced by Wijerante's use of the whole piano, including drumming on the case and strumming the strings.
The recital began with a performance of Bela Bartok's After Bela (after "Pe Loc" by Bela Bartok.) Azmeh entered from the rear of the hall while Wijeratne was seated at the piano. The remainder of the program featured songs that reflected Azmeh and Wijerante's lives, including Azmeh's experience being held in an airport for an extended period of time while waiting to enter the United States.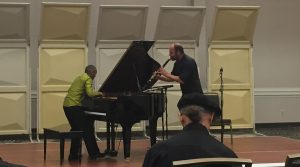 In Azmeh's work titled Airports, a repeating theme that represents a protest song was heard throughout the performance. Near the end of the piece, the duo encouraged the audience to sing along with the theme. Singing along with the theme as a group left everyone feeling inspired and wanting more.
Azmeh and Wijeratne's original works provided the audience with a unique experience that left a feeling of emotional connection to the performers.
-Meghan Taylor, ClarinetFest reporter