Report by Emily G. Kerski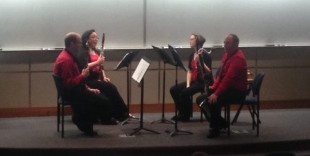 The dynamic 4REEDS Ensemble, comprised of clarinetists Meghan Merciers, Nikolasa Tejero, Brian
Viliunas and bass clarinetist Nicholas Hartline, presented a lecture-recital about Piazzolla's tango repertoire on Friday, August 5 at 4:30 p.m. in Spahr Auditorium.
The clarinet quartet gave a stylish performance of two iconic Piazzolla works: Histoire du Tango and Oblivion, both published in the late 1980s. The performances presented a thorough explanation of the musical ingredients of Piazzolla's tango and its development as a genre from 1900 to the present day. The ensemble performed the Bruce Edwards adaptation of the saxophone quartet version of Histoire and the Jeremy Eig arrangement of Oblivion. Histoire can be performed on a variety of different clarinets, but 4REEDS selected the version for three B-flat clarinets and bass clarinet instead of the optional E-flat and/or alto clarinet. This combination proved to work wonderfully, as there was great brilliance and depth of sound throughout.
Well-versed in the Latin American musical language, the group brought impressive expertise to the program and provided the audience with a detailed written guide to each movement and samples of rhythmic patterns to recognize.
Histoire's four lively movements took the audience on a journey from the opening "Bordel 1900" through to the so-called "tango of the future," the final movement. The ensemble set the scene for each movement and explained how the tango evolved as a dance and music genre before each performance.
"Bordel" begins to tell the story of the Argentinian tango, starting as a dance in the low-class neighborhoods of Buenos Aires. The second movement, "Café 1930," depicts the gradual transition from the tango as a dance form into a genre of music set for a concert hall. This allowed for more romantic and emotive gestures within musical lines. Next, "Night-Club 1960" portrayed the influence of international exchange and different cultural flavors mixing into the tango idiom. The closing "Concert d'aujourd'hui" is a conglomeration of previously heard tango rhythms alongside even more modern gestures and an underlying angular pulse.
The second and final work on the program, Oblivion, was originally written as part of a 1984 film score (Enrico IV) and later arranged for clarinet quartet. This piece introduced the audience to a milonga rhythmic pattern, a precursor to the tango. The milonga is characterized by simple duple meter, an upbeat tempo, and what the quartet eloquently termed "the nostalgia of Latin American sensibility."
Emily G. Kerski is a graduate student and Assistant to the Performance Chair at DePaul University, where she is an avid collaborative musician and private teacher. She also serves as the ICA Index Manager.