Report by Chastine Hofmeister
The ClarinetFest® 2016 Host Recital took place on Wednesday, August 3 at 1:30 in the afternoon at the Crafton-Preyer Theatre. The recital featured ClarinetFest® hosts Dr. Stephanie Zelnick, associate professor of clarinet at the University of Kansas and principal clarinet of the Boulder Philharmonic Orchestra, and Dr. Robert Walzel, dean of the University of Kansas. Zelnick and Walzel commenced their recital with the short but beautiful Fantasia for Two Clarinets and Piano by Sarah Feigin. Despite being short, it was action-packed, with a lyrical opening that swept me away and plenty of upbeat technical sections. Their playing was well balanced and complimented each other. Walzel  took a few minutes after the piece to tell us that it had originally been written for solo clarinet and piano. It was dedicated to Philippe Cuper and Eva Wasserman-Margolis.
The next work on the program, Esquisses hebraiques (Hebrew Sketches) by Alexander Krein, was a clarinet quintet in three movements that Zelnick found in Israel while doing research for her doctorate. Zelnick performed this piece with Veronique Mathieu and Anne-Marie Brown on violin, Jenifer Richison on viola, and Lawrence Figg on cello. Zelnick is recording this piece and will be releasing it on an upcoming CD.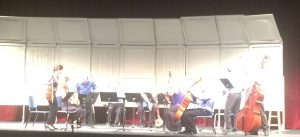 The Brahms Serenade No. 1 in D, Op.11 was the final work on the program with Robert Walzel and Lawrence Maxey on clarinet, Veronique Mathieu and Anne-Marie Brown on violin, Jenifer Richison on viola, Lawrence Figg on cello, Richard Ryan on double bass, Michael Gordon on flute, Daryn Zubke on bassoon, Paul Stevens on horn, and David Neely conducting. This version was reconstructed by Chris Nex because Brahms destroyed the original version. Consisting of six movements, this was by far the longest work on the program and they did a wonderful job putting the ensemble together.  
Chastine Hofmeister is currently the Second Clarinetist with the Monroe Symphony in Louisiana. She has also recently performed with the Dallas Symphony, Las Colinas Symphony, Abilene Philharmonic, and Midland-Odessa Symphony.