Report by Sarah Korneisel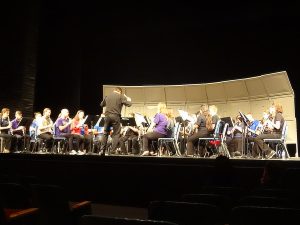 ClarinetFest® 2016 began at 10:00 on the morning of Wednesday, August 3, 2016 with the welcoming remarks of Dr. Robert Walzel, dean of the School of Music at the University of Kansas. The theme of ClarinetFest® 2016 is inspirations, and the performance by the All-Kansas Collegiate Clarinet Choir – consisting of 71 clarinetists from nine Kansas universities – that commenced the festival served as a prime example of the great things that can manifest from inspiration. The ensemble, Walzel commented, had become more than he ever imagined when the idea was proposed.
Formed and directed by Dr. Dawn McConkie of Emporia State University and Dr. Tod Kerstetter of Kansas State University, the ensemble was made up of students from Baker University, Emporia State University, Fort Hayes State University, Friends University, Kansas State University, Pittsburg State University, the University of Kansas, Washburn University and Wichita State University. In light of funding challenges that the state has faced in regards to the arts, Walzel called the creation of this choir and the dedication of its members a "testament to the vitality of music and music education."
Walzel then conducted the group as they paid tribute to their home state by performing James Barnes's arrangement of the Kansas state song, Home on the Range, by Brewster M. Higley VI (1823-1911). The group played with a sense of nostalgia and brought forth the contemplative nature of the piece to the audience. In their solemn performance of the arrangement's flowing lines and lyrical melody, the group truly honored their home state.
This was followed by a driving cinematic opener as Kerstetter led the group in his own arrangement of Raiders March, by John Williams (b. 1932). McConkie conducted the last two pieces on the program, Matt Johnston's arrangement of The Sorcerer's Apprentice by Paul Dukas (1865-1935), and Peter Piper for Mixed Chorus and Clarinet Choir by Vaclav Nelhybel (1919-1996). The large ensemble brought a distinct fullness and continuity to this arrangement of the Dukas'. For the final piece, 12 vocalists joined the group in an exciting and animated interpretation of the classic tongue-twister. The representation of students from across the state of Kansas and of a variety of musical styles made this both a fitting and inspiring opening performance.
Sarah Korneisel is a Graduate Enrichment Fellow at The Ohio State University, where she is pursuing a Doctor of Musical Arts degree in Clarinet Performance under the tutelage of Dr. Caroline Hartig.