by Kellie Lignitz-Hahn and Bret Pimentel
Website Watch
Clarinet Jobs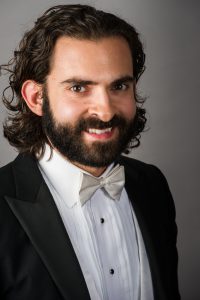 Earlier this year James Zimmermann, principal clarinetist of the Nashville Symphony and creator of the Facebook group "Clarinet Jobs," branched out from the social media platform and created a new and interesting website under the same name. As a purveyor of job openings, Zimmermann has created a space where the clarinet community can quickly find job advertisements and see who recently won positions.
One of the best features on his website is access to his Excerpt Education Series videos which, in his words, try "to help people learn how things really are in an orchestra." Zimmermann has produced videos on works including Mendelssohn's Symphony No. 3, Rachmaninoff's Piano Concerto No. 2 and Ginastera's Variaciones Concertantes. In these half-hour-long videos, Zimmermann walks viewers through his process of preparing and practicing the music, uses a GoPro camera for up-close video footage during rehearsals, and concludes with post-performance reflections and self-critiques. Not only are these videos an inside peek at how an orchestral musician might approach and prepare for a concert, but they are also humorous and showcase Zimmermann's expertise at editing video. For those interested in the recording and technical side of his videos, Zimmermann notes what type and brand of equipment he used for each recording.
Unlike other orchestral excerpt videos out on the web, Zimmermann goes the extra mile with his analytical details and demonstrations of practice techniques in his Excerpt Education Series videos. Readers are sure to gain a new level of awareness of intonation and pitch accuracy in the slow movement of Rachmaninoff's Piano Concerto No. 2 with his detailed charts, individual pitch analyses and use of software programs. Not only does he provide a breakdown of intonation tendencies note by note throughout the well-known clarinet solo, but he also analyzes and critiques his own intonation issues during his practice and rehearsals leading up to the performances. His meticulous attention and illustration of how a clarinetist must continuously adjust during the solo is like a master class on the excerpt in and of itself.
Zimmermann maintains an active profile on the web and has other interesting and informative videos on YouTube worth investigating, including his video on the making of Frank Ticheli's Clarinet Concerto. Readers might remember Clarinet Cache's interview with him in our second column in September 2008, just a year after he began the Facebook group "Clarinet Jobs." Almost a decade later we are pleased to see Zimmermann continuing to enrich the clarinet community through social media and his new website.
GoPro
As mentioned above, James Zimmermann's use of the GoPro camera during rehearsals offers a unique and close-up perspective, akin to sitting right in front of someone as they play. This camera is not new to the market and a few clarinetists have posted YouTube videos of performances and rehearsals captured with a GoPro camera. What made this compact camera so popular is its capability of taking wide-angle, high-quality photos and video in extreme conditions or sports, like mountain biking or skydiving … or playing the clarinet!
Clarinetist Corrado Guiffredi's 2014 YouTube video taken with a GoPro camera of his live performance of Michele Mangani's Verdiana captures his flying fingers with a frontal, up-close camera angle positioned right on Guiffredi standing before the orchestra. To experience a different performance angle, check out Garrick Zoeter playing Romanza for Clarinet and Piano by Mangani. This YouTube video is taken with the camera strapped to Zoeter's head and positioned downward. This particular perspective induces a feeling that viewers could be be playing the piece themselves and looking down at the instrument as Zoeter and his clarinet sway with the music.
Dean Newcomb's two videos taken with GoPro camera are also worth watching. His 2016 video of the Adelaide Symphony Orchestra clarinet section rehearsing the Presto movement of Shostakovich's Ninth Symphony offers a exciting, though brief, excerpt within the music. His unaccompanied performance of Béla Kovács' Hommage à Manuel de Falla has the camera positioned just below the music, giving a grounding view of Newcombe and his instrument. There are countless YouTube videos of performers using different angles and equipment to record themselves.
The E-flat Clarinet Project
https://eflatclarinetproject.wixsite.com/eflat
Managed by Jennifer Fraley, the E-flat Clarinet Project is a website dedicated to the repertoire and educational materials of this auxiliary instrument. Educators and performers can use the repertoire database to search over 70 solo and chamber music titles from beginning to advanced levels. As it is a work in progress, readers are encouraged to submit works and recordings not found on the site.
In the blog section of the project, articles range from reed guides to tips for orchestral players, reaching players with various interests. In one post Fraley discusses how to choose the best E-flat fingerings and supplies a helpful chart of her preferred fingerings, including a blank fingering chart viewers can print out and use to record their own fingerings. Although the video section of the site currently has only three videos, hopefully with time more selections will make their way onto the website.
The Jazz Clarinet
http://thejazzclarinet.blogspot.com/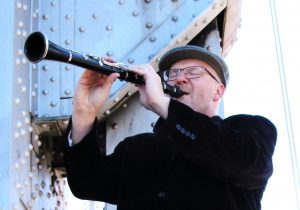 Created by writer and jazz clarinetist Eric Seddon, The Jazz Clarinet blog is sure to be of interest to any clarinet enthusiast. Containing a prolific number of posts dating back to 2011, Seddon writes about equipment and interviews, and reviews recordings. His lengthy posts are well-written and full of tidbits of historical information. This site is a great starting point for clarinetists wanting to know more about jazz players and equipment, and it is also a great read for seasoned players.
One post that caught our eye was about an interview with Artie Shaw. Seddons's post about Shaw's 1992 interview for the Smithsonian Museum is on the brief side, but contains a link to the Smithsonian's website where you can search Artie Shaw's name and get full access to the 100-page transcript of the museum's Jazz Oral History Program interview. In his candid answers and anecdotes, Shaw first begins the interview with his take on what qualifies a player as a "jazz musician." He also talks about his (then) current book he was writing and speaks at length about past experiences, gigs and recordings with fellow musicians, and later in the interview divulges why he left America and moved to Spain.
A more current 2018 post by Seddon highlights New Orleans's famed jazz clarinetist Doreen Ketchens' impressive performance with the Louisiana Philharmonic Orchestra. This YouTube video of her rendition of the traditional tune Just a Closer Walk with Thee in the St. Louis Cathedral has her altissimo notes soaring as high as the cathedral ceiling. Video footage of the performance captures the audience and orchestra members' delight as Ketchens effortlessly weaves her way through the melody with her improvisation skills. Seddons's blog post not only presents this video to his readers, but he also draws personal connections shared between him and Ketchens from years past.
*  *  *  *  *
As always, email us at [email protected] to let us know what we missed, or to provide ideas for future columns!
About the Writers
Kellie Lignitz-Hahn is an active clinician, performer and teacher, and has played in the Corpus Christi Symphony Orchestra, Victoria Symphony Orchestra and Laredo Philharmonic Orchestra. She formerly taught at Texas A&M University–Kingsville and held a teaching fellow position at the University of North Texas. She received both her DMA and MM degrees in clarinet performance from the University of North Texas and her BM from Washburn University. Her primary teachers include James Gillespie and Kirt Saville. Kellie is a Regional Artist for Vandoren.
Bret Pimentel is an associate professor of music at Delta State University (Mississippi), where he teaches clarinet, oboe, bassoon, and saxophone and directs the Jazz Ensemble. He received DMA and MM degrees in multiple woodwinds performance from the University of Georgia and Indiana University respectively, and a BM in saxophone performance from Brigham Young University. His clarinet teachers have included D. Ray McClellan, Guy Yehuda, Daron Bradford, and Heather Rodriguez. He is an active performer in a variety of musical settings. He blogs at bretpimentel.com.