by Jason Alder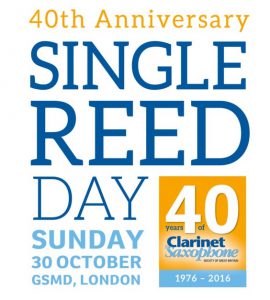 On Sunday 30 October 2016 the Clarinet and Saxophone Society of Great Britain (CASSGB) hosted a Single Reed Day in honor of the organization's 40th anniversary. The event was held at the Guildhall School of Music and Drama in central London and included recitals, masterclasses, an Under-19s clarinet competition, a saxophone composition competition, and a trade hall along with presentations by some of the sponsors. Performances were held in two main concert halls, with two other rooms being used for presentations and the clarinet competition.
[envira-gallery id="2050″]
The day began with a mass single reed choir led by James Rae in the Music Hall, followed by performances by the British Clarinet Ensemble, Marici Saxes, Selmer clarinetist Amaury Viduvier, the Guildhall Saxophones, Ebonites Clarinet Ensemble, Yanagisawa and Vandoren saxophonist Jess Gillam, and D'Addario clarinetist Nicolas Fargeix. In the Lecture Recital Room were performances by saxophonist Kyle Horch, Backun clarinetist David Blumberg, Buffet clarinetist Tom Lessels, and bass clarinetist Sarah Watts, as well as a presentation by Selmer and Vandoren artist Rob Buckland entitled Mastering the Machine- thoughts and discussion on understanding how the saxophone actually works, and how to learn to control it. An additional teaching presentation was held in room G39 by Jeffery Wilson entitled Improvising in teaching and learning and its use in Trinity College exams. The final venue of the day was room 250, which held masterclasses by clarinetists Nicolas Fargeix and David Blumberg, saxophonist Richard Ingham, and a doubling presentation by Paul Saunder. Additionally, there were trade presentations from some of the event sponsors D'Addario, Vandoren, Buffet/Howarth, and Selmer.
The evening gala concert featured Antonio Fraoli's lovely My Funny Paola for clarinet ensemble, played by soloist Jean-Francois Bescond accompanied by Nicolas Fargeix, Amaury Viduvier, David Blumberg, and Sarah Watts, dedicated to the victims of the recent earthquakes in central Italy. BBC Young Musician of the Year woodwind finalist Jess Gillam followed with a blazing, finger-flying performance of Pedro Itturalde's Pequeña Czardas for soprano saxophone and piano. Richard Inhgam led the St. Kilda Collective for a performance of his own piece Fanella's Jig / Dancing in the Margin, Scottish inspired pieces played by an unusual ensemble setting combining a more traditional band of violin, accordian, acoustic guitar, and cajon with two soprano saxophones, clarinet, two alto saxophones, two tenor saxophones, bass clarinet, two horns, and trombone. The lively, toe-tapping jig also featured improvised solos from some of the saxophonists and violinist. Next was the winning piece of the saxophone composition competition, Lilly Vadaneaux's slow, melodic Nocturne played by Rob Buckland. Next, clarinetist Nancy Braithwaite performed Bartok's Contrasts with her daughter, violinist Amarins Wierdsma, and pianist Fiachra Garvey. The evening concluded with the British Clarinet Ensemble under the direction of Charles Hine performing Paul Harvey's Concertino for Soprano Saxophone with Rob Buckland as the soloist, and the Weber Concertino for Clarinet with David Campbell as soloist. The Weber was arranged by Guido Six, clarinetist and director of the Ostend Conservatory in Belgium, who died exactly a year previously in a tragic car accident.
[envira-gallery id="2055″]
During the final concert, the competition winners were also announced. In addition to the performance of her saxophone piece, 14-year-old Ms Vadaneaux won a prize of £350. The winners of the clarinet competition were Matt Glendening taking first with the prize of a new Uebel A Advantage clarinet, Lewis Graham coming in second, and Latchen Kinghorn-Perry in third.
[envira-gallery id="2060″]
This was the largest event of its kind held in the UK, and with a final attendance of approximately 150 people. With programming that appealed to students, amateurs, and professionals, it was a great start to what will hopefully become a more regular occurrence!