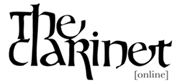 Originally published in The Clarinet 48/4 (September 2021). Printed copies of The Clarinet are available for ICA members.
---
Recordings
---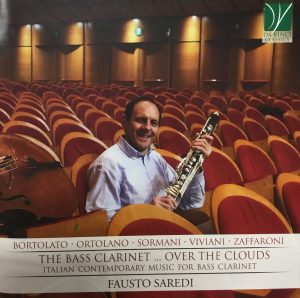 The Bass Clarinet … Over the Clouds: Italian Contemporary Music for Bass Clarinet. Fausto Saredi, bass clarinet; Stefania Orselli, piano; Lycia Viganò and Ambra Cusanna, violins; Simone Libralon, viola; Nadia Bianchi, cello; Kastriot Mersini, double bass; Davide Vendramin, accordion; Sergio Fabian Lavia, guitar; Stefano Bardella and Matteo Manzoni, marimba. N. Ortolano (arr. Saredi): Manola; Romanza; Oriental Trio; A. Sormani: Over the Clouds; D. Bortolato: Bonzelgast; Promenade; D. Zaffaroni: Cadenza, Preludio et Pezzo Appassionato; Trio Tango; On Greensleeves; P. Viviani: Perturbazioni. Da Vinci Classics, C00283. Total Time: 70:33.
This album belongs in the library of every clarinetist. Aside from presenting 10 new works that feature the bass clarinet, which are all approachable, the methodology that Fausto Saredi applies to his musicianship is worthy of study. He has a beautiful sound, flawless technique and enviable variety of tone color and articulation. However, despite each element of his musicianship being so magnificent, I still think the whole is greater than the sum of its parts. Saredi is an artist who happens to play the bass clarinet and that is evident in each track on the album as well as in the work of each of his collaborators. Listen to this album as soon as possible – you won't regret it.
Manola by Nunzio Ortolano is a tango-inspired piece for bass clarinet and piano. The character is beautifully captured by Saredi and pianist Stefania Orselli. Saredi effortlessly negotiates the upper-register demands of this piece and adds a lot of artistic flair to his approach.
Over the Clouds by Angelo Sormani shows off the impeccable tone that Saredi produces on the bass clarinet. He plays with artistic intention and beauty in every note and his expressive range is breathtaking. Each movement calls for a different stylistic approach. In the first movement, "Thinking," Saredi is rhapsodic and clear with his musical intent without being heavy-handed and in the third movement, "Dancing," both Saredi and Orselli capture the driving rhythm but maintain a delightful sense of charm.
Romanza, also by Ortolano, is straightforward from a compositional perspective but it is brought to life by Saredi. He has so many tone colors to choose from and he uses that ability to fantastic effect in this selection. There are moments of broad expressive intensity, delicate upper register playing and everything in between. The playing here showcases not only his mastery of the bass clarinet but his prowess as an artist.
Bonzelgast for bass clarinet and two marimbas by Dario Bortolato is a short and sweet piece that is well executed by all performers – they capture the light and playful nature of the work without overcomplicating the interpretation.
Zaffaroni's Cadenza, Preludio e Pezzo Appassionato for bass clarinet and string quartet is a continuation of the artistry and care that Saredi applies in his approach to every work. The exact details that make the playing great are difficult to describe, but I think that is a testament to the caliber of Saredi's musicianship. No matter the style or range there is always a 100% commitment in his playing which results in playing that is polished and excellent but also full of soul.
Trio Tango for bass clarinet, accordion and piano by Zaffaroni is yet another magnificent presentation. The playing from Saredi, Orselli and accordionist Davide Vendramin is technically flawless, so much so that it seems silly to mention it; the level of these musicians, and everyone on the album, is one that is beyond any technical concern and is elevated to being about interpretation which is beautifully done.
On Greensleeves for bass clarinet and string quartet by Zaffaroni is loosely based on the title theme but the playing from Saredi continues to be outstanding. This presents some very real technical challenges from a bass clarinet perspective but one would never know from listening to this flawless recording.
Perturbazioni for bass clarinet and guitar by Pietro Viviani is a virtuosic piece of color and timbre between the clarinet and guitar. The flexibility that Saredi demonstrates when blending with the guitar harmonics and replicating the colors of his duet partner must be heard to be believed. This is a hauntingly masterful performance of an interesting work for this unusual combination of instruments.
Promenade (Between the Paths of Val Veddasca), for solo bass clarinet is filled with both subtle and dramatic changes in character that are expertly brought to life by Saredi. So often that artistic detail can be lost in a recording but this is the contrary – his playing is vivid and full of life.
Oriental Trio for bass clarinet, violin and marimba by Nunzio Ortolano is the final offering on the album and is a memorable closing track. The interplay between each instrument is clear and energetic which results in very effective finale to this outstanding album.
This is an exquisitely-performed disc and is a rewarding listening experience for musicians of any specialization.
 – Spencer Prewitt
---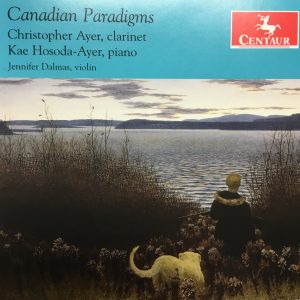 Canadian Paradigms. Christopher Ayer, clarinet; Kae Hosoda-Ayer, piano; Jennifer Dalmas, violin. W. Wallace: Propulsions; O. Morawetz: Sonata; S. Robinovitch: Passages; M. Miller: Approaching the Spring Place; L. Mann: Sonata, Op. 17; S. Chatman: Trio. Centaur Records, CRC 3826. Total Time: 58:53.
Canadian Paradigms is a captivating collection that features music from Canadian composers (born and naturalized). Christopher Ayer and Kae Hosoda-Ayer provide a compelling performance from start to finish. Individually, Ayer and Hosoda-Ayer are praiseworthy performers. The piano lines are incredibly clear and virtuosic while the clarinet boasts an extraordinarily well-controlled sound and beautiful intonation. Listeners will not hear a single fracked note or a momentary wavering of pitch. The ensemble between the performers makes this album outstanding; from dovetailing lines to impeccably matched articulation, this album spotlights their expert musicianship.
In the exciting and explosive opening work, Propulsions by William Wallace, a melodic line is passed quickly back and forth with ease. The technical lines are crystal clear even as the sound of the clarinet and piano quickly exchange focus. The weight of their accents match splendidly and the repeated staccato notes in imitation match with exacting perfection. They set the tone for their album as they masterfully switch from energetic passages to more mysterious or lyrical passages.
Following this fantastic opening is a Debussy-esque piano line for Oskar Morawetz's Sonata. The melody in the clarinet crosses every register, and Ayer demonstrates his ability to connect the melodic line with a centered and warm tone despite large leaps and register changes. This piece is a beautiful fit for the duo with the clarinet and piano conversing and speaking together to create unique colors.
Among my personal favorites on this album is Passages by Sid Robinovitch. The music is often rhapsodic and contains moments reminiscent of the slower melodic passages of many French clarinet pieces. As with everything on the program, the balance and matched style is magnificent. Ayer's opening glissandi lose none of the thick, centered sound he consistently creates. His melodic skill is perfectly complimented by the haunting and open chords of the piano. Hosoda-Ayer demonstrates her mastery at balance within her own part with every note of these powerful chords clearly heard. There is something sentimental about this music, deepened by the contrasting colors the duo create together.
In Approaching the Spring Place by Michael Miller, the duo showcases their timbral and dynamic abilities. Even as the longest piece on the album, my attention was held by their varied shifts of color mixed with their ability to make some of the most technical passages sound lyrical. In the last movement, Ayer demonstrates his ability to articulate cleanly, and without disruption, in the altissimo register. The flawless technique from both performers allows the listener to perceive musical moments that are reflective, curious and decisive, which can also be said for their performance of the penultimate selection, Sonata, Op. 17 by Leslie Mann, where stoic, stern passages in the first movement are delightfully balanced.
The final selection on the album welcomes violinist Jessica Dalmas for Trio by Stephen Chatman. This amusing piece is full of energy, reminiscent of a mix between Copland and Gershwin. The colors that the duo achieves are only enhanced by Dalmas's skillful performance. The trio passes around lively lines in the opening movements with ease, and Ayer's articulation in the third movement matches the pizzicato of the violin just as exactly as he had with piano. The bluesy second movement, my personal favorite, maintains a dark, flowing timbre with low glissandi in the clarinet and violin.
Overall, this album is a spectacular collection of pieces that should continue to be performed and celebrated. The performance is a perfect example of what chamber ensembles should strive for in color, togetherness and timbre. I highly recommend giving Canadian Paradigms
a listen!
 – Sarah Manasreh
---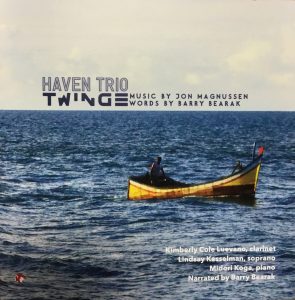 Twinge. The Haven Trio: Kimberly Cole Luevano, clarinet; Lindsay Kesselman, soprano; Midori Koga, piano; Barry Bearak, narrator. J. Magnussen (music) and B. Bearak (words): Twinge. Blue Griffin Recording, BGR 527. Total Time: 54:08.
Haven Trio's third release, TWINGE, is a recording of a single almost hour-long work by the same name that combines music for soprano, clarinet, piano and spoken word. The Haven Trio formed in 2011 and includes clarinetist Kimberly Cole Luevano, who joined the faculty of University of North Texas that same year. Other trio members are soprano Lindsay Kesselman, who is based out of Charlotte, North Carolina, and specializes in contemporary vocal performance, and pianist Midori Koga, who serves on the faculty at University of Toronto. According to the liner notes, the trio commissions new works annually and performs in a wide array of concert settings. Their distinctive mission is to be a "refuge for the creation of new music" where "an audience is embraced and invited into the heart of a performance."
TWINGE was written for the Haven Trio by Jon Magnussen, a critically acclaimed composer who is on the faculty at University of Hawaii West Oahu. Magnussen holds doctoral and master's degrees from the Juilliard School where he studied composition with Robert Beaser and participated in seminars with John Corigliano, Ellen Taafe Zwilich and William Bolcom. When the trio approached Magnussen to compose a new work, he suggested basing it on Pulitzer Prize-winning New York Times Magazine journalist Barry Bearak's November 2005 article about the December 26, 2004 tsunami that devastated the city of Bandeh Aceh in Indonesia. This work was commissioned through the Chamber Music America Classical Commissioning Program with support from the Andrew W. Mellon Foundation and the Chamber Music America Endowment Fund. It is dedicated to the memories of the hundreds of thousands of victims of the tsunami.
Magnussen's 15 through-composed songs are interspersed with spoken narration read by Bearak himself. He describes the tsunami through the harrowing stories of five residents: Jaloe, Romi, Haikal, Faridah and Maisara. Magnussen adapts Bearak's text for the songs with the author's permission. For instance, in "The Water is Warm," Magnussen changes Bearak's text from third to first person and to present rather than past tense in order to give a more personal and poignant view of Faridah's peril. Kesselman's portrayal is raw with emotion. She has impeccable control and pitch throughout this recording. The trio's blend and balance as a whole is well thought out; the ensemble has flawless precision. The overall mood of the work is understandably heartbreaking and affecting. Toward the end of the work, "A Matchmaker" is a welcome respite with a lighthearted mood which starts with a spunky, charming clarinet introduction. Luevano's assured tone is crystal clear with perfect intonation in all movements but it is especially showcased here. The clarinet writing is demanding and Luevano makes it sound effortless.
This project fits this ensemble's noble mission well. The sound quality of this recording is outstanding and conveys the inviting intimacy that is one of chamber music's finest elements.
Sometimes the spoken narrations disrupted the flow, as the evocative songs carry the narrative on their own. Magnussen's music and Bearak's text combined with Haven's meticulous, genuine interpretation effectively express the emotion of the devastation created by a mere "twinge" in the earth. This recording is well done overall and embodies the trio's mantra of "soul, power, connection."
 – Gail Lehto Zugger
---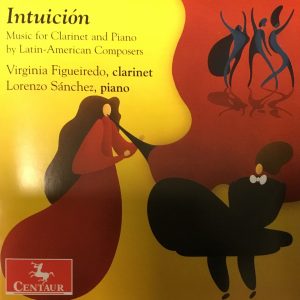 Intuición: Music for Clarinet and Piano by Latin American Composers. Virginia Figueiredo, clarinet; Lorenzo Sánchez, piano. A. Márquez: Zarabandeo; D. Lobato (arr. Figueiredo/Sánchez): Sonata for Clarinet and Piano; L. Saglie: Psychological Morphologies According to Matta; P. D'Rivera: The Cape Cod Files. Centaur Records, CRC 3740. Total Time: 66:12.
Virginia Figueiredo is a freelance clarinetist in southern California. She teaches at a number of colleges and performs with several orchestras and chamber ensembles. She already has two CDs to her name: her debut disc Seule, which has been reviewed in this journal (see the June 2016 issue), and Refuge with the Divan Consort. Her new disc, Intuición, features four works by Latin American composers.
The opening track is Zarabandeo by Arturo Márquez, a work that is rapidly attaining standard-repertoire status for clarinetists – there are at least five previous recordings, including one by Figueiredo herself. Here, Figueiredo's performance is technically excellent, but slower and more cautious than other recordings. The music seems to me to call for a bit more inflection and abandon. These criticisms do not extend to the rest of the CD, however, where Figueiredo's playing blossoms more fully.
Domingo Lobato's Sonata for Clarinet and Piano from 1963 was originally written for oboe. It is a tonal work in three standard movements, written in an eclectic style that blends elements of French impressionism and neoclassicism with nationalistic qualities of the composer's native Mexico. These nationalistic elements are especially pronounced in the second and third movements, depicting a religious festival and regional dances, respectively. Figueiredo's playing throughout the work is respectful of the composer's ideas; in the final movement,
a more forward-leaning rhythmic approach would perhaps have enhanced the dance feel.
The Psychological Morphologies According to Matta by Luis Saglie is the most abstract composition on the disc. The three-movement work represents the composer's musical response to paintings by the Chilean surrealist painter Roberto Matta. It is in many ways the most technically challenging work on the disc, especially the final movement, and suits Figueiredo's muscular style of playing very well; she handles the formidable difficulties with panache.
The final work on the disc is Paquito D'Rivera's Cape Cod Files, which, like Zarabandeo, has been recorded numerous times. In four movements, this wonderful piece pays homage to three musical
figures – Benny Goodman, Astor Piazzolla, Ernesto Lecuona – and to the Cuban singer-entertainer Alize Espiridiona Cenda del Castillo (stage name Chiquita) who charmed American audiences in the early 20th century. Figueiredo's playing is at its most stylish in this piece. Her use of a gentle vibrato adds color to the sound, and there is a flexibility in her rhythmic approach that gives the piece a vivacious energy. This is an excellent interpretation of an important work.
Throughout the disc Figueiredo's sound is dark, with great hold at louder dynamic levels, and she plays with accurate intonation. The pianist, Lorenzo Sanchez, is an able musical partner whose playing style is always well matched to that of Figueiredo. The recording quality is good, and the liner notes short but informative. This album would be an especially valuable resource to clarinetists interested in music from Latin America and would be excellent listening for anyone desiring to hear an eclectic and appealing set of works for clarinet and piano.
 – Jane Ellsworth
---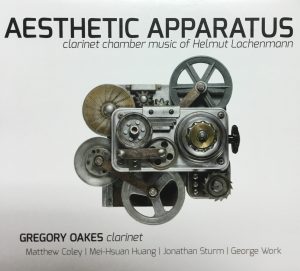 Aesthetic Apparatus: Clarinet Chamber Music of Helmut Lachenmann. Gregory Oakes, clarinet; Matthew Coley, percussion; Jonathan Sturm, viola; Mei-Hsuan Huang, piano; George Work, cello. H. Lachenmann: Dal Niente (Interieur III); Trio; Allegro Sostenuto. New Focus Recordings, FCR 196. Total Time: 60:13.
Taking on a single work of composer Helmut Lachenmann requires a certain kind of penchant for precision, patience and intensity. In combining not one but three of Lachenmann's works into a single album, Gregory Oakes and a list of wonderful collaborators breathe life into music that many clarinetists might fear to explore. Oakes, on faculty at Iowa State University, is known by many clarinetists and composers as a renowned performer of contemporary music. His album Aesthetic Apparatus: Clarinet Chamber Music of Helmut Lachenmann brings listeners into the threads of Lachenmann's work and the silences and spaces within it, making this album fascinating.
Oakes's performance in Dal Niente (Interieur III) captures the essence of the title, which translates as "from nothing." Through what seems like sometimes deafening silence, the subtle air sounds and crescendos from niente become inflection points. The openness of these silences is captivating, allowing one to appreciate the nuance in the work brought about by well-executed interpretation. Oakes's variety of articulation helps to climb out of these valleys of silence. A sparse section can be interrupted by a singular high harmonic pop or a flurry of rapid attacks.
The second track, Trio Fluido, features fantastic ensemble playing from percussionist Matthew Coley and violist Jonathan Sturm. A fluid opening connects the three instruments along snaking melodies of varying timbres and textural identities. Throughout the work, the different techniques begin to blend into a melded cross-instrumental timbre.
The final track Allegro Sostenuto fills the second half of the album at 32 minutes long. A mammoth work on its own, Allegro Sostenuto requires a great deal of intensity from the performers in capturing what is a raucous climax around the latter third of the work. Mei-Hsuan Huang's piano playing features colorful treatment with contrasts between glissandos and striking interjections while cellist George Work manages to blend into the lower bass clarinet texture with ease. Oakes's bass clarinet performance is engaging.
Aesthetic Apparatus expertly and intelligently conveys the nuances of a composer that can sometimes be lost in a recorded medium. The quality of Chad Jacobsen's engineering lets the individual artists speak. Although this album might be lost on someone if listened to in a crowded world, a noisy and busy life, hearing it without distraction reveals so many colors and timbres that make this a remarkable listening experience.
 – Ford Fourqurean
---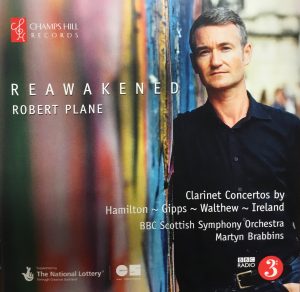 Reawakened. Robert Plane, clarinet; BBC Scottish Symphony; Martyn Brabbins, conductor. I. Hamilton: Concerto for Clarinet and Orchestra, Op. 7; R. H. Walthew (orch. Pugh): Concerto for Clarinet; R. Gipps: Clarinet Concerto in G Minor, Op. 9; J. Ireland (orch. Parlett): Fantasy Sonata. Champs Hill Records, CHRCD 160. Total Time: 77:43.
Robert Plane is the principal clarinet of the BBC National Orchestra of Wales. He has held a similar position with the City of Birmingham Symphony Orchestra and Royal Northern Sinfonia. Recently he was appointed Head of Woodwind Performance at the Royal Welsh College of Music and Drama. He has had many concerto and chamber music performances in the U.K. and the U.S. as well as countries in Europe, Asia and Africa. Known as having a tireless passion for music from the U.K., he has been a staunch supporter of British music.
Iain Hamilton (1922-2000) composed his Concerto for Clarinet and Orchestra, Op. 7, in 1950 and his work displays influences of Bartók and Walton. The entire work is quite dramatic and very effective. It begins with the clarinet providing a "puckish" mood. This opening is quite extensive and Plane provides a crisp, biting staccato that creates a rather grotesque, dance-like mood. One can also admire the technical prowess needed to play this piece. The second movement displays Plane's beautiful lyrical lines which provide a delightful contrast to the first movement. The final movement starts as a bizarre dance, but it once again includes more virtuosity. Plane handles this with aplomb.
The second piece on this disc is Concerto for Clarinet (1902) by Richard H. Walthew (1872-1951). Walthew left the concerto completed but did not orchestrate it. Alfie Pugh finished the orchestration later. There are three movements in a fast-slow-fast setting. The style is Germanic, rather like Weber at times, but more harmonically complex (á la Strauss). A lovely clarinet cadenza closes the first movement. This piece is a gem and is perfect for a virtuoso clarinetist. Plane is clearly up for the task; his technique is outstanding. The coruscating runs will clearly galvanize any audience. For clarinet aficionados, the last movement might be used for a scintillating encore.
Ruth Gipps (1921-1999) composed her Clarinet Concerto in G Minor, Op.9, in 1940. This piece has considerably more interplay between the solo clarinet and orchestra. The first movement ends with a brief cadenza for the clarinet. The second movement begins with an oboe solo; then the clarinet joins in to make a playful duo. Soon the orchestra joins in playing a soothing variant of the oboe's opening theme. The movement ends with a clarinet solo, but, the oboe joins in and the two close with an amorous duettino that provides an appealing symmetry to the movement. The last movement alternates between an Irish jig and a tarantella, providing a carefree, boisterous ending.
The last piece is Fantasy Sonata (1943) by John Ireland (1879-1962). The original score is for clarinet and piano but Graham Parlett has arranged it for clarinet and string orchestra. This adaptation makes the pastoral character more transparent.
Robert Plane is a superb performer. He has a refined tone, rock-solid rhythm, excellent intonation and musicality, and impeccable articulation. Martyn Brabbins has done meticulous preparation in conducting these works and the BBC Scottish Symphony Orchestra is superb.
Finally, credit goes to Daniel Jaffe for his interesting and copious liner notes. All four works are world premiere recordings. Highly recommended!
 – Robert Chesebro
---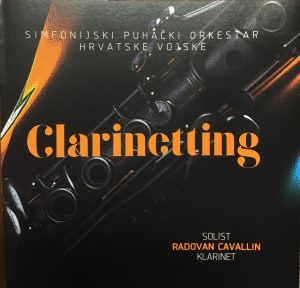 Clarinetting. Radovan Cavallin, clarinet; Croatian Army Wind Orchestra; Miroslav Vukovojac, conductor. A. Shaw: Clarinet Concerto; A. Grgin: Koncert za Klarinet i Orkestar; B. Adamič: Suita za Klarinet I orkestar; N. Kovačević: Koncerta Fantazija; M. Prohaska: Memories of an Old Theme; F. & M. Jeanjean: Guisganderie. Total Time: 51:06.
This high-energy disc is a well-curated fantasia that seemingly spins off themes from Artie Shaw's Concerto for clarinet. In fact at the end, it is easy to doubt that Artie Shaw was an American bandleader as he is in such good company with the Croatian composers on this CD that he could be a native son of Croatia. Radovan Cavallin is a soloist of great technical virtuosity and extreme flexibility who jumps between compositions with a sense of flair and fun. The enthusiasm is infectious as the Croatian Army Wind Orchestra (Sinfonijski Puhacki Orkestar Hrvatske Vojske) pops and crackles with energetic articulations and cinematic sentimentality allowing Cavallin to dance effortlessly over the top thanks to a well-balanced and vibrant clarinet sonority.
Cavallin is a prolific artist and teacher who currently serves as the principal clarinet of the Gran Canaria Philharmonic Orchestra and teaches at the OFGC Academy. After entering the University of Zagreb Academy of Music at age 13 (the youngest on record), he went on to receive the premier prix in chamber music and clarinet in the class of Guy Deplus at the Paris Conservatory. The translated liner notes provide a delightful history of a longstanding collaboration between Cavallin's family and the Croatian Army Wind Orchestra, which dates back to his father's involvement as one of the first members as a clarinetist and conductor. The CD is dedicated to Giovanni Cavallin, father of the soloist, and it is fantastic to see a family tradition in this ensemble resulting in such a polished collaboration.
The opening piece, Artie Shaw's Clarinet Concerto, is luminous and singing and tickles all of the right spots with roguish panache. The following composition, Ante Grgin's Koncert za klarinet i orkestar, poses no problem to the virtuosity of Cavallin despite its many notes, smears and acrobatics that come as a natural response to the Shaw Concerto. The action is nonstop but Cavallin is nonplussed and energetic throughout.
Bojan Adamic's Suita za klarinet i orkestar opens with a rhapsodic, cinematic theme before transitioning to an Allegro incorporating athletic interjections of notes. Cavallin's gorgeously even tone sings with subtle and organic hints of vibrato. The slow section features full-throated vibrato and fortes that charm without overpowering before launching into a delightfully syncopated closing section.
Kovacevic's Koncertna Fantazija marks a departure towards Romantic literature with hints of Weber, ethnic flair, and delightful articulated tuttis by the clarinet section that are executed with ease. The compelling lines make this composition a rare jewel not to be missed despite its relative obscurity. Another rhapsodic ballade by Miljenko Prohaska, Memories of an Old Theme, tugs at the heartstrings once more before the last piece, Guisganderie by Faustin and Maurice Jeanjean, which provides a rollicking finale of flying fingers and fun and would make a rousing encore for any concert. This disc is a wonderful introduction to the Croatian wind band tradition by a truly skilled clarinetist.
 – Andrea Vos-Rochefort
---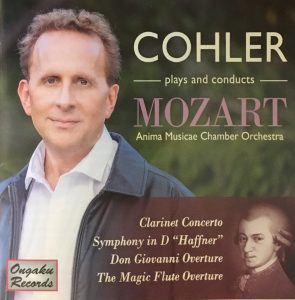 Cohler Plays and Conducts Mozart. Jonathan Cohler, basset clarinet and conductor; Anima Musicae Chamber Orchestra. W.A. Mozart: Clarinet Concerto in A Major, K. 622; Symphony No. 35 in D Major "Haffner"; Overture to Don Giovanni; Overture to the Magic Flute. Ongaku Records 024-128. Total Time 61:22.
Classical clarinetists will likely be familiar with the name Jonathan Cohler from his numerous recordings featuring the standard clarinet/piano duo literature as well as his work teaching at the Longy School of Music of Bard College. However, Cohler is not only a spectacular clarinetist but also a fine conductor whose skills in both mediums are on full display in this album with the Anima Musicae Chamber Orchestra titled Cohler Plays and Conducts Mozart. In this recording, Cohler takes on the dual role of soloist and conductor in Mozart's Clarinet Concerto, K. 622, followed by fine interpretations of Mozart's Symphony No. 35 in D Major "Haffner," K. 385, as well as the overtures to Don Giovanni and The Magic Flute with Cohler as conductor.
Cohler's performance of Mozart's Clarinet Concerto stands out from others due to his flexible approach to rubato, liberal ornamentation of the solo part, and mastery of the basset clarinet. In the first movement, he demonstrates a mellow and refined tone on the basset clarinet enhanced by the clarity of his phrasing. His rapid articulation sparkles throughout the movement, especially in the basset register of the instrument. In accordance with performance practice during Mozart's time, Cohler adheres to the printed page during the exposition and saves his creative ornamentation for the development and recapitulation. New approaches to Mozart's themes are welcome in this lengthy movement, especially with ornaments as creative as Cohler's that can serve as good models for those seeking to incorporate more variety in their own interpretation of the concerto.
Cohler's interpretation of the second movement is notable for his sense of propulsion and forward momentum. His cushioned and gentle entrances match the lush quality of the string playing while demonstrating excellent nuance and control of the instrument. Cohler's intonation throughout the softer passages of this movement are noteworthy, always matching the orchestra throughout the registers of instrument. The eingang on the clarion BÌ is one of the longest this reviewer has heard on recording and Cohler should be recognized for his creativity at this climactic moment.
Cohler's technical abilities are on full display in an impressively fleet rendition of the third movement. He navigates the numerous rapid passages in the basset register with ease, making them sound as natural as if they were sung instead of played. Cohler frequently imbues the more virtuosic passagework with tasteful rubato at important points of the phrase, lending a sense of spontaneity and playfulness that one does not often hear in this movement. An especially dramatic coda, highlighted by an unexpected fermata in the final refrain, brings the piece to a rousing conclusion.
The Anima Musicae Chamber Orchestra is to be commended for their excellent playing on the Clarinet Concerto, but their performances of the orchestral works are equally impressive. Cohler's take on the "Haffner" Symphony is pristine and fiery, while the opera overtures are marked by clarity and a variety of orchestral colors.
Cohler has written detailed and elaborate liner notes about each piece on this recording, which he supplements with excerpts from Mozart's own letters, previous biographies about Mozart, and concert reviews from Mozart's time. His notes about the Clarinet Concerto are especially intricate, providing valuable information about the Winterthur manuscript (K. 621b), Anton Stadler's clarinets, publication history, and aspects of performance practice including ornamentation, trills and rubato. These will be a valuable resource for anyone studying this cornerstone of the repertoire at any point in their musical development, while the recording itself is a valuable acquisition for anyone looking for a new and refreshing take on this classic concerto.
 – David Cook
---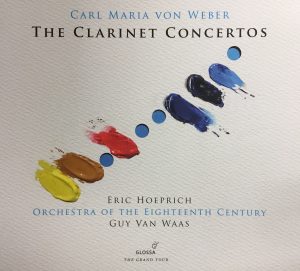 Carl Maria von Weber: The Clarinet Concertos. Eric Hoeprich, clarinet; Orchestra of the 18th Century, Guy Van Waas, conductor. C.M von Weber: Clarinet Concerto No. 1 in F Minor, Op. 73; Clarinet Concerto No. 2 in E-flat Major, Op. 74; K. Kurpiński: Clarinet Concerto in BÌ Major. Glossa Music, GCD 921128. Total Time: 54:25.
Recordings of Weber's clarinet works are plentiful, but Eric Hoeprich's recent album, Carl Maria von Weber: The Clarinet Concertos, offers a refreshing interpretation of these well-known standards. Hoeprich performs on a replica of Heinrich Baermann's 10-key clarinet from the early 1800s by Griessling & Schott based in Berlin. Coupled with the forces of the Orchestra of the Eighteenth Century
led by Guy Van Waas, the album is a powerful insight into what these works would have sounded like at the time of their first performance.
Hoeprich's tone is quite mellow and sweet in the Concerto in F Minor, Op. 73. Although the timbre is obviously different from what one is accustomed to on more modern instruments, his sound is equal parts elegant and heroic. He navigates the leaps between registers and the rapid technical passagework seamlessly in the concerto's first movement. The Adagio ma non troppo is especially lyrical and rich; Hoeprich's sound on the period instrument is imbued with a certain dolce quality that makes the movement particularly striking and effective. Hoeprich should also be commended for honoring the ma non troppo aspect of the tempo. By keeping the music moving forward he achieves unified, cohesive phrasing. The Rondo is spritely and capricious and again Hoeprich balances elegance and heroism in tonal control. The articulation and its coordination with the technique is particularly notable given that he is performing with seven fewer keys than on modern clarinets. The coda buzzes with exciting, electric trills and technical flair.
The opening of Weber's Clarinet Concerto in EÌ, Op. 74, is daring, with Hoeprich's resonant high F heralding his arrival. Throughout this movement his technical passagework is exuberant and intrepid, but also exploits operatic inflections including witty appoggiaturas and tasteful rubato. Hoeprich is relentless and unyielding in the torrents of 16th-note scales and arpeggiations, but never sacrifices a moment for musical expression. Movement two, Romanza, is particularly doleful and meditative. As in the second movement of the Op. 73, Hoeprich's tonal presence on the period instrument imparts a particularly aromatic ambience, here being more doleful and melancholic than in the first concerto. The alla Polacca is appropriately jaunty and spry. Hoeprich again manages the technique with seeming effortlessness. Especially in this movement one gets the sense that Hoeprich is equally comfortable as the concerto's protagonist and in an accompanimental role as the orchestra takes up melodic sections. The work's conclusion is nothing less than divine with Hoeprich performing cascading sextuplet figurations with ardor and fervor.
Kurpiński's Clarinet Concerto in BÌ Major provides an interesting pairing with Weber's works. Hoeprich notes that most associate Kurpiński with being Chopin's teacher and that little is known about this concerto. This track is believed to be a first movement of a larger concerto of which latter bits are lost. However, the surviving movement contains a concertino-like structure within itself and can function as a standalone work. The opening possesses much of the same charm, flourish and boldness as Weber's second concerto. Hoeprich performs with buoyant, bubbling technique and melodic decisiveness, and in the eingang expertly develops the hues between major and parallel minor.
Throughout each work, Hoeprich demonstrates his ability as a consummate artist with impeccable technical and tonal command of his unique instrument. Of equal note to Hoeprich's skill is the precision and dedication of the orchestra, which performs with conviction and enthusiasm. This album would nicely complement recordings of Mozart's clarinet works performed on period instruments, but is also a standalone disc which many would find appealing. Hoeprich's liner notes are incredibly detailed and informative and provide valuable knowledge about the relationship between Baermann and Weber, the published scores and the period instrument itself.
– Kip Franklin
---