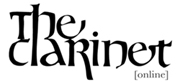 ---
Audio Reviews: November 2019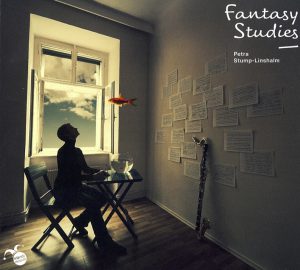 Fantasy Studies. Heinz-Peter Linshalm, contrabass clarinet, bass clarinet, clarinet, E-flat clarinet; Thomas Frey, alto flute, piccolo; Roland Schueler, violoncello; Alfred Reiter, soprano saxophone, spring drum; Thomas List, soprano, tenor and bass recorder, triangle; Katharina Lugmayr, tenor recorder; Caroline Wüst, bass clarinet; Anna Koch, bass clarinet; Petra Stump-Linshalm, clarinet. Petra Stump-Linshalm: Uisge Beatha [ɯʃkʲe 'bɛha] – A Guide to Flavours for Solo Contrabass Clarinet, Wändelesen for Alto Flute, Bass Clarinet and Violoncello, Cinnamon Roses for Two Clarinets, Blanda for Two Tenor Recorders, Trotzig for Three Bass Clarinets, Fantasy Studies for flute (piccolo and alto flute), clarinet (E-flat and bass clarinet), soprano saxophone and spring drum, recorder (soprano, tenor, bass recorder) and triangle, and violoncello. Orlando Records, OR0033. Total Time: 73:38.  
In Fantasy Studies, Petra Stump-Linshalm presents the listener with a unique aural experience for a variety of clarinets from solo contrabass to an ensemble for flute (doubling piccolo and alto flute), clarinet (doubling E-flat and bass clarinet), soprano sax and spring drum, recorders, triangle and cello. These works are composed and performed by Stump-Linshalm and small chamber groups. Though becoming more prevalent, repertoire for the lowest members of the clarinet family are still not well-known or understood. Stump-Linshalm's Uisge Beatha – A Guide to Flavours was written specifically for solo contrabass clarinet and is a great example of the possibilities of the instrument as center stage soloist. The work's title is the Irish term for whiskey, and the composer describes each movement as a different aroma of the drink. In listening to the work, we can easily hear the pulsing that seems to pervade the thematic material of each movement – whether obvious or tertiary – that clearly connects to the rising scent of a well-aged dram. Extended techniques are employed but not overused here, showing off the performer's ability to shape each delicate melodic motive. As this work develops, we can sense the aromas of each whiskey opening up as the range of each movement broadens. In seven movements we hear passionate and intentioned playing, with occasionally some peripheral key noise. Peat Monster for solo contrabass and tape (or four contrabass clarinets) follows and is a welcomed juxtaposition to the more relaxed melodic material presented in the previous movements. We hear the full range of the contrabass here through vibrant, exciting technical moments posed against glassy flashes of introspection. Wandelesen for alto flute, bass clarinet, and cello as well as Fantasy Studies showcase the composer's compositional style for chamber ensemble and feature extended techniques that highlight the less frequently used colors on each instrument including wind sounds, key slapping, and slap tonguing as primary material. The other trio pieces on the recording, Cinnamon Roses, Blanda, and Trotzig, are almost conversational in nature, giving the feeling that the instruments are speaking to one another in a language that we don't quite understand. The use of slides, quarter tones, and other less traditional elements of the tonal language make this texturally minimal style truly captivating to listen to and demonstrate a wealth of technical control and vibrancy heard across the entire clarinet family.
– Vanessa Davis
---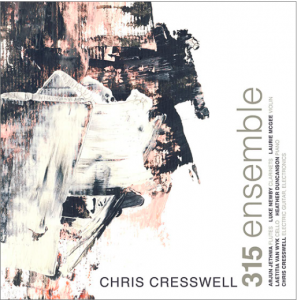 315 Ensemble. Arjun Jethwa, flute, bass flute; Luke Newby, clarinet, bass clarinet; Laurie McGee, violin; Laetitia Van Wyk, violoncello; Heather Duncanson, piano; Chris Cresswell, electric guitar, electronics. Chris Cresswell: From Dreams, We Emerge; The Lost Art of Losing Sleep. Ravello Records, RR 7984. Total Time: 18:29.  
The two tracks on the 315 Ensemble disc, each just over nine minutes, travel through a soundscape that seamlessly combines electronic and acoustic instruments. The juxtapositions on this album go beyond electric and acoustic, however. The atmospheric sound bath created by the ensemble blurs the boundaries between industrial and organic, soothing and suspenseful, and introspective and anxious. The result is a compelling, meditative journey for the listener. 
The first track, aptly named From Dreams, We Emerge, opens dal niente and develops into a gentle tintinnabulation. The variety of timbres, at once familiar but artfully distorted, hold interest throughout. Diaphanous strings, improvisatory piano, electric guitar, flute, and a few tantalizing moments of clarinet fade in and out of a wash of ambient musique concrète, seemingly both mechanical and natural. The overall effect, reminiscent of contemporary film scores, leads one to question whether the titular dreams were entirely peaceful. 
Track two, The Lost Art of Losing Sleep, employs similar timbral forces to a decidedly more dramatic end. A pronounced use of panning and stereo effects adds a spatial dimension, building upon the cinematic quality of the previous track. Amidst the flurry of sonic activity, the instrumentalists shine in skillfully performed glissandi. 
This disc includes the clarinet as part of a complex tapestry of sound rather than featured soloist. Nevertheless, this recording provides an enticing glimpse of the clarinet's possibilities in an electroacoustic setting, and the accessible, evocative music has a broad appeal. 
– David Yandl
---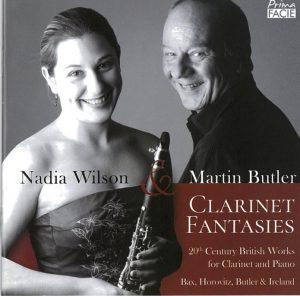 Clarinet Fantasies: 20th Century British Works for Clarinet and Piano. Nadia Wilson, clarinet; Martin Butler, piano. Arnold Bax: Clarinet Sonata in D Major; Joseph Horovitz: Sonatina for Clarinet and Piano in B Flat Major; Martin Butler: Barlow Dale: Four Characteristic Pieces; John Ireland: Fantasy-Sonata for Clarinet and Piano. Prima Facie Records, PFCD078. Total Time: 50:07.   
Nadia Wilson performs works written by Arnold Bax, Joseph Horovitz, Martin Butler, and John Ireland. Wilson received a performance diploma from the Trinity College of Music and bachelor's degree in clarinet performance from the University of Birmingham. She is co-founder and clarinetist in the prizewinning ensemble, the London Myriad Ensemble and has performed with the Hallé Orchestra, Royal Philharmonic Orchestra and Northern Ballet Theatre Orchestra. Currently, Wilson teaches woodwinds in the London area and an examiner for Trinity Guildhall.
Wilson's recording introduces listeners not only to some of the most important works in the British clarinet repertoire but also works that should be performed more internationally. The first recording, Sonata for Clarinet and Piano (1934) by Arnold Bax begins with a beautiful melody in the first movement that later shapes into an energetic dialogue between the clarinet and piano supported by Butler's expressive performing. The following work is frequently performed, Joseph Horovitz's Sonatina for Clarinet and Piano (1981). Wilson's performance of the Lento Quasi Andante had a singing quality between the different registers of the clarinet that further added to the melancholy character of the movement. The strongest performance on the recording was Butler's Barlow Dale: Four Characteristic Pieces. Wilson's performance of this work shows how musically invested she was in bringing each character piece alive for the listener with the composer at the piano. The composition itself is very lively, infused with touches of jazz and classical elements that make it pleasant to listen to. The final recording is John Ireland's Fantasy-Sonata for Clarinet and Piano (1943) that begins in the altissimo register at the dynamic 'mp' that Wilson executes well. 
 This recording is a valuable compilation of British composers and their contributions to the clarinet repertoire. For those who are interested in learning more about British clarinet repertoire, I recommend this recording. 
– Kristine Dizon
---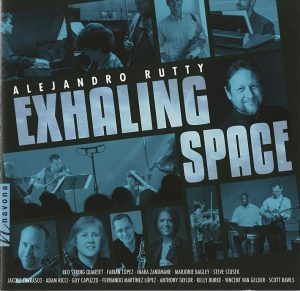 Exhaling Space. Beo String Quartet: Jason Neukom, violin; Sandro Leal-Santiesteban, violin; Sean Neukom, viola; Ryan Ash, cello; Fabián López, violin; Inara Zandmane, piano; Marjorie Bagley, violin; Steve Stusek, soprano saxophone; Jacqui Carrasco, violin; Adam Ricci, piano; Guy Capuzzo, guitar; Alejandro Rutty, electric bass, bass, piano; Fernando Martínez López, percussion; Anthony Taylor, clarinet; Kelly Burke, clarinet; Vincent Van Gelder, piano; Scott Rawls, viola. Alejandro Rutty: Exhaling Space for String Quartet; Transparent Sun for Violin and Piano; As You Say for Two Violins and Wind Instrument; Martian Milonga; More Music for Examining and Buying Merchandise for Solo Instrument and Electronics; Guitars for Two Clarinets and Electronics; Cantabile Hop for Piano and Small Ensemble; Qualia for Piano. Navona Records, NV6145. Total Time: 1:12:02.
 Alejandro Rutty's compositional output includes orchestral, chamber and mixed-media music, arrangements of Argentine traditional music, and innovative outreach musical projects. He is currently associate professor of music composition at the University of North Carolina at Greensboro. The clarinetists featured on this recording include Kelly Burke and Anthony Taylor. Burke is principal clarinetist of the Greensboro Symphony Orchestra and bass clarinetist of the Eastern Music Festival. She currently Professor Clarinet at the University of North Carolina Greensboro. Taylor is Principal Clarinet of the Winston-Salem Symphony, Second/E-flat clarinet of the Eastern Music Festival and Associate Professor of Clarinet at the University of North Carolina Greensboro.
 Alejandro Rutty's Exhaling Space is a musical portrayal of the basic need that is often forgotten – for space and breathing. This recording features an interesting blend of new compositions that use different lyrical melodies from South America that take the listener on a breathtaking musical journey. Burke and Taylor are featured on the sixth track, Guitars. Their performance not only captured the detailed nuances of Rutty's music, but also the different sonic possibilities of the clarinet. The piece begins with a musical conversation between the two performers that gradually transforms into the sound of a guitar layered with different electronic sounds. Burke and Taylor's performances were impressive in not only capturing the musicality of Rutty's work but also in its technical virtuosity and execution of contemporary techniques. Rutty's combination of classical traditions through experimentation resulted in a musical work that is both personal and welcoming.
 This album's works are definitely worth listening to and performing. I highly recommend this recording!
– Kristine Dizon 
---
Isn't This a Time? – American Music for Clarinet. Ian Mitchell, clarinet, narrator, percussion, piano; Trinity Laban Clarinet Class of 2013; Aleksander Szram, piano; Lynton Atkinson, tenor vocals. William O. Smith: Reflection; Epitaphs; Barney Childs, Peter Warlock: Sleep/Sleep, And Then Going On; Eric P. Mandat: Etude for Barney; Christian Wolff: For One, Two or Three People; Dark as a Dungeon; Isn't This a Time; John Cage: Sonata for Clarinet; Merle Travis: Dark as a Dungeon; Tom Johnson: Bedtime Stories – No. XII. Metier Records, MSV 28553. Total Time: 55:00.
This 2015 issue from Ian Mitchell, Isn't This a Time?, is a virtual graduate seminar in clarinet extended techniques, buried in a diverse collection of unique and interesting clarinet works from a variety of American composers: John Cage, Tom Johnson, Christian Wolff, William O. Smith, Eric Mandat, et al. The expressive range of this album is quite broad as well, spanning vocal and choral genres and spoken word poetry, to two very distinctive one-person duets!  
 While some of the traditional clarinet technique can seem slightly under-polished, Mitchell's extended clarinet technique is top-notch, and each of the individual pieces gives him the opportunity to display his mastery of those techniques. The first work, Reflection, by Smith, presents us with ambient choral sounds underscored by a clarinet monody with perfectly executed multiphonics. In Etude for Barney, Mitchell expertly navigates Mandat's obstacle course of multiphonics and microtones.
 The first of the one-person duets is Epitaph. This work by Smith takes us to Ancient Greece and harkens back to the double-aulos players of antiquity. Each of the four movements begins with a poem recited by Mitchell, followed by a short character work performed on two clarinets simultaneously—both played by Mitchell! The show-stopper would have to be the other duet by Christian Wolff, Isn't This a Time? We hear a cannon at varying degrees of delay; from near-unison to three seconds apart. Certainly worth a listen. 
Whether or not you're a fan of the avant-garde, you might want to have a listen to this album regardless. Ian Mitchell uses these works from American composers to demonstrate the extended capabilities of the clarinet, superbly.
– Gary Fair
---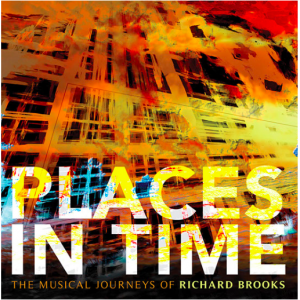 Places in Time: The Musical Journeys of Richard Brooks. Polish Radio National Orchestra, Joel Eric Suben, conductor; Kent Philharmonia Orchestra, Lynn Asper, conductor; Deirdre Viau, flute; Yhasmin Valenzuela, clarinet; Lilit Hartunian, violin; Christopher Homick, cello; Leah Kosch, piano; The New Hudson Saxophone Quartet: Paul Cohen, Avi Goldrosen, David Demsey Tim Ruedeman; Constanta Symphony Orchestra,  Radu Ciorei, conductor; Memphis Woodwind Quintet; Florida State University Percussion Ensemble, Gary Werdesheim, director; Carroll Glenn, violin; Kenneth Gartner, piano. Richard Brooks: Seascape: Overture to Moby Dick; Landscape…With Grace; Sweet Betsy; Four Play; Chorale Variations for Two Horns, String Orchestra; Prelude and Lament; Suite for Percussion; Sonata for Violin and Piano. Ravello Records, RR7989. Total Time: 1:30:39
Featuring compositions by Richard Brooks, this album explores the composer's various styles throughout his career. Brooks is an accomplished composer, with over one hundred works for a variety of different ensembles. The first two tracks, Overture to Moby Dick and Landscape…With Grace, are for large orchestra, although the first piece includes a distinctive woodwind section, and the remainder of the album is for various smaller ensembles. Overture to Moby Dick was written for his full-length opera and symbolizes the ocean by way of unpredictable swells of sound. In fact, both Overture to Moby Dick and Landscape…With Grace remind me of Ligeti's use of blocks of sound. Landscape…With Grace ends with the hymn Amazing Grace executed in a long round, creating lots of layers. Sweet Betsy is more melodic and almost jazz-like ballad with the cello imitating a walking bass line, ending with an almost Copland-like trio with flute, clarinet, and violin. Four Play is a piece for saxophone quartet (soprano, alto, tenor, bari) and starts off with a repetitive first four notes of a minor scale motive that is passed around the ensemble. The piece goes through several distinct sections, including jazz. Chorale Variations goes back to the "blocks of sound" style before becoming a beautiful chorale, albeit with pops of dissonance occurring. His woodwind quintet, Prelude and Lament, features very playful pairings that act as a call and response to each other. The solos, although a bit off intonation-wise, are quite beautiful. The album concludes with Suite for Percussion a groovy work for five percussionists and Sonata for Violin and Piano. While this album is overall quite well done as far as recording quality, I wish that the order of tracks had been altered. Perhaps putting them in chronological order would give the listener a better representation of the journey through this "composer's personal history" as the description of the album states.
– Jeremy Wohletz
---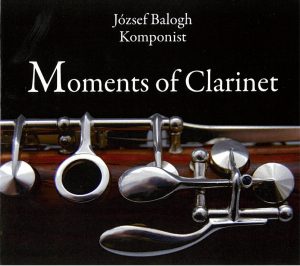 Moments of Clarinet. József Balogh, clarinet.
The boldness of József Balogh's performances and the freshness of his original compositions make listening to Moments of Clarinet a delight. Balogh achieves a directness of expression that is never saccharin or maudlin. His sincerity pairs perfectly with his characteristic rich, solid timbre and precise finger work. One imagines that Balogh (and collaborators) had an incredible amount of fun in the studio, and the result is infectious. 
This potpourri recital recording plays to the clarinet's strengths, spanning jazz, eastern European, and klezmer musics. Despite this familiar territory, Balogh's compositions manage to transcend cliché and, as in his performances, rely on direct, genuine communication. It's a safe bet that clarinetists everywhere will be hunting down the scores for works on this disc, eager to program these instant hits on their own recitals. 
Balogh's collaborators, on both sides of the microphone, also deserve commendation. The pianist brings a wealth of colors and subtle articulations throughout, and notably, does a fantastic job emulating a cimbalom. Furthermore, the disc is beautifully recorded, conveying an almost visceral presence. 
For those of us immersed in daily practice, lessons, and performances, it is rare that listening to a clarinet recital recording is simply so much fun. With Moments of Clarinet, Balogh achieves that remarkable feat and asserts his formidable stature as performer-composer. 
– David Yandl
---