Originally published in The Clarinet 50/2 (March 2023).
Printed copies of The Clarinet are available for ICA members.
---
Audio Reviews: March 2023
---
RECORDINGS
Gyre. Joanna Nicholson, clarinet. J. Nicholson: Gyre; M. Whiteside: Three Pieces for Bass Clarinet and Electronics: Piece Three; K. Hagan: requiem; J. Nangle: our headlights blew softly into the black, illuminating very little; W. Sweeney: Nine Days Piobaireachd. TNW Music, TNWM-07. Total Time: 46:51.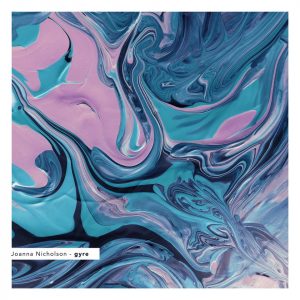 I don't hear many concept albums released by clarinetists, but Joanna Nicholson presents us with her debut solo album Gyre, embracing the idea of The Album, with a set of works for clarinet or bass clarinet and electronics creating a full listening experience. It begins with a spoken introduction of the title track, written by Nicholson herself, recalling a kayaking trip in which she saw a spiral of birds that was the inspiration for the piece. The recording quality of the story sounds like it could have been coming through the radio in the 1960s and sets a mood for the remainder of the album. Gyre is for clarinet and electronics, and features swirling three- and four-note patterns with Nicholson's clean technique and pure sound, allowing the listener to invoke the image of the gyre of birds. The electronics are subtle, no more than some reverb and delay, and the audible key clicks in the recording add a percussive element and become a feature before the final section of the piece.
The following track is Matthew Whiteside's Three Pieces for Bass Clarinet and Electronics: Piece Three which focuses on multiphonics. Nicholson has complete control over the multiphonics and the high register of the bass clarinet and is able to maintain the gentle mood with this material that otherwise has the potential to turn into a harsh sound world. The acoustic bass clarinet sound melds fluidly into the droning bed of reverb and delay underneath.
Kerry Hagan's requiem for clarinet and electronics is next on the album. The microphones were recorded quite close to the clarinet, and it is very much in the front of the mix, creating the sense of being very close to the listener. Every nuance of Nicholson's breathing is audible. This is intentional, as Nicholson states in the liner notes that the idea of the album is for the listener to be drawn in closer with every piece up to requiem, and then begin slipping away, as if passing the clarinetist, like a boat approaching and then passing the gyre of birds. The electronics are comprised of layers of drone sounds along with delays from the live clarinet.
The next track is our headlights blew softly into the black, illuminating very little for bass clarinet and tape by Jonathan Nangle. The electronics in this piece also contain a drone sound—the unifying feature of the album—although they are generally more active than in the other works. Nicholson's bass clarinet playing fuses into the textures with the long held notes, slow moving phrases, and quarter tones. The final work, Scottish composer William Sweeney's Nine Days Piobaireachd for clarinet and drone, makes up more than half the album alone, clocking in at 24:23. The piobaireachd is a work for Highland bagpipes, using a simple melody that develops through variations and ornamentations. The previously mentioned drone present throughout the album is, of course, also necessary here to mimic the sound of bagpipes. It was created from prerecorded notes in varying octaves played by Nicholson, woven together to create an effective and non-static drone. Nicholson shows great command of the clarinet through her ornamentations, fast groups of grace notes, false fingerings, and timbral trills, becoming increasingly more active and complex as the piece progresses.
This album has a mood and character I miss from other albums in the realm of classical music. It's not particularly virtuosic, but it's not meant to be. Its beauty is through the simplicity—a sound world created through drones and repeated figures that are always moving and developing, preventing stagnation. Joanna Nicholson is convincing in her clarinet and bass clarinet playing with excellent control of the instruments, and her musicality weaves through piece to piece, tying the album together as a complete work.
– Jason Alder
---
Moonwalk. Tommaso Lonquich, clarinet; Alexander Lonquich, piano. F. Busoni: Elegie in E-flat Major, BV 286; J. Brahms: Sonatas op. 120, no. 1 and 2; C. Debussy: Petite Piéce; C. Saint-Saëns: Sonata in E-flat Major, Op. 167; M. Reger: Tarantella, WoO II/12. NovAntiqua Records, NA60. Total Time: 68:39.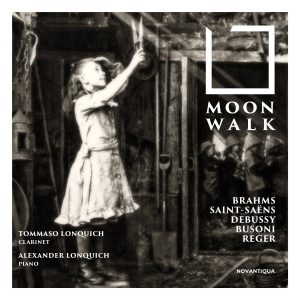 Moonwalk is a fanciful but studied venture in psychology, imagination, musical energy, and phrasing. Busoni's Elegie in E-flat Major, BV 286, is lugubrious and soulful with latent energy and mysterious pianissimos maintained with a beautiful sound and focus on the clarinet. It is obvious the collaborators are in the same sound world and play in accord with a sense of drama befitting to art song. The concept uniting the album is that of freeing the body from gravity and "going backwards to generate the propulsive force to move forward." A psychological discussion informed by documented correspondence, presented in the liner notes in a fanciful context, exposes the convictions and doubts of the composers we revere as masters today.
The Brahms Sonata no. 2 resonates with heavenly pianissimos, long connecting phrases that bridge the space between the two instruments and their sound production, and a deep musical connection. Tommaso Lonquich plays with great expression and uses vibrato as an outlet of that expression. Alexander Lonquich displays great versatility in his touch, allowing Tommaso to explore the softest realms of clarinet playing without ever sounding like he risks being covered despite the great difficulty of the piano score. The Allegro appassionato makes excellent use of the negative space, or silence, to allow these long phrases to grow and decay organically while changing moods like hats for the different sections. The Andante con moto is delicately sumptuous, featuring gorgeous interplay between the two soloists and maintaining musical interest in the least active sections, making full use of the potential of latent energy. The ending Allegro section is triumphant and indulgent, embodying the contradictions of this sonata. Although some notes can seem a little clipped in their lifted nature, the overall effect is immense satisfaction.
Debussy's Petite Piéce is revisited with a pensive, almost aggressive character that befits the dotted nature of the rhythms and allows more impish qualities to surface. It contrasts nicely with the classical form of the Saint-Saëns Sonata, in which the Allegretto provides a sea of tranquility in its returning theme, but the shortened length of notes in the busier sections sounds more separate and foreign. This reflects the creative dialogue in the liner notes between Debussy, Busoni, and Reger on how artists should seek the new in creation and not repeat what is certain of success, making art into an industry. The Allegro animato depicts Saint-Saëns in a different light, like a prism, exposing the contrasts within his work and allowing the technical virtuosity of Tommaso to sparkle. The Lento in its gravity contains the least vibrato, containing only expressive shimmers to maintain the long phrases and unbearable but glorious onward trek of time, all the better to allow the second half to defy gravity and float unimpeded in a beautiful aura of soft harmony.
Reger's Tarantella, Wo0 II/12, is a bubbling interlude that shows off the flexibility and musicality of the two performers and is rarely heard or performed. The last piece of the album is Sonata no. 1 by Brahms, where we hear power and conviction in the sound of both musicians which gives way to an Andante un poco adagio that feels improvised and totally free at the beginning in a refreshing take. The Allegretto grazioso contains some delicious rubato that shows both players are completely in sync and at ease within this music. The closing Vivace plays in the complexity of the variations but maintains the joyous character of celebratory bells.
It is refreshing to revisit classic works and discover new ones with the fresh energy of these artists. The creative approach to seminal works in Moonwalk adds new depth and context through the conversational liner notes and incredible musicality of the performers.
– Andrea Vos-Rochefort
---
Trio Contemplating the Moon. Trio Séléné: Mingzhe Wang, clarinet; Eli Lara, cello; Ilya Poletaev, fortepiano. L. van Beethoven: Trio in B-flat Major, op. 11; Y. Sharlat: Trio Contemplating the Moon; A. Eberl: Grand Trio in E-flat Major, op. 36. Blue Griffin Recording, BGR591. Total Time: 76:47.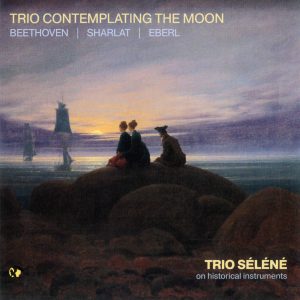 The musicians on this recording met as graduate students at Yale University. Despite their current geographic separation—they hold university appointments in the US and Canada—they perform together as the Trio Séléné. They have recorded two albums, the first on modern instruments and this one on historical instruments. Wang plays a replica of a Grenser clarinet (the liner notes don't indicate the number of keys). Although none of the performers is a specialist in historical performance, they manage their instruments with technical fluency. For this recording they have chosen two works from around the turn of the 19th century, along with a commissioned piece that infuses the historical instruments with a contemporary voice.
The first work on the album is a familiar one: Beethoven's Trio in B-flat Major, op. 11 (1798). This is a highly individual, perhaps quirky, performance, especially in matters of rhythm and pacing. A great deal of rubato is applied that seems arbitrary and unmotivated by the music itself, and small hitches in timing sometimes spoil the musical momentum that Beethoven has carefully built up. While one appreciates the notion of creating a unique interpretation of a well-known (and much-recorded) work, some of the choices made in this performance don't seem to make sense. It is a good thing for a performance to be "historically informed," but perhaps this one is more opinionated than informed. Nevertheless, the playing is excellent. Wang's tone on the Grenser replica is round and warm, and he tackles the tricky runs in the first movement with admirable ease. Poletaev's playing on the fortepiano is energetic and sparklingly clean. Listeners should seek out this recording for its unusual qualities, rather than as a reference recording.
By comparison with Beethoven's op. 11, the Grand Trio in E-flat Major, op. 36 (1806) of Anton Eberl has relatively few recordings. This is a substantial work in four movements, and merits more performances than it generally receives. Eberl, who was often compared favorably to Beethoven as both a composer and pianist in his lifetime, brings us closer to an early Romantic style in this trio than Beethoven does in his. Trio Séléné's performance allows the work's lively energy to shine through unimpeded.
The repertoire of contemporary music written for historical instruments is small but growing, and Trio Contemplating the Moon by Yevgeny Sharlat is an excellent addition. It was inspired by several atmospheric paintings from the 1820s by Caspar David Friedrich depicting figures gazing at the moon, one of which is used as the album's cover art. In three movements ("Elegaic, foggy," "Drumroll, please," and "Haunting"), the work uses the most evocative qualities of the three instruments to create an appealing soundscape. Contemporary techniques common to modern instruments (inserting objects into, or playing on, the strings of the piano; timbral trills on the clarinet; playing on the clarinet's mouthpiece only; and so on) are used on these historical instruments to good effect. Particularly striking is the second movement, a humorously surreal melodrama between the players, where the fortepiano is made to sound alternately like a snare drum and a harpsichord. This is a very fine work that is sensitively performed on this recording.
Throughout this recording the clarinet is often a few cents flat to the fortepiano, which could have been remedied with a slightly shorter barrel. The album is nicely recorded, faithfully capturing the natural sounds of the historical instruments. An informative booklet gives details about both the music and the instruments being used. Despite my reservations about the Beethoven, I enjoy this recording and recommend it, especially for Sharlat's new work.
– Jane Ellsworth
---
Clarinet and New Polish Chamber Music. Bogusław Jakubowski, clarinet; Dorota Maciaszczyk, piano; Joanna Tylkowska-Drożdż, soprano; Magda Morus-Fijałkowska, flute; Klara Świdrów, cello; Tomasz Szczęsny, cello; Jerzy Siemak, accordion; Barbara Stalmierska, harp; Sandra Kasperek, harp; Piotr Pawlik, electronics. T.K. Mazurek: Fantasmagoria; A. Cieślak: Bagatela; P. Klimek: Entangled Particles; P. Pawlik: Concertino; Un cantaro roto II; J. Stalmierski: Short History; Niebieska Klepsydra. Acte Préalable, AP0528. Total Time: 61:59.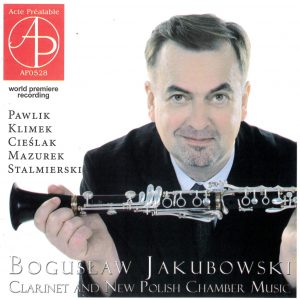 On Clarinet and New Polish Chamber Music, Bogusław Jakubowski explores many sides of the clarinet's capabilities and personalities through a wide selection of solo and chamber music by Polish composers. Currently a lecturer and postdoctoral fellow at the Academy of Art in Szczecin, Poland, Jakubowski performs as a soloist and chamber musician (including with the FeelHarmony Quintet) and organizes the West-Pomeranian Clarinet Festival and the March Clarinet Competition in Szczecin.
In Tadeusz Karol Mazurek's Fantasmagoria, Jakubowski demonstrates a purity of tone and vast range of expression from the onset of the piece: introverted at times, and appropriately wild when called for. Artur Cieślak's Bagatela immediately grabs the listener through its unusual timbral combination of clarinet and accordion. Jakubowski demonstrates impressive mastery of multiphonics, glissandi and vocalization in this duo, creating a haunting and menacing atmosphere that pairs nicely with the accordion. After two dissonant and intense pieces, Piotr Klimek's Entangled Particles for clarinet, upright piano, and tape is a welcome breath of fresh air due to Klimek's use of tonality and minimalist-inspired ostinato. With his agile technique on full display, Jakubowski imbues the numerous challenging passages in this piece with a buoyancy and playful quality.
Jakubowski handles the strenuous articulated passages of Piotr Pawlik's Concertino for clarinet, piano, and electronics with incredible dexterity, leaping across the range of the instrument with the ease of a trained athlete or dancer. In Pawlik's Un cantaro roto II for clarinet, cello, piano, and electronics, Jakubowski and his colleagues plumb the depths of human emotion, quickly leaping from the sensitive to the outlandish without any hesitation.
Pure legato and explicit sense of phrasing are a necessity in Janusz Stalmierski's Short History for clarinet and harp, and Jakubowski admirably handles both tasks. As this was one of the more intimate and sensitive pieces on this recording, I appreciated Jakubowski's nuanced playing and tone-blending with the harp. To conclude, Jakubowski calls upon the largest ensemble on this recording (a quintet of soprano, flute, clarinet, cello, and harp) to perform Stalmierski's Niebieska Klepsydra. This performance features exquisite matching of flute and clarinet articulation, not to mention the lush and resonant vocal quality of soprano Joanna Tylkowska-Drożdż—a fulfilling conclusion to a thoughtfully curated assortment of pieces.
The overall balance in this recording is excellent, but I found myself wanting a wider range of dynamics and color in each piece. It cannot be known if the lack of dynamic expression on the recording is accurate to the performances, or if this was a result of audio mastering in post-production. The occasional suspect moments of intonation can be distracting but do not stifle the composers' or performers' intentions.
Presented in both Polish and English, the liner notes include photographs and detailed information about the numerous performers and composers featured on this recording, a brief essay by Jakubowski outlining his vision for this collection, and the text for Ostrowska's Niebieska Klepsydra. Likewise, the diverse instrumentations presented in these pieces almost guarantees that there will be something for everyone to enjoy and appreciate. This recording by Jakubowski and colleagues is a worthwhile journey into music by Polish composers that may be less familiar to either the casual or serious clarinetist.
– David Cook
---
Figurations. BlattWerk Quintett: Martin Bliggenstorfer, oboe/English horn; Jonas Tschanz, alto/soprano saxophone; Elise Jacoberger, bassoon/contraforte; Richard Haynes, clarinet/E-flat clarinet/bass clarinet; Nils Kohler, clarinet/bass clarinet. B. Bartók/arr. R. Haynes: Suite, op. 14; M. Ravel/arr. E. Jacoberger and J. Tschanz: Ma Mère l'Oye; W. Feldmann: figurations de mémoire; C. Debussy/arr. O. Boekhoorn: Suite Bergamasque. Schweizer Fonogramm, LC91357. Total Time: 55:29.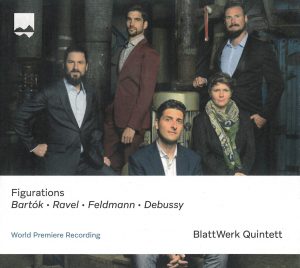 Figurations is a wonderful album recorded by the Swiss BlattWerk reed quintet. The album features both original music for reed quintet (Walter Feldman transcribed his piece figurations de mémoire which also gives the name to this album) and skillful arrangements of music originally written for either piano (Bartók and Debussy) or piano duet/orchestra (Ravel).
Reed quintets are a recent type of ensemble, appearing in the music scene as a strong option for chamber music composition and performance. The versatility of this instrumentation can provide an extensive range of notes and vast amount of timbral combinations.
On this album every member can be, convincingly, a main voice or a perfectly balanced secondary voice. New, and perhaps unconventional, combinations are born to exist and intermingle in perfect communion within the reed quintet. Examples of these include oboe and clarinet, oboe and saxophone, etc.
The BlattWerk Quintett consists of Martin Bliggenstorfer (oboe and English horn), Jonas Tschanz (alto and soprano saxophone), Elise Jacoberger (bassoon and contraforte) Richard Haynes (clarinet, E-flat clarinet, and bass clarinet), and Nils Kohler (clarinet and bass clarinet). All of the musicians perform in prominent orchestras and ensembles in Switzerland and Germany.
The members of the BlattWerk Quintett are all brilliant musicians with individual training from important musical centers of the world. Together they achieve performances, here recorded, that cover all the expectations of a virtuoso ensemble such as flawless intonation, perfect management of dynamics, absolute synchronism, ideal balance, and compelling musicality.
Richard Haynes and Nils Kohler are the clarinetists of the BlattWerk Quintett. Their clarinet and bass clarinet sounds are very rich and vibrant, and articulations are clear and well-defined. Their clarinet playing is nothing short of flawless, but their most striking attribute on this album is the ability to blend with the other instruments of the quintet. Many times they are featured as the leading voice, but other times they are featured as a second voice to the bassoon, the oboe, the saxophone or between themselves. It is here where they really showcase the mastery of their instruments and well-crafted musicianship. Their contribution to the many great qualities of this reed quintet is undeniable. I was impressed by Haynes's superb ability to play the E-flat clarinet in the arrangement of Ravel's masterwork Ma Mère l'Oye , and Kohler's abilities on the bass clarinet throughout the album were admirable.
The album is beautifully presented and features a color picture of ensemble members on the cover. The booklet includes information about the performers, track listing, and a take on what the members think about the versatility of their ensemble, the arrangements, and about building a repertoire (in German, French, and English), along with technical recording and sponsor information. Pictures include a comparison of the piano part for Bartók's masterwork with the arrangement performed, a sketch of the costume for the "Laideronnette," fragments of the sketches for the Figurations poem, musical master sketch and final score for low wind quintet, and a picture of the ensemble while recording. More information about the ensemble including an option to contact them directly can be found on their website, blattwerkquintett.com.
This album has many magnificent moments of true musicianship and teamwork among these amazing players. The eclectic repertoire and impressive performances make this an enjoyable album to listen to. I highly recommended this album, but also go to their website and find out if they are performing near you!
– Jorge Montilla Moreno
---
Vox Terra: Music for the Clarinet with a Global Focus 1980-2010. Cris Inguanti, clarinet; Marie-Julie Chagnon, clarinet; Michael Lowenstern, backup bass clarinet and improv realization; Corey Hamm, piano; Joseph Elworthy, cello; Maria Zachariadou, cello; David Occhipinti, classical guitar; Chris Jennings, bass. M. Lowenstern: Ten Children no. 3; D. Bermel: SchiZm; J. Ryan: Triple Witching; J. Tower: Wings; P. Sculthorpe: Songs of Sea and Sky; M Tenzer: Three Island Duos; D. Occhipinti: Arts and Letters; N. Resanovic: alt.music.ballistix. Redshift Music, TK 425. Total Time: 75:35.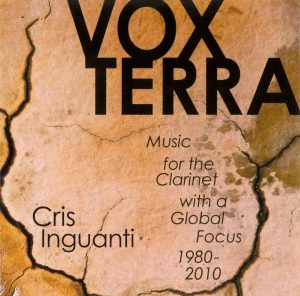 Cris Inguanti's 2011 album, Vox Terra: Music for the Clarinet with a Global Focus 1980-2010, was inspired by the "wonderful music that emerged" during the 2007 ICA conference for which he served as artistic director. In an opening missive of the liner notes, Inguanti writes, "What is classical music these days? Whatever it is, it's kaleidoscopic, personal, and evocative, as reflected in the selections on this recording."
Michael Lowenstern's Ten Children no. 3 (2003), is an homage to a boy from Lowenstern's apartment building that liked to spin until he got dizzy. Ten Children no. 3 showcases Lowenstern's signature use of looping and layering vocal and body percussion with musical lines both recorded and performed live. Inguanti demonstrates both facile technique and a refreshing lightness of style. This delightful performance ends in dizzy improvisation that effectively sets the tone for the album's programmatic underpinning.
Clarinetist and composer Derek Bermel's SchiZm (1994) features two contrasting movements. "Field of Stars" has a stoic lyricism and Middle-Eastern flavor that highlights Inguanti's tonal focus and warmth in the altissimo register. The second, "Puppet State," is a lively jaunt including a frenetic salsa, a leisurely habanera, and a klezmer-tango that arches into the extreme altissimo and plummets into growls. Both Inguanti and pianist Corey Hamm traverse this stylistic tour de force with wit and technical agility.
Jeffrey Ryan's Triple Witching (1998) for clarinet, cello, and piano is a programmatic work describing the most volatile days in the stock market. Triple Witching opens with an evocative melody in the clarinet and cello that suggests the allure of money. This sense of calm is starkly interrupted by punctuated piano chords and rising glissandi in the clarinet and cello that slide into a reflective section representing the continuous drive for money and the struggles that money or lack thereof can bring. This piece, driven forward by frenzied piano ostinati, culminates with a soliloquy in the cello masterfully performed by Joseph Elworthy and concludes abruptly with a final interruption of activity suggesting the vicious cycle that money perpetuates.
Joan Tower's Wings (1981) is a stalwart in the clarinet literature, and Inguanti presents a first-rate version of it here. His energetic rendering evokes the imagery of effortless flight. Wings flows seamlessly into Songs of Sea and Sky (1987) by Peter Sculthorpe. Commissioned by the Yale School of Music to mark Keith Wilson's retirement, Songs of Sea and Sky was inspired by a traditional melody of Papua New Guinea. The work is one continuous movement in seven parts. "Saibai" is a reworking of the traditional melody that is particularly compelling. Inguanti shines here with a consistently fluid artistry and beautiful tone.
Michael Tenzer's Three Island Duos (1992) begins with "Krk-Y" which refers to the dissonant two-part singing on the island of Krk. Balance between Inguanti and clarinetist Marie-Julie Chagnon is excellent from the first note to the final phrase. "Biakwords," which takes on the hocket techniques of Balinese music, evokes the minimalism of Reich and Riley. Three Island Duos closes with the quirky "Bouvet Fanfare" that conjures imaginary music of Bouvet, an island isolated in the southern Atlantic Ocean.
Guitarist and composer David Occhipinti's Arts and Letters (2010) for clarinet, guitar, cello, and bass consists of three short movements. "Part 1" is a song-like discussion between clarinet, cello, and guitar, creating a delightful brusqueness of folk storytelling. "Part 2" layers lightly plucked harmonics in the guitar and wistful cello melodies that meander and fold into simplistic clarinet lines. All musicians phrase beautifully together, dynamics are balanced especially well, and every nuance is heard. "Part 3" contrasts with oscillating rhythmic structures and a return to the hocketed style of the first movement. alt.music.ballistix (1995) for clarinet and tape by Nicola Resanovic provides a fitting end to Vox Terra, given its self-realization of the modernity that Inguanti aimed to capture in this collection of works.
Cris Inguanti and his collaborators present a fantastic collection of clarinet works. Vox Terra is a beautifully conceived, performed, and recorded album that is widely accessible to students, professionals, and casual listeners alike.
– Anna Roach
---
Conversations With Myself. Alicia Lee, clarinet/bass clarinet. D. Fujikura: Contour; P. Boulez: Dialogue de l'ombre double; I. Yun: Monolog; U. Chin: "Advice from a Caterpillar" from Alice in Wonderland; H. Aomori: Split. New Focus Recordings, FCR302. Total Time: 51:26.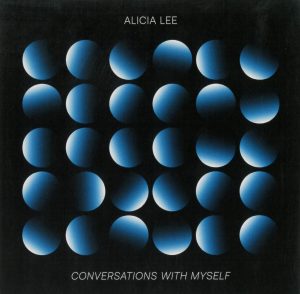 A product of pandemic isolation, Alicia Lee's album Conversations with Myself contains works for solo clarinet and bass clarinet, both with and without electronics. Most works on the recording were composed by Asian composers including Dai Fujikura, Isang Yun, Unsuk Chin, and Hideaki Aomori with one notable exception—Boulez's Dialogue de l'ombre double, a work that explores the relationship between live performance and recording. Containing only five compositions, the album shows that Lee was trying to create a cohesive program, which makes it even more exciting to listen to.
The first track, Contour by Dai Fujikura, was revised for low clarinet in 2020. Lee's prowess as a bass clarinetist is immediately on display, with the work acting as one long phrase increasing in intensity over seven minutes, reliant only on her ability to captivate the listener. Lee does just that through her expansive use of dynamic contrast, holding fast to one timbre throughout as though she is making a firm point she desperately wants us to hear. She uses this timbral nonvariation as a tool to increase the intensity of the work to a more playful and light section near the end of the piece.
Second on the program is the Boulez Dialogue de l'ombre double. As though the first work was an introduction, Lee begins to really pull out the stops in her performance here. We discover the true depth of her ability, using both color and time to interact with the recorded sounds in what seems much more like a dialogue than a melody and accompaniment. We begin to hear Lee use timbral variation as a key element in her performance, in addition to some very extensive articulation and style work. In Monolog we have a return to the bass clarinet in an entirely different style universe than what we are presented with in Contour. Here, instead of a voice sounding into space, we hear more contemplative figures and, rather than dialogue with another part as in the Boulez, dialogue built into each line. Lee's command of register and color are impressive, with intentional subtle changes seemingly around every corner. We are also treated to more of Lee's extensive technical ability. Though this was also featured prominently in the Boulez, hearing it unaccompanied makes it even more impressive, exciting, and inspiring.
Technique, both traditional and extended, are on show within the first 30 seconds of Chin's work "Advice from a Caterpillar" from Alice in Wonderland. Lee's command of all registers of the bass clarinet at high speeds while also utilizing extended multiphonics puts an exclamation point on her virtuosity. As if to further cement this, we hear these extended techniques incorporated seamlessly into the fabric of the work, making it feel like we shouldn't really call them extended at all. In the final work of the album, Split, we hear sounds akin to the reverberation you might expect with pedal effects, but produced by the bass clarinet alone. Much less overt in its technique than the previous two works, this composition is a great closer to this album because it leaves us with the sound of Lee's lovely long phrases. We hear soaring long lines juxtaposed against reverb-style effects which again highlight Lee's command of the material.
This is a wonderful album and a great example of excellent programming that could just as easily be a live recording of a recital.
– Vanessa Davis
---
NEW RELEASES
Submit your new releases to [email protected].
---