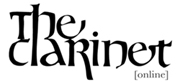 Originally published in The Clarinet 46/2 (March 2019). Printed copies of The Clarinet are available for ICA members.
---
Audio Reviews: March 2019
RECORDINGS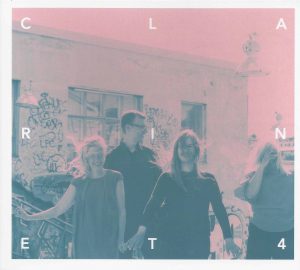 Clarinet4. Clarinet4: Anni Tolvanen, clarinet; Anni Björk, clarinet; Sirke Tynskä, clarinet; Esko Lång, bass clarinet. P. Hiketick: Charanga di Xiomara Reyes and Dansa Latino di Maria del Real; J. Van der Roost: Arghulesques; J. Pisto: AD 2017 – Three Pictures of the Time; H. Hödl: el vaivén. Artist produced CL4001. Total time 36:48. Amazon and CDBaby
Clarinet4 is a Finnish clarinet quartet made up of clarinetists Anni Tolvanen, Anni Björk and Sirke Tynska with bass clarinetist Esko Lång. The group was initially formed in 2008 in Kuopio, Finland. This is their debut album, bearing the name of their ensemble, and it is a charming introduction to the chamber group.
The first track, Charanga di Xiomara Reyes by Belgian composer Patrick Hiketick, is a jaunty and delightful beginning to the album. The addition of percussion to the original version was not something I noticed immediately, but this, along with an enthusiastic mid-piece surprise, will make you smile.
Well-known Dutch wind composer Jan Van Der Roost's Arghulesques starts mysteriously with "Quasi Barcarolle," which segues to brighter moments that explore a wide range of timbres. The third movement, "Allegro," highlights some solid ensemble playing. This work provides a more traditional sampling amidst Latin-inspired and modern works.
Finnish composer Juha Pisto's AD 2017 is the group's first commissioned work, supported by a grant from the Finnish Cultural Foundation. The three movements refer to world events in 2017. The first movement "Syrian Cry" evokes an Orthodox chant over the ruins of the city of Mosul. The use of quarter tones and other extended techniques amplify the unsettling character of the movement with descending suspensions giving the feeling of a slow fall. The final chant call seems calm in nature, in contrast to the opening. I found myself checking the album for additional players or instruments to identify some of the sounds, only to discover it was some exceptional use of extended techniques by the composer. The performers execute these unusual technical challenges with aplomb. The second movement, "Fake News," alternates between a pseudo-sarcastic swing and dissonant cacophony. The repetition and lack of resolution are particularly effective parallels to the relentless pace of media today. "Home," the third and final movement of Pisto's AD 2017, has a far more sentimental and nostalgic character than the preceding movements. The simpler lines and much-needed resolution end a commentary on the world today on an optimistic note.
The variety in character is appreciated as the two longer, more serious works are balanced with levity in the three shorter pieces. El Vaivén, the final work, by Austrian clarinetist and composer Helmut Hödl, was originally commissioned by the Spanish clarinet quartet Barcelona Clarinet Players. Paired with the style of the opening piece by Hiketick, it is an appropriate closing track to the album.
Clarinet4 has crafted a great introduction with this album, highlighting their technical proficiency and warm blend with a wonderfully varied selection of repertoire. I look forward to hearing more from the group in the future.
– Cody Grabbe
---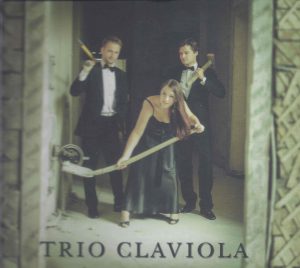 Trio Claviola. Vytautas Giedraitis, clarinet; Jurgis Juozapaits, viola; Ugné Antanavičiūté, piano. J. Juozapaitis: Claviola; W.A. Mozart: Trio in E-flat Major, K. 498; R. Mačiliūnaité: Kōan; V. Germanavičius: Trupantys žodžiai; J. Françaix: Trio. Artist produced. Total time 58:12. www.discogs.com
This 2013 release by the chamber music group Trio Claviola will provide interesting listening for clarinetists mainly because of three newer works by Lithuanian composers that most will likely hear for the first time. The recording also included the trios by Mozart and Françaix, which are wonderful standards for this instrumentation. Trio Claviola is made up of three young Lithuanian musicians, Vytautas Giedraitis, clarinet; Jugis Juozapaitis, viola; and Ugné Antanavičiūté, piano. All three are prizewinners individually, and the group has been awarded chamber music prizes in Lithuanian and European competitions.
The first work on the album, Claviola (2008), was written and named for the group by Jurgis Juozapaitis (b. 1942), a professor at the Lithuanian Academy of Music and Theatre. The piece is about seven and a half minutes and is divided into slow and fast sections. A contemplative slow movement is followed by a fast movement with a tremendous amount of rhythmic vitality that will have instant appeal for both players and audiences alike.
Rita Mačiliūnaité (b. 1985) graduated from the Lithuanian Academy of Music and Theatre and boasts an eclectic compositional output including electroacoustic works, operas, music for theatre, and dance and film music. She says about Kōan:
Kōans have a long history in Zen Buddhism and its traditional lore. They came to be understood as contradictory questions, stories or statements that provoke the "great doubt" and continuous pondering in Zen students until their minds would experience the break-through from the dependence of reason and reach insight into a higher level of consciousness. The structure and idea of my piece is influenced by Eastern philosophy. It is an attempt to write a musical kōan. To convey such state of mind I place a single motif in different settings by using diverse techniques and manners of articulation, yet retaining its primordial nature.
This meditative aspect comes through in the music with a great deal of sustained tones and unisons, along with interesting juxtapositions between sound and silence. An extremely compelling work, it requires the clarinetist to occasionally utilize flutter-tonguing, slap-tongue and pitch bending.
Crumbling Words by Vytautas Germanavičius (b. 1969) was also written for the Trio Claviola. The composition combines repetition of different motives, and as tension builds, it gives way to another melodic fragment. Germanavičius writes, "the discussion of this trio begins with even and unaccented rhythms. The tension rises in the fast virtuoso episode and subsides by the end, with crumbling phrases, segments of sounds, remnant accents and new instrumental colours."
The album places these innovative new works by Lithuanian composers alongside the Mozart and Françaix trios. The playing by the musicians is excellent throughout. The performance of the Françaix trio is spirited and they handle the technical demands of this trio and the occasional extended demands of the new Lithuanian works with equal aplomb. Giedraitis' clarinet playing is excellent with a wonderful legato and precise intonation. At times, the piano seems far away in the recorded mix relative to the very present and clear sounds of the clarinet and viola. The only complaint from this reviewer is that after hearing three excellent works by Lithuanian composers, one wishes that the disc contained more of this new music. Indeed, despite fine and attentive playing from the trio, the Mozart seems rather out of place alongside the other works in this collection.
The cardboard packaging is clever and a nice change from the plastic jewel case. The accompanying informative booklet is in Lithuanian and English and includes many campy photos of the performers in their concert black attire holding various construction tools in what appears to be an unused factory building. This is a wonderful album and worth it for the new Lithuanian pieces alone, but listeners will also appreciate the inclusion of the Mozart and Françaix trios.
– Christopher Ayer
---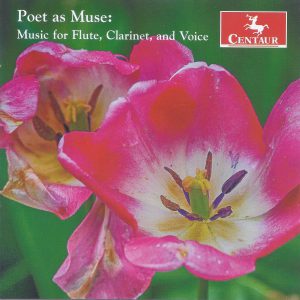 Poet as Muse: Music for Flute, Clarinet and Voice. Joanna White, flute; Kennen White, clarinet; Tracy Watson, mezzo-soprano; Elissa Johnston, soprano; Mary Jo Cox, piano and harpsichord; Takeshi Abo, viola. A. Copland: As It Fell Upon a Day; M. Biery: Provincetown, August and Protea, In Venice; C. Boots: Dream of Wheat; J. Batzner: Word of the Day; D. Biedenbender: Staying the Night; L. Trimble: Four Fragments from The Canterbury Tales; I. Stravinsky: Three Songs from William Shakespeare. Centaur CRC3568. Total time 72:07. Amazon and iTunes
As a collection of works for a chamber medium that is sorely in need of quality repertoire, Poet as Muse: Music for Flute, Clarinet, and Voice provides us with some excellent choices. Especially interesting are the works that use spoken poetry as an introduction to the music, abandoning the use of traditional singing throughout the piece. This is a fine way to demonstrate the versatility of the medium, without relying solely on operatic singing that must engage with the music at all times.
As it Fell Upon a Day is a wonderful work to begin the disc. Excellent ensemble and blend is demonstrated between flutist Joanna White and clarinetist Kennen White, with soprano Elissa Johnston exhibiting clear diction throughout. Provincetown, August was a standout on this recording for its poignant mood, blend and timbre-matching between the clarinet and flute, especially in the final section.
Dream of Wheat is a five-movement cycle and a good work overall. There are moments that draw the listener in, and good variety among the movements. The piece itself could plunge a bit deeper into the subtler aspects of the words, as the rhythms and use of bass clarinet range do not always speak to the aesthetic established by the poetry.
Word of the Day is a particularly notable work, with gorgeous blend and a tragically dark mood established by the entire ensemble: a beautiful, cohesive approach. The bass clarinet is not overbearing and uses a lovely singing quality throughout. Staying the Night was the best use of poetry in the entire recording. The mood established by the clarinet and flute in the section that begins about four minutes into the work is especially engaging.
Four Fragments from the Canterbury Tales is a nice concept, especially with the use of harpsichord. These are lovely works that would provide an excellent addition as part of a curated, medieval-themed event that incorporates literature, art and theater. Overall excellent balance and style is demonstrated by all the performers. The standout performer in Four Fragments is soprano Elissa Johnston, who fills out the ensemble, making it a lush, cohesive unit within her beautiful tone.
Poet as Muse: Music for Flute, Clarinet, and Voice is a wonderfully curated collection of quality chamber repertoire, with standout moments from all the performers. It would be excellent to see these works performed more often, and this medium's repertoire expanded.
– John Masserini
---
Del hecho al trecho. Demian Martinez, clarinet; Aquiles Báez, guitar; Héctor Molina, cuatro; Rodner Padilla, bass guitar; Samuel Fuentes, percussion; Carlos Romero, percussion; Aguiles Hernández, violin and mandolin; Gustavo Márquez, bass guitar; Manuel Rangel, maracas; Carlos Pineda Avila, cuatro and acoustic bass; José David Lunar, cuatro; Freddy Adrián, electroacoustic double bass; Jorge Torres, mandolin; Alberto Estrada, clarinet; Carlos Alexis Escalona, bass clarinet. G. Figarella: Del hecho al trecho, Zumba que Zumba, and Costa Carabobo; A. Hernández: La estancia, Gaita de tambura, and Polo Pilarense; V. Márquez: Los Meaitos; H. Molina: Sinvergüensuranzas; J. D. Lunar: Maquinta; P. Marín: Tábara. Artist produced. Total time 37:12. Amazon, iTunes and CDBaby
A product of Venezuela's "El Sistema," clarinetist Demian Martinez offers Del Hecho al Trecho, a recording featuring varied Venezuelan popular music forms and rhythms. Martinez serves as principal clarinetist with the Miami Symphony Orchestra (Florida), a position he has held since 2016. In 2016, Martinez left Venezuela for the United States because of his country's political upheaval, resulting in reduced opportunities for musicians to work.
This album includes ten tracks including the merengue title track. The merengue is a form found throughout South America, but the Venezuelan form is distinctly different than the more popular merengue from the Dominican Republic, where the form originated. Martinez includes other dance styles from Venezuela such as the merengue oriental, the zumba, danza zuliana, joropo, sangueo and Tambora Gaita. All songs were written specifically for this recording, including five songs written by performers on this album. Martinez surprises us with his seventh track, "Maquinita," performing expertly on soprano saxophone.
South American musicians maintain a distinction between "popular" and "pop" music. "Popular" music is derived from local traditional influences, whereas "pop" music is the music of today, with international musical influences. It is always heartening to hear "popular" music performed with a wonderful typical clarinet sound and with excellent intonation, which Martinez accomplishes superbly. His fellow musicians are equally virtuosic, and, interestingly, include musicians from both Venezuela and from the United States. In fact, this album includes 15 musicians, recorded at various times spread out over several years, from both before and after the time when Martinez immigrated to the United States.
Martinez does not improvise, but his playing is fluid and spontaneous, implying highly skilled improvisation. Martinez reports that his playing on this album was completely composed, as his training did not include any study of improvisation. However, he was keenly interested in exploring the forms, rhythms, and improvisatory history of his native lands.
My only complaint about this album is its presentation. The record jacket does include beautiful artwork, a list of all performers, and recording production personnel. However, it has been released in a simple "sleeve" format, without any liner notes or website links to inform the listener of the biographies of performers and history of the music. The presentation gives the appearance of a high-end demo recording, instead of a professional package which this album deserves, taking into account the highly professional performance and recording quality. A little more expense in upgrading the packaging would go a long way toward making this album a complete work of art.
If you like South American music and if you like hearing a gorgeous clarinet sound, played with impeccable technique, you owe it to yourself to purchase this album.
– Ben Redwine
---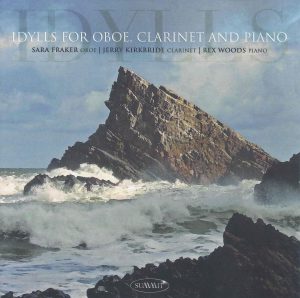 Idylls for Oboe, Clarinet and Piano. Sara Fraker, oboe; Jerry Kirkbride, clarinet; Rex Woods, piano. J. Bingham: Ave Maris Stella; R. Faith: Idylls for Oboe, Clarinet and Piano; M. Bauer: Duo for Oboe and Clarinet, Op. 25; R. Davidson: The Center of the Known World; G. Marie: Feuilles au Vent. Summit Records DCD719. Total time 53:35. Amazon and iTunes
Idylls for Oboe, Clarinet and Piano features significant and lesser-known works composed for this somewhat uncommon instrumentation. Jerry Kirkbride, former clarinetist of the Dorian Wind Quintet and professor emeritus at the University of Arizona, is joined by fellow faculty members Sara Fraker and Rex Woods on this collection that includes two world-premiere recordings and other works highlighting this chamber ensemble. The album features music inspired by tales of seafaring travelers, biblical and literary texts, distant lands, and pastoral scenes.
The opening track, Ave Maris Stella by English composer Judith Bingham, is one of the world-premiere recordings. The work is evocative of the sea, and the title is based on a medieval plainchant hymn. It begins with a somewhat sparse texture, with dialogue presented by oboe and clarinet, interrupted by dramatic piano motives. Even the most dissonant passages are executed with a strong sense of musicality and purpose. A broad spectrum of tonal color extended by the performers effectively adds to the overall atmosphere of the work.
The second and title work for the disc, Idylls for Oboe, Clarinet and Piano by American composer Richard Faith, is also a world-premiere recording. The four movements are arrangements of songs and are dedicated to members of the trio. Original song texts for each movement are included in the liner notes and provide the listener with valuable context. Kirkbride and Fraker perform with a great sense of lyricism and sensitivity that befits the song forms and blends seamlessly with elegant piano lines executed by Woods. The synergy of the trio is well represented in this musically satisfying performance.
Duo for Oboe and Clarinet, Op. 25 by American composer Marion Bauer is a four-movement suite that contrasts significantly from the previous work. The composer's skill for counterpoint is evident, along with passages that are improvisatory in style. Kirkbride and Fraker perform with great attention to detail and line, bringing out many subtleties and playful nuances within
this work.
The Center of the Known World is by American composer Randall Davidson. The work draws inspiration from Tuva, the Central Asia region that features distinct musical traditions such as throat singing. Angular music is contrasted with lush, lyrical melodies, complex lines, and the use of overtones produced when multiple high, loud pitches are performed simultaneously. Once again, the skillful musicianship of the trio is fully displayed in a work that takes the listener on an aural journey through the region. Ensemble is especially noteworthy with regard to the demands placed on the performers by this work.
Feuilles Au Vent by French composer Gabriel Marie is the final work. The three individual movements vary in style, and the lighter, jovial nature of the last movement serves as the perfect conclusion to the album. All members of the trio exhibit beautiful playing and this work lends itself especially well to the rich tone of the clarinet and oboe.
Idylls for Oboe, Clarinet and Piano is a wonderful collection of works for this chamber ensemble. The disc features many contrasting styles, yet all of the individual compositions function well together to lend to an overall concept for the album. Liner notes provide useful information about composers and included works. Performances by individuals and the ensemble as a whole are first-rate. This would be a welcome addition to the collection of clarinetists and chamber music aficionados alike. Highly recommended.
– Karl Kolbeck
---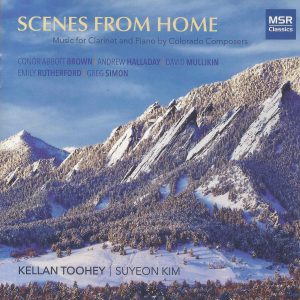 Scenes from Home. Kellan Toohey, clarinet; Suyeon Kim, piano. E. Rutherford: Three Poems; C.A. Brown: Early Winter Spires; D. Mullikin: Suite Antique; A. Halladay: Five Scenes from Our Aspen Grove; G. Simon: Two Orchids. MSR Classics MS1656. Total time: 54:43. Amazon and iTunes.
Clarinetist Kellan Toohey enjoys a varied career as a chamber and orchestral musician as well as soloist and teacher. He is the principal clarinetist of the Boulder Chamber Orchestra and performs frequently with other orchestras in the Colorado region. Pianist Suyeon Kim, experienced and sought-after as both a vocal and instrumental accompanist, is currently a lecturer in collaborative piano at the University of Colorado at Boulder.
The disc opens with a set of three contrasting vignettes titled Three Poems by Emily Rutherford. The elegant Poem No. 1 is in the romanza style with its melodic and florid clarinet lines soaring above a harmonically rich, intricate piano underpinning. While the clarinet and piano frequently interweave throughout the movement, almost in opposition to one another, the two finally converge in a beautiful, concluding cadence. In the beautiful second poem, plaintive melodies reminiscent of Elgar or Finzi begin and end the movement, separated by a yearning, soulful clarinet cadenza. The joyous third movement is a delightful dance that concludes the piece. The ensemble playing by both Toohey and Kim is impeccable throughout this work. Most notable here is Toohey's excellent intonation, consistently beautiful tone and fluid handling of the technique.
Conor Abbott Brown's Early Winter Spires definitely evokes the expansiveness and majestic beauty of the American West. One hears birds and other wildlife vis-à-vis trills in the clarinet and rumblings in the piano. According to Brown, this work was inspired by klezmer, and a performance by clarinetist David Krakauer in particular. Toohey does an expert job with the fluidity of the lines, especially in the high register. However, since klezmer style playing was the inspiration for this work, more could have been done by Toohey to further infuse said style into his playing. That said, the playing by both Toohey and Kim is beautiful.
David Mullikin's Suite Antique is a "neo-baroque" work consisting of traditional movements: "Sinfonia," "Air," "Gigue," "Lament" and "Finale." The "Sinfonia," in the spirit of Respighi's Ancient Airs and Dances and Stravinsky's Pulcinella, is absolutely exquisite, in a performance with wonderful lightness and style. In the "Air," an homage to a Bach aria, Toohey's handling of trills and ornamentation (whether written in the music or not) is executed with extremely good taste. Similarly, the "Gigue" is performed simply and elegantly by both Toohey and Kim. The "Lament" amply demonstrates Toohey's vocal playing with beautiful shaping and superb control. The "Finale," along with the other movements, showcases not only Toohey's tonal and stylistic excellence, but also his impressive palette of articulations fitting every style in this suite.
On Five Scenes from Our Aspen Grove, composer Andrew Halladay writes: "The piece is based on a five-note melody; each one of these five notes becomes the harmonic basis for the five main sections of the piece. Hearing familiar melodic fragments and motifs through different modes evokes the various scenes in the grove." This tranquil and sometimes tumultuous work is delivered passionately and beautifully by both Toohey and Kim. The soaring melodies in the clarinet are thoughtfully shaped with superb legato and tone. Toohey's intonation and colors are especially notable in this work.
The disc concludes with Greg Simon's Two Orchids, a work that aptly evokes the peaks and valleys of an alpine wilderness. Through its lush harmonies and beautiful, melodic clarinet writing, Simon's Two Orchids affords the clarinetist much opportunity for expressiveness, which Toohey delivers. While intonation has been notably excellent throughout this disc, it suffers a bit in this work. Nonetheless, both Toohey and Kim give a convincing reading of this beautiful work.
Toohey and Kim are to be commended for an excellent disc of new and deservedly recorded music by burgeoning Colorado composers.
– Kenneth A. Long
---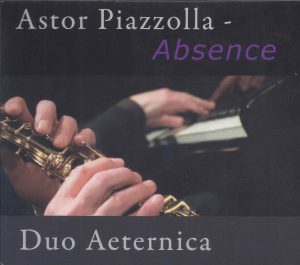 Astor Piazzolla – Absence. Duo Aeternica: Kjell Fagéus, clarinet; Love Derwinger, piano. A. Piazzolla: Ausencias, Duo 1, Libertango, Vuelvo al Sur, Milonga Picaresque, Mumuki, Sin Rumbo, Street Tango, Tanti Anni Prima (Ave Maria), Tango-Étude No. 4 and Histoire du Tango. Robert Holmin Ljud & Bild RHLB16. Total time 52:10. Amazon and iTunes
Kjell Fagéus and Love Derwinger have performed as Duo Aeternica for 25 years in concerts and seminars. Fagéus is the former principal clarinetist of the Royal Swedish Opera Orchestra in Stockholm, and has appeared as a soloist and in chamber ensembles with Sweden's leading musicians. He is the author of the book Musikaliskt flöde (Musical Flow), a book on artistic mental training. Derwinger has given recitals throughout Europe, the U.S., Canada, Japan, the Middle East and South America, and has appeared as a soloist with many major orchestras. Derwinger is an active writer and is the author of Goodnight and The Lecture – An Anachronistic Interview with Bach.
The first selection on this all-Piazzolla recording is the lovely Ausencias. Duo Aeternica's performance brought out all of the color and emotion in this dramatic and haunting work. Kjell Fagéus' playing is stylistically accurate with the right amount of vibrato and jazz inflections at just the appropriate time. Likewise with Duo I, Fagéus captures the essence with skillful phrasing and sensitivity. The most well-known and performed of Piazzolla's works is Libertango. Fiery rhythms and a guileful melody have kept this one at the vanguard of the modern tango. The duo does not disappoint, demonstrating brilliant technique and verve. Vuelvo al Sur features the piano in the opening section with a solo of sinuous appeal, quickly joined by the rhythmic vitality introduced by the clarinet. The brief Milonga Piearesque sets the familiar traditional tango rhythm in the piano while the clarinet freely executes this quasi-improvisational work. Derwinger and Fagéus expertly execute a subtle and emotionally penetrating melody in a profound performance of Mumuki. Sin Rumbo, similar in style, is performed in an equally reflective manner.
The duo's performance of The Street Tango maintains the tango rhythmic pulse and displays wide feelings of tenderness, but also exhibits savagery and seduction to a theatrical finish. Tanti Anni Prima (Ave Maria) is the most touching and heartfelt work on this recording. This melancholic work is both lyrical and charming. Fagéus' tone blends beautifully with the piano, which enhances the lovely phrasing and sensitivity. The unaccompanied "Tango-Étude No. 4" is a work that is performed often from Piazzolla's Tango Etudes. There are six movements in the Tango Etudes, each containing wonderful varieties of the tango.
This reflective work was followed with the excitingly dramatic and poetically charming Histoire du Tango. Originally written for flute and guitar (the earliest tango instrumentation), the four movements of Histoire du Tango retrace the history of Argentine tango throughout the 20th century. The first movement, titled "Bordel 1900," is written in the fast and lively style of the first tangos played and danced in the bordellos of Buenos Aires starting around 1882. In the next movement "Café 1930," the tango has evolved to become slower and more introspective. It is a dynamic, pensive classic that alternates tense, anxious passages with slower, grieving segments. In "Nightclub 1960," the tango has been enriched by the influence of bossa nova from Brazil. This is the passionate, rambunctious style of the tango that made Piazzolla world-famous. This movement exemplifies Piazzolla's mature tangos with its striking changes of tempo and aggressive rhythms. Finally, in "Concert d'aujourd'hui," the tango has arrived in the concert hall. This movement showcases Piazzolla's unique compositional style; it is easy to hear the influence of Bartók and Stravinsky in this quirky and idiosyncratic movement.
Concluding with the dynamic Histoire du Tango gives the listener a dramatic and emotional tableau of memorable playing by Duo Aeternica. My only criticism of these last four gems is that the fast sections in each of the movements, but most discernibly in "Café 1930" and "Night Club 1960," are too fast for my taste. Some of the beautiful tone quality is lost and the technique is not as clean at the chosen tempos.
This is an entertaining recording and I thoroughly enjoyed listening it. Duo Aeternica is to be commended for their fine performances. Highly recommended as a nice addition to any music library.
– Lori Ardovino
---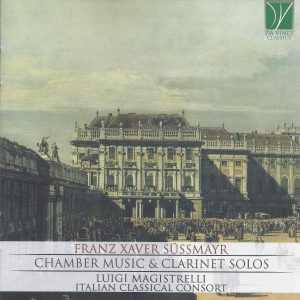 Franz Xaver Süssmayr: Chamber Music and Clarinet Solos. Luigi Magistrelli, clarinet; Margherita Tomasi, soprano; Italian Classical Consort: Cristina Romano, clarinet; Helmut Nill, voice; Alberto Malazzi, piano; Sergio Del Mastro, piano; Elena Cecconi, flute; Francesco Biraghi, guitar; Giacomo Orlandi, violin; Gian Battista Pianezzola, viola; Eliszabetta Soresina, cello. F. Süssmayr: Concerto in D Major for clarinet; Quintet in D Major for flute, clarinet, violin, viola and cello; Trio Serenata for flute, basset horn and viola; Three Arias from the Opera "Der Spiegel von Arkadien" for two clarinets and cello (arr. by L. Magistrelli); Aria from "Der Retter im Gefar" for clarinet and piano; Rondo Aria No. 16 from "Der Wildfang" for soprano, basset horn and piano; Quintet in C Major for guitar, clarinet, violin, viola and cello; Solo Clarinet Part from "Phasma," "Soliman der Zweite,"and "Die Edle Rachle." Da Vinci Classics C00039. Total time 78:53. Amazon and iTunes
Italian Serenades for Clarinet and Guitar. Luigi Magistrelli, clarinet; Bruno Giuffredi, guitar. F. Gragnani: Duo; N. Paganini/A. Amore: Serenade; R. Cuboni: Theme and Variations; A. Nava: Duo No. 3; M. Giuliani: Serenade, Op. 127; M. Barbi: Five Little Notturni; F. Carulli: Notturno; G. Rossini/A. Amore: Tarantella. Gallo CD-1525. Total time 64:28. Amazon and iTunes
Luigi Magistrelli was a busy clarinetist this past year, turning out two recordings of interesting and little-known repertoire.
Franz Xaver Süssmayr: Chamber Music and Clarinet Solos presents a variety of solo and chamber music pieces from this 18th-century Viennese composer who is famously known for finishing Mozart's Requiem. While perhaps Süssmayr's works are not in the lofty company of the iconic Mozart (whose are?), they are nonetheless attractive in character with the shorter pieces excelling in their tunefulness.
According to Magistrelli's own liner notes, he is the proud owner of over 260 clarinets of all sizes. The clarinet nerd in me wishes that the liner notes had also indicated the makers, key systems and pitch levels of the recorded instruments. One senses the faithfulness to the style of the period through the piano tone, absence of vibrato in the strings and the occasional cross-fingering transparency in the clarinet. That said, the disc has an engaging sonic freshness, with ideal balances and the attractive feeling of "going for it." All performers come across as confidently playing to the room.
Süssmayr's Concerto from 1791-92 comes on the heels of the Mozart Concerto and is apparently a work that Mozart encouraged him to write for Stadler and his basset clarinet. Unfortunately, only two different, unfinished versions of the first movement have survived. This disc features the version finished by Michael Freyhan, a faculty member of the Royal Academy of Music in London. Displaying a textural and stylistic variety wholly consistent with its classical roots, the Allegro movement presents technical and range challenges (altissimo C!) at a level even above that of our beloved Mozart. Magistrelli dispatches all with great panache; for me this is the highlight of the disc. One wishes for the other two movements!
Quintet in D Major for flute, C clarinet, violin, viola and cello was originally written for an oboe in place of the clarinet. Given the 18th century's tradition of oboists frequently doubling on clarinet, however, Magistrelli makes the valid case for this instrument substitution. Although the C clarinet does get frequent turns at the top musical line, mostly it is subservient to the violin and flute. The light and humorous style makes for a serenade-like character and easy listening.
Trio Serenata for flute, basset horn and viola originally employed a natural horn in place of the basset horn. Magistrelli's use of the basset horn seems less successful in my view, bringing with it some low register pitch issues not present anywhere else on the disc. Süssmayr's writing in this work often sounds thin, making one feel as if there's another instrument needed to flesh it all out.
Three arias from the opera Der Spiegel von Arkadien (originally for three basset horns) are here arranged for two clarinets and cello, which works nicely. The similarity of timbre works to fine effect and one has an impressive view of Süssmayr's attractive operatic writing.
The "Aria" from Der Retter im Gefar frames a long clarinet obbligato that alternates between lyrical and challenging technical passages, but the clarinet mostly plays a decorative role throughout.
Süssmayr's Rondo "Aria No. 16" from Der Wildfang receives a heartfelt delivery by soprano Margherita Tomasi with the sensitive support of her duet partner, the basset horn. Not merely accompanying, the basset horn part has some real virtuosic material to navigate.
Quintet in C Major for guitar, C clarinet, violin, viola and cello is a four-movement work of some length (c. 14-15 minutes). The use of the guitar seems rather unusual and in the tutti sections it mostly disappears, playing an almost harpsichord-like continuo role. This quintet is a piece of gentle sensibilities and reflective emotions.
This Süssmayr recording showcases a worthy and varied repertoire mostly unknown to clarinetists these days. Magistrelli has invested a considerable amount of time and energy getting these arrangements accomplished, borrowing music from libraries and engaging the performers to produce this fine disc. He is commended for showing us these Süssmayr rarities and for playing in such a continuously high and engaging manner. A highly recommended disc.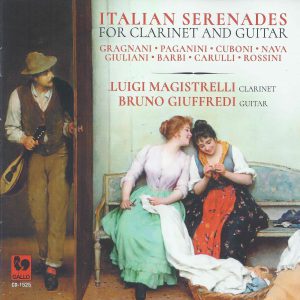 Italian Serenades for Clarinet and Guitar features music for clarinet and guitar by eight composers of the early and mid-19th century. As was common in that period, clarinet was perhaps not the composer's first choice of instrument (more often violin or flute), but it nonetheless makes a worthy and musical substitute. Luigi Magistrelli and his guitarist Bruno Giuffredi make a marvelous duo – always on the same page musically with impeccable tuning and balance. The room seems highly simpatico for these two instruments, and I doubt that hearing them live would be as attractive as this perfect recording. Both the intimacy of these instruments and the nature of so much of the recorded material – unabashed tunefulness – create an ambience of serenade-like comfort. One might think that a plucked string instrument and a sustaining woodwind would not make a matched duo, but Magistrelli has an impressive lightness to his staccato (even in the third register on a C clarinet) that fits nicely with the guitar.
Magistrelli has a magician's ability to make all of his instruments (German system, by the way) seem to be cut from the same tonal cloth, regardless of whether he's playing instruments in C, B-flat or A. Notably the B-flat and A instruments, apparently inherited from Dieter Klöcker, share that German master's engagingly centered and vibrant tone in Magistrelli's hands.
With titles like Duo, Serenade, Theme and Variations, Notturni and Tarantella, there is a kind of stylistic sameness to the various pieces on this disc, perhaps driven by the intimate nature of the clarinet and guitar duo, but also reflective of the character that these two instruments would inspire. That said, seven of the eight works are labeled "world-premiere recording," and if one were looking for a change of repertoire diet, or a nice encore, this is a fine place to start. We need to thank Magistrelli for making us aware of this beautiful music. Now if we could only play clarinet as well as Luigi!
– Howard Klug
---