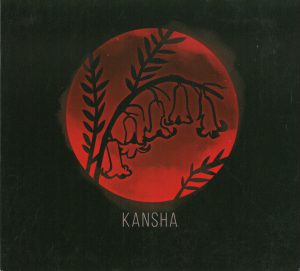 Kansha 
Melanie Yamada, clarinet; Darin Miyashiro, koto; Joanna Morrison-Pernela, cello; Michael W. Perry, narrator; Maya Bertosa, narrator; Mariko Furukawa, piano. N. McKay: Soundprints, Variations for clarinet and koto; S. Richards (arr.): Japanese Folksongs for clarinet and piano; T. Kudo: Wooden for clarinet and piano, Another Time and Place for solo clarinet; Y. Fukuda: Sakura Song-Five for clarinet quintet; Y. Kitamura: The Journey of Momotaro for clarinet, cello, piano and narrator (English and Japanese language versions). Equilibrium Recordings EQ129. Total time 58:35. Equilibrium
Clarinetist Melanie Yamada and pianist Mariko Furukawa present a lovely and varied collection of music in their new album Kansha. The title of the disc refers to appreciation or gratitude. Yamada reveals her personal connections to several pieces in the informative but brief program notes, so Kansha is a fitting title. Especially notable are the final two compositions that were commissioned by and written for Yamada.
Yamada is the second and bass clarinetist of the Oregon Ballet Theatre Orchestra and acting third and bass clarinet with the Hawaii Symphony Orchestra. Furukawa has served as a collaborative pianist at the Aspen Music Festival and the Kita-Karuizawa Music Festival, and serves on the faculty at SUNY Purchase College.
The album opens with a "musical representation of East and West" in McKay's Soundprints, Variations for clarinet and koto. The blend between these two instruments is distinctive and beautiful – especially during the presentation of the theme in unison. Four contrasting variations follow. The second variation is striking as it is played with the mouthpiece on the clarinet's lower joint. The fourth variation is exceptionally convincing with its jazzy character and vibrant rhythms.
Scott Richard's arrangements of four Japanese folk songs showcase Yamada's beautiful phrasing and tone. "Flowers of Patience" begins simply with a large expressive leap that unfolds gracefully with flashy passagework. "Red Dragonfly" features a delicate and contemplative melody. "Spring Song" brought Mozart's Sehnsucht nach dem Frühling (Yearning for Spring), K. 596, to mind with its large melodic leaps and flowing line. "Waiting in Vain" is lively with a folk-like quality. Yamada navigates the rhythmic passagework with great precision and the musical dialogue between the collaborators is well-planned and sensitive.
According to the liner notes, Takeo Kudo's title, Wooden for clarinet and piano, refers to his "attraction to the sound quality of the clarinet," as well as a reference to the "art of bonsai" and the "dynamic between simplicity and complexity." The piece opens with a slow and reflective theme. Yamada and Fukuda brilliantly pass off the melodic lines as well as the intricate rhythmic motives.
Sakura Song-Five is a beautiful transcription of a piece originally written for the 2012 All-Japan Band Competition. It is instantly accessible and has a jazzy character at times. The quintet plays with an incredible depth of tone, contrasting dynamics, and lyrical phrasing. There were a few intonation inconsistencies, but the performance is effective overall.
The album concludes with two works commissioned by Yamada. Another Time and Place for solo clarinet was inspired by Yamada's memories of her grandfather. The opening two-note ascending motive sets the meditative tone of the piece, and the composer notes that the work draws from his experiences with the Japanese bamboo flute. The lyrical middle section and its changes in tonal color are striking. Yamada deftly navigates the wide intervals and technical demands. I especially like the crisp and perky quality she achieves in the articulated passages in the upper register.
The Journey of Momotaro is the album's most charming piece. A narrator tells the story of a hero from Japanese folklore, Momotaro (the Peach Boy), and his newfound companions: a dog, a monkey and a pheasant bird. The piece opens with a romantic theme in the cello that is followed by motives that reflect the story, including the Momotaro motive which makes a subtle reference to Cherubino's "Voi che sapete" from Le Nozze di Figaro. This motive returns at the end of the piece before a bright and joyous conclusion. The performers present a polished and committed performance that allows the story to unfold naturally. A second version of the piece is included with narration in Japanese. It is interesting to note that the work can be performed with or without narration.
Kansha is a delightful recording that introduces new works for the clarinet and explores unique tone colors. I look forward to hearing more from these performers.
– Justin Stanley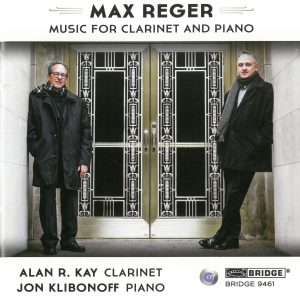 Max Reger: Music for Clarinet and Piano
Alan R. Kay, clarinet; Jon Klibonoff, piano. M. Reger: Albumblatt, WoO II/13; Sonata in A-flat Major, Op. 49, No. 1; Sonata in F-sharp Minor, Op. 49, No. 2; Sonata in B-flat Major, Op. 107; Tarantelle, WoO II/12. Bridge Records BRIDGE 9461. Total time: 71:58. Bridge Records
This new CD of the works of Max Reger is clearly a monumental new compact disc. Encompassing five works for clarinet and piano by the German Romantic composer, and containing over 70 minutes of music, this recording clearly took great tenacity and dedication to produce. The works on this recording are deeply moving and obviously required a great deal of thought and preparation.
The recording opens with a lovely Albumblatt (Album Leaf) for clarinet and piano. The duo creates a lovely blend and has a wonderful interpretation of this charming two-minute work. Kay and Klibonoff create a flowing and relaxing feel. The audio quality is balanced and well-defined.
Next up are the three sonatas. Unlike the first work, the interpretive style of these sonatas seems conservative for my taste and would benefit from greater extremes in regard to dynamic contrast and shaping. There are, however, some incredibly beautiful moments created by the duo during these three sonatas.
The Sonata No. 1 in A-flat major shows the duo's pristine intonation. The first movement is beautifully expressive in the opening moments. However, this seems to vanish as the work unfolds. Tempo choices seem slow at times, leaving Reger's writing yearning for more push and pull of tempo. Balance is excellent in the second movement, but I would have loved a more coaxing lusingando feel in the latter part of the movement.
The Sonata in F-sharp Minor is in my opinion the most challenging musically and emotionally. Unlike the first sonata, this work seems to be less melodic and tends to wander. Kay seems to be searching for dynamic contrast in the forte sections, but his approach does not seem to match rhythmically or tonally with Klibonhoff. The challenge of phrasing and Reger's wandering style is difficult to interpret and the group seems to fall short of meeting this demand. Kay, however, does deliver an impassioned performance with great conviction.
The Sonata in B-flat is probably the most-often performed and has a beautiful spiritual quality. The group captures this wonderfully in the chorale-like sections of the opening Moderato movement. At times, however, the work seems to drag and the tempos seem slower than the composer's indications, which compromises the flow necessary to keep the work moving. Kay plays with the most dynamic control in this sonata, but an airy sound occasionally creeps into the pianissimo sections that detracts from his sensitive interpretation. The work ends with a Vivace movement that the duo captures with a graceful and elegant approach.
Closing out the recording is another of Reger's short clarinet works, Tarantella for clarinet and piano. I would have loved this whirling movement to have a little more speed and rapidity. The overall interpretation is convincing, but for me, this tempo lacks the excitement of a true tarantella.
With this recording comes a booklet with well-written program notes by Kay that are both personal and thoughtful. Overall this is a fine disc with wonderful moments and great music.
– Robert DiLutis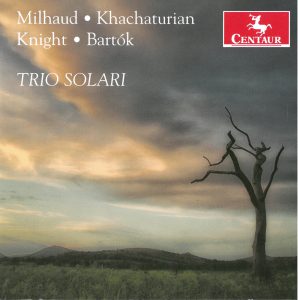 Trio Solari
Sean Yung-Hsiang Wang, violin; Chad Burrow, clarinet; Amy I-Lin Cheng, piano. D. Milhaud: Suite for Violin, Clarinet and Piano, Op. 157b; A. Khachaturian: Trio for Clarinet, Violin and Piano in G Minor; E. Knight: Sea of Grass, Ocean of Sky; B. Bartók: Contrasts. Centaur Records CRC 3485. Total time: 69:23. HBDirect
The self-titled compact disc Trio Solari contains three of the most popular works for clarinet, violin and piano: Milhaud, Khachaturian and Bartók, as well as one commissioned work, Sea of Grass, Ocean of Sky by the composer Edward Knight. My initial impression of this disc is that it is one of most beautiful, pure and clean recordings I have reviewed over the past fifteen years. The ensemble is tight, clear and blends well to perfection resulting in performances that are expressive and filled with beautiful colors and textures.
The opening work is the Suite for Violin, Clarinet and Piano, Op. 157b by Darius Milhaud. From the very first notes of the piece, the members of the trio play with great joy and exuberance setting a light and playful mood for the piece. A critic stated that the ensemble "speaks with one multi-colored voice rather than as three individuals." This was precisely my impression as I listened to the piece. The ensemble moves through each line with perfect precision as each member moves effortlessly from foreground to background, allowing melodic material to be heard easily without any sense of pushing or strain. The recording quality is really outstanding as well, with a nice natural airy feel without any sense of being overedited or manipulated.
The Aram Khachaturian Trio is the second work. As with the Milhaud, one is immediately drawn into the performance and the wonderful sense of ensemble and color. Each performer has opportunities to be featured and brings an expressive voice with great character and purity of sound. The clarinetist, Chad Burrow, plays with great sensitivity and beauty, and manages to maintain what I would consider the perfect clarinet tone throughout the performance, and the entire recording.
Part of Trio Solari's mission is to perform and commission new works for violin, clarinet and piano. The third piece on this disc, Edward Knight's Sea of Grass, Ocean of Sky, was commissioned by the trio. They requested the composer to write an expansive, lyrical piece with strong American roots. The work is tonal and contains many opportunities for the individual musicians to show their ability to play with virtuosity and great expression. Knight does a great job capturing the spirits and sounds of mid-America. This piece is a wonderful addition to the repertoire and provides a fresh contrast to the styles and characters of the traditional repertoire for this ensemble.
The CD concludes with Bartok's Contrasts. One often hears renditions of this piece, both live and recorded, which are intentionally rustic and unrefined. This is not the case here. Although some might think a performance would lack something without this aggressive and stylistic approach, I was drawn in by the precision and clarity of this interpretation. One is able to hear clearly the relationships and interaction of lines, which is refreshingly compelling. It the most beautiful performance of this piece that I have heard, which in itself makes it unique and different than other recordings currently available. The performers still played with great energy, contrast and flair, but never pushed their sounds beyond their natural capacity.
Whether one listens to this recording to enjoy the great performances or to study and learn these pieces for the first time, I think this disc should definitely be included in any clarinet library. Chad Burrow provides a great performance which shows great mastery of tone, technique and musical sensitivity. I look forward to hearing Trio Solari's next recording project.
– David Shea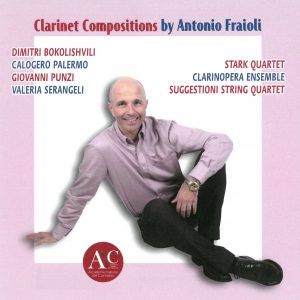 Clarinet Compositions by Antonio Fraioli
Giovanni Punzi, clarinet; Calogero Palermo, clarinet; Valeria Serangeli, clarinet; Dimitri Bokolishvili, clarinet; Stark Quartet; Clarinopera Ensemble; Suggestioni String Quartet. A. Fraioli: My Funny Paola for clarinet and clarinet choir; Quattro Pezzi for clarinet solo; Suggestioni for clarinet and string quartet; Rhythm Changes for clarinet solo; Playing Together for clarinet quartet. Accademia Italiana del Clarinetto AIC009. Total time: 51:24. GDE Edizioni Musicali
Italian clarinetist and composer Antonio Fraioli's compilation presents works that seamlessly merge classical traditions with modern jazz styles. Educated in the Italian conservatory tradition, Fraioli has performed in Germany, Austria, Spain, Portugal, Belgium, Netherlands, Poland, the United States and Canada, and his compositions have been recorded and performed around the world. In addition, Fraioli is also professor of music for wind ensembles at the Giuseppe Martucci Conservatoire in Salerno.
Throughout, the music captures the listener's ear, playfully dancing between serious technicality and artful twists. The opening work, My Funny Paola for clarinet and clarinet choir, features the impeccable musicianship of Calogero Palermo, principal clarinet of the Royal Concertgebouw Orchestra, with the Clarinopera Ensemble. Working seamlessly as soloist and ensemble, the musicians present a unified approach to a humorous work, deftly navigating technical passages with ease while maintaining individuality within the numerous solo sections. The fullness of the ensemble is evident throughout, as a richness of tone emanates from the E-flat soprano through the contrabass clarinet. Intonation and artistry is to be commended.
Quattro Pezzi for clarinet solo is nimbly performed by Giovanni Punzi, principal clarinet of the Copenhagen Philharmonic. Each of the four pieces (Allegro, Andante con liberate, Vivace, and Vigoroso) contains rich musical ideas, and the movements could be performed as a set or as individually. Strong technical and musical skills are on display, as the technicality rivals challenging etudes. Throughout, the listener is drawn to a cohesive musical line, woven into demanding technical passages.
Suggestioni for clarinet and string quartet is a departure in tone from the other works on this disc. Opening with a Bartók-like riff, the assertiveness of the string quartet is intertwined with a jazz-influenced clarinet line. The result is a striking crossover sound, distinctly post-modern, drawing in aficionados of the genre as well as casual listeners. The performance of Valeria Serangeli – principal clarinet of the Carlo Felice Theatre Orchestra in Genoa – and the Suggestioni String Quartet is one of balanced musicianship and cohesive ensemble playing.
Dimitri Bokolishvili, principal clarinet of the Tbilisi State Opera, tackles the humor and technicality of Rhythm Changes for Clarinet with aplomb. Jazz quotes are highlighted without sounding trite, and challenging passages are executed with grace and style. Simply, Bokolishvili's performance sounds effortless, belying the inherent difficulty level presented in this composition.
Calling upon outside influences, Playing Together for clarinet quartet is a compilation of disparate ideas. The Stark Quartet handles the mood of these contrasting movements commendably, which are titled: "Take the Cavallini Caprices," "Ballad for Four," "Along the Way" and "Italy/U.S.A./Italy." While each stands well alone, the connection between movement titles is not evident, and a program note could alleviate this confusion. In addition, while the playing is technically solid, the recording quality makes for challenging listening due to unbalanced levels and microphone placements that do not flatter the clarinet.
Fraioli's knowledge of the clarinet and love for modern musical styles is evident throughout this disc. He effortlessly blends technicality with unexpected twists in the musical line to produce music that is fresh, appealing and novel. Any of these pieces would be an excellent addition to a recital, and the liner notes include publisher information. This compilation would be a worthy addition to the serious clarinetist's collection.
– Michelle Kiec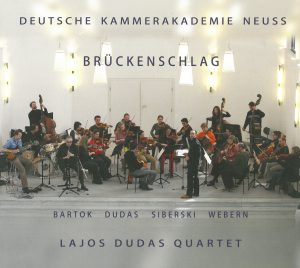 Brückenshlag
Lajos Dudas, clarinet; Philipp van Endert, guitar; Martin Gjakonovski, bass; Kurt Billker, drums; German Chamber Academy conducted by Leo Siberski. A. Webern: Five Sets for String Orchestra, Op. 5; L. Dudas: Three Intermezzi and Balletmusic in Four Sets for jazz clarinet and string orchestra; B. Bartók/L. Dudas: Hungarian Pictures. Jazzsick Records 5088 JS. Total time: 46:52. Jazz Sick
This live recording is one of the most recent offerings of German-Hungarian jazz clarinetist Lajos Dudas, recorded in conjunction with the Deutsche Kammerakademie Neuss and German conductor Leo Siberski. All the tracks found on this disc were recorded in one night, at a wonderful performance in the Zeughaus concert venue in Neuss, Germany, in April 2005. The final editing took place some ten years later in 2015, culminating in this 2016 release on the JazzSick label. The compact disc's translated title, 'bridging,' hints at Dudas's aesthetic intentions with this recording. German and English translations describe the interplay between jazz and classical idioms that are highlighted by placing the likes of Anton Webern, Béla Bartók and Dudas's own compositions in such close proximity.
The first eight tracks comprise a back-and-forth between an original composition of Dudas's titled Three Intermezzi inserted between the movements of the Webern Five Sets for String Orchestra, Op. 5. Dudas's composition is subtle and ethereal at times and rousing with improvisatory energy at other times, while the Webern deeply contrasts with serial poise and reservation. These works differ greatly as they are rooted in entirely different idioms. The juxtaposition is certainly unique, but leaves questions of whether Webern would have intended such use of the various movements of his music. This consideration aside, the performances were very well prepared, energetic and were faithful representations of the compositions.
The recording continues with a loose adaptation of Bartók's Hungarian Pictures. The translated liner notes discuss the distant relation to the original composition, noting to listeners that "the concern here is with the fundamental affinity between folklore and jazz." Dudas shines in this piece, paving the way for several other soloists and for the orchestra in general. The final track is another Dudas composition titled Ballet Music in Four Sets. At this point in the compact disc the listener is well prepared for Dudas's compositional versatility. The players also seem to have relaxed and are playing at their very best. The orchestra's teamwork with Dudas is exceptional, as they never overpower his playing and make diligent efforts to match style with the soloist. Despite the 11 years since the concert, Dudas, Siberski, and all the involved orchestral musicians deserve another round of applause!
– Joel Auringer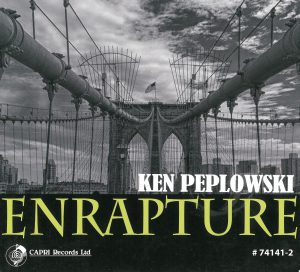 Enrapture
Ken Peplowski, clarinet; Ehud Asherie, piano; Martin Wind, bass; Matt Wilson, drums and percussion. D. Ellington: The Flaming Sword; H. Warren/L. McCarey/H. Adamson: An Affair to Remember; J. Lennon/Y. Ono: Oh, My Love; L. Bricusse/A. Newley: Cheer Up, Charlie; N. Coward: I'll Follow My Secret Heart; H. Nichols: Enrapture; P. Erskine: Twelve; B. Herrmann: Vertigo Scene D'Amour/Madeleine; B. Manilow/J. Mercer: When October Goes; T. Waller/A. Razaf: Willow Tree. Capri Records 74141-2. Total time: 53:00. Capri Records
I have always enjoyed listening to and reviewing recordings by new artists; however, there is something extremely satisfying when I have the opportunity to follow the journey of an acknowledged master over a long period of time. I first met and heard Ken Peplowski perform during the mid-1980s. I've been able to follow his career and growth as a musician since that time. Peplowski is one of the top clarinetists in jazz today. He has recorded more than 50 compact discs as a soloist, and has appeared on hundreds as a sideman. Often viewed as a swing or mainstream player in the tradition of Benny Goodman, I see Peplowski as much more. He has an individual sound and style on both clarinet and tenor saxophone.
Enrapture features Peplowski with a superb quartet. Almost every tune was recorded in one take. The spontaneity and relaxation of a live performance was definitely captured during this recording. It is obvious these musicians listen to and support each other throughout this very satisfying recording.
The repertoire is quite diverse, including compositions by Duke Ellington, John Lennon and Fats Waller, along with two tunes from Bernard Herrmann's score to the Alfred Hitchcock classic Vertigo. The individual compositions are noteworthy, but the variety and sequencing of these songs contribute greatly to the success of the entire recording.
The first tune is an upbeat, calypso-inspired rendition of Duke Ellington's "The Flaming Sword." The title track, "Enrapture," which interestingly has never been recorded, is a perfect vehicle to highlight Peplowski's incredible clarinet mastery and technique. Another tune that grabbed my attention was "Twelve." It is a 12-tone original, based on the changes of "Easy to Love." In addition, there are a variety of intimate ballads performed on clarinet and tenor saxophone. Many of these tunes are rarely performed in the jazz setting. This forced me as a listener to hear these songs in a new way, which I found quite interesting.
It is clear that Peplowski has the utmost respect for melody and swing. He has stated: "I care deeply about these songs and hope I've successfully conveyed that to the listeners." Mission accomplished, Ken! Highly recommended.
– Randy Salman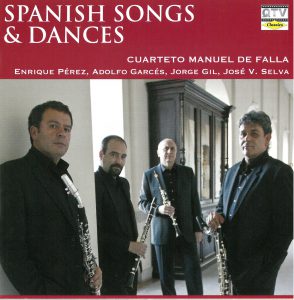 Spanish Songs & Dances
Cuarteto Manuel de Falla: Enrique Pérez Piquer, Adolfo Garcés Sauri, Jorge Gil, José Vicente Selva, clarinets. M. de Falla: Fantasía sobre "El Amor Brujo"; Suite de danzas; J. Turina: La oración del torero; I. Albéniz: Cádiz; Granada; Cuba; Asturias; E. Granados: Piezas escogidas. QTV Classics QTV 008. Total time: 73:00. QTV Classics
Spanish Songs & Dances is a set of works by Spanish composers transcribed for clarinet quartet by quartet members Adolfo Garcés and Jorge Gil. The Manuel de Falla Quartet has been performing together for 20 years, and this recording was made to commemorate their anniversary. The works represent the period of Spanish musical nationalism from the end of the 19th and early 20th century, and are clearly described in the compact disc's liner notes. Most of the works on this recording have not yet been published as clarinet quartet arrangements, so these are a potential addition to the repertoire in the future.
Half of the recording consists of works by Manuel de Falla and many of them are derived from the ballet El Amor Brujo. The "Ritual Fire Dance" arrangement is a stand-out. The performance is appropriately fiery and the quartet's virtuosity is apparent as they seamlessly trade the melodic lines. The "Dance of the Game of Love" is another effective arrangement. While each instrument is well represented, the work especially features the abilities of the quartet's bass clarinetist, José Vicente Selva. Four movements from Isaac Albéniz's Suite Española (Spanish Suite) are included, and movement four, "Cádiz," sounds like it would be great fun to play. Movement one, "Granada," shows off the group's lyrical abilities and some wonderful low clarinet playing. Danza Española No. 5 "Andaluza" by Enrique Granados is rhythmically striking to the listener, and the syncopated writing adds to the upbeat quality of the work. Through the use of styles such as the habanera, pasodoble, and flamenco, the recording's works represent many of the musical traditions native to Spain.
The Manuel de Falla Quartet is an established and seasoned chamber group with nearly impeccable blend and balance. Mimicking the lightness and buoyancy of guitar music and Spanish dance is not easy, but this quartet makes it sounds effortless. It is exciting to hear an ensemble that is so well-rehearsed and focused on nuance. The quartet plays with great sensitivity and virtuosic flair. Upon listening, I heard opportunities, especially in the first three tracks of the recording, where the quartet could have done even more to vary their interpretation of repetitive writing or to simply make the performance more captivating. There are also moments in the second track where the intonation between the bass clarinet and the soprano clarinets is flawed. It is a passage at the beginning of the movement; each time it is repeated the bass clarinet is always sharp to the soprano clarinets. As the intonation on all of the other tracks is nearly perfect, it was surprising.
This is a great recording by an experienced chamber ensemble representing works not usually performed by clarinet quartets. Each member is clearly a virtuoso performer. As far as I can find, the arrangements have not been published and I highly encourage them to do so. Many clarinetists would enjoy playing these works, and publication would help further the quartet's mission to "enrich the repertoire of the clarinet."
– Amanda McCandless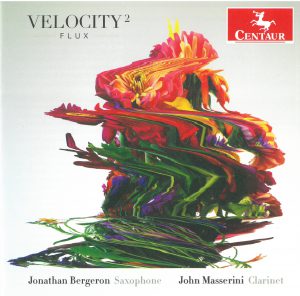 Velocity2
John Masserini, clarinet; Jonathan Bergeron, saxophone; Brian Lockard, piano. G. Wanamaker: Duo Sonata; M. Karl Maroney: Chamæleon II; B. Reiprich: A Necklace of Dew; I. Iachimciuc: Fishing Day; W. Albright: Pit Band. Centaur Records CRC 3349. Total time 52:14. Centaur Records
Velocity² presents a collection of modern works for clarinet and saxophone on their debut CD, Flux. John Masserini (clarinets) and Jonathan Bergeron (saxophones) highlight an eclectic mix of 20th-and 21st-century works for this sometimes overlooked instrumentation. Masserini and Bergeron both serve on the faculty of the University of Northern Arizona and performed together at ClarinetFest® 2012 as Velocity2. While their instrumentation includes a few works that have transitioned into our core repertoire – including Lee Hyla's We Speak Etruscan and Roseanne Etezady's Glint, as well as the William Albright work featured on this album, Pitband – there is not a large body of repertoire in place for this ensemble. This lack of repertoire and the nature of the wind duo instrumentation presents a programming challenge that the group overcomes through their use of electronics and effects pedals.
Gregory Wanamaker's Duo Sonata, written in 2002, strikes the listener with driving chromatic 16th-note passages in the first movement. The group shows their technical facility as well as their ability to shape phrases within the "Elegy." They navigate a large stylistic gambit, from the pseudo-minimalism of the "Scherzo" to the last movement's strange groove.
The album's title track Flux presents a sonic world similar to the Davidovsky Synchronisms. Glenn Hackbarth's electronics use synthesized effects to act almost as a trio partner to the duo's intersecting lines. In the liner notes, Hackbarth explains his use of electronics as "the continual evolution of a short rhythmic figure which remains, therefore, constantly in flux; constantly redefining its contextual identity." These passages in the beginning build an anxious, frenetic character that skulks through the work and builds as the clarinet and saxophone interact in this conversational manner.
Chamæleon II by Marcus Karl Maroney uses the instrumentation in a similar manner to the Wanamaker; the four-movement work features some of the same chromatic duo flourishes and the same driving rhythm in the second and fourth movements. The work, described by Maroney as "akin to a 'mini-symphony'" highlights the ability of Velocity² to generate excitement within these rhythmic motors.
Written for Masserini and Bergeron, Bruce Reiprich's A Necklace of Dew employs effects pedals to generate hip distorted sounds, allowing the duo to create thicker textures and to reach outside of their previous sound palate. The gestural figures combine to play the two off of each other, and the pedals to build large stacked harmony behind the oscillating lines, juxtaposing this against the distorted sounds. The variety and grittiness of this track compared to the previous tracks allows the album as a whole to open up again.
Igor Iachimciuc's Fishing Day is a quirky and somewhat goofy work. Iachimciuc illustrates a scene from his childhood journeying to fish. He describes this experience as his escape from reality. The group brings a capriciousness to the work that emphasizes the work's programmatic imagery.
The last track on the album, William Albright's Pit Band, features Masserini on bass clarinet, Bergeron on alto saxophone and Brian Lockard on piano. It is the oldest work on the album (written in 1994), and Albright creates a smoky lounge atmosphere with the programmatic "pick-up" band performing self-described "musical comedy in a few minutes." The trio plays up the schmaltzier moments and seems to intentionally emphasize the awkwardness of the tuning and introduction sections.
The album taken as a whole offers a wide variety of resources for clarinetists interested in this instrumentation, with many works that easily stand on their own. The album might not have flowed quite as well in another order. The use of electronics to augment and transform the instrumentation makes the album successful from a programming perspective. Masserini and Bergeron have taken care to highlight their instrumentation's strengths and created a valuable listening experience.
– Ford Fourqueran