Originally published in The Clarinet 48/3 (June 2021). Printed copies of The Clarinet are available for ICA members.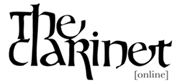 ---
Audio Reviews: June 2021
Listen to the majority of these recordings in the ICA June Reviews Spotify Playlist!
---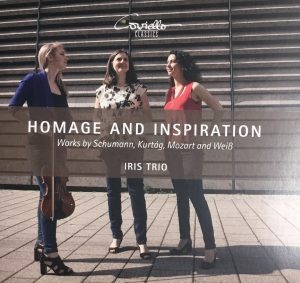 Homage and Inspiration: Works by Schumann, Kurtág, and Weiß. Iris Trio: Christine Carter, clarinet; Molly Carr, viola; Anna Petrova, piano. R. Schumann: Märchenerzählugen, Op. 132; G. Kurtág: Homage á Robert Schumann, Op. 15d; W.A. Mozart: Trio in Eb Major "Kegelstatt" K. 498; C. Weiß: Drittes Klaviertrio für Klarinette, Viola, und Klavier "Gespräch unter Freunden." Coviello Classics, LC 12403. Total Time: 62:46.
Iris Trio skillfully pairs classics and contemporary music in their album Homage and Inspiration. Comprised of clarinetist Christine Carter, violist Molly Carr, and pianist Anna Petrov, Iris Trio debuted in 2013 in concert at the German Consulate in New York City; a multi-country concert tour and collaboration with Christof Weiß furnished inspiration and impetus for this album. Liner notes in English and German provide descriptive program notes, detailed performer bios and insight into the creative process.
Talented soloists in their own right, the interplay and musical collaboration of Iris Trio shine brightly. Lines weave into unified constructs that highlight timbral nuances. Seamless melodies combine with impeccably balanced tutti passages. Intense musicality reigns throughout, with luminous depth of resonant tone in all registers. Dynamics empower without shocking the senses. Simply, this disc by Iris Trio is immaculate in its musical and technical presentation, bringing forth depths of sound palettes for the listener's delight.
In the opening work, the time-honored Märchenerzählungen (Fairy Tales), Op. 132, by Robert Schumann, performers move seamlessly between foreground and background, as melodic lines are woven between instruments with unblemished intonation. Phrasing comes to light at every turn, highlighting the vocal quality of the work.
Harkening to the album's title, György Kurtág's Hommage à Robert Schumann, Op. 15d, pays tribute to the inspirational composer. It is crafted as six vignettes, and striking musicality is heard from the first note. Lines are meticulously phrased, with each performer adding expressive nuances. Musical stories unfold in every movement; the technique is flawless and intense musicality breathes life into the fragments.
The enduring "Kegelstatt" Trio in Eb Major, K. 498, by Mozart receives a fresh interpretation. Daring risks of phrasing and spotless ensemble artistry enliven the classical structure. The authoritative presentation is decisively infused with playful turns of musicality, aptly capturing the compositional spirit. Supreme technical command supports rubato that creates lyrical dynamism throughout the composition.
The Third Piano Trio (Conversation among Friends) by Christof Weiß demands exceptional virtuosity from performers both individually and collectively. Individual parts are complex, combining into a multi-tiered organized cacophony of sounds that evokes a conversation with each voice vying for attention. Intricate rhythms belie stark melodies, with rapid interplay of voices and contrasts of registration pushing the boundaries of performance. The exquisite collaboration of the Iris Trio comes to the forefront in the interpretation, as technique and musicality intertwine to present an enthralling performance. The interpretation and level of execution are exceptional.
Iris Trio's ability to blend superior technique with sensitive musicality comes to the forefront, as flawless intonation, resonant tone, and perfect balance brings these works to life. Iris Trio presents a compilation that beckons listeners to stay for a while and ask for more. This disc presents a strong recording, which hopefully preludes subsequent projects by the ensemble. This recording would be a welcome addition to any personal or public chamber music collection.
 – Michelle Kiec
---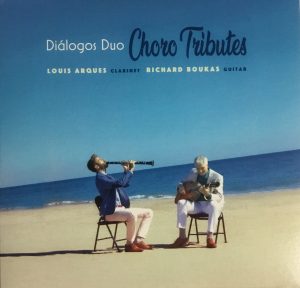 Choro Tributes. Diálogos Duo: Louis Arques, clarinet; Richard Boukas, guitar. R. Boukas: Não Diga Agora; Anacletozinho; Solstício de Verão; O Bandolim Sabe Tudo; Meu Violão é o Chorão; Manhoso; Requiem; Choro do Sol; Dois Irmãos no Céu; Sambando na Praia; Choro Sussuro; Som Livre. Self-published (available at https://boukas.com/dialogos-duo). Total Time: 51:58.
Choro Tributes consists of music written for clarinet and guitar exclusively by New-York-based guitarist and composer Richard Boukas. All the themes are original, and they are written in homage to famous Brazilian composers of both popular and academic music.
The idea of a CD for clarinet and guitar with music of popular styles is not new, but the fact that this CD features original works makes it quite appealing and pleasing. Clarinetist Louis Arques and Boukas form the ensemble Diálogos Duo.
Duos for clarinet and guitar are a complicated ensemble because of the inherent difficulties in intonation and balance in both instruments. Arques, a French-born clarinetist that lives in New York, is a well-seasoned clarinetist and rises to meet these challenges. There are no inconsistencies or discrepancies in intonation on this recording.
Arques's sound is very resonant throughout all registers and incorporates lots of vibrato, which is typical in Brazilian popular music. The vibrato was employed with elegance and charm at the beginning of the CD and seemed to become more fervent as the CD progressed. Arques seizes every opportunity to display his artistry, his solid technique, his abilities to produce sweltering melodies and his precise articulation. Noticeable was Arques's ability to control very soft altissimo notes as he did in Requiem, a work that pays tribute to Heitor Villa-Lobos. Close to the end of the CD Arques's sound was more relaxed and incorporated idiomatic pitch bends and ornamentations.
Boukas plays the guitar with deep sound and infallible technique. The role of the guitar was mostly accompanimental, but several times the guitar and the clarinet had small outbursts of music together. Boukas's work, Meu Violão e O Chorão (The Guitar is the Real Choro Musician), for solo guitar showcases his technical and lyrical command of the instrument.
The CD packaging is aesthetically pleasing and features pictures of the performers playing their instruments with the ocean in the background, as well as the titles of the tracks, technical recording information and a website (www.boukas.com/dialogos-duo). The website contains a wealth of information about the duo, program notes for each of the tracks on this album and many other resources. Boukas has generously made play-along tracks with click count offs available through the website or by contacting him directly.
The album has many beautiful musical moments of true musicianship and collaboration between these two wonderful players. It provides an excellent balance between fast, virtuosic dances and slow, lyrical dances, making it a delight to listen to from beginning to end. The CD is a successful example of an approach to popular music from musicians with a classical background instead of from a jazz background, which is what we seem to be more used to finding. The disc is highly recommended!
 – Jorge Montilla Moreno
---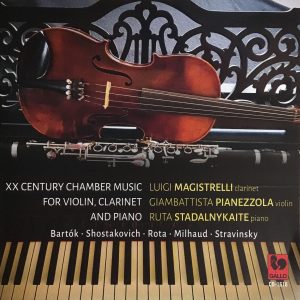 XX Century Chamber Music for Violin, Clarinet and Piano. Luigi Magistrelli, clarinet; Giambattista Pianezzola, violin; Ruta Stadalnykaite, piano. B. Bartók: Contrasts; D. Shostakovich (arr. Magisrelli): Five Pieces for Two Violins and Piano; N. Rota: Lo Spiritismo nella Vecchia Casa (The Spiritism in the Old House); D. Milhaud: Suite, Op. 157b; I. Stravinsky: Three Pieces for Clarinet Alone, L'Histoire du soldat. Gallo, CD 1616. Total Time: 67:01.
Clarinetist Luigi Magistrelli, assisted by violinist Giambattista Pianezzola and pianist Ruta Stadalnykaite, has produced a tremendous album of some of the greatest trio works for clarinet from the early 20th century. Béla Bartók's Contrasts and Igor Stravinsky's reduction of L'Histoire du soldat are each tour de force performances, and they alone make this album a worthy purchase. Darius Milhaud's Suite, Op. 157b, and Dmitri Shostakovich's Five Pieces for Two Violins and Piano – arranged for violin, clarinet and piano by Magistrelli himself – complete the trio offerings. Finally, serving as palate cleansers are two works for solo clarinet: Lo spiritismo nella vecchia casa (The Spiritism in the Old House) by Nino Rota and Stravinsky's Three Pieces.
Magistrelli recorded the album at Villa Borromeo's Aurora Hall in Cesano Maderno, Italy. The beautiful resonance of this space is most apparent in Contrasts. Pianezzola's opening pizzicato of "Verbunkos" vibrate beautifully before Magistrelli enters with the playful dance melody that defines much of the first movement material. Already, Magistrelli's technical mastery is on display as he sails through melismatic flourishes. In the second movement, his expressivity and clear, ringing tone shine, especially in the lower clarion and upper chalumeau registers. "Sebes," the third movement, is an impish dance with devilish harmonies, all of which are navigated lithely and energetically by the trio.
The next two works are the weakest on the album. Magistrelli writes in the liner notes that Shostakovich's Five Pieces are "easy, melodical with very charming tunes." These pieces are great to have in the repertoire; however, Magistrelli and Pianezzola do not always match their phrasing on this recording. For example, in the beginning of the second movement, a lively "Gavotte," Pianezzola easily bounces his way through his line. It is bright and upbeat and done naturally through variations in bow pressure and speed. Magistrelli subordinates the kind of energetic expressivity Pianezzola demonstrates in favor of playing the supportive "second fiddle."
Lo spiritismo nelle vecchia casa by Nino Rota is an enjoyable listening experience. Once again, the space works in Magistrelli's favor by giving him a resonant space to show off his pristine fifths and octaves in the beginning. The flourishes and singing lines found later in the work only underscore the vibrant life in his tone. This track is not without its flaw, however. The many hats Magistrelli has worn for this project (organizer, writer, arranger, audio engineer) show their strain in the briefest of moments wherein an audible cut is there for the discerning ear to notice.
Milhaud's Suite follows and shows a return to form for the trio. Here, the idiomatic eccentricities of clarinet and violin are exploited for maximum effect. Comparing the third movement "Jeu" to the earlier "Gavotte" by Shostakovich, Magistrelli is unleashed, matching Pianezzola's bouncing energy perfectly.
Completing the album is a set by Stravinsky. First, the Three Pieces for Clarinet Alone, and finally L'Histoire. While Magistrelli's Three Pieces are immaculate, particularly the second movement, there is so much to be celebrated in L'Histoire. Magistrelli's first movement altissimo rings out clearly and in perfect balance with the piano; Pianezzelo makes his double stops in the second movement sound easy; Stadalnykaite has a perfectly light touch in the runs of "Danse du Diable." Overall, there is a rawness to their performance that makes it as engaging as if it were being performed live. Any imperfections work in service to the music, in particular the occasional disagreements in intonation.
The issues present in this album are minor and should not detract from the highest levels of performance and recording acumen present in the trio works, particularly those by Bartók, Milhaud and Shostakovich.
 – Derek Emch
---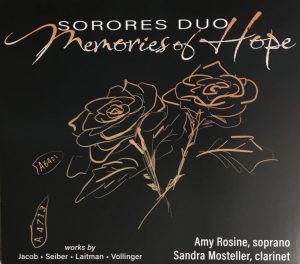 Memories of Hope. Sorores Duo: Sandra Mosteller, clarinet; Amy Rosine, soprano. G. Jacob: Three Songs; M. Seiber: Drei Morgensternlieder; L. Laitman: I Never Saw Another Butterfly; W. Vollinger: A Child in the Hole. Soundset Recordings, SR 1110. Total Time: 37:40.
Sorores Duo's debut album, Memories of Hope, demonstrates the unique sonorities, characters and colors that can be achieved with soprano and clarinet alone. Centered around the theme of children in the Holocaust, this collection of songs is full of extremely powerful moments that are treated with the utmost musical care.
Soprano and clarinet duos have traditionally been accompanied by piano. However, it is apparent in the first selection, Three Songs for Soprano and Clarinet by Gordon Jacob, that by utilizing ostinato in the clarinet, the lack of piano does not detract from the expansive and lush sound the duo achieves. Mosteller's sound, which is warm and clear in all registers, provides a luscious backdrop to the melodious soprano lines. The delicate bouncing style contrasted with long melodic dovetailing provides a unique, rich sonority. The balance between the voice and clarinet is expertly executed as if they are two hands at a piano.
In their second selection, Drei Morgenstern Lieder by Mátyás Seiber, Rosine and Mosteller demonstrate their technical clarity in some of the most enjoyable contrapuntal lines. Right out of the gate, their alignment of virtuosic lines and articulations are beautifully matched. Utilizing the clarinet sound again as an ostinato backdrop, Rosine soars through the tops of her phrases. Mosteller's clear and focused staccatos and tight grace notes create curious and playful phrases in the final movement.
I Never Saw Another Butterfly is a collection of art and poetry written by children who lived in the concentration camp Theresienstadt and was set to music by Lori Laitman in a piece by the same name. This touching piece has a contemplative quality that is reflected in the care the performers take with each phrase. Each movement, with its own challenges, is met head-on with their sensitive musicality, expressiveness and thoughtful treatment of the poetry.
Sorores Duo's greatest and most powerful strength in this album is their seamless movement between styles and characters. Within the album itself, the repertoire covers a large range of emotions and experiences, but nowhere more than in the last selection. A Child in The Hole, a narrative told from the point of view of a child in hiding in Nazi Germany, is haunting in its changes of style and character. With a stream-of-consciousness style, the performers travel through playful and child-like moments, klezmer-esque styles, desperation, desolation, and confusion that the child narrator is detailing. In the spirit of the narrative style, the piece has a naturally choppy feeling, however Rosine and Mosteller utilize the space and silence within the text to provide an even more powerful performance. They swiftly move between the different sections while maintaining their characteristically warm sound, clear articulation and soaring phrases. The duo leans deeply into these characters without hesitation, making the piece even more harrowing – particularly in playful moments when we, the listener, realize that this truly is a child suffering unthinkable living conditions.
Overall, Memories of Hope is an excellent collection of pieces that truly highlights the capabilities of this instrumentation. The elegant warmth of the clarinet is a perfect backdrop to the vibrant soprano lines. Sorores Duo's flexibility in style, character and colors make for several extremely emotional and musical impacts. Their sensitivity to balance and line demonstrate this is an instrumentation that should continue to be explored. It is my hope that Memories of Hope will pique interest in expanding repertoire for soprano and clarinet alone. This album is definitely worth the listen!
 – Sarah Manasreh
---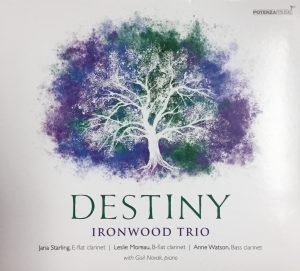 Destiny. Ironwood Trio: Jana Starling, Eb clarinet; Leslie Moreau, Bb clarinet; Anne Watson, bass clarinet; with Gail Novak, piano. T. Martin: Destiny; M. Wolfram: Spectral Shifts; A. Borodin (trans. Jeff Smallman): Trio in G Minor; D. Snow: Hasana Tanz (Wedding Dance); J. David: Fantasy Etudes, Book V; P. D'Rivera: "Habañera" from Aires Tropicales. G. Fauré (arr. Smallman): Allegro Vivo; J. Montilla: Ironwood Trio. Potenza Music, PM 1057. Total Time: 58:06.
The Ironwood Trio's album Destiny is a great representation of a variety of different time periods and styles of music available for the Eb, Bb and bass clarinet trio combination. The disc contains eight different works, many of which were commissioned by or transcribed specifically for the group. A through-composed commissioned work, Theresa Martin's Destiny has clear sections in which each instrument plays a special role. The listener is first struck with the brilliance of the ensemble sound. It is full and well-balanced, embracing the coloristic differences inherent in each instrument while also achieving seamless ensemble blend.
Each player brings out the juxtaposition between the angular, rhythmic melodies and vast lyrical lines present in Martin's style with a lovely, crystalline sound. Especially shining in this work is the strength, agility and colorful tone of Anne Watson on the bass clarinet. Heartfelt and clear, Watson jumps, dips, dives and sings throughout this piece as though it were written to feature her. Moreau's dark, liquid tone weaves through the fabric created by the bass and Eb clarinet. Starling's Eb playing is otherworldly, sounding at once like a natural extension of the Bb clarinet, but also possessing a razor-like precision in the most extreme registers.
A unique piece transcribed for the trio with piano by the composer, Spectral by Mark E. Wolfram is interesting because of the four movements, only one is for the trio together. Other movements are for each individual member and piano. Embracing both serial and traditional tonal techniques, the work was originally written for soloist and band. In the Bb solo movement the splendor and nuance of Moreau's phrasing is on display. Her virtuosic technique and sparkling tone quality allow her to dance through all registers. In the bass clarinet movement Watson's command of the instrument is affable, lending a conversational quality to her playing. Strikingly lovely in all areas, Watson uses her mastery to bring out the special qualities of the bass clarinet. The Eb clarinet movement perfectly displays Starling's rich lower register and diamond-cored altissimo while dancing through playful melodies that allow for stylistic expression. Her phrasing while executing traditionally awkward intervals puts the spotlight on her well-developed musicianship. The real crown jewel of this work is the final movement in which the trio plays close harmonies broken only by dovetailing melodies that further display their gorgeous ensemble sound and highlight the technical virtuosity of the individual players through the rhythmic, tight motives.
The Borodin Trio in G Minor transcribed by Jeff Smallman was originally a string trio. Starling's articulation is particularly impressive here, while the bass and Bb clarinets show off serious technical skill in zooming around from one register to the next. As with any transcription there are moments that don't quite fit the group idiomatically, but Ironwood makes those moments work well.
David Snow's Hasana Tanz utilizes to a great degree the special qualities of each instrument, all with a klezmer flair. Starling soars in the Eb's extreme altissimo with precise control and expert ornamentation. Watson's bass clarinet playing is fully supportive of the melodic voices throughout.
James David pushes the clarinet to its technical and registral limits in his Fantasy Etudes Book V (inspired by the piano etudes of Ligeti). The ensemble skills here – specifically the dialogue requiring all players to weave skillfully in and out of each other's lines – are quite dynamic, suspenseful and captivating.
The transcription of D'Rivera's "Habañera" from Aires Tropicales is a refreshing transition from the more angular repertoire on the album. The ensemble's ability to seamlessly pass melody from one instrument to another is yet another testament to Ironwood Trio's skill and commitment to musical excellence. In Montilla's eponymous work Ironwood Trio, the ensemble fully embraces the post-tonal and Latin aspects of the music. This work is a final testament to the Ironwood Trio's versatility and virtuosity as well as its seemingly endless store of energy, color and creativity for each piece it approaches.
This album is especially recommended for performers looking to program chamber works involving auxiliary instruments.
 – Vanessa Davis
---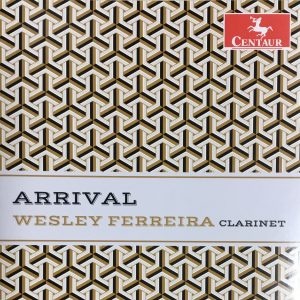 Arrival. Wesley Ferreira, clarinet; Jaxon Williams, guitar; Gail Novak, piano; Evan Pardi, double bass. P. Cabral (arr. Ferreira/Williams): Homenagem a Pedro Caldeira Cabral; E. Carrapatoso: Albicastro; M. Durão: Ondas do Mar; L. Cardoso: Seres Imaginários 3, Op. 36; P. Gomes: Memória: T. Derriça: Delírio Barroco. Centaur Records, CRC 3743. Total Time: 53:58.
Arrival begins with the beautiful Homenagen a Pedro Caldeira Cabralby arranged by Ferreira and Williams. This four-movement work sets the tone for the entire recording and pays homage to Portuguese guitarist Pedro Caldeira Cabralby and some of his classic writing. The trio has created a lovely atmosphere of clarinet, guitar and double bass and transports you immediately to Portugal. Its three movements, "Baile dos Carêtos," "Balada da Oliveira" and "Miscelânea," are beautifully performed and show off Ferreira's elegance, smoothness and control. The group's love of these splendid melodies is obvious and the performance is simply relaxing and enjoyable. The balance seemed a bit clarinet-heavy at times, but overall the sound is mellow and pleasing.
Alibicastro changes the ensemble combination and introduces the beautiful piano playing of Gail Novak with Ferreira. This three-movement work written by highly active and accomplished Portuguese composer Eurico Carrapatoso is lovely and melancholic. The three movements, "Amoroso," "Jogo Floral" and "Pastoral," all play to the duo's strengths and are executed with ease and grace. Ferreira's sound on this track is a bit fuzzy at times but the conversational work between clarinet and piano is enticing and reflects their high caliber of musicianship. The "Pastoral" is especially beautiful and well-executed.
Unfortunately, there are several obvious audio edits in these tracks and I was left wishing that Centaur or the mastering engineer had fixed those glitches on what is an otherwise pleasing performance.
Novak and Ferreira continue on this third work with Manuel Durão's Ondas do Mar (Sea Waves). The first movement is frolicking and jolly with minimalist undertones. It is modern but tonal and offers a pleasing contrast with the first two works on this recording. The group's interpretation fits the minimalism and is strong and convincing. Like many of the works on this recording, I was left wishing for less close miking of the clarinet and more dynamic contrast.
Seres Imaginários 3, Op. 36, by Luís Cardoso depicts three imaginary beings. "Olphalpim," "Jana" and "Trasgo" play into the interpretive strength of Williams and Ferreria. Williams's guitar playing is appropriately delicate yet percussive when needed. The ensemble creates a fairytale-like mood and the work is by turns fun, eerie and exciting. Ferreira shows incredible technical control in the whirlwind-like moments throughout. Unfortunately, these tracks have a small buzz of feedback that detracts from what is otherwise a consistent and fine performance.
Memória by Pedro Faria Gomes begins as a sad and contemplative work but quickly transforms into anger and pain. The incredibly dynamic pacing of Ferreira and Novak makes obvious their experienced interpretive skills. Again, I would have preferred a better balance and even softer and delicate clarinet volume and attacks.
Delírio Barroco by Tiago Derriça closes out this CD that showcases the incredible talent of some of Portugal's finest composers. All of its five movements are written in a modern and accessible style. Seemingly recorded at different times, these tracks felt less polished, cohesive and balanced. The closing "Coral" for me was reminiscent of Gerald Finzi's "Carol" in the Five Bagatelles and was a fitting close to this recording.
Though this compact disc has a well-designed cover, I blame Centaur Records Inc. for allowing a sloppy release of a booklet with typos, sound edit mishaps and acoustical imperfections. Overall, the artistic and creative work on this recording is excellent and I would recommend it for those searching for some new and interesting compositions.
 – Robert DiLutis
---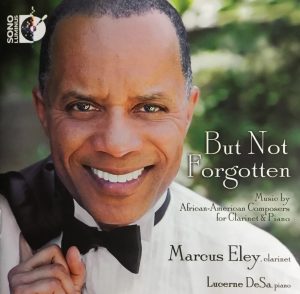 But Not Forgotten: Music by African-American Composers for Clarinet and Piano. Marcus Eley, clarinet; Lucerne DeSa, piano. D. Moore: Night Fantasy; A. Batiste: Episodes; C. White: Basque Folk Song; U. Moore: Introduction and Allegro; S. Akpabot: "Pastorale" from Scenes from Nigeria; Q. Hilliard: Coty; W. Still: Romance; S. Joplin (arr. Eley): Weeping Willow: A Ragtime Two-Step; T. Cochran: Soul-Bird; trad. (arr. H. Stevenson): Amazing Grace. Sono Luminus, DSL 92156 (www.SonoLuminus.com). Total Time 50:02.
Marcus Eley's career as a musician, clinician, and administrator is notable. A graduate of Indiana University and the Vienna Hochschule, his professional accomplishments include solo performances and recitals in major capitals across the world and having served as the former dean of students at the New England Conservatory. In the December 2020 issue of The Clarinet, Eley wrote an article advocating for greater inclusion of clarinet pieces by African-American composers into the canon of standard works. The article and accompanying liner notes of But Not Forgotten, a compilation of many of these works, make a compelling argument for their place in our literature.
The works chosen represent a spectrum of 20th-century compositional thought. Dorothy Rudd Moore's Night Fantasy is a two-movement work that crackles with spiky modernist touches. The piano is mainly rhythmic throughout, with an interplay that requires solid ensemble. Alvin Batiste's intimate knowledge of the clarinet forms the backbone of a 3-minute work that demands nimble chromatic scale technique, which Eley executes in an polished performance. White's Basque Folk Song is a short, 3-minute tonal miniature that is most often found in the violin repertoire. Eley's tone is supple and light; a palate-cleansing encore. Undine Smith Moore's Introduction & Allegro is a dense, angular piece that makes challenging technical demands on both players. Eley and Desa's ensemble work is first-rate.
Samuel Akpabot's Pastrorale is a call-and-response lullaby arranged from his orchestral piece. The plaintive melodic material requires a delicate tone, and Eley's pale, light color meets the demands of this piece. Quincy Hilliard's Coty, a substantial three-movement work, is a technical challenge for clarinet. The fast romp of "Daybreak" ends before one gets too comfortable, and in "Sunset," the languorous pace highlights Eley's lonely, floating altissimo. "Dance" shows Eley at his most technically impressive over a pulsing piano ostinato figure.
William Grant Still's Romance, originally for alto saxophone, is a beautifully crafted elegy that utilizes the chalumeau register to subtle effect. Joplin's rag is casual and well chosen to highlight Eley's clarion range. Cochran's Soul-Bird has a thematic variety that allows the clarinet an opportunity to show its versatility. It is one of the knockout pieces on the album, played beautifully by both players. Amazing Grace concludes the album, and Eley's passionate interpretation shines through triumphantly, reminiscent of Richard Stoltzman's earlier version. Of particular note on this album is the overall performance of Alabama-based pianist Lucerne DeSa. She is a powerhouse musician and collaborative artist, and her sensitivity compliments Eley's performance seamlessly. They form a very impressive ensemble.
But Not Forgotten is a beautifully executed and thoughtfully presented project that accomplishes everything it sets out to do: it allows disparate composers the venue to be heard and appreciated alongside their more prominent peers. Eley's performance on this album is confident and refined, and he does justice to all of these works.
 – Osiris Molina
---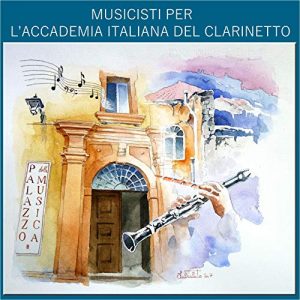 Musicisti Per L'Accademia Italiana Del Clarinetto. Antonio Fraioli, artistic director. Various artists. L. Bassi: Rigoletto; Fantasia da "I Puritani" di Vincenzo Bellini; J. Françaix: Tema con Variazioni; A. Fraioli: My Funny Paola; Concertino in Stille Jazz; Quattro Pezzi; R. Bellafonte: Frammenti D'Ombra e Luci; E. Cavallini: La Neguita; B. Ferrero: Homenaje a Manuel de Falla; G. Donizetti: Studio Primo; W. A. Mozart: Quintetto (frammento) in Fa Magg.; G. Mattaliano: Vis; G. Mirabassi: Subindo a Cantareira; T. Burkali: Clarisonus Nr. 2; S. Mercadante: Emma d'Antiochia; R. Stark: Serenade, Op. 55; S. Tallini: Assoviando; J. Küffner: Serenata, Op. 68. S. Pierini: Solo I; C. Debussy: Première Rhapsodie; La Fille aux Cheveux de Lin; L. De Lorenzo: Suite Mytologique, Op. 38; M. de Falla: Nana; G. Bimboni: Grande Duetto Concertato N. 1; S. Lygate: Sand Sculpture; G. Jacob: Five Pieces; A. Carvajal: Suite Caribeana; L. Spohr: "Adagio" from Concerto No. 3; A. Clare: Fall of the King; S. Harlos: "Blues Nocturne" and "Jazz Rondo" from Benniana; E. Pasini: Cantabile; G. Deckers: Lumen; J. Girotto: El Cacerolazo. GDE Records. Available for streaming Amazon Music, Apple Music and YouTube. Total Time: 3:47:56
The audio collection Musicians for the Italian Academy of Clarinet originated as a response to a 2016 earthquake in Camerino that destroyed the academy building. To raise funds for the academy, performers and ensembles donated recordings to this collection that is available for purchase and also on YouTube. There are 33 performances in total, lasting more than 3.5 hours, that represent a variety of styles and performers. Listeners are treated to a mix of standards, lesser-known works and contemporary pieces in varied ensembles, including 17 by living composers. The roster of performers is impressive, and the playing is mostly first-rate. There are many gems including numerous compelling new works. While it's not possible to discuss each recording in this review, I highlight the most memorable and unique contributions in the order in which they appear.
The compilation opens with a stunning performance of Bassi's Rigoletto, Fantasia da concerto by Corrado Giuffredi with the Parma Opera Ensemble. Giuffredi sings through the lines with incredible beauty and technical skill. He plays with great sensitivity, seamless legato and well-paced rubato. It's rewarding to hear this piece with such a superb chamber orchestra.
Giovanni Punzi's brilliant performance of Françaix's Tema con variazioni is equally inspiring. He plays with so much character, color and virtuosity. Variations 3 and 5 are exceptionally playful and the brisk tempi of variations 2 and 6 are thrilling. The cadenza has a wonderful sense of spontaneity, and the rousing finale is well-played.
Piero Vincenti shares a lovely performance of Cavallini's La Neguita. I love the way he sings through the lines and crafts extended phrases. The collaboration between the clarinet and piano is polished and responsive. Vincenti executes the fast passagework with great ease and style.
Another highlight is the Llevant Clarinet Quartet's committed performance of Spanish composer Bernardo Adam Ferrero's Homenaje a Manuel De Falla. The quartet plays with a unified sound and is adept at trading lines. The bold opening is striking, as are the showy passages with rapid articulations.
Laura Magistrelli's fabulous rendition of Donizetti's Studio Primo for clarinet solo deserves special mention. The clarity and precision of the opening demands the listener's attention. She imparts a lovely vocal quality through the technique and achieves great evenness and connections between the fluid melodies.
Clarinetist and composer Antonio Fraioli contributes several important works. One of my favorites is his delightful Concertino in stile jazz for clarinet and big band featuring Antonio Saiote and the Banda dos Bombeiros de Loures. The romantic opening melody with its expressive leap is attention-grabbing as are the upbeat sections with rapid figuration, the bright swinging sections and the showy cadenza. Saiote shines in this performance. While there are a few intonation inconsistencies in the band, the ensemble is responsive and dynamic.
Michele Marelli's virtuosic performance of Stefano Pierini's Solo I for basset horn is commendable. A basset horn specialist who has worked extensively with Stockhausen, Marelli demonstrates incredible control, flexibility and skill. The extended passages of slap-tonguing followed by long tones create a neat aural effect.
Italian composer and flutist Leonardo De Lorenzo's captivating Suite Mytologique, for solo flute or clarinet, is written in three movements with each one representing a figure from Greek mythology: Pan, Marsyas and Apollo. Sergio Bosi eloquently connects the musical ideas and conveys a compelling narrative. The third movement is particularly enjoyable with its flourishes and fast technical gestures.
Sand Sculpture by Scottish composer Scott Lygate showcases unique timbral effects such as unison articulated passages and the percussive sliding on the chitarra strings in conversation with the bass clarinet. Sauro Berti skillfully navigates through passages of extended range and figuration that bounces rapidly between registers.
Cuban composer and pianist Ailem Carvajal joins David Bandieri on Eb clarinet in her colorful Suite Caribeana. The five-movement work is an adaption and arrangement of dances by Cuban composers Manuel Saumell and Ignacio Cervantes. The performance is lively and well-conceived, and the catchy melodies are infectious.
Sicilian jazz clarinetist Nicola Giammarinaro and accordionist Roberto Gervasi round out the album with Argentinian composer Javier Girotto's showstopper El Cacerolazo. The work is intensely rhythmic with fast passagework. The dialogue between the parts is playful and exciting. Giammarino and Gervasi present an exceptional performance.
This collection is a fitting celebration of the Italian Academy of Clarinet. It speaks volumes about the depth of the talent and influence of this institution. Furthermore, it is an important resource for discovering and rediscovering notable works and performers. My congratulations to all involved in this great achievement.
 – Justin Stanley
---