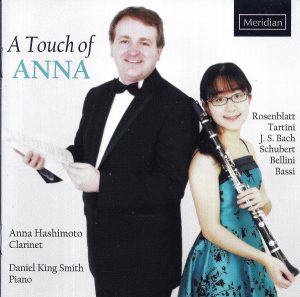 A Touch of Anna
Anna Hashimoto, clarinet; Daniel King Smith, piano. A. Rosenblatt: Carmen Fantasy; G. Tartini: Devil's Trill Sonata; J. S. Bach: Chromatic Fantasy in D Minor; F. Schubert: Arpeggione Sonata; V. Bellini: "Casta Diva" from Norma; L. Bassi: Concert Fantasy on Verdi's Rigoletto. Meridian Records CDE 84631. Total time 71:35. Meridian Records
A Touch of Anna features opera fantasies by Rosenblatt and Bassi, as well as transcriptions of works by Tartini, J.S. Bach, Schubert and Bellini, performed by Anna Hashimoto, clarinet, and Daniel King Smith, piano. Hashimoto has won multiple international clarinet competitions and performed across Europe, the United Kingdom, USA, Mexico and Japan. Smith is an award-winning pianist who has been featured in concerts around the world as a soloist and accompanist. A Touch of Anna was recorded ten years after Hashimoto's London debut at age 15. This recording demonstrates Hashimoto's performance ability on multiple types of clarinets and her skill at transcribing existing masterworks.
The first selection, Carmen Fantasy by Alexander Rosenblatt, opens the album with an explosive technical tour de force, which presents the familiar opera melodies in a jazz-influenced dance style. The next four works are all transcriptions of existing works arranged for various types of clarinets by Hashimoto. Devil's Trill Sonata by Giuseppe Tartini is arranged for C clarinet, Chromatic Fantasy and Fugue in D minor by Johann Sebastian Bach is arranged for clarinet and piano, Arpeggione Sonata by Franz Schubert is arranged for basset clarinet, and Casta Diva from Norma by Vincenzo Bellini is arranged for E-flat clarinet. The liner notes provide insight into Hashimoto's choice of clarinet used for these arrangements. Hashimoto's playing demonstrates technical prowess and mastery of the entire clarinet family along with great skill as an arranger. The final selection is Concert Fantasy on Verdi's Rigoletto by Luigi Bassi. This CD is a valuable addition to the library of anyone looking for unique arrangements featuring different types of clarinets as well as delightful performances of opera fantasies by Rosenblatt and Bassi.
– Karl Kolbeck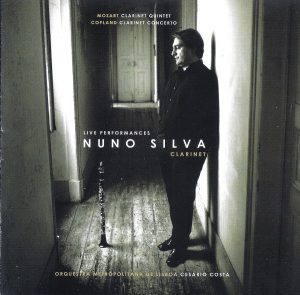 Live Performances – Nuno Silva
Nuno Silva, clarinet; Alexei Tolpygo and Elder Nagiev, violins; Joana Cipriano, viola; Jian Hong, cello; Lisbon Metropolitan Orchestra conducted by Cesário Costa. Mozart: Quintet in A, K. 581; Copland: Clarinet Concerto; Encore – Improvisation. Artists produced. Total time 50:46. CDBaby, Amazon, and iTunes
Nuno Silva is the principal clarinetist of the Lisbon Metropolitan Orchestra. Silva has won numerous international competitions, appeared at all major Portuguese music festivals and performed as a soloist with leading Portuguese orchestras. Silva released this CD in 2014 to commemorate twenty years and over 2,000 performances with the Lisbon Metropolitan Orchestra.
This CD features live recordings of two substantial works in the clarinet repertory. Quintet in A Major, K. 581 by Wolfgang Amadeus Mozart was recorded on March 13, 2010 and features Silva on clarinet along with Metropolitan Orchestra soloists Alexei Tolpygo, violin, Elder Nagiev, violin, Joana Cipriano, viola, and Jian Hong, cello. The quality of this live recording is superb: Silva's dark tone and sensitivity compliment the string quartet nicely and the ensemble is especially cohesive. The recording of the second work, Clarinet Concerto by Aaron Copland, dates from September 27, 2013 with the Lisbon Metropolitan Orchestra under the direction of Cesário Costa. The quality of this live recording is also quite exceptional. The soloist and orchestra are well balanced and the sensitivity and musicality of the orchestra is especially noteworthy. Playful jazz nuances in Silva's playing during the cadenza and second half of the concerto pay homage to the clarinetist who commissioned the work, Benny Goodman. The listener is reminded that this recording is live once thunderous applause breaks out at the conclusion of the concerto. This leads to a short encore entitled Improvisation, which concludes this CD. While numerous recordings of these works already exist, the quality, energy and excitement of this live recording set it apart. This would make a welcome addition to any collection.
– Karl Kolbeck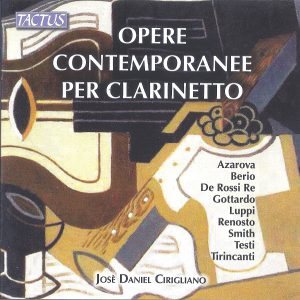 Opere Contemporanee per Clarinetto
Josè Daniel Cirigliano, clarinet. F. De Rossi Re: Cachucha for demi-clarinet; and Ribes nero; A. Gottardo: Chant a danse pour Arlequin; S. Azarova: Outvoice, outstep and outwalk for bass clarinet; F. Testi: Jubilus I; G.P. Luppi: Mani No.1; P. Renosto: Cirocirò for E-flat clarinet; W. O. Smith: Ritual for double clarinet; L. Berio: Sequenza IX; G. Tirincanti: Clarinettologia. Tactus TC 920002. Total time 63:43. Tactus and CD Universe
José Daniel Cirigliano is an award-winning clarinetist whose career centers on the performance of chamber music and solo recitals. Cirigliano is an avid performer of contemporary music and innovative in the realm of contemporary and extended performance techniques. Cirigliano has internationally premiered a number of works composed for or dedicated to him.
Opere Contemporanee Per Clarinetto (Contemporary Clarinet Works) features a variety of pieces for unaccompanied clarinet. Cirigliano performs on various members of the clarinet family on this CD while using a myriad of contemporary and extended performance techniques. Works included on this CD include: Cachucha for demi-clarinet by Fabrizio De Rossi Re; Chant a danse pour Arlequin for B-flat clarinet by Arduino Gottardo; Outvoice, outstep and outwalk for bass clarinet by Svitlana Azarova; Jubilus I for B-flat clarinet by Flavio Testi; Mani N. 1 for B-flat clarinet by Gian Paolo Luppi; Ribes nero for B-flat clarinet by Fabrizio De Rossi Re; Cirocirò for E-flat sopranino clarinet by Paolo Renosto; Ritual for double clarinet by William O. Smith; Sequenza IX for B-flat clarinet by Luciano Berio; and Clarinettologia for B-flat clarinet by Gaspare Tirincanti. Cirigliano's mastery of contemporary techniques such as multi-phonics, vocalizations, slap tongue, pitch bends, glissandi and micro tonality is very impressive. This CD would be a welcome addition to anyone seeking reference recordings of works by lesser-known composers who are innovative in the use of extended clarinet performance techniques.
– Karl Kolbeck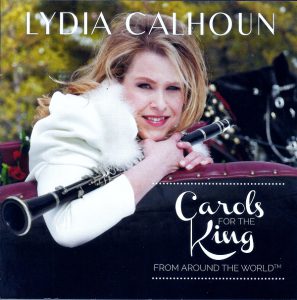 Carols for the King from Around the World
21 tracks on 2 discs of seasonal arrangements for performance by the advanced clarinetist. Lydia Calhoun, clarinet; Evelyn R. Larter, piano and arranger. Artist produced. Total time 83:05. CDBaby
Lydia Calhoun and Evelyn Larter perform a selection of carols adapted for clarinet and piano. Larter also served as the composer and arranger for this recording. These selections originate from countries and cultural traditions around the world. Calhoun studied with John Fullam, Principal Clarinetist of the Buffalo Philharmonic. She has performed in Carnegie Hall, as well as England, Scotland, Wales, the Caribbean, New Zealand and Australia.
Calhoun and Larter's strong sense of ensemble is evident in seamless tempo and character changes, phrasing and articulation throughout the recording. Larter's arrangements are wonderfully adapted for this combination; they exemplify the clarinet's expressive qualities with a piano accompaniment that does not overpower. The works performed are not difficult with a majority of the works in the middle to lower range of the clarinet.
Calhoun delivers an adequate performance in all the different carol selections, but it is apparent that she is most comfortable performing jazzy selections such as: He is Born; Mary had a baby; Sing Noel!; and Rise Up Shepherd, Tell it on the Mountain. The slower selections would have benefited from an expanded the dynamic range from both instruments. Calhoun's use of vibrato contributes expression, but she could have explored more of the clarinet's timbral possibilities. Calhoun most convincing aspect of performance is her execution of the technically challenging passages.
Overall, Calhoun and Larter's performance is enlightening for the holiday season and should be enjoyable for gatherings of friends and family. This is a valuable collection of seasonal carols nicely arranged for clarinet and piano. Hopefully, these arrangements will be published in the near future.
– Kristine Dizon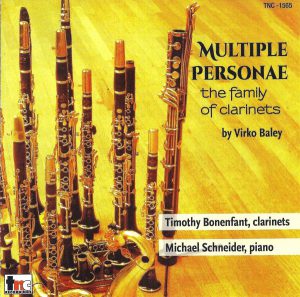 Multiple Personae – the family of clarinets
Timothy Bonenfant, clarinet; Michael Schneider, piano. Music of Virko Baley: Partita No. 4 for clarinets (bass, A, E-flat, B-flat contrabass) and piano; Persona II, "Boris Lyatoshynsky" for B-flat clarinet; Treny-Lamens for B-flat contrabass; Songs Without Words (seven solo pieces, one each for B-flat, E-flat, A, bass, E-flat contra alto, C, and B-flat contrabass); Orpheus Singing for B-flat clarinet and piano. TNC Recordings TNC 1565. Total time 76:00. TNC Recordings
Timothy Bonenfant and pianist, Michael Schneider, perform compositions written by Virko Baley, a Ukrainian-American composer, conductor, pianist and writer. Bonenfant is a multifaceted musician as he is an active performer of classical music, jazz and rock and roll. He received his Master of Music degree from California Institute of the Arts and his Doctor of Musical Arts from University of Nevada, Las Vegas. He has performed as a bass clarinetist with symphonies in Houston, Las Vegas, Boise, Abilene and San Angelo. In addition to his orchestral work, Bonenfant performs with ensembles such as the Mesquite Trio and NEXTET. His principal teachers were Felix Viscuglia, William Powell and Raphael Sanders. Currently, Bonenfant is Associate Professor of Clarinet and Saxophone at Angelo State University in San Angelo, Texas.
The CD begins with Partita No. 4 for clarinets and piano, composed in 2005. This piece alone requires four clarinets: bass clarinet, A clarinet, E-flat clarinet and B-flat contrabass clarinet, which is an impressive feat in itself for one clarinetist. In the fourth movement of the Partita No. 4, Bonenfant performance on the B-flat contrabass clarinet really delves into the depths of the instrument. Other tracks featuring the B-flat contrabass include Treny-Laments I and the last movement from Songs Without Words, "Der Abschied." In these settings, Bonenfant proves that the B-flat contrabass clarinet is an effective solo instrument, which is also true of the other auxiliary instruments found on this disc.
Throughout this recording, Bonenfant displays his virtuosity performing almost the entire family of clarinets. The musicianship between Bonenfant and Schneider makes for a captivating listening experience. This recording should interest those searching for repertoire for the entire clarinet family. Highly recommended!
– Kristine Dizon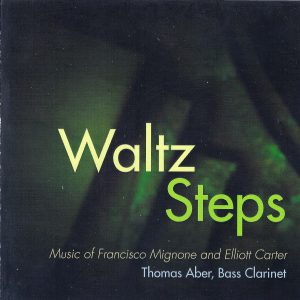 Waltz Steps
Thomas Aber, bass clarinet. F. Mignone: 16 Valsas; E. Carter: Steep Steps. Artist produced. Total time 42:32. CDBaby
Thomas Aber presents a wonderful interpretation of 16 Valsas (1981), composed originally for bassoon by Francisco Mignone and Elliott Carter's Steep Steps (2001). The 16 Valsas are reminiscent of São Paulo and Rio de Janeiro during the 1920s and 1930s. In the liner notes, Aber states that these waltzes are "unique as a large-scale, multi-movement work for a solo wind instrument, in particular the bassoon, or in the case of this recording, the bass clarinet, both being instruments seldom heard alone at length." Steep Steps was composed for Virgil Blackwell. Carter stated that the piece's title refers to the fact that clarinets, unlike other instruments, overblow at the twelfth, which is a large interval important in the melodic contours of his composition.
Since 1990, Aber has served as bass clarinetist with the Omaha Symphony Orchestra. He is founding member of newEar, Kansas City's ensemble for new music, and the Myth-Science Ensemble. Aber studied bass clarinet performance at the Juilliard School in New York and Amsterdam, where he studied with Harry Sparnaay on a Fulbright-Hays grant. In addition, Aber was a prizewinner in The Gaudeamus Foundation International Competition for Interpreters of Contemporary Music.
The disc opens with an impressive performance of the 16 Valsas. The first track begins with a lyrical and mourning movement, Aquela Modinha Que O Villa Não Escreveu. Here, Aber conveys the expressive qualities of the bass clarinet through the wide dynamic range, phrasing, and the different timbral possibilities.
Aber's virtuosity is consistent throughout the whole CD. Throughout the acrobatic intervals and long phrasing, he performs with great sensitivity and character between the different waltzes. Although this piece is a standard work for unaccompanied bassoon, I would not be surprised if it becomes a staple in the bass clarinet repertoire.
The other piece performed on this recording is a delightful performance of Carter's Steep Steps. Aber does a wonderful job in capturing the expressive nuances in Carter's music. This work is difficult, in particular, because of the different metric modulations that occur throughout. I enjoyed this recording, which will definitely interest the bass clarinet enthusiast. Highly recommended!
– Kristine Dizon