Audio Reviews
August 2022
---
Wolfgang Amadeus Mozart: Clarinet Opera Divertimentos. David Arenas, clarinet; Iván García Redondo, clarinet; Eduardo del Río , cello. W. A. Mozart: Divertimento Le nozza di Figaro, nach KV 577, 492; Divertimento Die Zauberflöte, aus KV 620, Divertimento Don Giovanni, nach KV 527, 540a. QTV Classics, 020. Total Time: 36:00.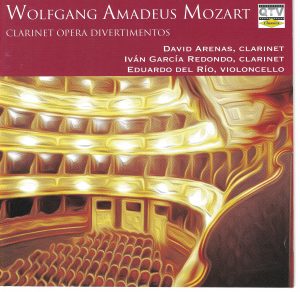 Clarinet Opera Divertimentos is a recording featuring a special collection of divertimentos based on three Mozart operas The Marriage of Figaro, The Magic Flute and Don Giovanni. In the time of Mozart, a divertimento was a lighthearted piece played by a small ensemble and intended for entertainment. It was common at that time to host home performances that featured the arrangements for a small group of instruments of the most well-known arias and numbers from an opera or symphony. The resulting divertimenti encapsulate the essence of each number with the first clarinet working as the melody, the second clarinet functioning as the counter line, and the cello working as the bass.
"Divertimento" from The Marriage of Figaro runs just over eight minutes and covers Susanna's solo aria, "Al desio di chi t'adora," Cherubino's aria "Voi che sapete," and Figaro's aria, "Non piu andrai, farfallone amoroso." David Arenas plays the melodic role in this first divertissement. His playing has a singing quality throughout each aria which highlights his attention to detail with regard to style and phrasing. It is clear that Arenas has studied the original vocal parts in great detail by how naturally his breaths line up with text. Arenas's altissimo register rings with the clarity of a bell, articulating the high point of each phrase with expert attention to timbre. He is simultaneously oscillating between dark and brooding as well as light and bright, both with a rich velvet quality. Likewise, Iván García has a masterful handling of the technical supporting role. His attention to style brings the harmonic underpinning of each aria to life which is additionally supported by Eduardo del Río on the cello, especially in "Voi che sapete."
Divertimento The Magic Flute is longer at nearly fifteen minutes and covers "Bald prangt, den Morgen zu verkünden," "Der Hölle Rache kocht in meinem Herzen," "Ach, ich fühl's," "Sei duns zum zweiten Mal willkommen" and "Pa-pa-pa." This juxtaposition between two divertimenti primarily adds interest by touching on famous arias allowing us to hear more dialogue in the arrangement. These shifts gives each musician a moment to shine. The clarinetists switch roles here, with García taking the lead on first clarinet. García's tone is full and colorful, perfect for the more adventurous melodic lines present, especially in "Bald prangt, den Morgen zu verkünden." Arenas's role here is supporting, but he nonetheless continues to shine without overshadowing García, but adding stylistic support. Because both clarinetists here are very active melodically, it gives del Río a more independent role. García's approach to the well-known "Der Hölle Rache kocht in meinem Herzen," moves effortlessly between delicate and light or intense and dark. The swiftness with which he moves between these two styles is so impressive it is hard to believe it isn't actually being sung.
"Divertimento" from Don Giovanni is around nine minutes long and covers "Madamina, il catalogo è questo," "Verdrai, carino," "Dalla sua pace" and "Non mi dir, bell'idol mio." Where the other two divertimenti were very different in style from each other, this final divertimento really is a tour de force of all of the wonderful skills of each player. The clarinetists switch roles again here with Arenas taking the melodic lead as first clarinet. His phrasing and velvety tone are used to excellent effect here, as is García's strikingly smooth and effortless mastery of highly technical playing. Most impressive here is both García's and Arenas's masterful use of articulation especially on display in "Verdrai, carino." We hear both clarinet players delicately approaching each note in the first section, matching as though it were the same player on both parts. In the second section we hear a complete departure with more lyrical lines where the clarinetists are equally sensitive to each other, blending tone qualities to create a truly beautiful, rich, and colorful ensemble sound.
Overall, this is a really wonderful recording. It is a great showcase of what skilled and delicate musicians can do with excellent music when played with such intense attention to detail. Those attributes combined with each player's individual virtuosity makes this a recording no one should miss.
– Vanessa Davis
---
Space City Funtet: Blast-Off!. Richie Kaye, voice, archtop, guitar, ukulele, whistle, whispers, wood block, Chinese bell, small gong, chac-chac, chopsticks, aerosol spray, ice machine, cellphone recorder, trashcan lid, senior hay ho; Tony LaVorgna, alto saxophone, clarinet; Ernesto Vega, tenor saxophone, clarinet, bass clarinet, flute; Thomas Helton, string bass, tube; Sam Kuslan, piano, junior hay ho. R. Kuslan: Champagne on the Place; Luncheonette; Jimmy's Tick-Tock; Madame DeFarge; Do This, Do That; The Hay-Ho Song; Pretty Please; V.A. LaVorgna: Dapper Dinghy; Sarah and Christine; Fruit Fly, Phodly; Richie's Romp; The Old Sneakeroo; Penquin Parade; R. Kuslan and V.A. LaVorgna: Marinara Honeymoon; Itty Bitty Kitty. Wire Road Studios. Total Time: 34:00.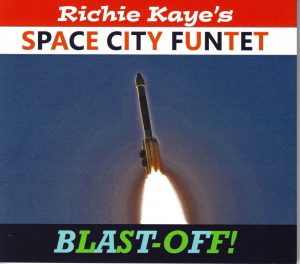 Blast-Off!, a 2019 release from Richie Kaye's Houston-based Space City Funtet, is the perfect album for anyone looking for delightful, lightweight music to play at their next party or gathering. With influences ranging from Raymond Scott to Beethoven's Fifth Symphony, this poly-stylistic album features 16 short tracks and one live bonus track (Pretty Please!, performed live at The Mint in New Orleans). The five-member Funtet includes Kaye on vocals and various small instruments, as well as Ernesto Vega on saxophone, flute, and clarinet. According to the album description on Bandcamp, each piece is intended to "accompany films, TV shows and commercials that haven't yet been created."
The Funtettists gently push the boundaries of instrumentation, lyrics, and form. Although the majority of the tracks are swing-influenced and danceable, this album easily avoids being formulaic. As soon as listeners form an idea of what to expect, a song comes along to challenge those expectations. Fruit Fly is a particular favorite, featuring an imaginative clarinet duet set against a walking tuba bassline. A cute pun is at the heart of the track Lava Love, where Kaye croons in a Sinatra-like voice, I've got a lava love for you. Do This, Do That is a quirky tune featuring a woodblock and brief instrumental outbursts, contrasted with more melodic material from the clarinet and saxophone. There is certainly no shortage of clarinet on this album. Vega's woodwind performances are whimsical and charming.
Part of Blast-Off's appeal is the way it seamlessly incorporates such diverse influences as children's sing-alongs with jazz. It would be impossible to imagine it any other way—Kaye and the Funtet have successfully integrated these multivarious influences to create their own musical language.
– Erin Cameron
---
Reimagined Possibilities: Works for Clarinet and Percussion. Andrew DeBoer, clarinet; Tommy Dobbs, percussion. A. Piazzolla: Histoire du Tango; G. Koshinksi: Pocket Grooves; Get It!; L. Cardoso: Seres Imaginarios 3. Digital Release. Total Time: 45:19.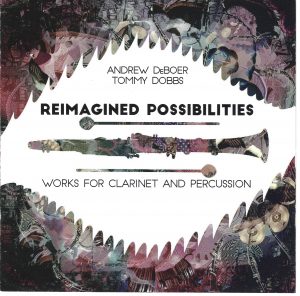 In their 2021 album Reimagined Possibilities: Works for Clarinet and Percussion, the wind and wood duo (clarinetist Andrew DeBoer and percussionist Tommy Dobbs) presents four "reimagined" works originally composed for other instruments.
Astor Piazzolla's Histoire du Tango was originally written for flute and guitar. Piazzolla is known for "reimagining" the tango and this piece outlines its evolution. "Bordel 1900," features an upbeat, playful tango melody in which DeBoer's warm tone and light ornamentation are beautifully supported by Dobbs's lively marimba line. The musicians play with delicate nuance and sensitivity in the melancholy "Café 1930." DeBoer's use of vibrato imbues the movement with warmth and emotion. In "Nightclub 1960," the duo alternates between accented, dance-like melodies and warm, introspective lines. The meandering ebb and flow of the marimba draws in the listener, while DeBoer skillfully alters his tone color to reflect changes in style. The duo provides a captivating interpretation of the rhythmically complex and heavily accented "Concert d'Aujourd'hui."
"Smallness" is the theme of Gene Koshinski's Pocket Grooves, originally written for bassoon. DeBoer and Dobbs demonstrate remarkable skill and musicianship as they navigate drastic shifts in style. From the light, playful trills of the Venezuelan "Joropo," to the pitch bending and vibrato of the improvisatory Middle Eastern "Samai," to the bright Brazilian "Choro," the duo employs an impressive array of tone qualities, styles, and percussion techniques. Their decisions regarding instrumentation, style and tone color demonstrate exceptional musicality and sensitivity.
Luís Cardoso originally wrote Seres Imaginarios 3 for clarinet and guitar. Inspired by Jorge Luis Borges's Manual de zoología fantástica, each movement is named after an imaginary Portuguese being. The liner notes provide background information on each character. "Olhapim," is "a very small entity…[with] four eyes, two forward and two backward." Appropriately, the music goes off on short tangents, with fleeting runs, large leaps and frequent ornamentation. One can picture the tiny creature scampering around. Repeated marimba chords seem to portray the creature's many eyes blinking. The liner notes state that "Jana" is "a spirit who makes clothes during the night, if you leave a cake for him." The sly quality of this creature can be heard as each melodic segment begins slowly, sneaking in before developing into a fully formed melody to represent the jana hard at work. The "Trasgo" is a bolder creature, as can be heard in the more assertive melody. The liner notes state that Trasgo is "an imaginary being who is enchanted, rebellious…and possesses supernatural powers," the Trasgo is embodied by melodies full of trills and glissandi.
Koshinski's Get It!, originally composed for bassoon, differs from the overall Latin feel of the album and functions spectacularly as an invigorating "encore." Derived from popular music, Koshinski created this work "to unleash the bassoonist's inner 'rock star!'" This arrangement for bass clarinet, cajón and hi-hat is driving and rhythmic and both DeBoer and Dobbs prove themselves to be rock stars!
In Reimagined Possibilities, DeBoer and Dobbs demonstrate an incredible breadth of timbral expression and mastery of their instruments as they artfully traverse an array of styles and imagery. This album is fun, energetic, refreshing and definitely worth a listen.
– Sarah Korneisel Jaegers
---
Johannes Brahms: Music for Clarinet and Piano. Lloyd Van't Hoff, clarinet; Peter de Jager, piano. J. Brahms: Sonata No. 1 in F Minor, Op. 120, No. 1; Sonata No. 2 in Eb Major, Op. 120, No.2; Hungarian Dance No. 2 in D Minor; Hungarian Dance No. 6 in Bb Major; "Feldeinsamkeit" from Op. 86; "Wie Melodien Zieht ed Mir" from Op. 105; "Es Träumte mir" from Op. 105; "Wiegenlied" from Op. 49. Digital Release. Total time: 63:23.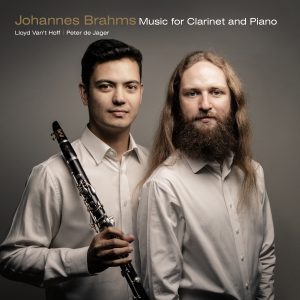 Australian musicians Lloyd Van't Hoff (clarinet) and Peter de Jager (piano) have assembled a spectacular album of works for clarinet and piano by Johannes Brahms. The album, entitled Johannes Brahms: Music for Clarinet and Piano, includes the beloved Op. 120 sonatas, three Hungarian Dances, and four lieder arranged for clarinet and piano.
Throughout the album, the collaboration between these two artists is perfectly matched. De Jager and Van't Hoff perform the works with tremendous sensitivity to Brahms's musical structure while supporting each other's artistry and phrasing. Pianist, Peter de Jager performs Sonata No. 1 in F Minor, Op. 120 with remarkable clarity and thoughtfulness, exposing the intricate layers of the complex piano score. The heartfelt second movement is especially beautiful. Van't Hoff plays the clarinet melody with an expressive range of dynamic colors that complement the introspective nature of the movement.
 The first movement of Sonata No. 2 in E-flat Major, Op. 120 is performed in a tender and gentle character reflective of Brahms' title Allegro amabile. De Jager's weighty piano playing and Van't Hoff's insistent phrasing encapsulate the agitation of the Allegro appassionato in the second movement. The musicians perform these sonatas with conviction and a strong understanding of the musical score; every moment of rubato, tone color change, and musical inflection exists to serve the music.
The Hungarian Dances No. 2, No. 6 and No. 7, full of playfulness and virtuosity, offer a moment of respite for the listener following the contemplative, but highly emotional sonatas. The album concludes with four lieder highlighting the expressive and song-like quality of Van't Hoff's clarinet playing. Brahms's cradle song "Wiegenlied" brings the album to a close, serving as a gentle farewell from the musicians to the listener.
Also included with the album are Graeme Steele Johnson's eloquent and insightful program notes, which reflect on the significance of Brahms's transcendent compositional style and the significance of the clarinet sonatas. This album is a wonderful tribute to the mature compositions of Johannes Brahms – a must have for clarinetists, pianists, and music lovers.
– Kylie Stultz-Dessent
---
Samuel Barber- Adagio for Strings, Op. 11. Eugene Marquis, clarinets. S. Barber: Adagio for Strings, Op.11. Digital Release. Total time: 6:31.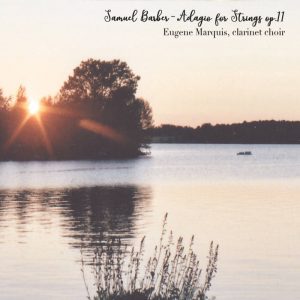 Clarinetist Eugene Marquis has arranged Samuel Barber's Adagio for Strings, Op. 11 for 35-piece clarinet choir, and has also released a recording of himself performing every part. This transcription and subsequent recording were born out of the pandemic and the isolation that we all endured. Marquis does a remarkable job of balancing the parts using overdubbing techniques and he skillfully employs the natural expressive qualities of the clarinet to mimic the tone color and dynamic shapes of the original string ensemble. The work is sensitively and expertly performed. A recording of Marquis's transcription of Adagio for Strings, Op 11 is available on YouTube or BandCamp.
– Madelyn Moore
---
The Art of Transcription. Graeme Steele Johnson, clarinet; Brian Hong, violin; Rannveig Marta Sarc, violin; Suliman Tekalli, violin; Rosemary Nelis, viola; Nan-Cheng Chen, cello; Samuel DeCaprio, cello; Ari Evan, cello; Min Kwon, piano. F. Schubert/arr. R. Aldridge: Erlkönig; W.A. Mozart /arr. R. Aldridge: Piano Sonata No .11 in A Major, K. 331; A. Dvorák/arr. M. Powell: "Songs My Mother Taught Me," from Gypsy Songs, Op. 55; D. Shostakovich: Five Pieces for Two Violins and Piano, "Prelude;" Granados: Goyescas, Op. 11; C. Saint-Saëns/arr. G. Trinkaus: "Mon cœur s'ouvre à ta voix" from Samson et Delilah; M. Ravel/arr. S. Tekalli: Pavane pour une infant défunte; C. Gardel/arr. J. Williams: Por una cabeza; A. Piazzolla/arr. J. Bragato: Oblivion; Mangani: Blues based off of themes from American in Paris; G. Gershwin/arr. G. Johnson: The Man I Love; L. Bernstein/arr. M. Kwon and S. Tekalli: "Somewhere," "I Feel Pretty," and "Tonight" from West Side Story; T. Chandler: Undimmed by Tears: Variation on America the Beautiful; B. Evans/arr. S. Tekalli: Waltz for Debby; Aznavour/arr. Coleman: She; P. McCartney/arr. S. Tekalli: Hey Jude. MSR Classics, 2001. Total time: 75:45.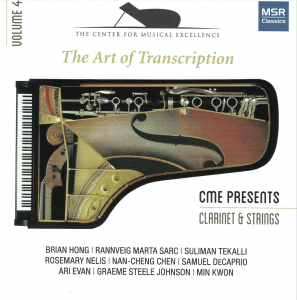 The included liner notes are informative and contain the following information for each piece: track details (original composer, title, arranger, and duration); introductory information regarding the purpose and importance of chamber arrangements; short biographies on the involved performers; and vision for The Center for Musical Excellence, the album sponsor.
Graeme Steele Johnson, the clarinetist featured on this album and arranger of this work, created and performed a wonderful arrangement of Dvorák's Piano Sonata No. 11 in A Major, K. 331. Set with string quartet, the arrangement feels very much like a clarinet quintet. At times the strings can be heavy in regard to articulation, particularly in the more spirited variations. However, the musicality and wonderful technique of the performers makes up for any transgression. Specifically Johnson's delicate, stylistic approach and technique match the quintessential Mozart style one would expect listening to any performance of the composer's clarinet works. The light articulation and technique appear to be effortless.
Nan-Cheng Chen, Ari Evan and MinKwon bring a wonderful performance of this adaptation of Shostakovich's, Five Pieces for Two Violins and Piano and Prelude, adapted for two cellos. Tekalli's arrangement and performance of Goyescas "La maja y el ruiseñor" and "El pelele" are masterful. The technical skill displayed, particularly his use of double stop, leave nothing to be desired.
Michele Mangani's arrangement of Gershwin's An American in Paris stays true to the original. Johnson performs it well, opening with an impressively smooth pitch bend. This showcase of Johnson's jazz stylistic range also features his sound control, specifically the projection of the chalumeau range at a soft dynamic. The tone color change in the middle section sets up a climactic ending on a high C, very becoming of Gershwin.
The arrangement of The Man I Love is a shortened version of the original song, though all the intricacies are there. The delicate and romantic care taken in performance is spot on, especially if Ella Fitzgerald's performance of the original tune is what you have an ear for. The clarinet as an extension of the voice is apparent in the performance of the arrangement. Showcasing his stylistic range, Johnson captures the jazz sound wonderfully both in articulation and sound production, matching tone color with Hong and Evan wonderfully.
This version of Songs from West Side Story is a fun and eclectic arrangement. The many techniques used by the strings adds to the fun and cheerfulness of the quicker tempo tunes such as "America" and "I Feel Pretty." Style interpretations of all tunes are unique and entertaining for the listener.
The beauty of the track Undimmed by Tears comes from Chandler's "bittersweet optimism" gleaned from the third verse of America The Beautiful. A sense of hopefulness is easily noticeable, but one may have to work to find the tune at times. However, Johnson's musicality leads the listener well through the familiar melody. Johnson's flexibility and range are unmatched as his legato altissimo notes gracefully shine through the texture. The clarinet and strings pass the melody between one another effortlessly within the middle section before returning to material similar to the opening of the work.
 Waltz for Debby is a change of pace in comparison to the rest of the album. It is a wonderful rendition and performance of the tune allowing Tekalli to continue showcasing his technical skill. Like the other arrangements included, Coleman's arrangement of She is done well. The performance by the quartet leaves little to be desired and brings forth the passion of Aznavour's original tune. This arrangement of Hey Jude is a great close to the album. The "jazz-feel" creates greater variety for the listener and performer seeking a classic tune in a new way.
– Lauren Miller
---
Tuttodunfiato. Antonio Tinelli, director; I Musici Pugliesi, ensemble: Maria Preziosa, oboe; Alessandra de Nicolo, flute; Antonio Carbonara, clarinet; Alessio Chiulli, clarinet; Mariangela Vacca, clarinet; Francesco Carrozza, clarinet; Antonio Di Ceglie, bass clarinet; Sabrina Dell'Aquila, alto saxophone; Adriana Giancaspro, tenor saxophone; Isabellangela Amato, Baritone Saxophone; Francesco Ursi, French horn; Anna Antonia Angione, French horn; Alessandro D. Bufano, trumpet; Domenico de Musso, trumpet; Nicola Bruno, trombone and euphonium; Gabriele Cacciapaglia, trombone; Leonardo Pio De Santis, tuba; Francesco Bruno, percussion; Domenico Carmine, percussion; Alice Lapenna, percussion. W. Farina: Noci Fantastica; A. Inglese Jr: Il Venditore D'Incantesimi. G. Minafra, XXI Secolo; G. Inglese, Isotta; P. Magnifici, Davide; G. Creatore, Arianna; F. Castiello, Alè!!; F. Walter, Paola 2002; L. Fonte, Status Mentis; M. Somadossi, Freccia del Sud; F. Coppola, Exatone Apology; G. Ricotta, Eventi; M. Tamanini, Cartoons. FareLive, 038. Total Time: 76:32.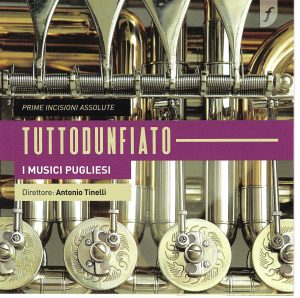 Buffet-Crampon artist and International D'Addario woodwind representative, Antonio Tinelli has put on another cap, and recently released a wind ensemble album entitled Tuttodunfiato with his newly formed 2020 award winning ensemble the I Musici Pugliesi. The ensemble was founded at the Associazione FormAzione, which is a private training organization accredited by the Puglia Region (Apulia) in Italy. The school's mission is to promote training meant to guarantee student's professional and personal development. Antonio Tinelli has directed the young artist ensemble I Musici Pugliesi since its inception in 2020.
It is nice to see Tinelli outside his traditional role as an accomplished performing clarinetist. This project sheds light on the educational and artistic projects that he participates in to give back to his community. It is a great opportunity for fans to hear some of his conducting artistry and begin to become familiar with his community work, aside from listening to one of his numerous popular solo and chamber albums commonly heard throughout Europe and the USA. The I Musici Pugliesi is a small ensemble in its early beginnings and needs a few more seasons to help build up the ensemble as there is only one student playing the majority of the parts including oboe, flute, saxophones, trombone and Euphonium. Even compared to traditional wind ensemble part assignments, the group is a bit small. Despite its sizing issues it should not be surprising that the clarinet section is the largest group with four students playing B-flat and one on bass. The musicians in the ensemble are playing their hearts out and have shown great personal dedication to mastering their parts as individuals, sections, and an ensemble.
The ensemble won a silver medal early in its existence at the December 2020 Global Music Awards. One of the largest feats was Tinelli's vision to only feature pieces by living Italian composers. There are even multiple works that were newly composed or arranged specifically for this competition. Some of the newly composed works include Francesco Coppola's Exatone Apology and clarinetists Fabio Castiello's Alè! Much of the music would be graded around a 3.5-5 depending on the piece. There is a bonus track included on the album that includes a QR code linking to an additional track. Tinelli has a lot to be proud of with this multi-tiered project. This album is available via hard copy from FareLive, Spotify, Apple Music, and Amazon to name a few.
– Natalie Szabo
---