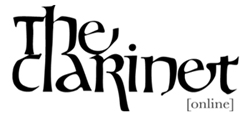 Welcome to The Clarinet [Online]! Here you'll find supplemental material to the ICA's print journal The Clarinet, along with additional content that we either couldn't print in the journal or that would be better suited for an online format.
Please Click to Continue to all of The Clarinet [Online] content, or go to the content from the individual columns below.

Columns:



Audio Notes


Reviews of clarinet CDs


A new space for sharing information about the clarinet: pedagogy, equipment, culture, literature, and history in a format designed with younger clarinetists and non-professionals in mind.



Useful and interesting clarinet content on the web



Pondering Pedagogy


Discussions aimed at clarinet educators

ICA Classifieds



Buy and sell clarinets and accessories from ICA members.
---
Originally from the Detroit area, Jason Alder is currently based in London. He has a varied career performing with his own regular ensembles as well as freelancing with orchestras, chamber ensembles, jazz groups, bands, theater troupes and dancers throughout Europe and the United States. He holds Bachelor of Music degrees from the classical departments of both Michigan State University (US- Clarinet Performance), and the Conservatorium van Amsterdam (NL- Bass Clarinet Performance), and a Master of Music from the jazz department of the Artez Conservatorium (NL- Creative Improvisation). Jason will manage the online supplementary content for the print version of The Clarinet, as well as I.C.A. news and other article submissions from members.
To submit materials for The Clarinet [Online], contact Jason at theclarinetonline@gmail.com.
---