U ponedeljak, 25. jula, u kasnim popodnevnim časovima, u Beogradu je preminuo jedan od najznačajnijih jugoslovenskih i evropskih klarinetista,  Milenko "Mima" Stefanović   (Beograd, 19. 02. 1930 – 25. 07. 2022).
Stefanović je bio dugogodišnji prvi klarinetista Beogradske filharmonije, solista, profesor klarineta na Fakultetu muzičke umetnosti u Beogradu i prorektor Univerziteta umetnosti u Beogradu, predsednik Udruženja muzičkih umetnika Srbije, prvi profesor klarineta na Fakultetu umetnosti u Prištini. Američki časopis The Clarinet nazvao ga je najistaknutijim jugoslovenskim profesorom klarineta današnjice.
Kao solista, kamerni i orkestarski muzičar sarađivao je sa najznačajnijim umetnicima svog vremena, svirao u koncertnim salama i snimao širom Evrope, kao i u Severnoj Americi i Africi.
Bavio se i džezom, kao solista, kompozitor, član Beogradskog džez trija i drugih ansambala.
Dobitnik je nagrada na muzičkim takmičenjima u Sarajevu, Skoplju, Ljubljani, Moskvi, Minhenu, Ženevi i Pragu, kao i priznanja mnogobrojnih institucija u Srbiji i bivšoj Jugoslaviji.
Godine 2010. Udruženje muzičkih umetnika Srbije dodelilo mu je Nagradu za životno delo. Ekvivalentna priznanja – Honorary Membership for Lifetime Achievements in Performance, Teaching and Professional Service – dobio je i od međunarodnih udruženja International Clarinet Association (2013) i European Clarinet Association (2016).
Opelo i ispraćaj održani su u subotu, 30. jula, na Novom groblju u Beogradu. Nakon opela o Mimi je govorio kompozitor, akademik, Ivan Jevtić, u prisustvu članova porodice, prijatelja, kolega i nekadašnjih studenata, članova Beogradske filharmonije, Opere, Simfonijskog orkestra RTS-a, Narodnog orkestra RTS-a, Reprezentativnog orkestra Garde Vojske Srbije i Vojnog orkestra Niš, kao i profesora Muzičke škole "Josip Slavenski" u Beogradu,  Fakulteta muzičke umetnosti u Beogradu i Fakulteta umetnosti u Prištini – Kosovskoj Mitrovici.
Komemoracija je održana u utorak, 18. oktobra 2022. godine, u Svečanoj sali Fakulteta muzičke umetnosti u Beogradu.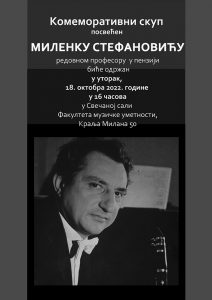 Na početku ceremonije prisutnima se obratila prof. mr Ljiljana Nestorovska, dekan Fakulteta muzičke umetnosti, čiji je Stefanović bio dugogodišnji profesor.  Nestorovska je podsetila na značajnu međunarodnu karijeru koju je Stefanović ostvario i nagrade koje je dobijao, i na pedagoške rezultate koje je postigao. Ističući da je dao celog sebe za umetnost i podmladak, da je bio jedan od onih starih profesora koji su utrli put mladima, da se borio za studente, za čitavu plejadu klarinetista koji će posle njega doći, izrazila je očekivanje da sadašnji profesori svoje studente uče o profesoru Stefanoviću.
Penzionisani profesor klarineta mr Ante Grgin prisetio se svojih početaka i razvoja sviračke i pedagoške karijere pod uticajem Mime Stefanovića. Naglasio je da je Mima bio najbolji student njihovog profesora Bruna Bruna, da je u svetu promovisao beogradsku klarinetističku školu, i zahvalio mu se na svemu što je uradio za ovu zemlju i ovu školu.
Milenkov sin, klarinetista mr Predrag Stefanović, nadovezao se rečima o Franji Partliću, takođe profesoru svog oca, koji je Mimi otvorio put ka suštini muzike, što je on često naglašavao, a u javnosti je ostalo nepoznato. Zatim je govorio o pedagoškom radu svog oca i njegovih kolega sa katedre: "Sve je rađeno sa srcem, Mima je živeo [za muziku] dok mu je radilo srce; otišao je zadovoljan", zaključio je Predrag.
Aktuelni profesor klarineta na FMU u Beogradu, dr um. Ognjen Popović, prisetio se svog prvog susreta sa Stefanovićem: "Mima je mnogima bio uzor, jedan od najvećih koje smo imali, prava legenda." Naveo je i anegdotu sa svojih studija u Nemačkoj, devedesetih godina 20. veka, kada ga je čuveni nemački profesor Rodenhäuser, solista Berlinske filharmonije pod Karajanom, na početku studija, saznavši da je iz Jugoslavije, pitao o Milenku Stefanoviću. "Oduševio sam se i još dugo pravio važan što ga i ja poznajem", prisetio se Popović.
Komemoracija je završena filmom o prof. Milenku Stefanoviću, koji je bio premijerno prikazan na ClarinetFest-u u Italiji 2013. godine, povodom najvišeg, svetskog, priznanja za životno delo, koje mu je dodeljeno te godine (https://www.youtube.com/watch?v=aVW7vlIDhew).
Komemoraciji u Beogradu su prisustvovali sadašnji i penzionisani profesori Fakulteta muzičke umetnosti u Beogradu i Fakulteta umetnosti u Kosovskoj Mitrovici, klarinetisti najznačajnijih srpskih orkestara – Beogradske filharmonije, Simfonijskog orkestra Radio-televizije Srbije, Orkestra Opere Narodnog pozorišta u Beogradu, Umetničkog ansambla Ministarstva odbrane "Stanislav Binički", Reprezentativnog orkestra Garde Vojske Srbije, studenti, profesori beogradskih muzičkih škola, kao i drugi poštovaoci rada Milenka Stefanovića.