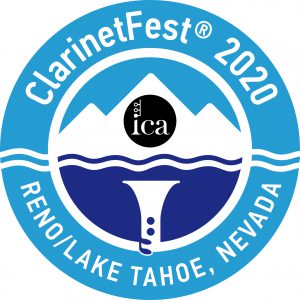 ICA Membership is required for all attendees and performing clarinetists
Exhibitor Registration is Now Open!
ClarinetFest® 2020 will take place in Reno/Lake Tahoe, Nevada, USA, June 24-28. Artistic Team Leader Leslie Moreau and the Artistic Leadership Team – Gerry Errante, D. Gause, Shawn Copeland, Karl Busch, and Joshua Anderson – will work hand in hand with the ICA Board of Directors and Staff to present a memorable conference at the luxurious Peppermill Reno Hotel Resort
p>
Click below to view the Peppermill Resort ClarinetFest® 2020 promo:

The Peppermill Reno Hotel Resort is a Four Diamond AAA property with a 4.5 TripAdvisor rating. All ICA guests of the PepperMill Resort will receive free roundtrip airport transportation from Reno-Tahoe International airport, free valet or self parking, and free wifi for all guests and exhibitors. The resort has 16 onsite restaurants with 24 hour options, and a smoke free environment for the duration of our conference. The ICA has reserved a "ClarinetFest® 2020" room block with tiered room prices of $109/$139/$179 a night. Make sure to reserve your room early as there are a limited number of rooms at the $109 rate. All performances, lectures, masterclasses, and exhibits will take place in the superlative Peppermill Resort conference facilities, which will highlight the communal aspect of the ICA and allow for easy transition between events and allow for more time to meet with our friends from around the globe.
p
Click below to view the Reno/Tahoe Convention & Visitor's Authority ClarinetFest® 2020 promo:

The city of Reno offers many dining options and outdoor activities, and is located in close proximity to beautiful Lake Tahoe. Take a short drive to the lake in order to enjoy the scenery, natural surroundings, beaches, and water. For those members wishing to visit Lake Tahoe before or after the conference, the ICA has made special arrangements with the Peppermill Resort to offer hotel rooms at the conference rate from June 21 – July 1, 2020. Early reservations are strongly recommended, as these rooms will be subject to space and rate availability. ClarinetFest® 2020 is sure to be an amazing musical experience and a great summer vacation destination!
p
ClarinetFest® 2020 Photo Gallery


Lake Tahoe

Click on the images below to enlarge photos
p

Accommodation and Accessibility Information
The Peppermill offers room accommodations for the Physically Challenged including roll-in showers, accessible tubs and Hearing Impaired features. Please notify the hotel for these accommodations when making a reservation. The Peppermill also offers wheelchairs for quick transportation and emergencies. To obtain a scooter or wheelchair for the duration of your stay, arrangements can be made by contacting Med Tech at 1-775-826-2022. Place an order with them and the scooter or wheelchair will be delivered to the Peppermill's Bell Desk for your arrival.
For additional accommodation and accessibility information please contact the Peppermill Reno Resort Hotel at 1-866-821-9996.