ICA Plays On! 2021 Video Premiere: Closeup Repairs with Miles DeCastro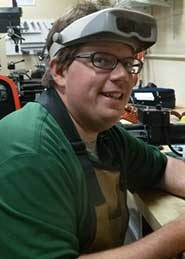 Premieres January 28, 2021, at 2 pm EST
Join Miles DeCastro for a close-up view of common clarinet repairs and equipment issues. The focus of this clinic is to show relatively minor repairs that would be difficult to demonstrate in a typical conference setting, but translate better to close-up video. Repairs that can be completed by the musician/educator are emphasized.
---
About the presenter:
Miles DeCastro is the owner of North Country Winds, a clarinet shop in northern New York specializing in artist-level clarinet repairs and modifications, as well as stocking fine clarinets and accessories. Miles is also on faculty as the Instrument Repair Technician at The Crane School of Music, SUNY Potsdam, where he is responsible for the repair and maintenance of over 1200 instruments and teaches courses in instrument repair technology. Miles is the current president of the National Association of Professional Band Instrument Repair Technicians (NAPBIRT).
When: 01/28/2021 | 2:00 pm
Featuring: Miles DeCastro
Join lecture Here
Back