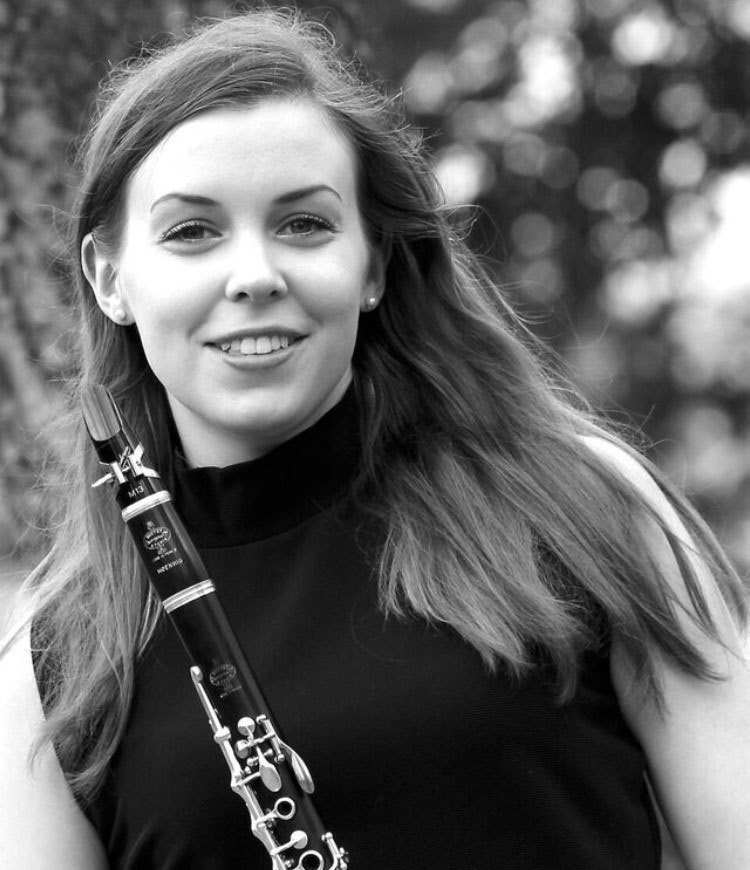 Jenny Maclay
---
Social Media Coordinator
Vandoren Artist-Clinician Dr. Jenny Maclay enjoys a diverse career as a clarinet soloist, recitalist, orchestral player, chamber musician, pedagogue, and blogger. Currently, she is the Visiting Instructor of Clarinet at Brandon University (Canada) and was Visiting Lecturer of Clarinet at Iowa State University in 2020. Online, she is known as Jenny Clarinet, where she created her eponymous popular blog, and she is also the Social Media Coordinator for the International Clarinet Association.
In addition to teaching and performing, Jenny is also interested in travelling and researching clarinet cultures around the world. To date, she has visited and performed in over 30 countries, and she enjoys meeting other clarinetists during her travels. Upcoming artist residencies include the Tjørnuvík Artists Residency in the Faroe Islands, where she will perform and promote clarinet compositions by Faroese composers. She has also been named an Artist-in-Residence Niederösterreich, and she will study the clarinet compositions of Ernst Krenek and his wife Gladys Nordenstrom during her residency in Austria in 2022.
Jenny was the recipient of the 2015-2016 Harriet Hale Woolley Award for musical study in Paris, where she was an artist-in-residence at the Fondation des Etats-Unis. She received her Master of Musique, interprétation, et patrimoine at the Versailles Conservatoire in the class of Philippe Cuper and her Doctorat en musique interprétation at the Université de Montréal in the class of André Moisan. She has achieved a number of other notable musical honors, including selection as a prizewinner, finalist, and semi-finalist for such international competitions as Concerts Artists Guild and Astral Artists, and other recent prizes include 1st prize at the 2017 Clé d'Or international music competition and highest-ranking clarinetist at the 2016 Tunbridge Wells International Young Artist Competition in England. Most recently, Jenny has been invited as a featured soloist for the International Clarinet Association's ClarinetFest 2021 "Flowers without Borders" stage to promote musical diversity. Recent performances include a virtual recital for the U.S. Embassy France and a collaborative duo recital with Sauro Berti, solo bass clarinetist of Teatro dell'Opera di Roma at ClarinetFest 2019.
Jenny has performed with orchestras throughout Europe and North America. In 2017, she toured with the Jeune Philharmonie franco-allemande et hongroise, an international orchestra comprised of musicians from over 20 different countries. During past seasons, she has performed with several orchestras, including the Ensemble Orchestral Les Voyages Extraordinaires, Écoute Ensemble de Musique Contemporaine, Orchestre d'Harmonie de Levallois, Florida Orchestra, Valdosta Symphony, and Ocala Symphony. As a chamber musician, she has performed several masterworks in prestigious venues, including the Mozart clarinet quintet at La Seine Musicale and the Messiaen Quatuor pour la fin du temps at the Fondation des Etats-Unis in Paris.
Jenny received her Bachelor of Music Degree in Clarinet Performance from the University of Florida, where she graduated summa cum laude and was a Fulbright Scholar alternate. Her teachers include Philippe Cuper, Karl Leister, André Moisan, Mitchell Estrin, Todd Waldecker, John Cooper, and Donald Dowdy. She was the youngest presenter of refereed research at the 2014 International Clarinet Association ClarinetFest. Recently, Jenny has been an invited artist and presented lectures on musicpreneurship at Louisiana State University, University of Memphis, University of Iowa, Loyola University, Millikin University, Middle Tennessee State University, University of Alabama Birmingham, University of Central Florida, University of South Florida, University of Southern Mississippi, and has been a featured soloist at the keynote ceremony of the Alabama Music Educators Association Conference.
Jenny Clarinet has been featured in The Clarinet and the Clarineat podcast and has been named one of Feedspot's "Top 20 Clarinet Blogs, Websites, and Influencers to Follow." To date, she has published over 300 articles which have been read in over 177 countries and translated into multiple languages, and she has contributed articles which have been featured in The Clarinet, Vandoren WAVE newsletter, Deutsche Klarinetten-Gesellschaft, Rodriguez Musical Services blog, and Lisa's Clarinet Shop blog. Her first book, an examination of unaccompanied clarinet repertoire, is currently in publication. Jenny Maclay is a Vandoren Artist-Clinician and performs exclusively on Vandoren reeds, mouthpieces, and ligatures.
In addition to clarinet, Jenny is also learning to play the theremin, an early electronic instrument and the only one played without physical contact. After writing this blog post, Jenny became interested in the theremin and has collaborated and performed with theremin virtuosi Grégoire Blanc and Charlie Draper. You can listen to some of these collaborations here and here.
When she's not onstage or in a practice room, Jenny enjoys travelling and has visited over 30 countries. During her travels, she likes to befriend the local cats and enjoys reading books at kitschy cafés. Her caffeination of choice is espresso or Earl Grey tea.
email me