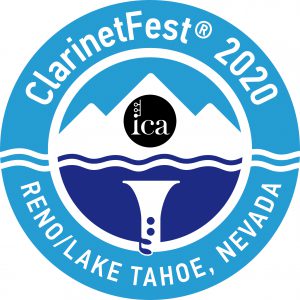 Greetings Exhibitors, Vendors, and Advertisers,
The International Clarinet Association is pleased to invite you to Reno, Nevada USA for ClarinetFest® 2020, June 24-28. All exhibits will be hosted in the Peppermill Reno Resort Hotel Ballroom. Due to limited space, we suggest everyone register well in advance of the listed deadline. Vendors who receive emails from the ICA may use their email address to log in and register online:
EXHIBITOR RULES AND REGULATIONS
If you do not have an account with the International Clarinet Association (or prefer not to register online) print out and return the following forms. Please read the exhibitor rules and regulations and release of liability agreement before submitting any registration forms. All questions may be directed to our Executive Director of Operations, Jessica Harrie EDO@clarinet.org.
RELEASE OF LIABILITY AGREEMENT
PLEASE COMPLETE THE PROGRAM ADVERTISING FORM TO APPEAR IN THE PROGRAM BOOK
Thank you for your interest in the International Clarinet Association and ClarinetFest® 2020. We look forward to seeing you in Reno, Nevada USA this summer!
*Floor plan subject to change based on number of registered exhibitors