2020 International Clarinet Association Officer Elections
The ICA election will be held online from March 15 to May 1, 2020. The election will be administered by Jessica Harrie, ICA executive director of operations. Members must vote by May 1, 2020 at Midnight PST at which time the election will close. Please review the candidate statements and biographies for the offices of president-elect, secretary, treasurer and international vice-president. All ICA members in good standing are encouraged to participate in the election by casting a vote for the candidate of their choice in each of the open positions.
PRESIDENT-ELECT
Diane Barger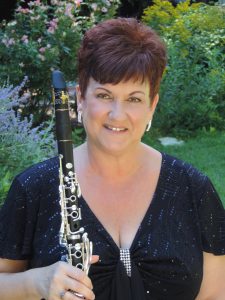 Diane Barger is professor of clarinet at the University of Nebraska-Lincoln where she received the 2013 Annis Chaikin Sorensen Award for Excellence in Teaching and the 2001 College Distinguished Teaching Award. She is an internationally acclaimed soloist and chamber musician, master class clinician and adjudicator, member of UNL's Moran Quintet, principal clarinet of Lincoln's Symphony Orchestra, and E-flat/B-flat clarinetist in the Amicitia Duo. Actively involved in the International Clarinet Association for over 30 years, Barger currently serves as Nebraska state chair and held the positions of pedagogy chair (2016-2018), artistic director of ClarinetFest® 2012, treasurer (2004-2010), and coordinator of the High School Solo Competition (2001-2005). Barger can be heard on the Amicitia Duo's Play Pretty CD (2020), solo CD BlingBling (2012), and as editor of 13 editions of Bellini operatic fantasies on the Potenza Music label; she can also be heard with the Moran Quintet on the Crystal Records label.
Statement
In my third decade of membership in the International Clarinet Association, I am honored to be nominated as a candidate for your president-elect. I enjoyed several years of service in ICA leadership roles that helped to foster a unique and valuable insight into our global alliance. My strong organizational skills and creative vision – put to the test as artistic director of the 2012 ClarinetFest® – along with my enthusiasm and unwavering passion for our cause and the belief in teamwork and communication among all members of the organization establishes a firm foundation from which I would serve. I am eager to work alongside you, our board of directors, and our stalwart industry sponsors to ensure our continued growth by pursuing ground-breaking initiatives. Expanding our worldwide membership and continuing to discover innovative ways to engage all members are critical components of my vision for our healthy and prosperous future.
PRESIDENT-ELECT
Joseph Eller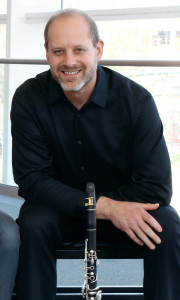 Clarinetist Joseph Eller was appointed as a member of the University of South Carolina School of Music faculty in 2005. He has performed extensively throughout North and South America, Europe and Asia. Eller was appointed principal clarinetist of the South Carolina Philharmonic in 2012 and has played extra with the Atlanta Symphony Orchestra, the Atlanta Opera Orchestra, Charleston Symphony Orchestra, Greenville Symphony and numerous other orchestras throughout the southeastern United States. He has recorded on the Centaur, Mark, Vestige, Beauport Classical and Allgood record labels. A native of Ypsilanti, Michigan, Eller was co-host and co-artistic director of the 2006 International Clarinet Association convention, ClarinetFest® 2006, in Atlanta, Georgia. He serves as the South Carolina state chair of the International Clarinet Association. He plays on Buffet R13 clarinets, D'Addario Reserve mouthpieces and Reserve Classic reeds, and he is a performing artist with Buffet Crampon USA and D'Addario Woodwinds. His hobbies include outdoor activities, reading, racquetball and ice hockey. He and his wife Christie reside in Columbia, South Carolina, with their four children.
Statement
It is an honor and very humbling to be nominated as a candidate for president-elect and future president of the International Clarinet Association. I would love to see the ICA increase its international footprint and be more of an influencing body in parts of the world in which it currently doesn't have many inroads. The ICA's largest impact is in North America and Western Europe – with lesser participation from Asia and South America. I believe we need to increase our reach to clarinetists of all levels and vocations in Eastern Europe, South America, Asia and Australia. I would love to see future international and regional conventions in cities such as Prague, Warsaw, Budapest, St. Petersburg, Taipei, Seoul, Shanghai, Sidney, Santiago, Rio, and perhaps even some cities in the Middle East and Africa. These are areas where the clarinet world is greatly thriving and the ICA could have a very positive impact in promoting itself, clarinetists and clarinet education. It would be a very exciting time to see our organization reach new levels in this fashion and I would welcome all ideas to help achieve these new heights.
SECRETARY
Christopher Nichols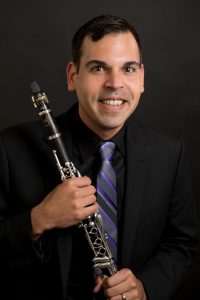 Christopher Nichols is assistant professor of clarinet at the University of Delaware where he performs with Christiana Winds and hosts Delaware Clarinet Day. He is a Silverstein ProTeam Artist, as well as an artist clinician for Légère Reeds and Buffet Crampon USA. He received an Established Artist Fellowship from the Delaware Division of the Arts in 2015. Nichols regularly performs with orchestras throughout the Mid-Atlantic region. Recent chamber music collaborations include the Serafin Ensemble, the Taggart-Grycky Duo, and members of the Philadelphia Orchestra, Detroit Symphony Orchestra, New York Philharmonic and Baltimore Symphony Orchestra. His recent recordings, Elegia on Navona Records and Almost All-American on Albany Records, have received critical acclaim in Pizzicato, Gramophone and Fanfare. An active member of the International Clarinet Association, he has adjudicated competitions, performed at ClarinetFest®, served as audio reviews editor for The Clarinet, and is currently secretary of the board of directors.
Statement
It is an honor to be nominated for re-election consideration as secretary of ICA. As an active member, I have adjudicated for the high school, research and young artist competitions. I currently serve as Delaware state chair and was the audio reviews editor for The Clarinet from 2015-2019. These activities, paired with my current position as secretary, have afforded me the opportunity to interact with the global membership, board of directors and staff of our organization. We work as a team to learn from each other and improve the organization. As a result, our recent initiatives, particularly in targeted membership growth, are progressive and impactful. If re-elected, I will continue to work collaboratively with the membership, board and staff to support ICA's future success, with a focus on ensuring our organization is meaningful to every clarinetist in our ranks.
SECRETARY
Catherine Wood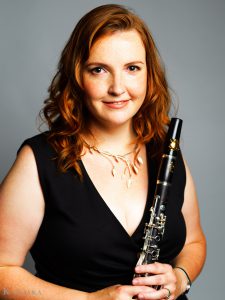 Catherine Wood is associate professor of clarinet at Brandon University and performs with the Manitoba Chamber Orchestra. She serves as country chair of Canada and continent chair of North America for the ICA. Wood has established herself internationally as a performer, educator and advocate of Canadian music. She has been a featured artist at many festivals including the ICA ClarinetFest®. An enthusiast of new music, Wood has commissioned and premiered numerous works at festivals that celebrate new music, including Iceland's Dark Music Days and the Winnipeg New Music Festival. A proponent of the piccolo clarinets, Catherine has commissioned works for both E-Flat and D clarinets, and has performed piccolo clarinet recitals across the globe. She holds a doctorate from Michigan State University and has studied with Caroline Hartig, Elsa Ludewig-Verdehr, David Etheridge, Naoum Gomon, Charles Neidich, Colin Lawson, Peter Jenkin and Theodore Oien. Catherine is a Buffet Crampon performing artist.
Statement
I am honored to be nominated for the secretary position of the ICA. I have enjoyed serving the ICA as a country chair of Canada and continent chair of North America. The ICA has played an important role in my development as a student, professor and performer. I have enjoyed attending and performing at ClarinetFest® since 2003. I have also had the opportunity to present in the Research Competition and to adjudicate the Young Artist Competition. My strong communication and organizational skills, along with my passion for the ICA and my ability to motivate others, would be an asset to our organization. I have valuable experience working on boards and committees and have successfully organized an annual clarinet festival for the past decade. I am eager to help our organization become accessible to all, to increase our international membership, and to support partnerships with national clarinet organizations throughout the world.
TREASURER
Tod Kerstetter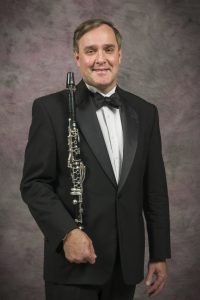 Tod Kerstetter serves as professor of clarinet and member of the resident Konza Wind Quintet at Kansas State University in Manhattan, Kansas. He also currently serves the International Clarinet Association as treasurer, and has performed many recent ICA ClarinetFest® conferences including the 2018 and 2019 conventions in Ostend, Belgium, and Knoxville. A graduate of Furman University, Indiana University, and the University of Georgia, Tod has performed with orchestras in Charleston, Evansville, Kansas City, Nashville, Savannah and Topeka as well as the American Wind Symphony. He enjoys traveling, and has performed internationally in Australia, Austria, Belgium, Finland, Germany, Hungary, Italy, Mexico, New Zealand, the Netherlands, Norway, Russia, Slovenia, Spain and Sweden. Tod also has enjoyed participating in commissioning projects for new works for clarinet, from composers including David Maslanka (Eternal Garden, Clarinet Concerto), Scott McAllister (Concerto Americana), Mauricio Murcia (Trio Suite Colombiana), Kevin Walczyk (Concerto Scion), and Craig Weston (Aspects, Still on the Antipodes, Stehekin Sonata).
Statement
The International Clarinet Association provides its membership with a variety of benefits and opportunities. Our annual ClarinetFest® event energizes clarinetists of all ages and provides venues to hear some of the world's finest artists. Our excellent journal, The Clarinet, gives the membership access to fascinating scholarly articles, biographies, music and recording reviews, and more. We are able to sustain these opportunities from annual membership dues, convention registration fees, and generous sponsorship from the clarinet vendor community. By thorough examination of our executive board of our administrative structure, the ICA has now achieved a point of strong financial stability. ClarinetFest® 2020 in Reno looks to be extremely well attended, and the location of ClarinetFest® 2021 in Fort Worth will produce another highly successful convention. Meanwhile, our yearly membership dues and convention registration fees remain very reasonable in comparison with other instrumental associations. Simply stated, I would like our current financial stability to allow us to build our membership and outreach as we continue to inspire the clarinet playing around the world.
INTERNATIONAL VICE-PRESIDENT
Eddy Vanoosthuyse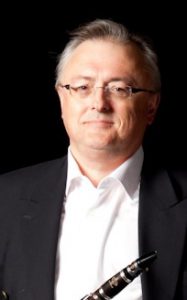 Eddy Vanoosthuyse is the clarinet professor of the Royal Conservatory Ghent/Belgium and the Fontys Conservatory Tilburg/Holland. He is the artistic director of the Ghent International Clarinet Competition, the former principal clarinet of the Brussels Philharmonic and the co-founder of the European Clarinet Association. He was selected for the World Philharmonic and invited for the Symphonicum Europae. He performs throughout the world with prestigious orchestras such as I Pommerigi Musicali (Milan), Shanghai Symphony, Simon Bolivar Orchestra (Caracas), Brussels Philharmonic, Lithuanian Chamber Orchestra, Chamber Orchestra of Philadelphia, Chamber Orchestra of the Stanislavski Theatre (Moscow), Vancouver Chamber Orchestra, ChengDu Symphony (China), Central Aichi Symphony Orchestra (Japan), Free State Symphony (South Africa) and Beethoven Academy (Krakow). He works with such conductors as Tabashnik, Levi, Oundjian, Sondeckis, Laethem, Koenig and Meyer, and such composers as Corigliano, Messiaen, Reed, Brossé, Zimmer, Marquez, Piovani and Vandderroost. He premiered 31 concertos. Vanoosthuyse has made recordings for radio and television (BRTN, RTBF, VRT, VARA, Radio Suisse Romande, Magyar Radio, Czech Radio, Danish Radio, Lietuvos Radio, Chili Radio, Exqui) and CD (Sony, EMI, DECCA, Aeon, Naxos, Phaedra, Gobelin, Aliud, Talent, Brilliant Classics). Eddy Vanoosthuyse is an honorary member of the ICA.
Statement
As artistic director of ClarinetFest® 2018 I have already contacted many of you. Through organizing this important festival, I noticed the gap between the well-developed American organization and the clarinet world outside of it. It is my plan to aim to strengthen the cooperation between the different nationalities and cultures. This will create better contacts, an even higher level and more research opportunities. It is important that we give young colleagues, soloists and professors as many opportunities as possible to develop their international skills in a world where communication is becoming increasingly easy and the artistic level is improving so quickly. Of course we may not forget the student, the non-professional player and the clarinet lover who have also an important role in our organization. I would like to use my international network to expand this bond and develop this role in a professionally substantiated manner.
INTERNATIONAL VICE-PRESIDENT
Javier Vinasco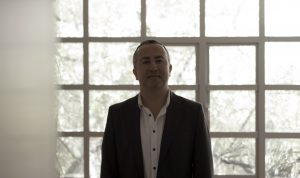 "Vinasco is a virtuoso in every sense of the word, but it is an understated virtuosity that is always in service of the music." – The Clarinet (USA)
Latin Grammy-nominated Colombian clarinetist Javier Asdrúbal Vinasco has recorded 15 CDs with more than 100 works by Latin American composers, including many premieres. He earned a Doctor in Music degree, awarded with Alfonso Caso Medal, at the National Autonomous University of Mexico and has an intense activity as soloist with orchestras (more than 50 performances and three dedicated clarinet concertos), recitalist and clinician around the Americas and Europe. Vinasco is a Vandoren and Yamaha performing artist, the Colombian country chair for the International Clarinet Association, and director of the Clarinet and Saxophone International Festival of Medellin ClariSax. Since 2008, he has worked as a full professor at EAFIT University in Medellin, Colombia, where he is the current head of the music department. Visit www.javiervinasco.com for more details.
Statement
I consider that the ICA should seek to become a platform that allows dialogue and integration of the clarinetists of the world, promote the validity and development of the clarinet, and the entire related ecosystem, from a perspective of inclusion that recognizes diversity, even the different economic capacities and restrictions to travel to certain countries. To reaffirm its international character, I believe that the ICA should be more open to host festivals (ClarinetFest® or others) in different countries and continents, in addition to being present in the several events that take place around the world. In this way, a new international public could be attracted, including children and young people, through events specially designed for them, since I have noticed that most of them do not know about the ICA or do not connect with its current goals and ways of communicating.