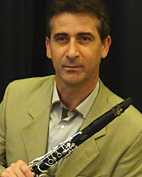 Stephan Vermeersch (Belgium) has gained an international reputation as a versatile performer, improviser and composer of classical, contemporary, world and electro-acoustical music. He frequently collaborates with other cultures and art forms, including visual arts, dance, film, architecture, literature and theater. As a soloist and chamber musician, he has participated in a multitude of genres, playing clarinets and saxophones at concerts and festivals in over 35 countries throughout Europe, the Middle-East, and Asia, as well as Russia, the United States, and Canada. The motto which guides his work as a composer and improviser is: "What lies beyond the border: a quest for new music for a wide public".
A well-regarded clinician, Vermeersch's master classes and clinics are in great demand worldwide, and he serves as a Selmer Paris Artist, a D'Addario Woodwind Artist, and an active teacher of clarinets, saxophones and chamber music in Belgium and the Netherlands. He also leads the European Clarinet Association as its president, and serves as the international representative board director for the International Clarinet Association.
Vermeersch studied at the Lemmens Institute Leuven and Royal Conservatory Ghent in Belgium, and holds degrees in clarinet, bass clarinet, saxophone and chamber music. He studied clarinet with Greet Severens (class of Walter Boeykens) and saxophone with Ed Bogaard. An advocate of contemporary music, he frequently attends related master classes and workshops to promote this genre. He may be contacted at www.stephan-vermeersch.be.